Phuket Business: Ingredients of good showbiz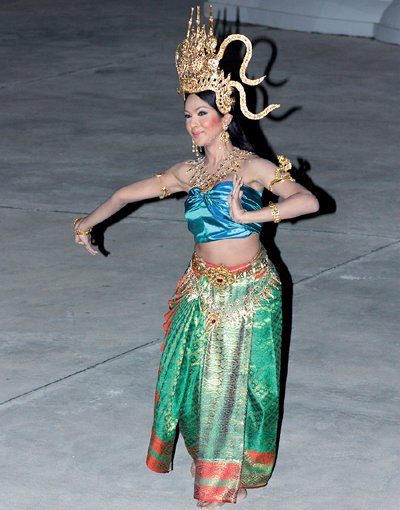 PHUKET: Siam Niramit Phuket recently launched the second edition of "Thailand's Must-See Show", opening a massive new theater on the bypass road near Phuket Town to house it.
Good news for the local entertainment and tourism sectors, Siam Niramit Phuket's "Journey to the Enchanted Kingdom of Siam" show provides one more compelling itinerary for tourists and residents alike.
Pannin Kitiparaporn, Chief Executive Officer and founder of Siam Niramit Bangkok and Phuket theaters, gave an exclusive interview with the Phuket Gazette on the eve of its soft opening.
Vibrant and articulate, Miss Pannin recollected the various challenges and trials she endured leading up to the launch of one the world's largest stage productions right here in Phuket.
Involved in show business since a young age, Miss Pannin had experience running movie theaters and indoor play parks before eventually getting into the amusement park market. Having established Bangkok's first large-scale amusement park, the now-defunct Magic Land, as well as Dream World, currently Bangkok's most popular amusement park, she went on to realize her true calling.
"Show business is where it's at for me, and though amusement parks do have some shows, they are not on a large scale," she said.
"To create a world-famous amusement park would have require billions of dollars of investment, which I don't have. And even if I did, I wouldn't invest it [in an amusement park]. A large scale show is more viable, with a broader market reach," she said.
She established Siam Niramit in Bangkok about six years ago.
"When we first started, we thought we were 70% prepared. However, it ended up taking us five years to get everything right. I think in actuality we were only 30% in-the-know and 70% was actually what we didn't know," she said.
"The first year was spent correcting everything," she continued.
"It's like cooking the perfect dish. You have the best kitchen, best equipment, best cook and best ingredients. But when it's all put together and cooked, it doesn't taste quite right," she said.
She explained that Siam Niramit comprises five key "ingredients", or dimensions: scale, beauty, special effects, cultural authenticity, and entertainment.
Despite an initial investment of 1.5 billion baht, the first Siam Niramit show in Bangkok sold only 60 tickets out of a total 2,000 seats. This is in stark contrast with Phuket's sold out opening, with all 1,740 seats filled.
"Though I was down about the slow start, business gradually started to pick up due to word of mouth. We were doing pretty good by the second year, but by the third year, sales dropped back down as a result of turmoil in the capital.
"This pattern continued year after year – the yellow shirts, coup, curfew, red shirts, and now the flooding. So about three years ago, we figured we had the show about right and Phuket was the most appealing new market.
"Even without the turmoil [in Bangkok], I would have eventually come to Phuket anyway, but the turmoil is indeed a driver for me to readily come here," she said.
Miss Pannin noted that the total starting investment for Siam Niramit Phuket theatre was about 2.5 billion baht, which covers land and construction costs in addition to recruitment.
With only one foreign national on the Phuket team – an AFX special effects specialist – she said she doesn't plan to recruit any other foreigners, citing a successful local recruitment campaign.
She pointed out that the facility employs a staff of about 400 Thais, of which 385 were recruited locally and the rest were transferred, by choice, from the Bangkok team.
Asked about her return target, she responded, "I expect to break even within five years, though it would be nice if I can do so in the first year," she said, adding that her monthly overheads are to the tune of 20 million baht.

Pannin Kitiparaporn CEO of Siam Niramit smiles for the camera.
Questioned about the local target market groups, Miss Pannin confirmed that her key market is foreign audiences.
"Thai people typically don't come to Thai shows. And when they do, they think I'm doing it all for the country. Government officials from other countries assume that the show is a [Thai] government effort to preserve and promote culture," she said.
"Siam Niramit does not have a specific target segment and the show is for everyone. It's quite challenging to make a show that can be consumed by all audiences, no matter what language they speak or what nationality they are. So we try to keep it non verbal, without strong story lines so as not to risk losing some audiences," she explained.
Asked about how she positions Siam Niramit against other competition in Phuket, she replied. "I don't consider myself as someone's competitor. People go to Las Vegas because there are many shows available.
"Likewise, tourists in Phuket can come to see my show and also see someone else's. Variety is necessary in show business. Just like movies, no two are alike, and just because you see one doesn't mean you should not see another."
She concluded with yet another food analogy. "You can not know how good the food is until you taste it."
For more information, visit Siam Niramit.
— Steven Layne

Join the conversation and have your say on Thailand news published on The Thaiger.
Thaiger Talk is our new Thaiger Community where you can join the discussion on everything happening in Thailand right now.
Please note that articles are not posted to the forum instantly and can take up to 20 min before being visible. Click for more information and the Thaiger Talk Guidelines.