Finance: Securing your financial future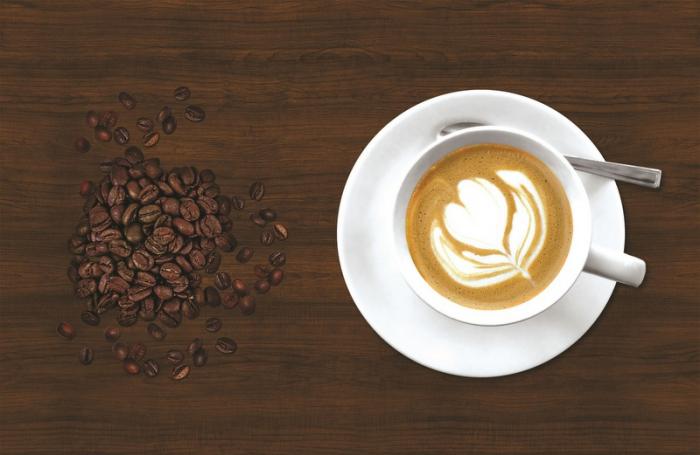 PHUKET: It really doesn't matter if you make a little money or tonnes. If you can't master this very important step you will never achieve financial freedom. It sounds all too simple in theory, yet in practice so many people have trouble staying disciplined.
The step I am referring to is committing to setting aside a minimum of 10 per cent of all income you make and putting it into long term savings.
The following discussion is not about what you do with this money, but simply getting you to understand how crucial it is to your future and those of your loved ones. Most people have no idea how big the trade-off is when they squander money in 'today's currency', or what an economist would call the opportunity cost of consuming non-essentials in lieu of investing. Because of the effects of compounding, an apple eaten today has cost you the equivalent of many apples in the future. This effect gets exponential, and over longer time frames the apples eaten today becomes holidays and luxury cars foregone in the future.
Let's use coffee as an example since I don't want you to go and skip that apple. It's best to keep the doctor away, although that's a discussion for another day. Let's assume you have a 100 baht coffee at a fancy coffee shop on the way into work every day so you don't have to wake up half an hour early to make your own at home.
If you buy a bag from the shop it might cost you 10 baht per cup, saving you 90 baht per working day. Let's call this US$3. Multiply this by 20 working days and we can say it is US$60 per month or rounded off to US$700 per year. Now let's assume a 5 per cent average annual return per year, which could be guaranteed if you were paying down debts like a mortgage or student loan at this rate.
If you skipped your fancy coffee and used the savings to pay down your mortgage over its 30-year term, we are talking about US$50,000 gained from a very small effort every day. Keep in mind less than half of this was the actual dollar amount of what you forewent in short term consumption; the rest is the magical effect of compounding.
Now you don't need to skip luxuries like fancy coffee if you can be disciplined to save 10 per cent or more of your income every month, but the example just goes to show how very small changes in our daily habits can add up to significant chunks of cash. If you can save even more, what you get back in the future is even greater, or you can achieve financial freedom and stop working even sooner.
Now we shouldn't live like paupers either, since we could be hit by a tuk-tuk and die tomorrow, so we need to find a balance that works for us in this trade-off. Most people err on the side of over-consuming now, so a systematic percentage followed with strict discipline is the best approach. This way, if your income goes up or down you just keep it in the same percentage and adjust your lifestyle accordingly.
Sadly, most people adjust their lifestyle to increase to 100 per cent of any additional income earned, despite the fact that we quickly adjust to new lifestyle levels and our overall happiness reverts to where it previously was.
We usually even increase our stress as the thought of going back to a previous lifestyle that we once were happy with creates a fear that didn't exist when we were there in the first place. It's much better to increase our means greatly first and then slowly increase our lifestyle. By committing to saving a fixed percentage of your income, you will do this automatically as long as you can stay disciplined. Do your future self a favor. Trust me, you will thank yourself.
David Mayes, MBA, lives in Phuket and provides health, wealth, and life coaching to expatriates around the globe. He has been involved in financial markets for 15 years and specializes in tax efficiency and UK pension transfers. He can be reached at lifeisamazingthailand@gmail.com
— David Mayes
Keep in contact with The Thaiger by following our
Facebook page
.
Never miss out on future posts by
following The Thaiger
.
Expat shift drives changes in Bangkok's condo market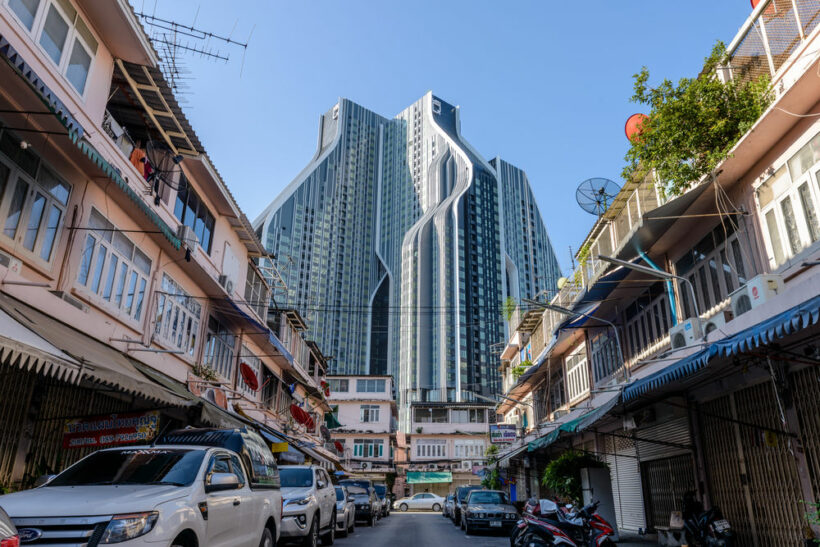 Thailand's dominant working expat nationality in past decades has been Japanese, currently making up 18% of expatriates in the country. But, while Japanese expatriate numbers are decreasing, a CBRE report notes that Chinese and Filipinos are on the rise. There were 28,560 Japanese expats in Thailand as of Q3 2020, just ahead of the Chinese expat contingent at 25,811.
As China's manufacturing has shifted overseas and Filipino expatriates have increased in line with local demand for teachers fluent in English, there's been a continuing de-centralisation of the expat communities living in Thailand.
Rathawat Kuvijitrsuwan, Head of CBRE Research and Consulting, Thailand says thatJapanese expatriates primarily work in manufacturing, export/retail/automotive, real estate services including leasing, and business services sectors.
"The decline in the Japanese expatriate population in Thailand is due to high industry maturity where locals can fulfil expatriate jobs competently, relatively high wages, and industrial relocation to neighbouring countries such as Vietnam and Cambodia."
Rapid industrialisation in Thailand between the mid-1980s until the Asian Financial Crisis in 1997 saw a surge in the Japanese expatriate population culminating in Thailand as the fourth largest Japanese population outside Japan at its 2015 peak after USA, China and Australia. However, the population size has experienced a 22% decrease since then, the lowest amount since 2012.
Meanwhile, the amount of Filipino and Chinese expatriates, the two fastest growing nationalities, have increased by 38% (13,146 to 18,472) and 31% (from 18,812 to 25,811) over the past 5 years, according to the Foreign Workers Administration Office.
Chinese nationals in Thailand work mainly in manufacturing as the country shifts its production outside China to avoid US tariffs on Chinese-made goods. Filipino nationals work mainly as teachers due to their native fluency in English and the relatively lower wages than their European, North American, Australian and New Zealand counterparts, making them a strong force behind international and bilingual schools in Bangkok.
CBRE Research reveals that extensions of downtown Bangkok such as Rama IX and Ratchadapisek have become Chinese expatriate hotspots due to amenities such as Chinese-centric restaurants, shops and convenient MRT access. Similarly, On Nut is a preferred area for Filipino expatriates due to lower rentals than early to mid-Sukhumvit while still affording convenient BTS access.
Condominiums for rent along Ekkamai BTS generally command over 15% premium in rent compared to condominiums along Phra Khanong BTS, despite being just one station apart.
"This means affordable midtown condominiums along mass transit lines with a maximum of two interchanges away from expatriate office hotspots could become increasingly attractive to investors seeking rental properties with expatriate demand as expatriate areas could de-centralise outwards in line with high-growth expatriate nationalities and their respective preferred areas."
SOURCE: CBRE
To find the best selection of condos and other property in Thailand go to Fazwaz.com
Keep in contact with The Thaiger by following our
Facebook page
.
Never miss out on future posts by
following The Thaiger
.
Thai Airways to provide flights to some international destinations this month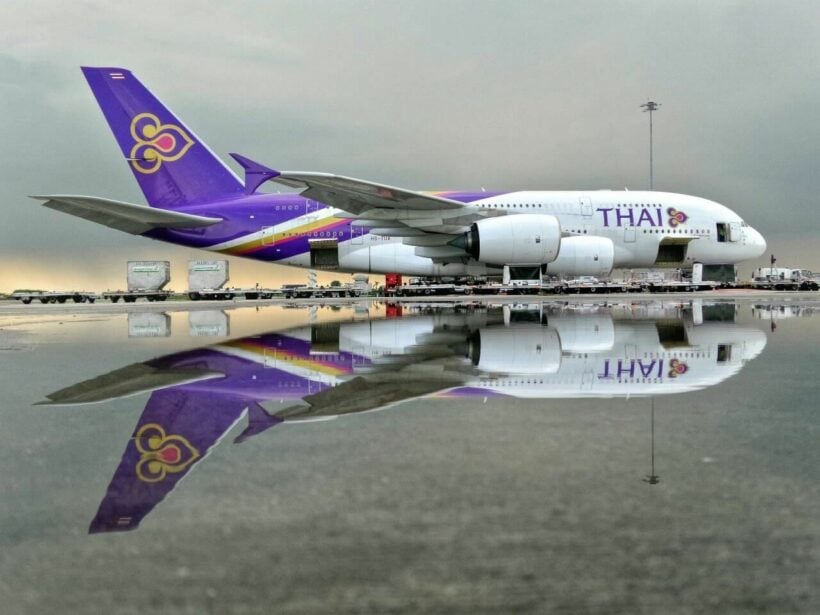 Thai Airways, the beleaguered national carrier currently undergoing a "rehabilitation" process (code for bankruptcy and restructure proceedings), says it's laying on a number of special flights to destinations outside the Kingdom this month. Nation Thailand reports that the airline is introducing flights to Hong Kong, Taipei, London, Copenhagen and Stockholm. Executive Vice President Wiwat Piyawiroj says the flights are being provided to help those who need to travel to those destinations.
Thai Airways is already under fire for not refunding, or long delays in refunding, tickets sold before the grounding of the airline, for dates after the closure of the Thai borders.
The details of the new routes can be found below. All times are local…
Bangkok – Hong Kong
October 21: Departing Bangkok at 1.55pm, arriving Hong Kong 5.40pm
October 28: Departing Bangkok at 2.00pm, arriving Hong Kong at 5.45pm
Bangkok – Taipei
October 8, 16, 23: Departing Bangkok at 8.25am, arriving Taipei 1.05pm
October 30: Departing Bangkok at 8.15am, arriving Taipei at 12.45am
Bangkok – London
October 4, 11, and 18: Departing Bangkok at 12.50am, arriving London at 7.10pm
October 25: Departing Bangkok at 1.20pm, arriving London 7.35pm
Bangkok – Copenhagen
October 4, 11, and 18: Departing Bangkok at 6.50am, arriving Copenhagen at 1.05pm
October 25: Departing Bangkok at 6.50pm, arriving Copenhagen 12.35am
Bangkok – Stockholm
October 14: Departing Bangkok at 7.05am, arriving Stockholm at 1.10pm
SOURCE: Nation Thailand
Catch up with the latest daily "Thailand News Today" here on The Thaiger.
Keep in contact with The Thaiger by following our
Facebook page
.
Never miss out on future posts by
following The Thaiger
.
Thai Vietjet introduce new "Deluxe" product for domestic routes in Thailand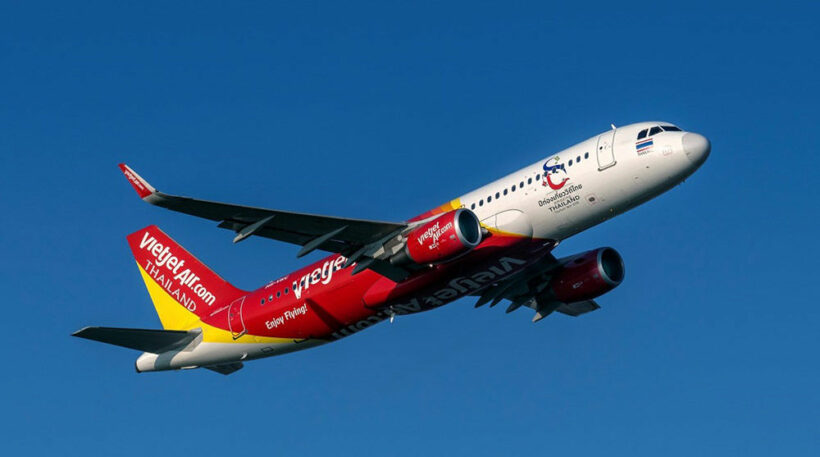 Thai Vietjet, which currently operates 13 domestic routes within Thailand, is launching a new "Deluxe" product, starting from 999 baht. The "Deluxe" tickets will include 7 kilos of carry-on and 20 kilos of checked luggage (currently an additional charge), as well as seat selection and priority check-in. Date, route and flight changes are also permitted 1 time, free of charge.
Deluxe fares are available for travel between October 6 and December 31, excluding public holidays, on all domestic routes operated by the carrier. The 999 baht price tag does not include taxes and fees. Thai Vietjet is adding a number of new routes to its current network, including Chiang Rai to Hat Yai from November 1, and Bangkok Suvarnabhumi to Hat Yai, Khon Kaen, Nakhon Si Thammarat, Ubon Ratchathani, and Surat Thani from November 4.
The airline's full network of domestic routes can be viewed at www.vietjetair.com. It also operates a number of international routes between Thailand and Vietnam and between Thailand and China, but not at the moment.
SOURCE: Chiang Rai Times
Catch up with the latest daily "Thailand News Today" here on The Thaiger.
Keep in contact with The Thaiger by following our
Facebook page
.
Never miss out on future posts by
following The Thaiger
.