Bangkok airport security staff file lawsuit over pay cuts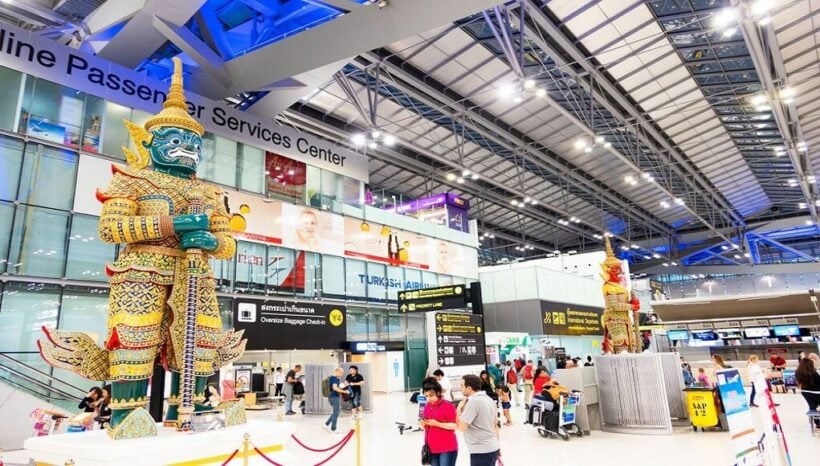 "They saw us as security guards and looked down on us since we had little education, they thought they could trick us into signing those papers."
Some security staff at Bangkok's Suvarnabhumi Airport say they were tricked into pay cuts claiming they were told to sign new contract or they could lose their jobs. 10 staff members filed a lawsuit against ASM Management, a security company hired by Airports of Thailand, or AoT.
The staff claim they were told to resign from ASM and sign a new contract because AoT, was restructuring. They were left with lower pay and no benefits such as a transport allowance. The workers filed the lawsuit in July, suing ASM for termination without severance pay and not paying the workers for the notice period.
The new contract is under AoT AVSEC, which is a joint venture between AoT Aviation Security, ASM Management and 2 other security companies. AoT manages 6 airports, all have been hit hard by the coronavirus. Reuters reporters reached out to ASM and AoT, but both declined to be interviewed.
AoT AVSEC's human resources manager says the staff was "transferred" from ASM and they did not make the workers sign resignation letters. He says the salaries are in line with their years of experience, adding that they also had to make pandemic-related cuts to working hours.
Many labour rights activists have spoken up about companies taking advantage of workers during the pandemic like cutting costs and making workers agree to worse conditions. Some foreign English teachers, for example, have taken on more classes. Some cases have been non-negotiable with no discussion on overtime pay. For airports, top airlines around the world have announced layoffs, wage cuts and unpaid leave for staff after the pandemic disrupted air travel.
For the Suvarnabhumi security guards, the new contract was changed in April during the peak of the coronavirus outbreak. Security guard Komkrich Dearkhuntod says both him and around 100 other co-workers were all asked to resign and then sign another contract. They only had 10 minutes to think about it, he says.
"Our supervisor told us everything (at AoT AVSEC) would be better than at ASM… They saw us as security guards and looked down on us since we had little education, they thought they could trick us into signing those papers."
Thomson Reuters Foundation spoke with many workers and say that while hundreds of people were affected by the contract change, many are staying quiet to keep their jobs.
A worker, named in the lawsuit as Ploy, says she signed the new AoT AVSEC for 14,000 baht a month, a 700 baht cut from what she earned before. Her benefits were also taken away. A couple months later, AoT AVSEC cut her hours and she only earned 11,000.
"The only way I can survive … is by taking another job selling food, which gives me enough money to feed myself."
SOURCE: Bangkok Post
Keep in contact with Thaiger by following our Facebook page.
Never miss out on future posts by following Thaiger.
Tourism officials slash Songkran travel expectations by half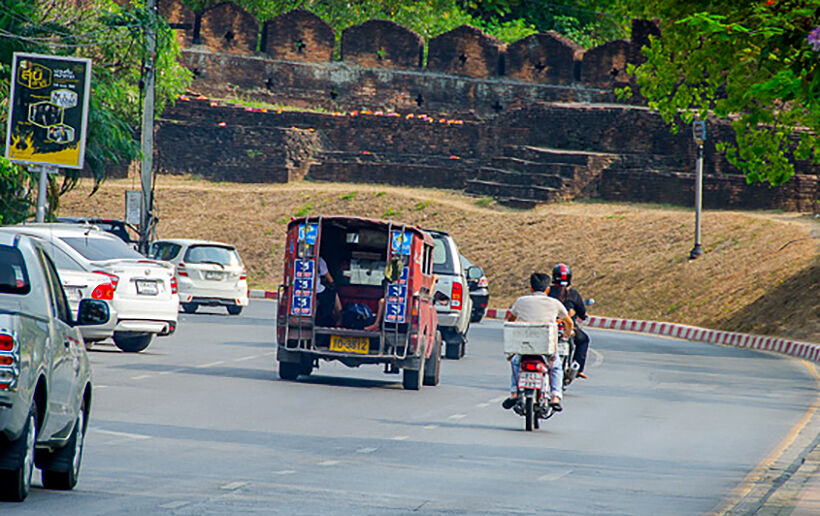 The TAT, ever the optimists regarding anything tourism related, even domestic tourism, predict that the Bangkok clusters that have emerged in the week before the Songkran break could reduce traffic and spending by up to half.
Today the CCSA is reporting 789 new infections and one additional death. 522 were local infections, mostly walk-ins to Bangkok hospitals, 259 were discovered through track and tracing. The remaining 8 were found in quarantine from overseas arrivals. In Phuket, another 17 cases have been reported today, taking the island's week total to 43.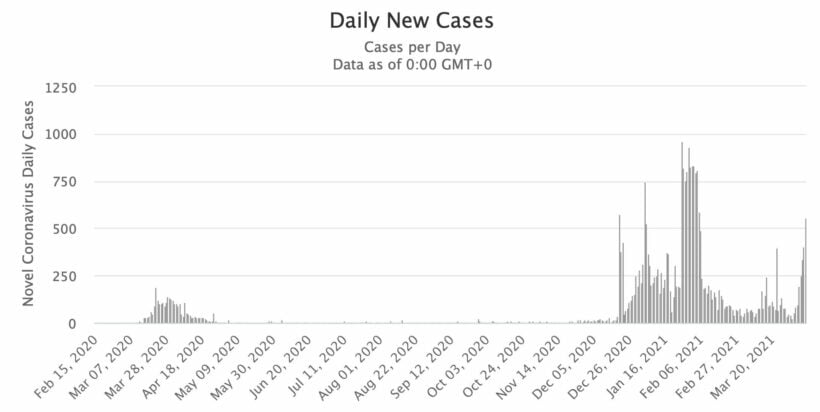 GRAPH: Worldometer figures for Thailand, up to April 9
A 68 year old man from Nakhon Pathom province died on April 4 but wasn't reported until today. The CCSA report that he died from Covid and "complications". 33 other former patients have recovered and been discharged.
Last week the TAT estimated 3.2 million domestic trips would circulate 12 billion baht for the Thai economy. But the Tourism Authority has now slashed their estimates by half after hotels, airlines and bus companies reported mass cancellations in the last few days. Other provinces are reporting less than 20% cancellations. Although this weekend will see a lot of travel, Songkran doesn't formally start until next Tuesday and the TAT expect there could be additional fallout as travellers decide to have a staycation for Songkran instead heading home.
Bangkok Post reports that 70% of travellers to Prachuap Khiri Khan and Hua Hin have already cancelled hotel bookings. Similar cancellations have been reported in Pattaya, Phuket and Chiang Mai. Many other provinces, particularly in the north east and north, are also enforcing quarantine on arrivals or additional paperwork to try and protect their provinces from any of the Bangkok clusters.
8 north eastern provinces rare now requiring 10 or 14 day quarantine periods for anyone arriving from areas where new clusters have been reported. Chiang Mai provincial officials say that tourists from Samut Prakan, Nakhon Pathom, Bangkok, Pathum Thani and Nonthaburi – basically Bangkok and surrounding provinces – must complete a 14 day mandatory quarantine or conduct a test for Covid when they arrive.
The reality is that the travel and quarantine changes are outstripping the ability to communicate them all. Anyone crossing into other provinces in the next few day, especially if you're travelling from Bangkok and surrounding provincial 'red zones' can expect some additional paperwork or a Covid test. Or even quarantine.
Keep in contact with Thaiger by following our Facebook page.
Never miss out on future posts by following Thaiger.
Attendance on the wane for Thai democracy protests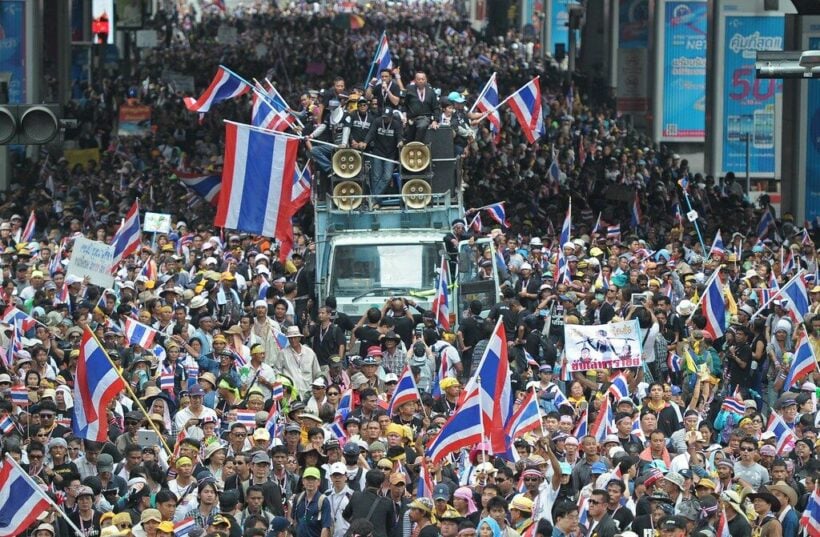 While protesters against the Thai government are continuing as they have for endless months, attendance is lessening in the face of crackdowns, coups and Covid-19. The throngs of 10,000 plus protesters, mostly energetic youth, that waved The Hunger Games 3 finger salute and demanded change in Thailand last summer have thinned to a few thousand or less these days.
The government isn't in the clear yet though, as the protester's calls to replace the current government, lessen the power of the Thai monarchy, and draw up a new constitution are still popular ideas. But a number of factors are causing protester size and vigour to wane.
The second wave of Covid in December quickly curbed the daily demonstrations for fear of spreading the virus. After that, the coup in Myanmar on February 1 has brought massive protests with international attention shifting to the growing humanitarian crisis just across the border. On top of the pandemic and the Burmese coup, the Thai government has taken a much more hardline approach to protesters in recent months.
Police began fighting back against mass demonstrations, dispersing crowds with water cannons, tear gas, and rubber bullets. And after 2 years of leniency, the government has begun prosecuting people under the strict lèse-majesté laws, where offending the monarchy can carry harsh punishment including a jail sentence of up to 15 years.
Anon Nampa, a human-rights lawyer, and Parit "Penguin" Chiwarak, a student activist, have already been arrested under this law and held without bail. Arrests like these have been demoralising for the pro-democracy movement, and have scared away a lot of Thai protesters. Many have shifted focus to more immediate efforts to demand the release of the detained protest leaders.
Even with the crowds shrinking, the protests have already brought about change, bringing once unspeakable conversations into the national conversation, and keeping pressure on Thailand's leaders. Opposition is growing, with efforts to push no-confidence votes and amendments to the constitution being constantly proposed and advocated.
SOURCE: The Economist
Keep in contact with Thaiger by following our Facebook page.
Never miss out on future posts by following Thaiger.
VIP clubs may be spreading Covid-19 from rich to poor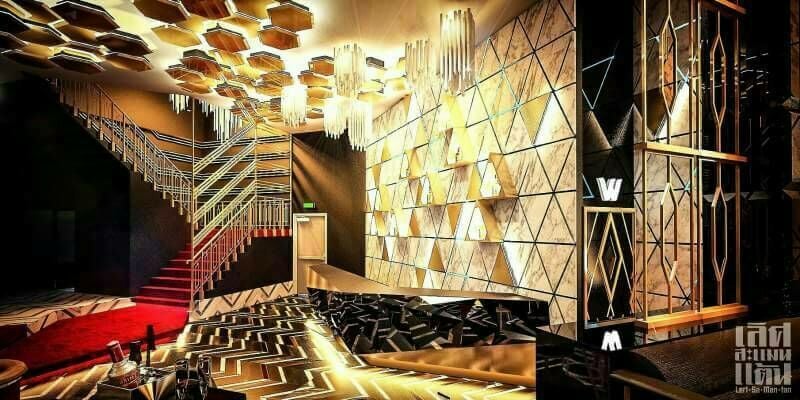 A third Covid-19 wave surging through Thailand is spreading through entertainment centres, including high-end VIP clubs rumoured to be popular with elite government officials. 559 Covid-19 infections and 1 death were reported today and the outbreak, which began in bars and clubs in the Thong Lor area of Bangkok among other nightlife hotspots, is surging, reaching 20 provinces throughout Thailand. Outbreaks in Chon Buri, Pattaya, and Phuket have also been linked directly to evening entertainment venues, such as the dance music festival in Phuket last weekend that resulted in 10 infections. Now, evidence is emerging that the wave is spreading through Bangkok's wealthy elite and government officials.
In Phuket, where 70% vaccination of residents has been a primary focus in order to re-open to desperately needed tourism, the new outbreak has brought bar closures and new restrictions. And it looks like Songkran celebrations across the country will be muted, if not cancelled.
With nightlife and hospitality workers being disproportionately affected by the third wave of Covid-19, many are airing their frustrations with the VIP elite class contributing to the outbreak, including a trending hashtag #CovidThonglor. Transport Minister Saksayam Chidchob was one of the first cabinet members to test positive for Covid-19, amid rumours that he had recently attended or been in proximity with someone who attended Krystal Club, an upscale entertainment business. Though he denies being there, the club is allegedly so popular among politicians and officials that it is often referred to by the nickname "Government House 2". Nearly a third of cabinet ministers are now self-isolating for fear of Covid-19 exposure.
With 200,000 baht minimum spending limits, it's a high-society hotspot that may be spreading Covid-19 from the rich VIP customers to the poor staff and everyone they come in contact with. Calls for government officials and other elites who attended VIP clubs like this to disclose their potentially embarrassing timelines have so far been mostly unheeded.
In Bangkok, hospitals and private medical facilities have been warning of a shortage of testing kits and Covid-ready hospital beds. Field hospitals have been erected to prepare as the outbreak expands with surging cases. Experts think the new outbreak may be contained in a month or two, but fear in Bangkok it may take much longer to recover.
SOURCE: SCMP
Keep in contact with Thaiger by following our Facebook page.
Never miss out on future posts by following Thaiger.