Saudi teen fleeing family abuse seeking asylum in Australia, detained in Bangkok airport.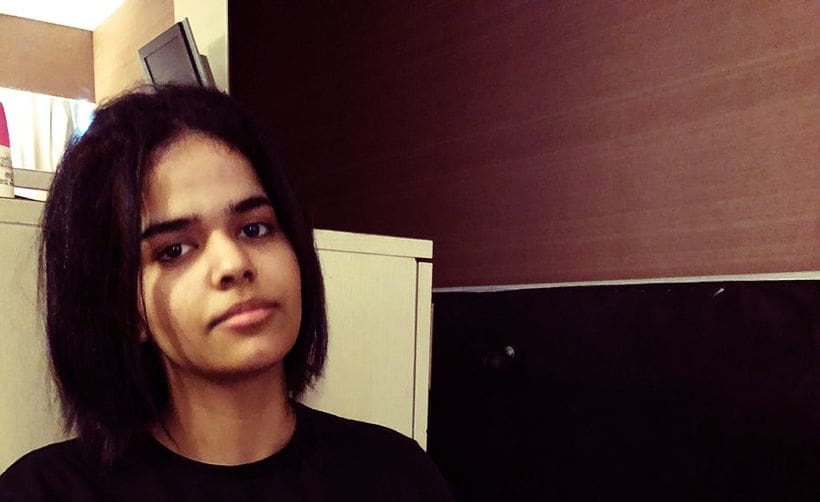 PHOTO: Sophie McNeill (Twitter)
A young Saudi woman is being held at Bangkok's main international airport after she fled from her family and attempted to make it to Australia.
The girl, 18 year old Rahaf Mohammed al-Qunun, was on a family holiday in Kuwait when she decided to run away. She was on her way to Australia but has been stopped in Bangkok by Thai authorities due to not having a return flight.
Although  she claims to have an Australian visa, she says a Saudi diplomat met her upon landing in Suvarnabhumi airport and seized her passport.
But Saudi officials say she still has her passport and is only being detained for not having a return ticket.
Over the weekend, the 18 year old gained a lot of attention with her social media posts, in which she identified herself to the world, saying that now "she has nothing to loose".
My name is Rahaf Mohammed Mutlaq Alqunun, and this is my picture pic.twitter.com/RHsnnPWUjL

— Rahaf Mohammed رهف محمد القنون (@rahaf84427714) January 6, 2019
Speaking to reporters at the airport, Rahaf said that having renounced Islam, she is afraid that her family would force her back to Saudi Arabia and possibly kill her.
Police at Suvarnabhumi airport say that Rahaf is escaping a marriage, and as she did not have a visa to enter Thailand, will be sent back home.
She was scheduled to leave on an 11.15 am flight this morning, but refused to leave her room and missed her flight.
Human Rights Watch Asia says the Thai government has manufactured a story in which her lack of a visa for Thailand has had her detained and facing deportation, yet as she had an onward flight she never wanted to enter Thailand.
They've also accused Thai authorities of co-operating with Saudi Arabia, as Saudi officials were able to enter the airport and meet Rahaf at her landing gate.
The young Saudi also told the human rights group that she was is fleeing from her family's abuse. She has received beatings and death threats from her male relatives since her renouncing Islam and cutting her hair as well as forcing her to remain in her room for six months.
"I am giving my family 48 hours (to) either stop or I will publish everything that will incriminate them" she wrote on twitter.
Rahaf remains in her airport hotel room surrounded by police, where she is still facing imminent deportation by Thai authorities.
Video from @rahaf84427714 just sent from her hotel room at the #Bangkok airport. She has barricaded herself in the room & says she will not leave until she is able to see #UNHCR. Why is #Thailand not letting @Refugees see her for refugee status determination? @hrw #SaveRahaf pic.twitter.com/3lb2NDRsVG

— Phil Robertson (@Reaproy) January 7, 2019


Read more headlines, reports & breaking news in Bangkok. Or catch up on your Thailand news.
Immigration staff on alert after Thai jeweller bludgeoned to death in Bangkok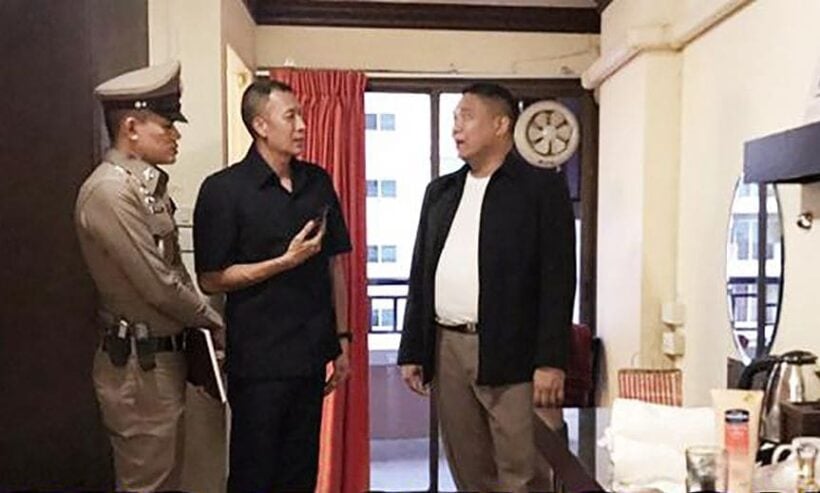 PHOTO: Thai Rath
Thai border staff have been alerted after a female Thai jeweller was found bludgeoned to death in a Lat Phrao hotel room yesterday, in the northern Bangkok suburbs.
CCTV indicates that a likely suspect is a South African man seen going into the woman's room.
Thai Rath reports that 35 year old Susama Reunrit from Kanchanaburi was found wrapped in a blanket on the floor by her bed in her room on the 6th floor of the hotel in Lat Phrao, Soi 130.
She had bludgeoned in the head.
Earlier the cashier had called to the room as it was time to pay. Customer service had contacted a man from the Netherlands who was a friend of Susama in an adjoining room. They used a spare key to enter her room only to find her dead body and call police.
Investigations show that Susama checked into the hotel at 9.50 pm on Saturday night then went out to eat. She returned at 4 am.
At 8 am a 38 year old man called Mzwakhe Memela from South Africa was seen on CCTV going into her room. He left the room at 8.45 am. No one else was seen going in or out of the room.
Lat Phrao police contacted immigration police as the hunt for the South African man began.
SOURCE: Thai Rath
UPDATE: Election results – what it all means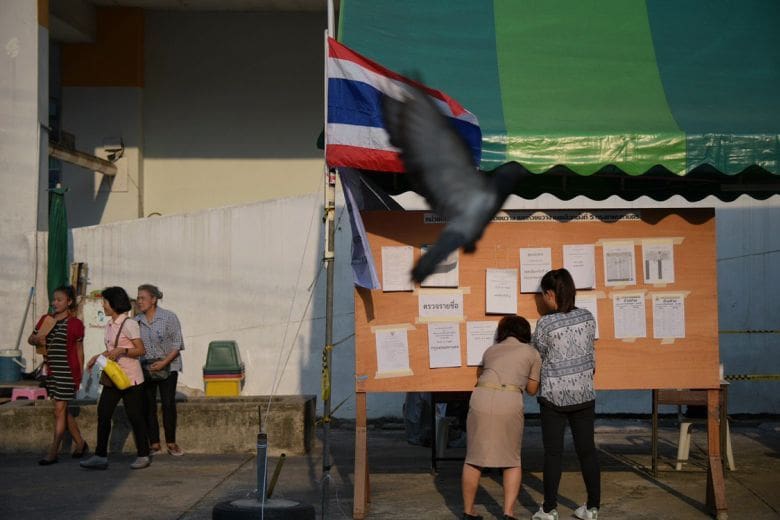 The Election Commission says the official results of the Thai general election will be announced today.
By the close of counting last night around 92% of the votes had been counted. The bleary-eyed commission decided to delay the announcement until this afternoon.
The EC chairman says the announcement of winners in each constituency had to be deferred because expat' votes from New Zealand had not arrived on time.
The election results were widely followed as internet sites went into meltdown (including The Thaiger) as people clambered for the latest booth counts.
The map, courtesy of Bangkok Post, shows that general voter sentiment was largely unchanged after five years of military rule with the north and north east still favoring the Pheu Thai (pro-Thaksin, pro-democracy) party, versus the rest of Thailand.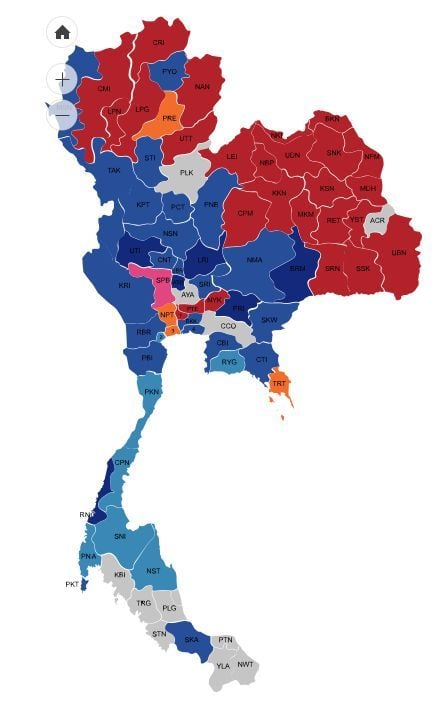 The Palang Pracharat (pro-regime) party and Pheu Thai were neck and neck all evening as the numbers rolled in from booths around the country. The two big surprises during the evening were the high polling of the new Future Forward party which clearly hit the right note with the seven million new eligible voters who exercised their democratic right for the first time. The other key aspect of the evening was the failure of the Democrats to woo their past constituency.
Thailand's former PM Abhisit Vejjajiva said he will resign as leader of the Democrats.
State-owned television station MCOT calculated the distribution projection of all 500 lower house seats, including party list winners, also based on the election authority's data. At 10 p.m., it forecast 146 seats would belong to the Thaksin Shinawatra-linked Pheu Thai, followed closely by the junta's Palang Pracharat Party, at 141. MCOT expected the Future Forward Party to win 85 seats, Bhumjaithai 55 and the Democrats 36.
If MCOT's estimate is accurate, the junta will have enough seats to make their candidate, Prayut Chan-o-cha prime minister.
The Bangkok Post reported an unofficial estimate for all 500 seats, also based on commission data. With 93% of the vote counted, Pheu Thai had the lead with 129 seats. Palang Pracharat followed with 117. Bhumjaithai was seen taking 49 seats, with the Democrats winning the same number. Future Forward was seen taking a surprising 78 seats.
BUT, the big issue that will be discussed today, is if Pheu Thai and Future Forward decide to collaborate, they could form a coalition that would come close to having a majority of lower house seats.
According to popular vote figures from the EC, Palang Pracharat garnered the most votes with 7.5 million, with Pheu Thai following at 7.3 million. But these figures do not necessarily reflect the actual makeup of the parliamentary seats to be announced some time today.
The lower house is made up of 500 members, 350 will come from single-seat districts. The remaining 150 will be distributed among parties based on how they fared nationwide.The current constitution states that the PM should be chosen by a majority of all 750 legislators, a number that includes 250 Junta-appointed senators.
An anti-junta coalition would need 376 lower house seats if its preferred candidate is to become PM.
Counting continues today. Phalang Pracharat and Pheu Thai lead the way.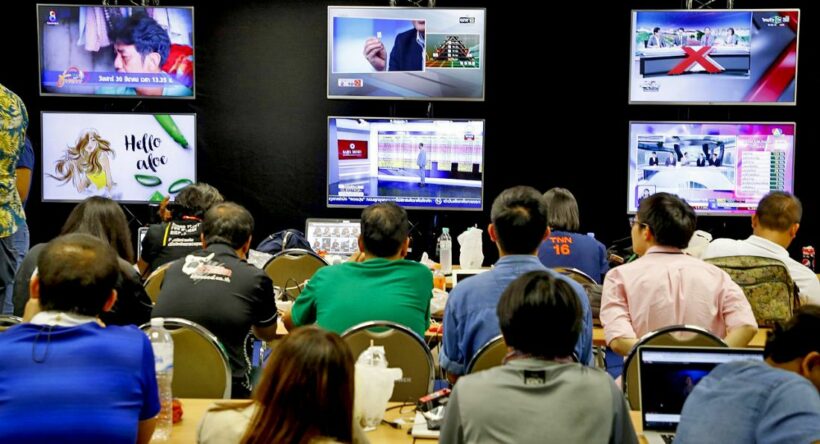 Pheu Thai and Phalang Pracharat were running neck-and-neck last night as ballots were counted around the country. The major parties swapped poll position as the night went on.
As of 10.30pm, with 92 per cent of the votes counted, the pro-junta Phalang Pracharat appeared to have beaten Pheu Thai with a total of 147 seats – 92 constituency MPs and 55 party-list. 
Pheu Thai came in a close second with 143 seats – 127 constituency MPs and 16 party-list – beating Phalang Pracharat in terms of constituency seats. 
Yet, when the ballot count hit 93 per cent, Pheu Thai had moved forward with 153 seats, while Phalang Pracharat ended with 142 seats. 
Results for the rest of the parties on the third to fifth place did not vary much. 
Political newbies Future Forward made major inroads, becoming the third biggest party with 85 seats – 29 for constituency MPs and 56 for party-list. Future Forward appears to have won the most party-list seats.
Bhumjaithai came in fourth with 54 seats – 43 constituency MPs and 11 from party-list. The Democrats had a dismal showing in the election and failed to make an impact on voter's minds. Democrat leader Abhisit announced his resignation at 9.50pm.
Democrats won no seats in its stronghold of Bangkok. Of all 30 districts, 11 went to Pheu Thai, PPRP won another 10 and Future Forward won the remaining nine. Future Forward, in their first outing as a new party, were the big surprise of the evening.