Observations of a working expat couple, and their 9.5 kilogram cat 'George'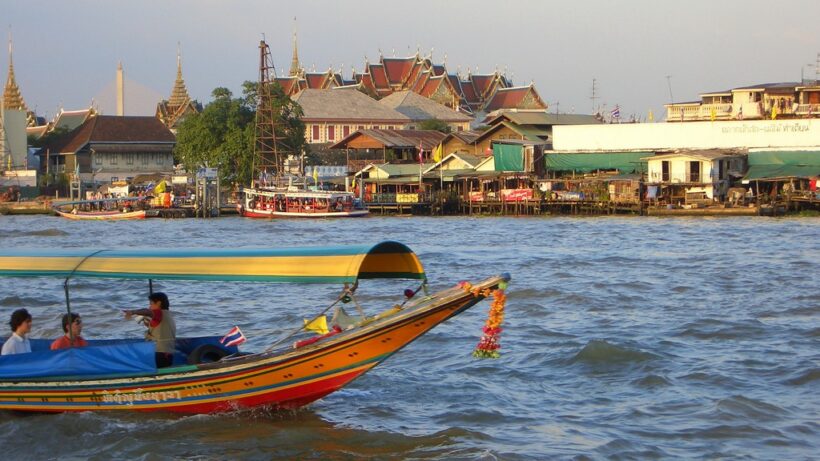 All expats have a story of how they ended up in the Land of Smiles. Few are just 'I got a job here'. It usually happens the other way around where people visit Thailand and find a reason to stay. John Read, writing for the Financial Times, and his husband German, have lived and worked in many of the world's cities and hot-spots but currently live in the Big Mango with their own take on 'nouveau expat' life…
"We both like hot weather, and were happy to push our winter clothes to the back of the closet. In the "cold" season (December to January) Thais melodramatically put on scarves, hats and down jackets, but the temperature rarely falls below 20C — nicer than cold, rainy Jerusalem, where it can dip below zero."
In this case the pair have settled into life in Bangkok working as foreign correspondents, along with their 9.5 kilogram cat 'George'. Having lived around the world they say they're always evaluating their new homes rated on the climate, food and social life.
"Bangkok delivers on all three counts. It has 8m people and can accurately call itself a world city. It pulls in foreigners from the region and overseas, whether Burmese builders, Australian restaurateurs or "ladyboys" from the Philippines who work at the clubs off Silom Road (fluent English is a plus when impersonating Beyoncé or Britney Spears). We have made more friends and acquaintances here in less than a year than we did in Jerusalem in nearly five."
Read about their adventures and observations of life in Bangkok, 'Building a new life in Bangkok, Thailand's world city' courtesy of Financial Times, HERE.
Keep in contact with The Thaiger by following our
Facebook page
.
Never miss out on future posts by
following The Thaiger
.
K-Pop fan-funded billboards move from BTS and MRT stations to tuks tuks to support protesters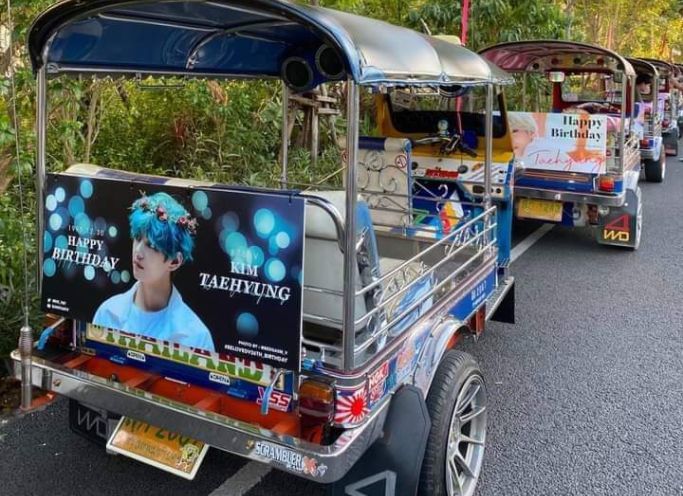 K-Pop fan-funded "happy birthday" billboards are moving from mass transit stations in Bangkok to tuk tuks after the BTS Skytrain and MRT Bangkok Metro temporarily shut down services during pro-democracy protests last month.
The world's K-Pop fans are weaponising their huge numbers and online 'power' by supporting Thailand's pro-democracy movement. In 3 days last month, Thai and overseas K-pop fans raised more than 3 million baht to support the growing student-led movement calling on government and monarchy reform. A lot more has been raised since then.
A Thailand fan page for the South Korean K-Pop band BTS (not to be confused with Bangkok's BTS Skytrain) urged fans to stop paying for the "happy birthday" billboards displayed in BTS and MRT stations. The fan-funded signs celebrate the birthdays of the 7 members of the band.
The band members also issued a statement asking their fans (known as ARMY) to stop paying for signs in the BTS and MRT stations because the mass transit systems "inconvenienced protesters and normal citizens from getting home and putting them in danger."
The "happy birthday" signs have been seen on tuk tuks throughout Bangkok while some have posted photos of empty advertising space in the transit stations.
🐹𝑯𝒂𝒑𝒑𝒚 𝒃𝒊𝒓𝒕𝒉𝒅𝒂𝒚 𝐉𝐈𝐍 & 𝐕🐯
พร้อมแล้วสำหรับวันเกิดพี่น้องตะกูลคิม ลิมิเตดสุดๆ 15 คันเท่านั้น ใครเจอป้าย ถ่ายรูปมาอวดกันที่แท็กนี้นะคะ 🌕#OursmilebeginwithJIN
🧸#BelovedV26th_Birthday#Happyvday#Happyjinday Special thanks for beautiful photos @Bedgasm_v 💜 pic.twitter.com/cVenc2SN9W

— 🌻⁹⁵ᶻ𝒊𝒔 𝑳☻𝒗𝒆 ᴮᴱ⁺𝘭𝘪𝘧𝘦 𝘨𝘰𝘦𝘴 𝘰𝘯 (@nuna_vmin) November 30, 2020
Keep in contact with The Thaiger by following our
Facebook page
.
Never miss out on future posts by
following The Thaiger
.
Man shot and killed outside Bangkok restaurant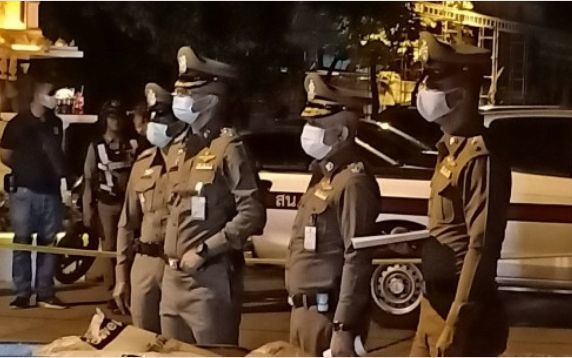 A man was shot to death at a parking lot outside a restaurant in Bangkok's Noi district. Police, accompanied by a doctor from the Siriraj Hospital, arrived at the scene around 2am this morning and found 49 year old Damrong Taweekkhet with 2 gunshot wounds in his chest.
Damrong, a fruit vendor, was chatting with his friends in the parking lot when a motorbike driver rode up and started arguing with Damrong, a witness told police. The driver allegedly pulled out a gun and shot it multiple times.
Police say they suspect the shooter is Damrong's friend who had argued with him inside the restaurant prior to the shooting. Police are still looking for the suspect and say the motorbike was seen driving down Boromratchonnee Road.
SOURCE: Nation Thailand
Keep in contact with The Thaiger by following our
Facebook page
.
Never miss out on future posts by
following The Thaiger
.
Thai couple arrested in Bangkok for allegedly trafficking 1 million methamphetamine pills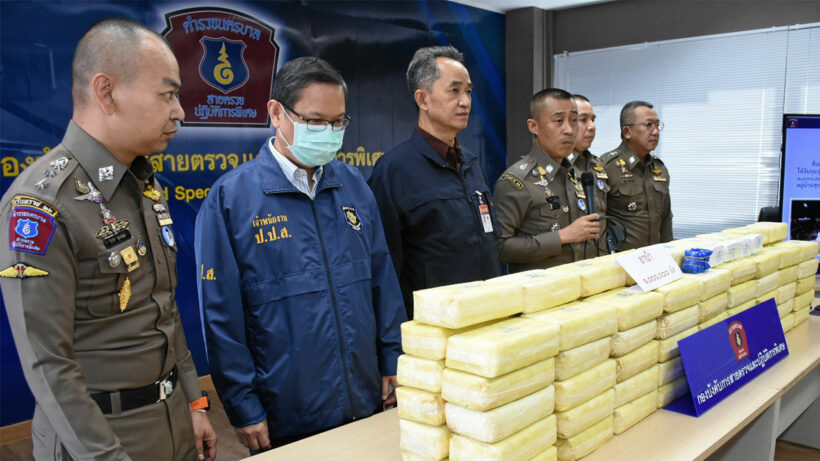 Police in Bangkok arrested a Thai couple for allegedly smuggling 1 million methamphetamine pills. Police say 28 year old Weerasak Jedhun and 29 year old Jutharat Daengnoi planned to deliver and distribute the drugs to clients in the South.
The arrests stem from an earlier bust in Nonthaburi, a suburb outside Bangkok, where police seized 1 million methamphetamine pills and 15 kilograms of crystal methamphetamine, according to police. The Patrol and Special Operation Division say that after the bust, they got a tip about a drug trafficking operation from a similar network.
Police stopped and arrested the couple at a petrol station in Bangkok. Along with seizing 1 million methamphetamine pills, police confiscated 3 mobile phones and a car.
Weerasak and Jutharat allegedly told police that they were paid about 50,000 baht to drive from the southern province Phatthalung up to Bangkok, pick up the drugs and drive back to the South to distribute the pills. The couple allegedly told police they were hired for a 3 month stint.
Police say Weerasak is also allegedly involved in 4 other drug cases. In one case, a methamphetamine pill was allegedly found in his pocket, but he claims a police officer set him up.
SOURCE: Pattaya News
Catch up with the latest daily "Thailand News Today" here on The Thaiger.
Keep in contact with The Thaiger by following our
Facebook page
.
Never miss out on future posts by
following The Thaiger
.