Mother threatens suicide over acquittal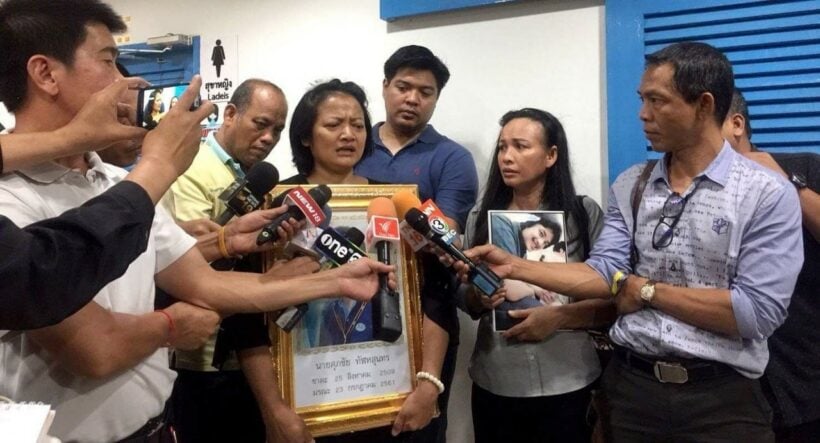 (4 minute read)
The suicide of a father, who jumped out of the eighth floor of Bangkok's Criminal Court after a verdict was read acquitting the suspect in his son's murder back in 2016, has taken a sad turn of events. Now the wife of the man who killed himself, and the murdered son's mother, is threatening to kill herself as well.
She revealed yesterday that she tried to kill herself along with her husband and threatened to take her own life if the Appeals Court upholds the verdict.
"If I lose the court battle again, please collect my body," Rewadee Kanlahasunthorn said tearfully about the case against Nattapong Ngern-khiri.
On Monday, Rewadee's husband Supachai jumped to his death from the eighth floor of the Criminal Court building on Bangkok's Ratchadapisek Road after the judge announced he would give the benefit of the doubt to Nattapong.
Nattapong, the suspect, had been accused of fatally stabbing Thanit on Prachasongkroh Road in Bangkok's Din Daeng district on April 15, 2016. The other defendant in the case – who has already been tried in the Central Juvenile and Family Court due to his young age – pleaded guilty to bringing a weapon to a public place and killing Thanit.
The distraught mother also revealed that she intended to commit suicide at the same time as her husband, but was subdued by security guards at the court.
"I have been suicidal since the death of my son. No one has really helped us with the case. My husband had to leave his job to try to gather evidence. We had done our best and we had never imagined that the court would acquit the defendant," she said.
She said her husband was quite optimistic when they went to the court together on Monday.
"So, I didn't think that he would jump from the building. He told me he would go to the toilet," Rewadee said.
"Then, I heard someone had jumped," Rewadee said. "It turns out to be my husband."
Nattapong is described as the son of a wealthy, locally-influential family. Rewadee said "witnesses are afraid" to come forward.
The only witness who told police he saw the killing has suffered brain injuries in a road accident and is unable to appear in court to testify. This contributed to Nattapong's acquittal.
Rewadee thanked police for their fresh efforts to gather evidence.
"I believe that the culprits will be brought to justice if police try harder during the investigation process," she said.
Police collect evidence after the man jumped to his death from a window of the Criminal Court Monday
SOURCE: The Nation
Keep in contact with The Thaiger by following our
Facebook page
.
Chinese man arrested with 1,000 cannabis plants, involved in 'Heaven Herb' illegal business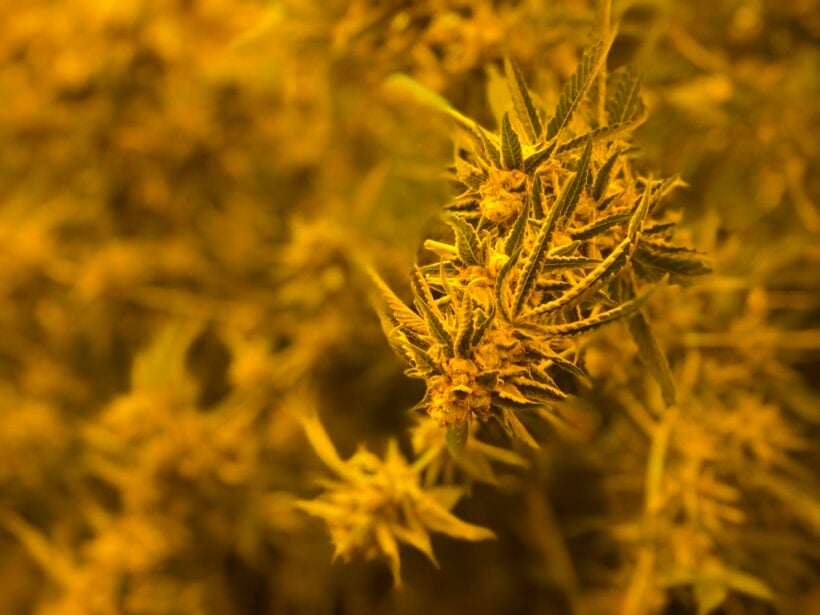 Police arrested a man yesterday for growing 1,000 cannabis plants in a Bangkok warehouse and selling it online through a service called "Heaven Herb." 41 year old Wu Ding Bin, from China, grew "organic cannabis of foreign varieties." Police say the foreign strains are priced up to 700,000 baht per kilogram.
"Heaven Herb" marijuana was sold and delivered through a Line app chat group which already has around 6,000 members, according to police. Drug dealers were disguised as Grab and Food Panda motorcycle drivers to deliver the marijuana. During May, Bangkok police arrested 12 men involved in the illicit business in raids in Bangkok, Pathum Thani and Ayutthaya, also finding hallucinogenic mushrooms, dried marijuana and cannabis plants.
Police gained information on the Chinese man after an arrest from one of the raids where a Chinese man in the same building in the Prawet district was growing around 300 cannabis plants. Bin denied that he was involved at the time and said he was" just an electrician", but police say surveillance footage shows Bin frequenting the warehouse. Police revealed that Bin is in Thailand on a student visa to learn Muay Thai.
Rent for the warehouse is 40,000 baht, but the electricity costs for the cannabis production are even higher – 70,000 to 100,000 baht per month.
SOURCES: Bangkok Post | Coconuts Bangkok | Bangkok Post
Keep in contact with The Thaiger by following our
Facebook page
.
Boxer wants officers prosecuted after false imprisonment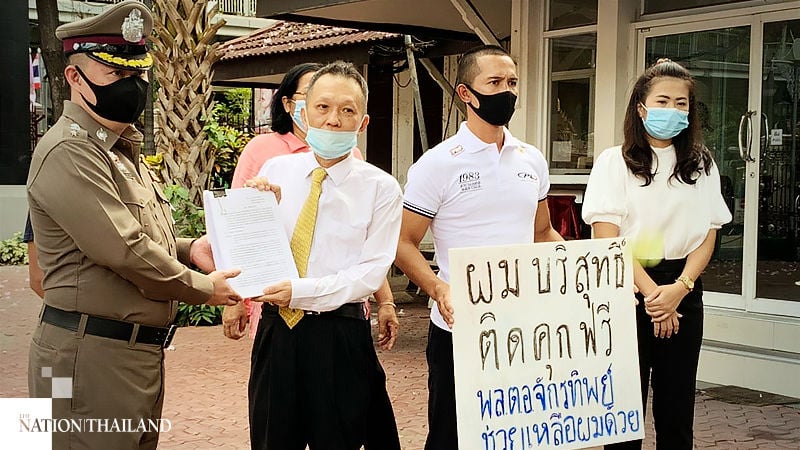 A former boxer recently released from custody for drug trafficking charges claims he was wrongfully imprisoned and is calling on the national police chief to prosecute the officers that filed the drug charges. He has submitted documents to Thailand's police chief Chakthip Chaijinda as evidence he had been wrongfully imprisoned for 14 months. Now he's demanding justice and wants the police who arrested him investigated and prosecuted.
Atchariya "Max" Wirotesunobon was a WBC Asia super-lightweight champion. The title was stripped from him after he was arrested in 2018 at the Don Mueang International Airport in Bangkok on his way to a boxing match in Japan. He was accused of involvement with an operation to smuggle and sell more than 3 million methamphetamine pills.
Wirotesunobon was incarcerated for 14 months, but was acquitted and released last week. The only thing that linked him to the crime, he says, is that a car he sold to a dealership was used by people in involved in the drug smuggling operation. The car was sold in 2015. Others arrested in the operation said they were not associated with the boxer, and Wirotesunobon said he does not know them.
SOURCES: Bangkok Post | Nation Thailand
Keep in contact with The Thaiger by following our
Facebook page
.
Bangkok man shoots, injures friend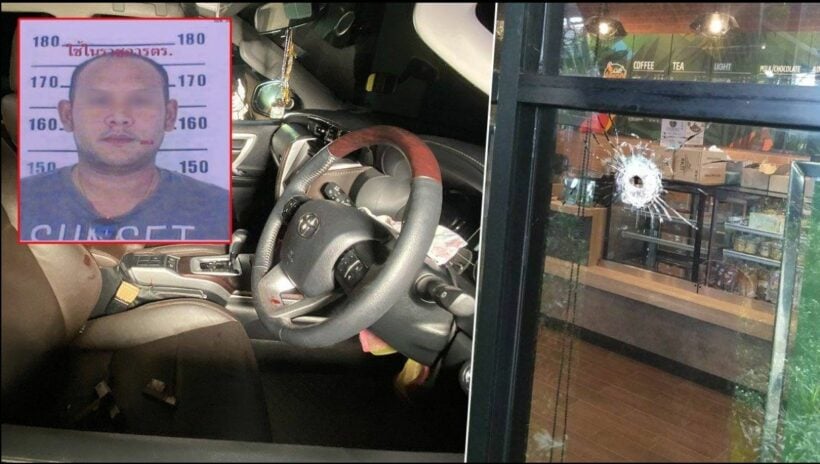 A Thai man has shot his best friend in Bangkok over the weekend after he found out his friend had an affair with his ex-wife. The 34 year old man, reported as 'Paratkorn', found photos of his wife and friend, 31 year old Pongsitthat. In a fit of rage, he shot and injured Pongsitthat.
Police say Paratkorn has a history of violence. He spent 6 years in prison for attempted murder and had also been arrested for drug and gun related charges. During Paratkorn's time in prison, his friend stepped in to help out his wife and daughter, and ended up having an affair with Paratkorn's wife.
Paratkorn shot at his friend who was sitting in his car at the time. Bullets hit his face and arm, injuring Pongsitthat. Another bullet hit a cafe, but no one else was injured. As of yesterday, Paratkorn has not been arrested and the Bang Khen Police Station are tracking him down.
SOURCE: Thai Residents
Keep in contact with The Thaiger by following our
Facebook page
.