Mother threatens suicide over acquittal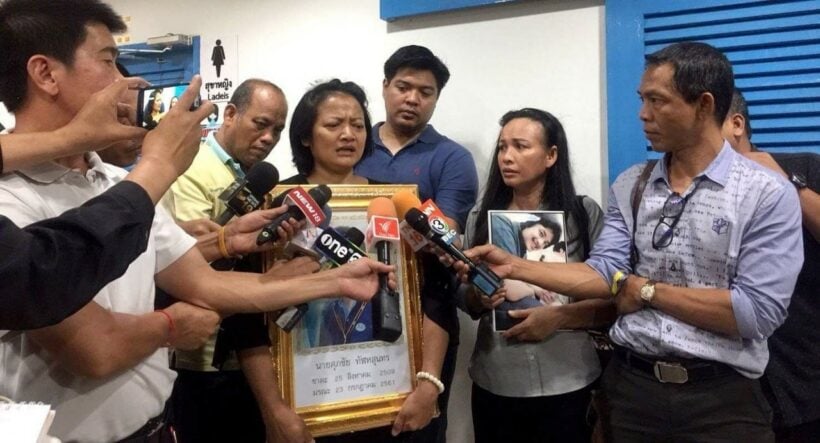 (4 minute read)
The suicide of a father, who jumped out of the eighth floor of Bangkok's Criminal Court after a verdict was read acquitting the suspect in his son's murder back in 2016, has taken a sad turn of events. Now the wife of the man who killed himself, and the murdered son's mother, is threatening to kill herself as well.
She revealed yesterday that she tried to kill herself along with her husband and threatened to take her own life if the Appeals Court upholds the verdict.
"If I lose the court battle again, please collect my body," Rewadee Kanlahasunthorn said tearfully about the case against Nattapong Ngern-khiri.
On Monday, Rewadee's husband Supachai jumped to his death from the eighth floor of the Criminal Court building on Bangkok's Ratchadapisek Road after the judge announced he would give the benefit of the doubt to Nattapong.
Nattapong, the suspect, had been accused of fatally stabbing Thanit on Prachasongkroh Road in Bangkok's Din Daeng district on April 15, 2016. The other defendant in the case – who has already been tried in the Central Juvenile and Family Court due to his young age – pleaded guilty to bringing a weapon to a public place and killing Thanit.
The distraught mother also revealed that she intended to commit suicide at the same time as her husband, but was subdued by security guards at the court.
"I have been suicidal since the death of my son. No one has really helped us with the case. My husband had to leave his job to try to gather evidence. We had done our best and we had never imagined that the court would acquit the defendant," she said.
She said her husband was quite optimistic when they went to the court together on Monday.
"So, I didn't think that he would jump from the building. He told me he would go to the toilet," Rewadee said.
"Then, I heard someone had jumped," Rewadee said. "It turns out to be my husband."
Nattapong is described as the son of a wealthy, locally-influential family. Rewadee said "witnesses are afraid" to come forward.
The only witness who told police he saw the killing has suffered brain injuries in a road accident and is unable to appear in court to testify. This contributed to Nattapong's acquittal.
Rewadee thanked police for their fresh efforts to gather evidence.
"I believe that the culprits will be brought to justice if police try harder during the investigation process," she said.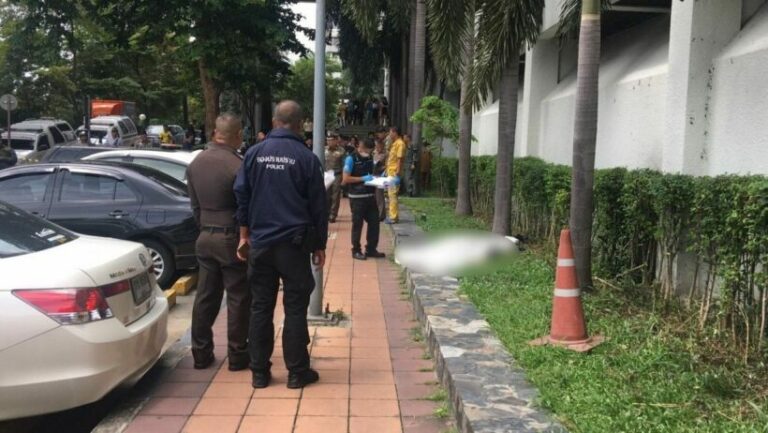 Police collect evidence after the man jumped to his death from a window of the Criminal Court Monday
SOURCE: The Nation
Keep in contact with The Thaiger by following our Facebook page.
Never miss out on future posts by following The Thaiger.
Thai temple tour, via a jet ski on Bangkok's Chao Phraya | VIDEO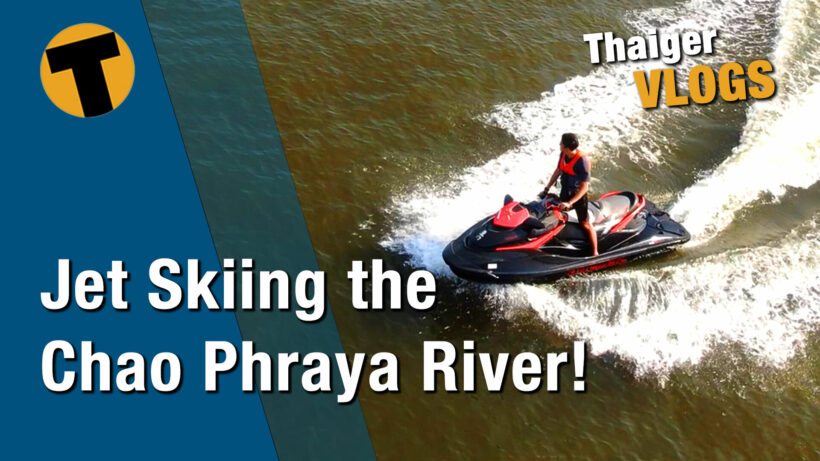 In this brief video, Chris our Thaiger 'adventure' Vlogger, takes you on a ride through the Chao Phraya River…on a jet ski! There are plenty of ways for tourists to take the well-trodden path of temple-hopping whilst in Thailand. THIS is a very fresh view of some of the famous river's lesser known temples.
You can stop off and a look around (make sure you're dressed appropriately) during your very-own river trip. The Chao Phraya River is the main river that runs through Thailand, and for 2,500 Thai baht you can rent out a jet ski and do some temple hopping as well as speeding your way around Ko Kret.
Keep in contact with The Thaiger by following our Facebook page.
Never miss out on future posts by following The Thaiger.
Pro-democracy activists rally against corrupt police promotion system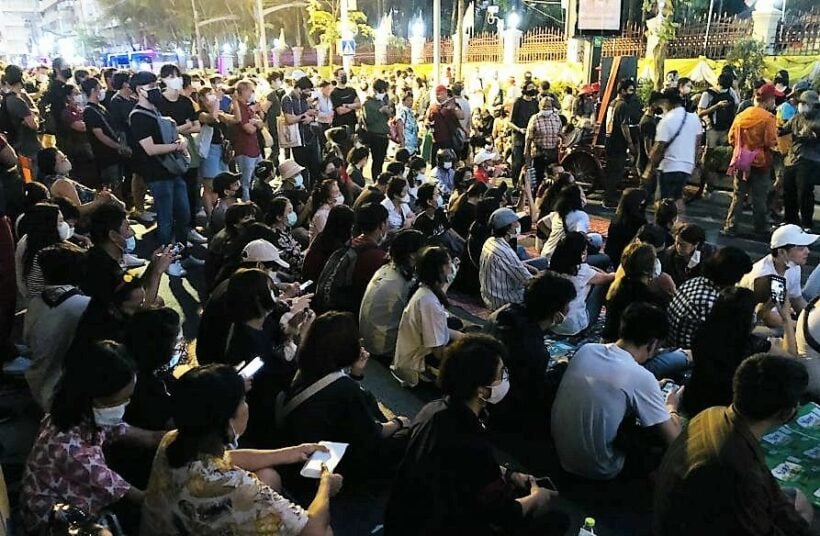 The pro-democracy group, Ratsadon, held a rally in Bangkok yesterday, this time with their sights set on Thailand's police force and the corrupt practices involved in promotion. The system in which officers have to pay bribes to senior figures, allegedly including senior politicians, was highlighted in a debate in parliament last week.
Activists met at the Ratchaprasong intersection in the capital at around 5pm and stayed there for an hour, according to a Thai PBS World report. However, most of the speakers were unknown faces, with more prominent leaders, such as Panasaya Sitthijirawattanakul, aka, "Rung", and Mike Rayong notably absent. Those who addressed the crowd called on "honest" officers to join them in the fight for justice, as they slammed the widespread nepotism and corruption that is allegedly rife in the police force.
Protesters then marched to the nearby headquarters of the Royal Thai Police and sat on the street outside while speeches continued. At one point, an activist read out a letter which the group says was written by a police officer and addressed to his colleagues. In it, the officer calls on his colleagues to decide if they are serving the people or those in power, and asks them if they think they've been fairly treated by their bosses or used for political purposes. After the reading, rally participants were given copies of the letter.
The protest dispersed peacefully around 8.30pm, with organisers saying another rally is planned for today. Activists are being asked to wear black and will gather in front of the Criminal Court in a symbolic show of mourning for the country's justice system. The "mourning" will last for 112 minutes, to protest Section 112 of Thailand's Criminal Code, also known as the lèse majesté law. Participants will also call for the release of 4 detained protest leaders, Parit Chiwarak, Anon Nampa, Somyos Prueksakasemsook, and Patiwat Saraiyaem.
SOURCE: Thai PBS World
Keep in contact with The Thaiger by following our Facebook page.
Never miss out on future posts by following The Thaiger.
Bangkok bars are back open, restaurants serving booze again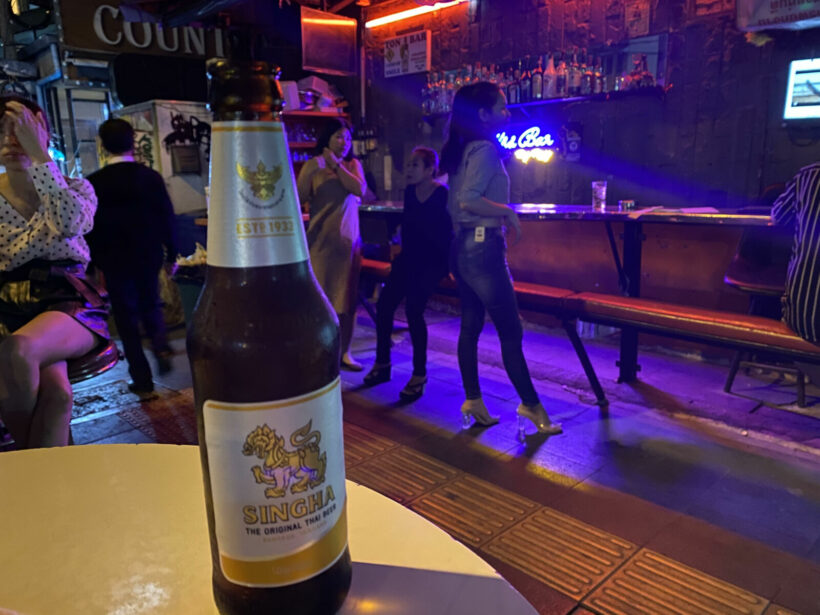 Bangkok bars are back in business. People flocked to the city's streets last night after hearing the news that bars could reopen and restaurants could start serving alcohol again… as long as they close by 11pm. Some started rolling out their mobile bars stocked beer and liquor, setting it up along a busy street. Restaurants changed their signs, erasing 9pm and writing 11pm. Bars reopened, turning on the lights and turning up the music. Even a street performer dressed up in a robot costume (or maybe it was a knock-off Transformer) was out by the Sukhumvit-Asok intersection.
The easing of disease control restrictions officially set by the Centre for Covid-19 Situation Administration kicks in on Monday, but provincial authorities have been given the "okay" to the lift the restrictions earlier. In Bangkok's case, local officials gave the nod immediately.
Live music is now allowed, but customers are not allowed to dance. Bars, pubs, restaurants and other nightlife venues must close by 11pm. Click HERE to read the new disease control regulations by zone.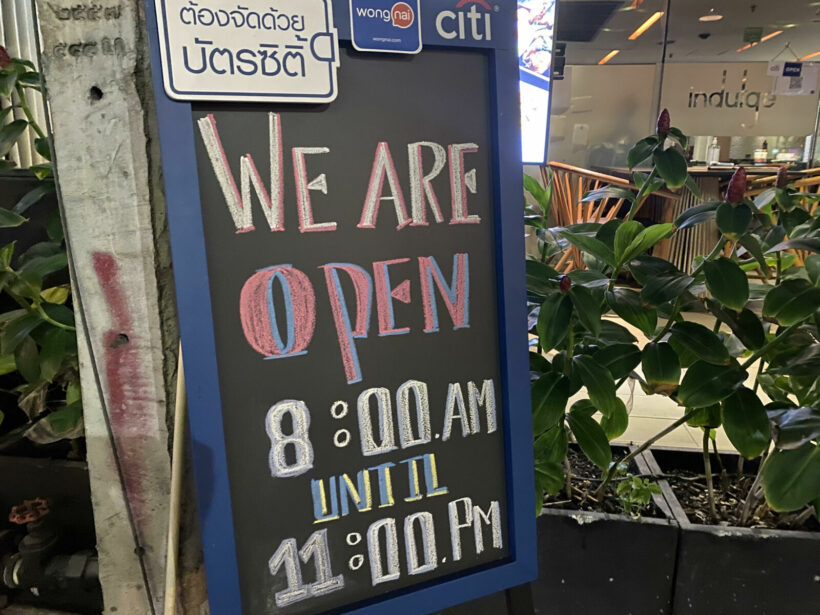 Keep in contact with The Thaiger by following our Facebook page.
Never miss out on future posts by following The Thaiger.