Late night party blamed for major road incident east of Bangkok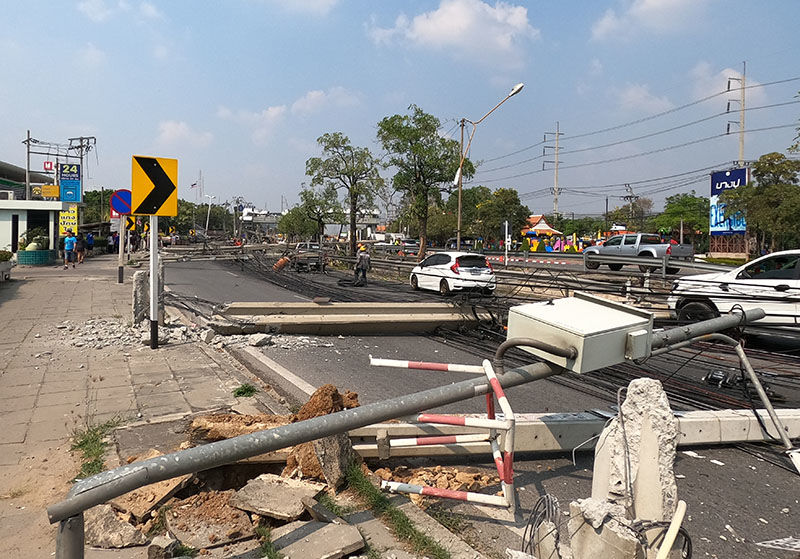 PHOTOS: Khaosod English
Police are still investigating the events that led up to a major traffic incident last Friday. A woman in Samut Prakan, east of central Bangkok, has been seriously injured after crashing her pickup truck into a power pole, causing a series of incidents. The driver, 25 year old Siriprapha Photmoo, remained unconscious in hospital over the weekend. Police and relatives say she had been at a year-end party the previous night and had little sleep.
The accident occurred after she crashed her pickup into a power pole on Sukhumvit Road, knocking it down, in front of Samut Prakan Technical College. That pole dragged down about 10 other poles and blacked out a large chunk of the adjacent suburb. Some of the poles hit other vehicles and injured passengers and passers-by. No deaths have been reported at this stage.
The resulting traffic jam stretched for 10 kilometres.
ภาพเหตุการณ์รถชนเสาไฟพังยับเจ็บหลายราย

ภาพรวมเหตุการณ์ ชนวินาศ โค้งเทคนิคบางปู เสาไฟแรงสูงล้ม 15 ต้น ฟาดสะพานลอย รถพังนับ 10 คัน!นางสาวศิริประภา อายุ 25 ปี คนขับรถกระบะคันดังกล่าว เล่าว่าขับรถมากับเพื่อนความเร็วพอประมาณ มาถึงที่เกิดเหตุซึ่งเป็นทางโค้งรถได้เกิดเสียหลักหลุดโค้ง ขณะที่สอบถามชาวบ้านที่เห็นเหตุได้เล่าว่า ก่อนเกิดเหตุได้เห็นรถยนต์กระบะคันดังกล่าวที่ขับมาจากบางปูมุ่งหน้าเข้าตลาดปากน้ำด้วยความเร็วมาถึงที่เกิดเหตุได้แหกโค้งพุ่งชนเสาไฟฟ้าเข้าอย่างแรงเสียงดังสนั่นก่อนที่เสาไฟฟ้าแรงสูงจะล้มลงมาเป็นโดมีโน่ กว่า 10 ต้นลงมาทับรถคันอื่น ๆ ที่ขับอยู่บนถนนจนได้รับความเสียหาย เบื้องต้นเจ้าหน้าที่ได้ทำการอายัดตัวผู้ขับขี่รถยนต์กระบะต้นเหตุเอาไว้เพื่อทำการสอบสวนข้อเท็จจริงอีกครั้งเพื่อดำเนินการตามกฎหมายต่อไป

Posted by ข่าวสารเมืองปราการ v2 on Friday, December 27, 2019
Twenty-three year old Jariya Pinchaeng, a passenger who suffered a cuts to her face and chest pains, told The Bangkok Post… "My friends and I were sleeping. My older sister Siriprapha was driving. I woke up after the accident… I think she (the driver) dozed off."
Siriprapha was taking herself and four passengers home to after visiting her boyfriend at Khlong Dan prison on Friday morning. Her mother, Wichuda Morakot, said her daughter may well have dozed off at the wheel. She had been at a party late into Thursday night and left home about 6am on Friday.
Wichuda says she understands the extent of the damage the accident has caused.
"The family is poor and jobless, and couldn't even afford the trucks's annual tax and mandatory insurance, but would do their best to pay compensation."
"I am deeply sorry about what happened. No one would wish it. I'm speechless, knowing well that my child was wrong."
Wichuda said Siriprapha suffered severe internal injuries and bleeding, over and above the swollen face and bruises that were clearly evident.
Security footage showed the truck failing to slow down for a curve and running up onto a footpath.
Medical staff have told local media that Siriprapha would be ready for questioning within a week. She will be charged with reckless driving causing injury and damage, and operating a vehicle with expired registration and without compulsory insurance, police said.
SOURCE: Bangkok Post
Keep in contact with The Thaiger by following our
Facebook page
.
Drunken Bangkok tour bus driver fired after 'borrowing' a bus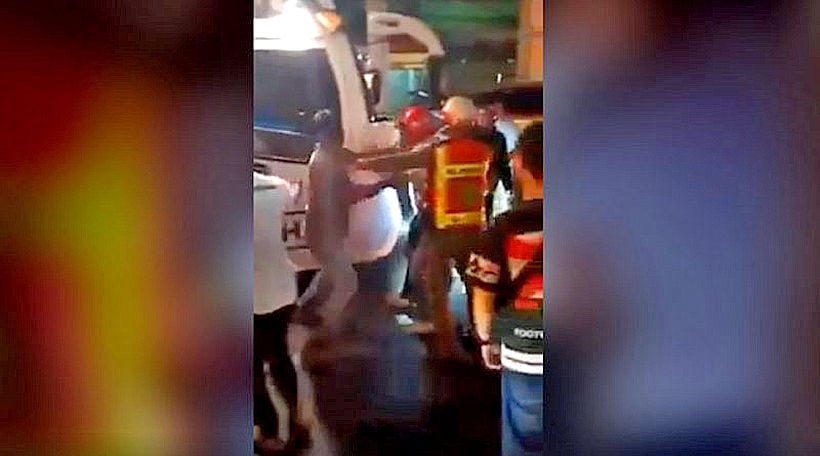 A tour bus driver has now been fired by the tour company that employed him as a driver after he went on a drunk-driving rampage in Bangkapi district of Bangkok around 3am Thursday morning. The incident was reported by khaosod.co.th.
The drunk driver was taken to a police station after being nearly lynched by a mob. He was charged with drink-driving and causing injuries to pedestrians and traffic.
The driver drove the bus out of the company's car park without permission. Khao Sod didn't report on the reasons for 'borrowing' the bus and taking it for a 'spin'.
And angry mob stopped the driver. Police waited for the mob to cool down a bit before intervening and arresting the driver. The license plate of the bus was clearly captured by a bystander that figured it was a good idea to video of the violent mob.
SOURCE: Thai Residents
Keep in contact with The Thaiger by following our
Facebook page
.
"Don't be f**king nosey." Government committee meeting turns sour.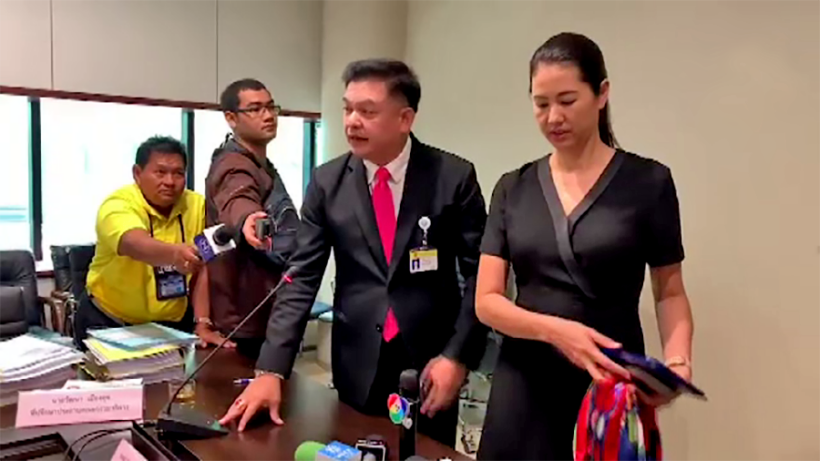 Strong language ahead…
Claws were out at a committee meeting of the House Anti-Corruption and Misconduct Committee. A heated argument started between the committee chairman, Pol Gen Seripisut Temiyavet and two of the committee members, Pareena Kraikupt and Sira Jenjakha. The nasty and noisy spat erupted when Ms. Pareena, a Palang Pracharat MP, asked Seripisut why her petition, demanding an investigation of the committee chairman on seven issues, was not included in the meeting's agenda, after it had been forwarded to the committee by the Office of the Secretary-General of the House, according to Thai PBS World.
The two firstly argued over whether a document had been signed or not. Then the two engaged in a vicious verbal exchange for about 15 minutes before Seripisut, a former national police chief, lost his cool…
"Don't be fucking nosey, talking to me like that!"
That didn't go down well and received the retort…
"Don't use that low-class language with me."
"Because you are low-class!"
Pareena reportedly demanded Seripisut withdraw the words "fucking nosey", which he refused to do.
Then Palang Pracharat MP Sira Jenjakha walked in and jumped into the fray, demanding Seripisut withdraw the swearing and nasty sleights. He questioned how a man could use such rude language speaking to a woman.
The former police chief then abruptly adjourned the meeting and instructed parliament officials to keep an audio record of the incident so he could file defamation charges against the two Palang Pracharat MPs.
Sadly we don't have access to any audio, let alone a video.
SOURCE: Thai PBS World
Keep in contact with The Thaiger by following our
Facebook page
.
Large Bangkok drug haul – meth pills, crystal meth and Ketamine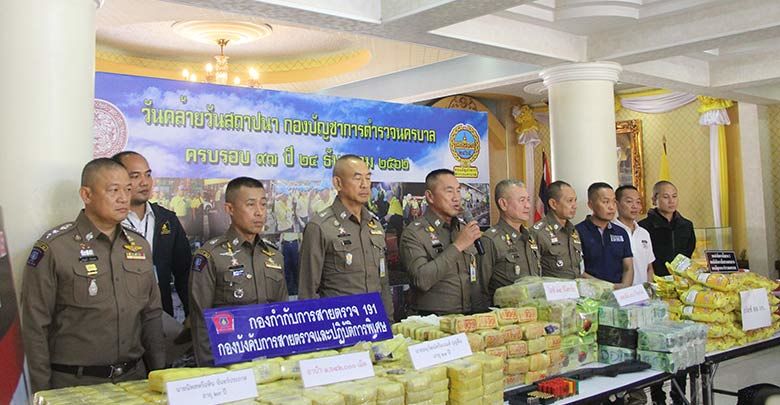 Metropolitan Police have reported the seizure of 1,600,000 methamphetamine pills (yaba), 34 kilograms of crystal methamphetamine (ice), and 40 kilograms of Ketamine. Officials also seized a pick-up involved in the drug gang's business as well as weapons. The Patrol and Special Operation Division 191 Police seized the drugs from Nipol 'Hin' Janprapat and Anuwat 'James' Bunjeen while they were in Bang Khae District, western Bangkok.
Police Lieutenant General Pokpong Pongpetra related that the investigation revealed suspects had been renting a home to use as a drug warehouse. The drugs had been sourced from the border areas of northern Thailand, transported south, and then stored in the rented house. They'd then wait for delivery instructions around the Bangkok area.
The 2 suspects already have links with previous drug smuggling operations and, with links to arrests in Pak Kret, Nonthaburi Province and Thonburi District.
Officials also arrested 49 year old Toh-r Denbonfahthai on January 15, who police allege has connections to the 'Karen people', a Burmese ethnicity living to the north of the Thai border. He was nabbed with 66 kilograms of crystal methamphetamine at the Bangkok Bus Terminal in Chatuchak. He was travelling in a Toyota Sport Rider. His arrest led officials to an abandoned vehicle which was loaded up with 31 kilograms of crystal methamphetamine.
Discussing the modus operandi, police say the suspects would deliver the drugs through multiple drug smuggling gangs using public transportation from Mae Sot and Tak provinces (northern Thailand) to Mo Chit in Bangkok. They allege the drugs are then intercepted by another group who would put the drugs into the abandoned car parked on Nawamin Road.
The drugs are then delivered to the person who has ordered the drugs. In this case, the buyer was known as 'Ma-ah from Myanmar', living in Thailand. The investigation continues.
SOURCE: Thai Residents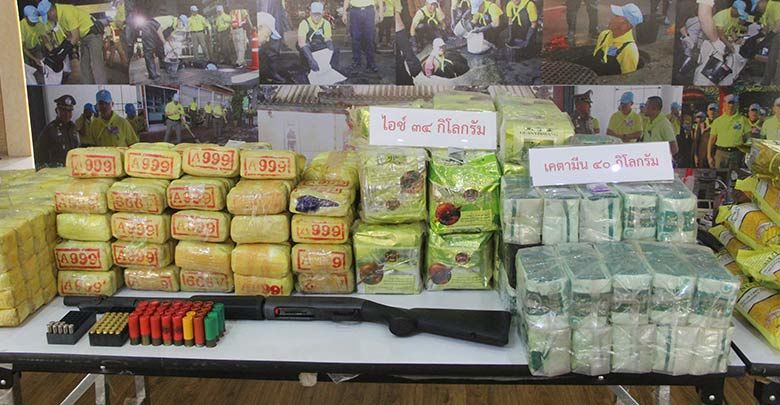 PHOTO: INN News
Keep in contact with The Thaiger by following our
Facebook page
.