Bangkok smog: Sunday awakes to another day of 'unhealthy' air in the capital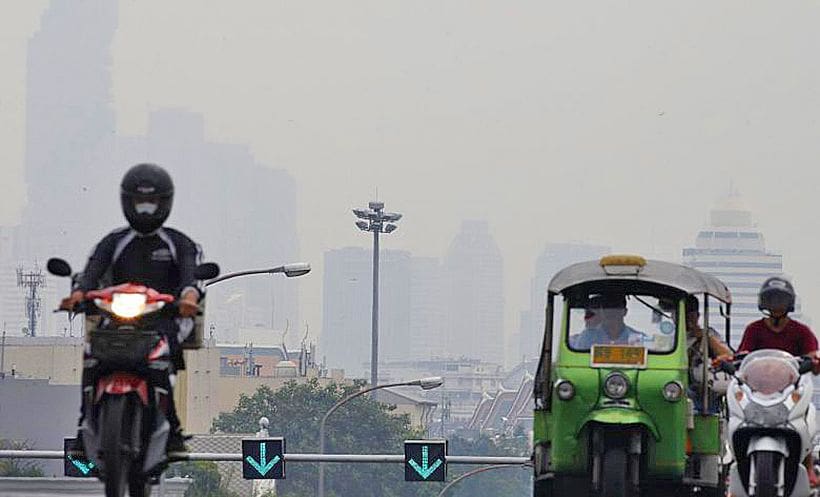 As promised, Bangkok and the central region have been battling with enduring smog this weekend. On Friday the Thai Meteorological Department warned of smog and haze continuing over the weekend in parts of the capital and in nearby Pattaya due to a weakening cold front in the north of country, bordering Laos.
Given the fingers pointing at Bangkok's old buses, high traffic volumes and industry, it's a bit of a mystery that the levels are so high on a Sunday morning.
Authorities have been fumbling all week with photo opportunities, empty promises of 'solutions' and even denials that the smog was as bad as reported. They've set up shows or water cannons in public areas in a display of feeble PR efforts to assuage Bangkokians of their earnest efforts to tackle the smog problem.
They even slammed the international websites that routinely publish air quality guides around the world from data in each location. In Bangkok, along, there are eight measurement stations that check the air quality every 10 minutes.
Bangkok and some parts of the EEC (Eastern Economic Corridor), the nation's industrial hub, had consistent measurements above 150, considered 'unhealthy'. This, on a morning when traffic and industrial activity are at their lowest levels for the whole week.




The thick smog that has been plaguing Bangkok for around a week now is more dangerous than expected. It is because of the dangerous PM 2.5 dust particles, believed to cause lots of problems, including cancer. This is a problem around the country through vehicle emissions and crop burning. Bangkok may not be the most polluted in the world but it is one of the most visited. The BBC reported on the Big Mango's smog woes…


Read more headlines, reports & breaking news in Bangkok. Or catch up on your Thailand news.
Siam Songkran Festival lights up this year's Songkran in Bangkok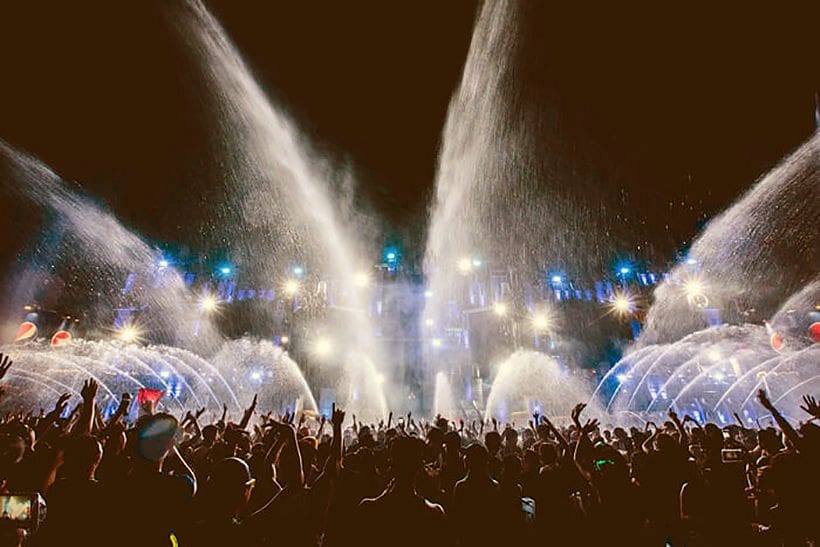 Sick of running around Bangkok with your 200 baht Tesco water pistol? Combine the annual water festival with a world class music festival instead.
Welcome to Siam Songkran, Thailand's newest four-day Songkran festival set to be held April 12 – 15 at Bangkok's largest city centre entertainment zone, SHOW DC Arena.
A time of tradition, Songkran is also a time of fun with family and friends, and Siam Songkran is set to blend Thai and Western cultures with a packed music and entertainment program and the largest water fight in Bangkok.
Held over four days with four outdoor zones and two huge stages showcasing live music from the biggest acts in Thailand and around Asia. Headliners include Yellow Claw, Afrojack, Coone and Crisis Era, while many others will perform such as Dolf, Zatox, Darren Styles and more.
#SIAMSongkran tickets can be purchased online at www.siamsongkran.com and range from 1,500 baht for a single day pass, to 6,400 baht for a VIP 4 Day Pass. For those looking for the ultimate festival experience, special VVIP Packages are available from 100,000 baht (for 6 pax) to 385,000 baht – the first festival pack with a pool suite.
Powered by SHOW DC, Clubbing Asia, One and Zaap, Siam Songkran will take place April 12 – 15 at SHOW DC.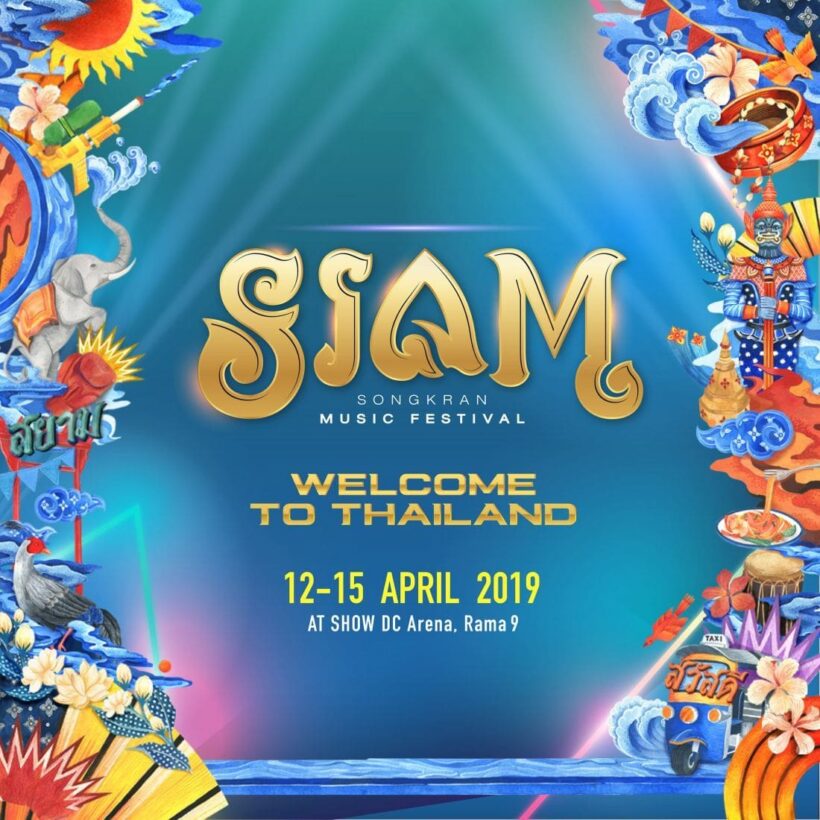 Link for further details HERE.
TAT expects 2.3 million tourists for this year's Songkran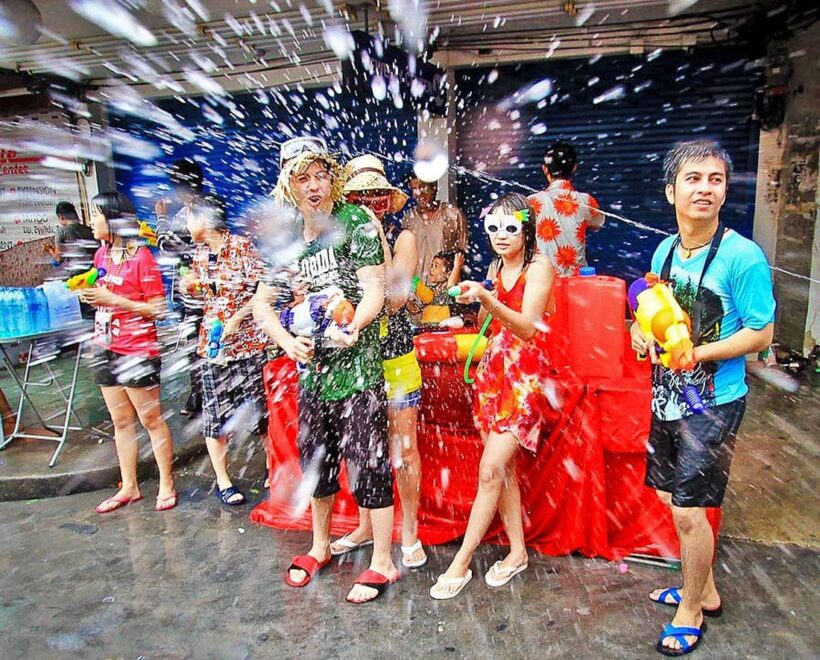 The Tourism Authority of Thailand is expecting more than 2.3 million local and foreign tourists will join the various Songkran celebrations this year. They say that should generate 20 billion baht+ in revenue for tourism and tourism-related services.
TAT's Governor Yuthasak Supasorn says 300,000 international arrivals are expected to celebrate the five day festival starting April 12, along with two million locals who will travel to celebrate Songkran this year. Songkran falling on a weekend this year will also bolster local tourism numbers.
The number of Songkran-specific visitors is up this year, partly because of the growing popularity of the festival internationally and the government extending the holiday to five days this year, now starting on April 12 (although 'Songkran, the Thai New Year, is actually on April 13).
Songkran festival extended HERE.
He admits that the bad publicity about the poor air quality in the northern regions is a problem, especially around Chiang Mai which has become a big international visitor favorite over recent yers.
Chiang Mai is one of nine provinces in the North struggling with smoke haze, mostly because of open-air burning of farm waste and rubbish, and localised bush fires. The heavy smog has caused temporary suspension of flights between Chiang Mai and Mae Hong Son although flights into Chiang Mai have been unaffected so far.
Thailand releases Burmese migrant activist, will deport him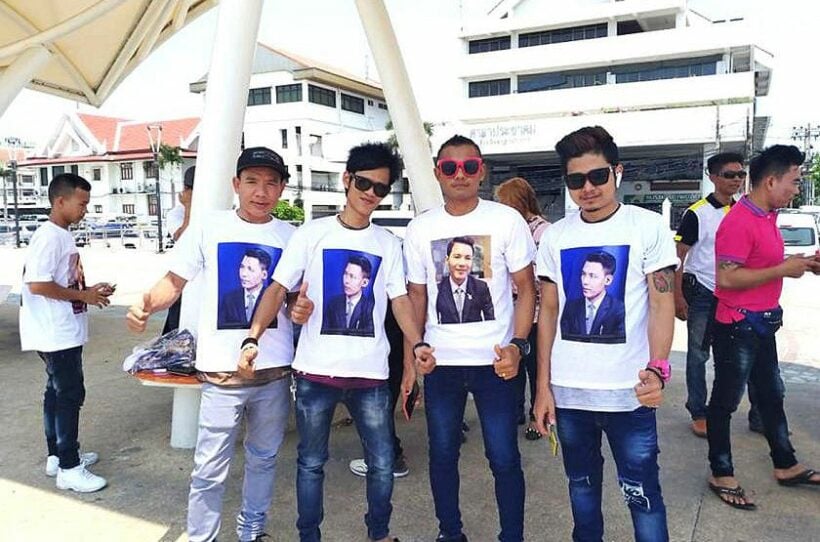 PHOTO: Facebook/Ye Min- Migrants workers wearing T-shirts with the image of Ye Min wait for his release in front of the court in Samut Prakan, Thailand
A prominent Burmese migrant activist Ko Ye Min, one of founders of the Aid Alliance Committee in Thailand, has been released from jail pending deportation by a Thai court.
"Ko Ye Min was freed from jail," U Khaing Gyi, director of the AAC, said on his Facebook page.
AAC officials declined to comment when contacted, saying the organisation will only issue statements about Ko Ye Min on its Facebook page.
U Khaing Gyi recently told Myanmar media that Ko Ye Min was sentenced to four months in jail and fined 30,000 baht (US$950) for defamation over a comment he posted on Facebook about a Thai employment agency.
He was released after spending about five months in jail, and the Thai court banned him from engaging in migrant-rights activities for one year.
He has been transferred to the immigration detention centre pending deportation back to Myanmar, according to a news report.
Ko Ye Min was arrested last October 19, when he went to the Thai immigration department to extend his visa. After his arrest, he was slapped with several charges, including defamation and for overstaying his visa. He had been detained at Samut Prakan prison, south of Bangkok, since October last year.
The AAC was formed in 2014 by U Khaing Gyi, Ko Ye Min and Ko Naing to protect Burmese migrant workers in Thailand.
The group has faced pressure from labour brokers, employment agencies and employers in Thailand for championing the rights of migrant workers.
SOURCE: Myanmar Times