Bangkok in the Top 10 cities in the world with the worst air pollution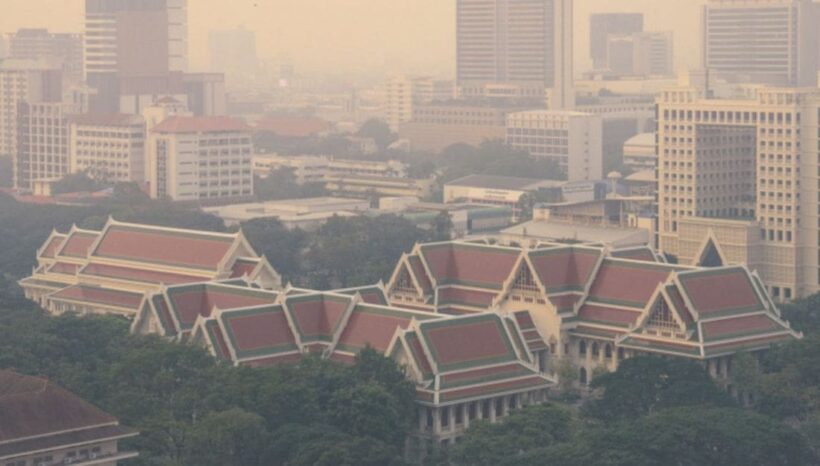 Bangkok is placed Number 9 in the world's top 10 cities with the worst air quality, Greenpeace Thailand was quoting the US air quality index measuring pollution floating around in the air we breathe.
The Thai capital is not in good company.
Thai PBS reports that, on top of the list, is New Delhi with 309 on US AQI, Dhaka in Bangladesh with 293, Kolkata in India with 275, Shenyang in China with 264, Kathmandu in Nepal with 246, Ulaanbaatar in Mongolia with 234, Mumbai in India with 196, Wuhan in China with 180, Bangkok with 179 and Dubai, 174.
Meanwhile, the Royal Rain-making and Agricultural Aviation Department has been asked to be ready to carry out cloud seeding once the weather is suitable for the operation to help ease the worsening air pollution in and around Bangkok.
Bangkok Metropolitan Administration, meanwhile, has reportedly ordered all the district offices in the city to clean up roads on daily basis and, at the same time, to send water trucks to spray water into the air to reduce fine dust particles and to strictly check car emissions and construction sites.
Blaming close weather with cloudy skies, morning fog and stale air, the Pollution Control Department reported today that air quality in 19 areas close to the roads is health threatening with the amount of PM2.5 dust particles ranging from 63-96 microgram/cubic metre against the standard level of 50 mg/cum.
Air quality in 17 other areas which are further away from roads also starts to pose health threat, with the amount of PM2.5 particulate ranging from 56-99 mg/cum, said the department, adding that the air quality in and around Bangkok tomorrow will remain health hazardous.
The Thaiger is now publishing daily reports, in Thai and English, on the air quality around the country as a service to our readers.
SOURCE: Thai PBS


Read more headlines, reports & breaking news in Bangkok. Or catch up on your Thailand news.
Two Suvarnabhumi crimes solved by Surachate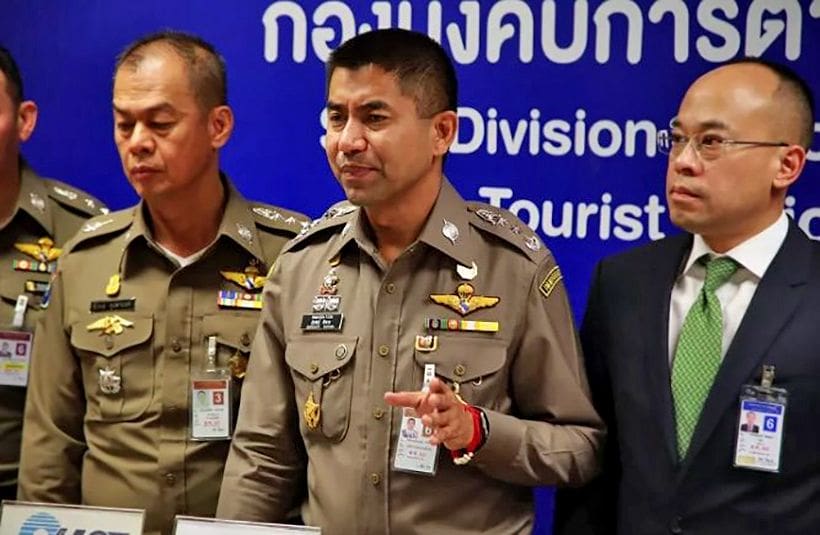 PHOTOS: Thai Rath
Lt-Gen Surachate Hakparn, the high-profile immigration chief, has announced the solving of two cases at Suvarnabhumi Airport in Bangkok.
One involved a Thai woman using a passport illegally by adding extra pages. The other was the arrest of members of a Mongolian pickpocketing gang who had been preying on tourists at the airport and on the city's Skytrain.
Firstly, the French embassy contacted Thai immigration with news that a 39 year old Thai woman, Chananya Daengthong, had applied for a visa with a passport that had added pages.
Officials found that four pages had been removed and replaced with new, fake pages. Chananya later admitted that she had been banned from entering The Netherlands after overstaying her visa there and had received no entry stamps on two pages in her passport.
She had then arranged, via a woman called "Nott", to contact a man on a Line application called "Fa Sai". She paid him 11,000 baht to alter her passport.
The other case resulted in the arrest of three men, all members of a Mongolian pickpocketing gang, responsible for stealing more than 200,000 baht from people at the airport and on the BTS Skytrain services from the city. Working in tandem with a woman, they targeted tourists.
Warrants went out for their arrest and they were soon nabbed whilst coming back into Thailand after going back to Mongolia.
In a latest theft on March 8 they followed a 59 year old German who had arrived on Thai Airways flight from Frankfurt. The victim only realised he had been pickpocketed, losing cash and a credit card, when he was in the taxi. CCTV showed that the woman in the gang was responsible for the theft.
The gang were then seen to be continuing their thefts on the Airport Link and BTS. In another case they lifted AUD$500 from an Australian on the Airport Link.
Surachate says the Mongolians would steal around Bangkok and the main airport then return to their home country. Credit cards were used to purchase brand name items at stores.
SOURCE: Thai Rath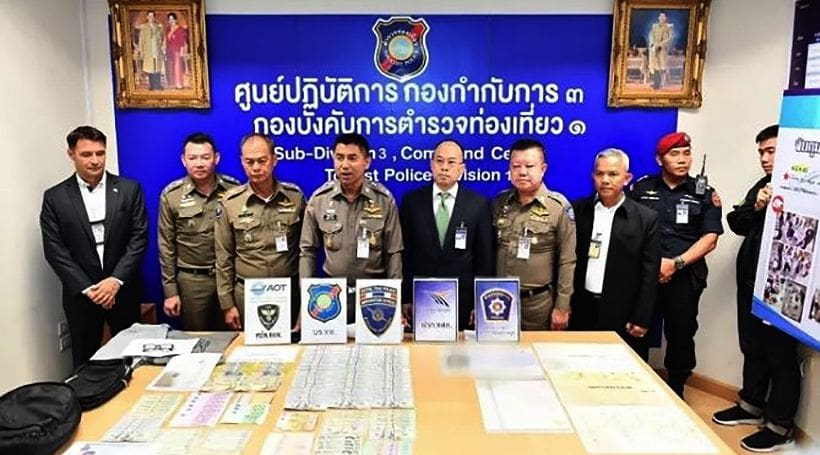 Grab rider attacked by local motorcycle taxi driver – police admit the law is not clear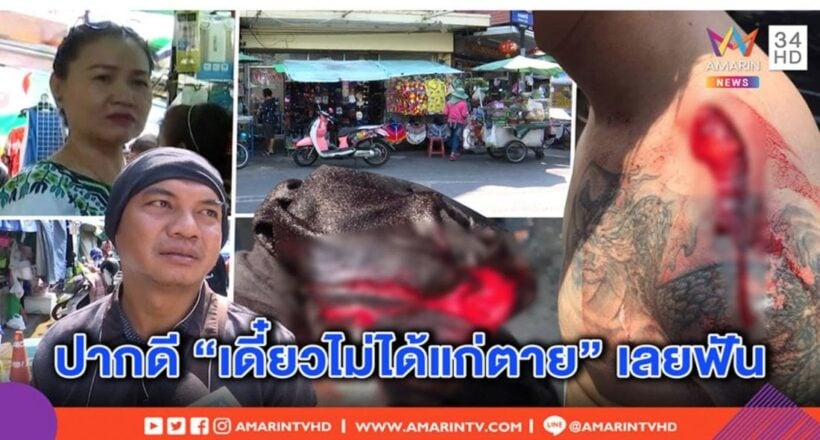 MONTAGE: Facebook/Patiharn Sarikapun
Police near Khao San Road admit the law regarding the use of Grab Bike and similar 'disrupting' public transport services, is still unclear.
They are calling on motorcycle taxis drivers, Grab riders, taxi drivers and Uber to keep calm and contact police if there are any disputes rather than taking matters into their own hands.
Daily News reports about the latest case in Chakraphon Road, Bangkok when a Grab rider was assaulted by a local motorcycle taxi driver.
Pictures of his bloodied shoulder caused alarm and comment from netizens after they appeared on the Facebook page of "Patiharn Sarikapun".
Pol Lt-Col Phuwadon Unphote of the Chanasongkhram police in Khao San Road says the matter was a case of turf wars between Grab and regular motorcycle taxis.
A man will appear in court charged with assault after Tuesday's incident.
Lt-Col Phuwadon is calling for calm while admitting that the law remains unclear regarding the use of services like Grab and Uber. He is urging people to call Police if there was any trouble or disputes.
The injured Facebook poster said Grab bike would continue working and were undaunted by the attack.
SOURCE: Daily News
Cabinet waives tolls for 8 days over Songkran break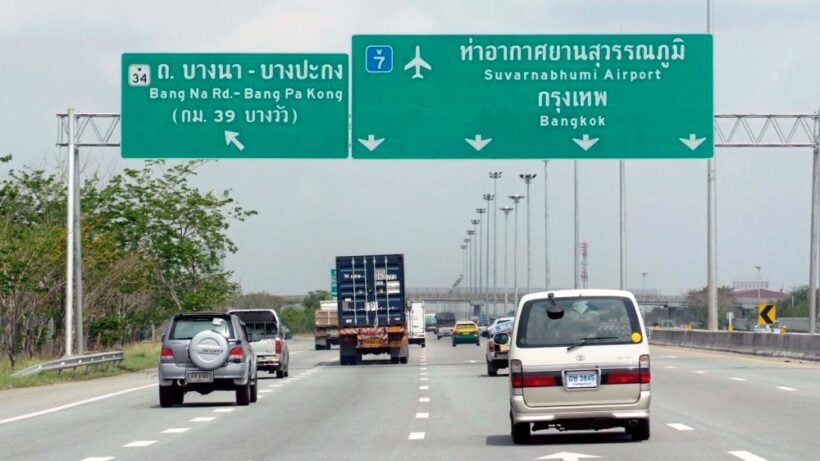 Thailand's cabinet has decided to waive tolls on the Bangkok-Pattaya and Bangkok-Bang Pa-in-Bang Phli motorways starting April 10 until midnight on April 18. This takes in the main Songkran break between April 12 – 14 and the annual 'seven days of danger'.
A Cabinet spokesperson say that a large number of people are expected to leave Bangkok for the provinces during the annual Songkran festival, so the cabinet decided to waive the toll fees to make travel a bit easier and less expensive.
Official holidays for the Songkran festival are from April 12-16, but many families are expected to set out 1-2 days before to avoid heavy traffic on the three main arteries to the northern, northeastern and southern regions.
The Transport Company will be adding extra buses to cope with the increased volumes of travellers and airlines have added flights to the schedule, while more trains will be provided during the holiday period.