Acid-splashed wife's death – husband is detained, taxi driver speaks out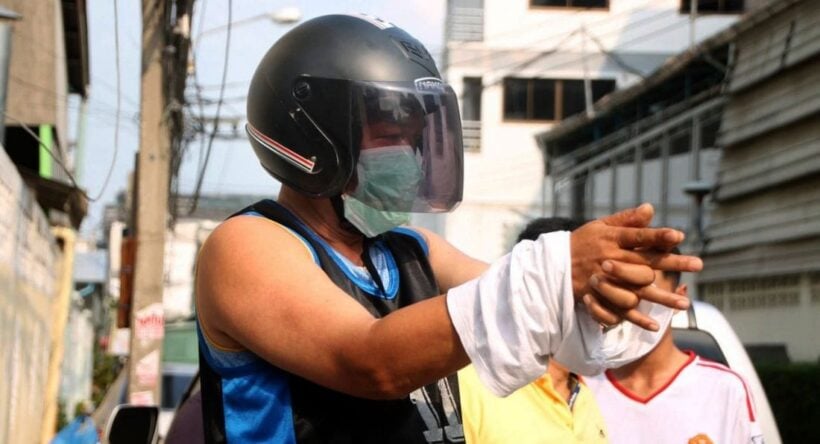 Police have brought 50 year old Kamtan Singhanart to the Thon Buri Court's order for an initial 12 day detention period after being accused of splashing acid on his wife Chorladda Tharawan's face before fleeing on November 9.
The Nation reports that Chorladda died as a result of her injuries after seeking treatment at Praram 2 Hospital.
That hospital reportedly sent her to Bang Mod Hospital where she was subscribed for the "gold card" universal healthcare scheme.
She died before she reached the Bang Mod Hospital. Praram 2 Hospital has been the focus of criticism from Chorladda's family and netizens over allegations that they failed to treat her and are partially responsible for her death. The hospital maintains that the accusation is untrue.
;lpA potential lawsuit is being considered against the hospital as outspoken lawyer Atchariya Ruangratanapong acts on behalf of the patient's family.
A Bangkoktaxi driver who picked up the acid-wounded Chorladda and her accompanying 12 year old daughter from Praram 2 Hospital to Bang Mod Hospital on November 9, told police on Monday evening that the woman was still conscious when she arrived at the second hospital.
This was contrary to the initial account by Chorladda's daughter, who said her mother died on the way and that a Bang Mod Hospital doctor then tried to resuscitate her but was unable to bring her back.
Testifying as a witness to Tha Kham deputy superintendent Pol Lt-Colonel Sakhon Sriwattanakapong, taxi driver, 37 year old Sa-ngad Datchuyawat, says a Bang Mod staff member pushing a gurney asked Chorladda whether she was still able to "hang in there" while being wheeled away.
Chorladda reportedly replied, "I cannot take it anymore".
The taxi driver said he was told by the first hospital's staff that Chorladda had sustained an injury from being scalded by boiling water and wanted to get a lift to Bang Mod Hospital, which staff said had already been informed of her transfer.
Meanwhile, Kamtan told police that he was not a cruel person after being arrested on Sunday night at his friend's house in Nakhon Sawan. This was in line with his neighbour's claim that Kamtan was normally a good man who did everything he could for his family at their rented home in Samae Dam sub-district.
Neighbours have said they believe he committed the alleged crime on an impulse. Police objected to Kamtan getting a bail release on the grounds that this case carried a severe penalty.
STORY: The Nation
Keep in contact with The Thaiger by following our
Facebook page
.
Never miss out on future posts by
following The Thaiger
.
More protest rallies today and tomorrow around Bangkok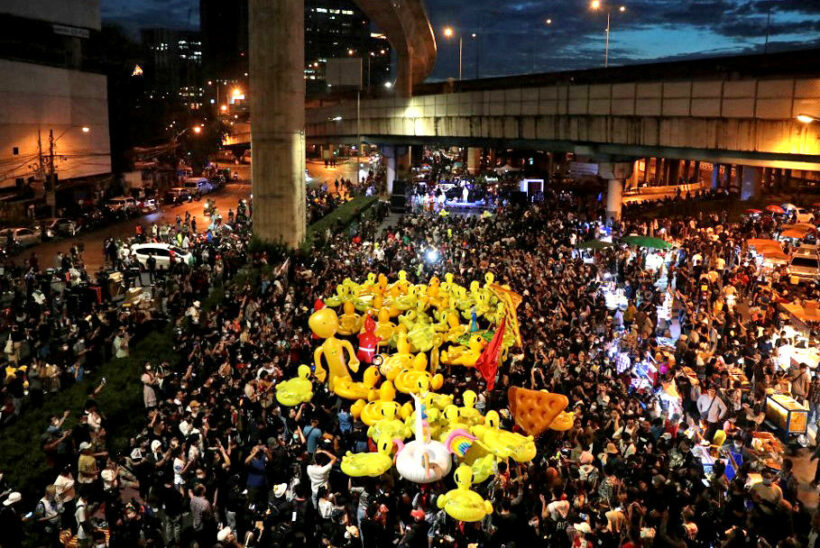 If you think the current spate of rallies are ruling out of steam, think again. Yesterday's large protest around the Lat Phrao intersection on Phahon Yothin Road was just the first of 3 days of planned protests around Bangkok and Samut Prakan. Protesters yesterday described their action as an "anti-coup drill", claiming that the coup "chatter" continued and that they would strenuously protest against another Army-led action against Thai citizens.
The yellow ducks and a few other inflatable animals were again taking front stage in a rally that was described more like a picnic than a political demonstration.
Today's rally will start at the Imperial World Samrong shopping centre, south of central Bangkok, and march to Bang Na intersection.
Then tomorrow protesters plan to hold another rally in front of the . Imperial World Samrong shopping centre.
A spokesperson for the Metropolitan Police says there will be up to 500 crowd control police attending to each of the protests, adding that the rallies had been given formal permission to go ahead and police will be ensuring that no laws are broken.
The government has come under a barrage of criticism from NGOs and rights groups about some of the heavy-handed responses and baiting at rallies to "create" the appearance of conflict. Yesterday the Foreign Ministry issued a statement via their spokesperson, Tanee Sangrat in response to the criticism.
13 international organisations – including Amnesty International, Human Rights Watch, the Asia Democracy Network, and the Asian Forum for Human Rights and Development – have made official submissions about the response from police and handling of the rival protest groups, which resulted in the shooting of 6 people and other protesters injured by the high power water cannons and tear gas deployed by riot police..
The Ministry spokesman maintained that Thailand had "upheld the rule of law and respected the judicial process with transparency. In handling recent protests, the authorities have enforced the law in line with international standards, with the appropriate response to the situation."
The spokesperson said that participants in the November 17 outside the Thai Parliament broke through concrete barricades and tried to reach an "off-limits area", forcing police to take action to bring the situation under control. Protesters told police that they wanted to get to the front of the parliament buildings to protest the debates that were being conducted inside.
"The operation was proportional to the situation and was not excessive. Those who want to exercise their right to assemble must follow the law and consider the safety of others."
Organisers of yesterday afternoon's rally, the United Front of Thammasat and Demonstration, called the rally "an anti-coup drill".
"Undeniably, speculation about a coup has been rife. It should not happen. But history teaches us that we cannot trust. Therefore, all are welcome for a drill to cope with another possible coup".
Current Thai PM Prayut Chan-o-cha, as head of the Thai Army before the May 2014 coup, maintained that the army would not intervene and oust the Yingluck Shinawatra government.
Keep in contact with The Thaiger by following our
Facebook page
.
Never miss out on future posts by
following The Thaiger
.
Shooter from Bangkok SCB protest surrenders to police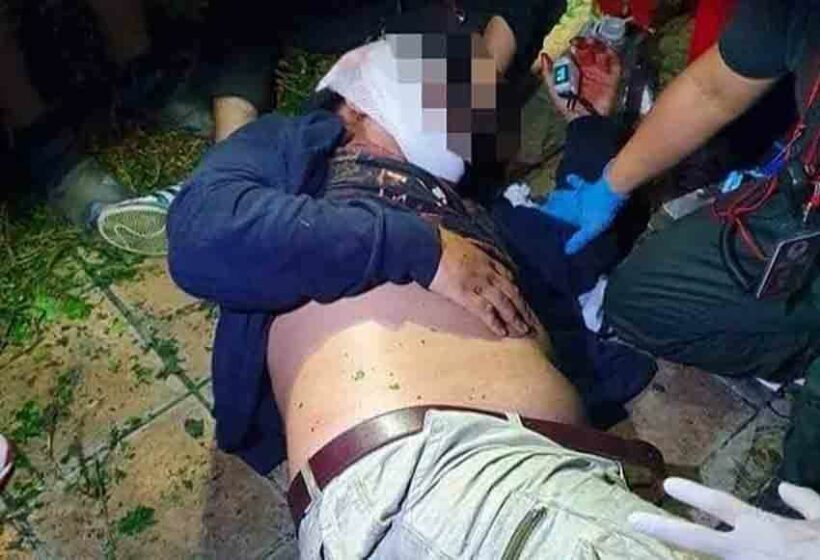 A man accused of shooting at anti-government protesters at a rally in Bangkok on Wednesday has admitted the charge and surrendered to police. Peerawut Kunamonkan delivered his 25 year old son, Passapong, to police at Phaholyothin station in the capital yesterday. He faces charges of attempted murder, shooting in public, and illegally carrying a gun and ammunition.
According to a Nation Thailand report, Passapong is accused of shooting 20 year old Prachakorn Saksritao, a former student of Pathumthani Technical College, but claims he did it for personal, not political, reasons. It's understood Prachakorn was at the rally as a member of the protesters' security team. The shooting took place as activists were dispersing at the end of a rally at the headquarters of the Siam Commercial Bank.
The accused, a former student at Min Buri Polytechnic Technology College in Bangkok, says he was reacting to sarcastic social media posts from Prachakorn. The posts were made after Passapong and the group he was with voiced their disapproval of activists insulting the Monarchy. Passapong is taking full responsibility for the shooting, saying nobody paid him to do it and that he will pay for the victim's medical treatment.
Following speculation on social media that the shooting was carried out by a yellow-shirt royalist, Thanadech Srisongkram, from the Minburi vocational student guards, has denied the claims. He says the shooting had nothing to do with the protests or the Monarchy, adding that his group is not affiliated with any particular political group. He says he has apologised to the security detail from Pathumthani Technical College, promising that such an incident will not happen again.
SOURCE: Nation Thailand
Keep in contact with The Thaiger by following our
Facebook page
.
Never miss out on future posts by
following The Thaiger
.
Thousands gather in Bangkok for "anti-coup" protest picnic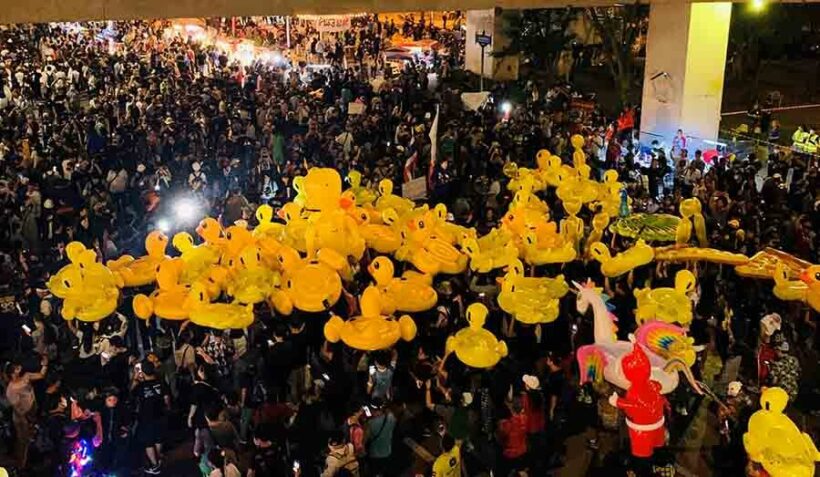 Around 5,000 pro-democracy activists gathered at the Lat Phrao intersection in the Chatuchak district of Bangkok last night, to oppose any potential coup, a situation continually denied by the current PM. Last night's gathering took the form of a picnic, at which mainly north-eastern dishes were served. Protesters described it as a rehearsal against military intervention, with one 18 year old activist, named only as Tan, saying history cannot be allowed to repeat itself.
"I'm only 18 but have seen 2 coups already. That's not right. We don't want history to repeat itself."
The rally was announced on Facebook by the United Front of Thammasat and Demonstration, who say the Thai people have had enough of coups that oust elected governments. They described the event as "a drill against a coup d'etat".
"There have been too many coups in the past, so history has taught us to remain vigilant. Therefore, we would like to invite everyone to participate in a drill to prepare for another coup that could happen."
Army chief Narongphan Jitkaewtae has previously dismissed rumours of an impending coup, but the Ratsadon (People's Movement) group have voiced their distrust of the current military regime, saying history would indicate otherwise. Protest leader Panupong Jadnok, aka, "Mike", says the gathering last night is a powerful illustration of people's opposition to a coup.
According to a Nation Thailand report, there have been at least 12 successful coups in Thailand, an average of 1 every 7 years, since the country moved from an absolute monarchy to a constitutional monarchy following the Siamese Revolution of 1932. The last military coup was in May 2014, which brought former army general Prayut Chan-o-cha to power, where he has remained ever since.
One woman at last night's rally, a 32 year old named Natalie, says the 2014 coup has proved a disaster for the country and it's time for urgent change.
"Now is a crisis time in Bangkok and Thailand. I want new elections and to change the prime minister and for a new government to actually listen to the people."
Last night, the yellow ducks were out again, this time being used to represent the army. Protesters passed the ducks over their heads, to symbolise the military moving over the people to take a front row seat on the political stage. Activists flashed the 3-fingered salute at the rubber ducks, a gesture originally derived from The Hunger Games, that has become a powerful anti-establishment symbol. Activists also burned pictures of former coup leaders, including the current PM.
Last night's gathering follows another one in the capital on Wednesday, when thousands rallied outside the headquarters of the Siam Commercial Bank. The Bangkok Post reports that another protest is planned for today, in front of the Imperial World Samrong shopping mall in Samut Prakan, just outside Bangkok, and a further one tomorrow, at the Imperial Lat Phrao mall.
SOURCE: Bangkok Post | Nation Thailand
Keep in contact with The Thaiger by following our
Facebook page
.
Never miss out on future posts by
following The Thaiger
.