ASEAN agrees on common ground for world's largest trade bloc, RCEP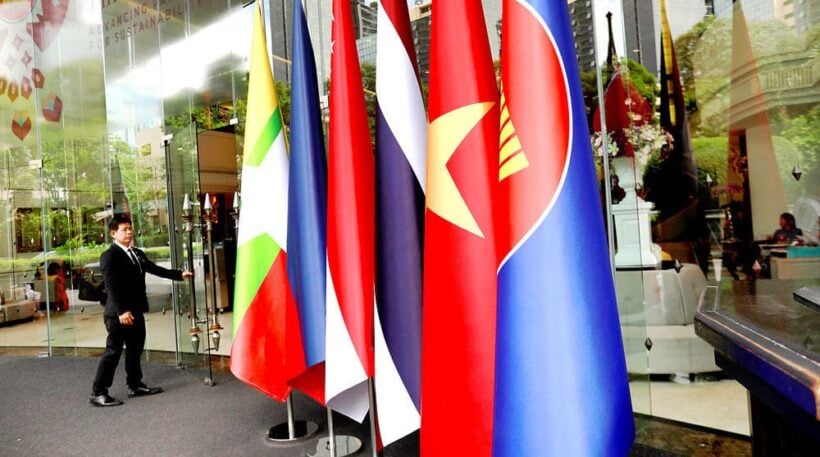 ASEAN members reached common ground on the mega economic trade bloc, the Regional Comprehensive Economic Partnership (RCEP) during their meeting in Bangkok yesterday. RCEP will cover nearly half of the global economy.
The Regional Comprehensive Economic Partnership is a free trade agreement (FTA) between the ten member states of ASEAN – Brunei, Cambodia, Indonesia, Laos, Malaysia, Myanmar, the Philippines, Singapore, Thailand, Vietnam – and the six Asia-Pacific states with which ASEAN has existing free trade agreements Australia, China, India, Japan, South Korea and New Zealand.
The next step is to negotiate the remaining 13 chapters of the trade deal together as a bloc at the upcoming senior economic officials' meeting to be held in Melbourne, Australia between June 25 and July 3.
The mega-trade deal, which has been stuck in negotiations for the past seven years, has a total of 20 chapters, seven of which have now been completed.
In 2018, trade between the RCEP countries represented up to a third of global trade. Thailand's trade value with the RCEP countries was worth some US$70 billion in 2018. Thailand's exports to the RCEP countries currently accounts for nearly 60% of its total exports.
Thailand, as this year's ASEAN chair, has set a bold target of completing the negotiations for this mega-trade pact by the end of 2019.
Negotiating with the remaining six members as a 10 country bloc will allow ASEAN to facilitate more progress in the negotiations process when the 16 RCEP countries meet.
Vietnam's PM Nguyen Xuan Phuc, speaking to The Nation said, "In the context of increasing trade tensions and protectionism, promoting RCEP negotiations bear an important meaning as it strengthens rule-based multilateral economic connectivity and free trade throughout the Asia Pacific region.
The Vietnamese prime minister revealed that the 28th round of RCEP negotiations will be hosted by Vietnam in October, which will be the last round of negotiations this year ahead of the third RCEP Summit in Bangkok, which will be held in November.
"Vietnam hopes that for the spirit of broadening cooperation, ensuring equality and mutual interests, all sides will reach an agreement to finalise the RCEP negotiations as promised."
The current challenge is that India and China, members of the trade bloc, have no free trade agreement to build upon, and have been holding up completion of some chapters to gain leverage in negotiations on other chapters. Hence, the remaining 13 chapters will be concluded together as they are interlinked with one another, according to a source familiar with the matter who asked to remain anonymous.
SOURCE: The Nation
Keep in contact with The Thaiger by following our
Facebook page
.
Never miss out on future posts by
following The Thaiger
.
Vietnam's booming manufacturing sector reduced to a trickle as world pandemic kills demand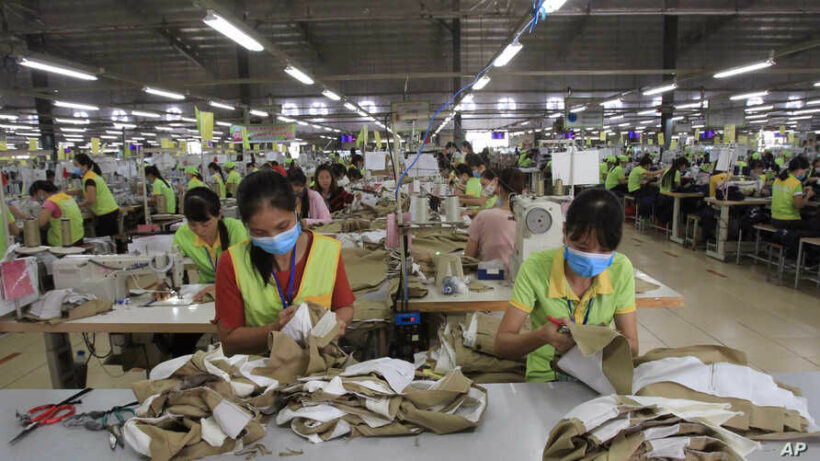 Vietnamese finance officials are downgrading expectations for a recovery of the south east Asian nation's economy in 2021. The normally fast-growing gross domestic product in 2020 has stalled due to a huge drop in local and global demand, and the absence of international tourism. The booming economy, growing at an average of 6% per year since 2012, will struggle to reach a growth rate of 2% this year.
Fuelled by manufactured exports, the Vietnam economy has dropped back to a trickle. The Asian Development Bank estimates that this year's GDP growth could be as low as 1.8%. The Vietnamese factories, that usually crank out shoes, garments, furniture and cheap electronics, are seeing dropping demand as the world's consumer confidence drops dramatically.
Stay-at-home rules in Europe and America are keeping are keeping people away from retail stores. And despite the acceleration of online retail, many of the consumers are emerging from the Covid Spring and Summer with vastly reduced spending power.
The headaches of 2020 are also challenging Vietnam to maintain its reputation as south east Asia's manufacturing hotspot. Rising costs and xenophobic foreign policy have put China 'on the nose' with some governments, complicating factory work in China, whilst other south east Asian countries lack infrastructure and are incurring higher wage costs.
One Vietnamese factory operated by Taiwan-based Pou Chen Group, which produces footwear for top international brands, has laid off 150 workers earlier this year. There are hundreds more examples of the impact of falling demand in the bustling Vietnamese manufacturing economy.
Vietnam's border closure is also preventing investors from making trips, setting up meetings and pushing projects forward. Those projects in turn create jobs, fostering Vietnam's growing middle class. Tourism has also been badly affected by the restrictions on travel. "International tourism is dead," says Jack Nguyen, a partner at Mazars in Ho Chi Minh City.
"Inbound tourism usually makes up 6% of the economy."
"Things will only pick up only when the borders are open and there's no quarantine requirements. Who knows when that's going to be."
A mid-year COVID-19 outbreak in the coastal resort city Danang followed by the start of the school year has reduced domestic travel, analysts say. Some of the country's hotels are up for sale as a result.
"Recovery could take 4 years."
The Vietnamese Ministry of Planning and Investment is now warning that global post-pandemic recovery could take as long as 4 years, perhaps more.
Not that foreign investors in the country are pulling out. Indeed, many are tainge a long-term view that Vietnam's underlying strengths will outlive Covid-19. Vietnam reports just 1,069 coronavirus cases overall.
SOURCE: VOA News
Keep in contact with The Thaiger by following our
Facebook page
.
Never miss out on future posts by
following The Thaiger
.
Thai Health Minister accepts chairman role with WHO Regional Committee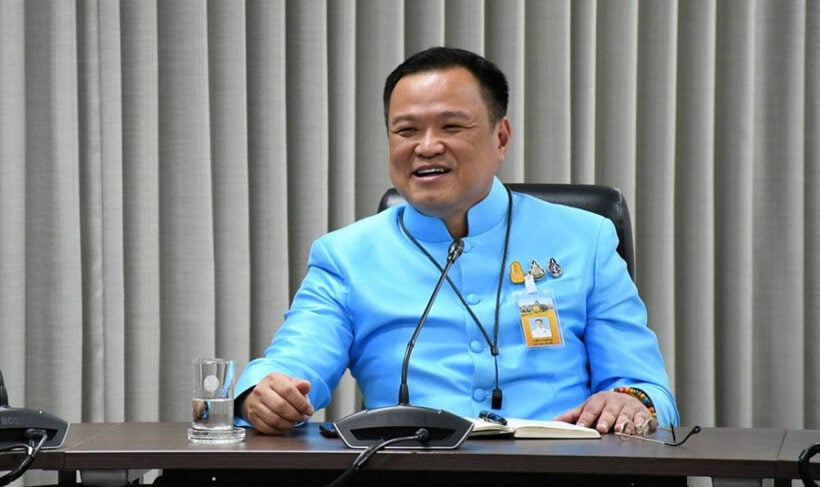 Thailand's Health Minister, Anutin Charnvirakul, has been appointed chair of the World Health Organisation's Regional Committee for Southeast Asia. The colourful and controversial minister made the announcement at a press conference yesterday afternoon. He says 14 countries put his name forward for the role, which has a fixed term of 1 year, partly due to Thailand's success in controlling the Covid-19 virus.
The committee is due to hold its first meeting today, where members are expected to discuss the Covid-19 situation in Southeast Asia and share tips and best practice ideas. Anutin says Southeast Asian nations are focused on the resumption of travel between their countries, adding that improving the Covid-19 situation across the region is critical in order to facilitate this.
Anutin is generally well-liked by the Thai public, although the same cannot be said for the country's foreign population, many of whom were riled by what they saw as xenophobic comments made by him in the early weeks of the Covid outbreak, describing some foreigners as "dirty farang" for not accepting free masks as they were being handed out at a PR event at Siam BTS station in Bangkok in May this year.
SOURCE: The Pattaya News
Keep in contact with The Thaiger by following our
Facebook page
.
Never miss out on future posts by
following The Thaiger
.
Thailand planning land and rail passageway, bypassing congested Strait of Malacca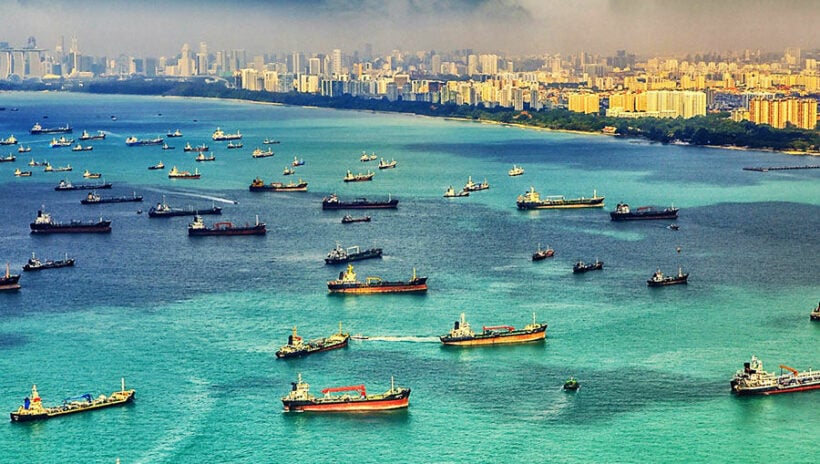 Thailand hopes to shorten shipping time by bypassing the busy Strait of Malacca with a 100 kilometre highway and railway passageway. Discussions are underway to construct 2 deep seaports on both sides of the country's southern coast, which would be linked via rail and highway.
The latest proposal replaces the Kra Canal plan, which was talked about for decades. That plan would have seen a canal crossing the skinniest point of the country, through the Isthmus of Kra just south of Phuket and Krabi, chopping around 1,200 kilometres off the shipping journey. However, it has now been dropped on environmental grounds.
The new project is expected to reduce shipping time by 2 days by bypassing the Strait of Malacca, which runs along Peninsular Malaysia's south-west coast, before curving east past Singapore. The passageway is notoriously congested, as well as being susceptible to piracy. According to a report in the South China Morning Post, incidents of piracy increased from 8 in 2018 to 30 last year.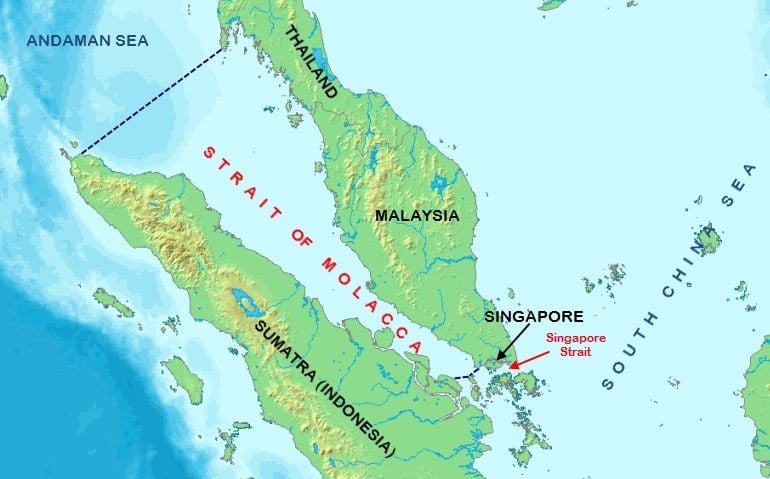 PHOTO: Encyclopedia of Earth
Currently, around a quarter of globally traded goods use the Strait of Malacca, with Thailand's Transport Minister, Saksiam Chidchob, saying an alternative route is now a necessity.
"The Strait has become quite congested. Using an alternative route through Thailand would cut shipping time by more than 2 days, which is very valuable for businesses."
The alternative route would see a 100 kilometre highway and rail passageway linking 2 seaports on either side of Thailand's southern coast. It's understood the government has set 75 million baht aside for a study into the building of the seaports, along with a further 90 million baht to look into the feasibility of highway and rail connections between the two.
If the project went ahead it would be a major blow to Singapore which has built its fortune on being the south east Asian shipping and trading hub at the turning point at the bottom of the Mallaca Strait.
SOURCE: South China Morning Post
Keep in contact with The Thaiger by following our
Facebook page
.
Never miss out on future posts by
following The Thaiger
.