Access to Maya Bay, from the front, permanently closed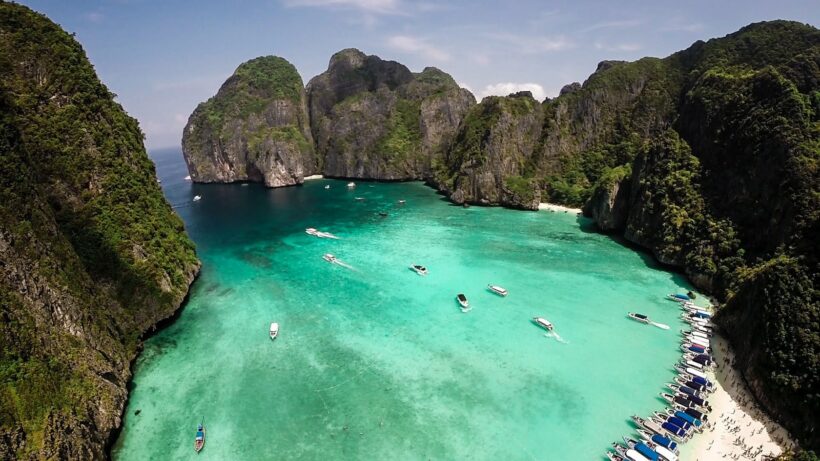 The closure of Maya Bay has come about after profound changes by chiefs of Thailand's marine national parks. It's been revealed that, far from being a knee-jerk reaction, the plan to close the famous tourist magnet is just the start of an entire new approach to marine conservation.
The closure is seen as an entry point for new tourism management that would also set a new standard for another 26 Thai marine parks that also suffer the burden of too much tourist-love.
Access to Maya Bay from the front of Koh Phi Phi Ley will be permanently closed following the upcoming four-month closure of the area to make way for a long-term rehabilitation of the environmentally degraded bay, which has suffered due to the overcrowding of tourists.
The bay, located in Had Nopparat Tara- Mu Ko Phi Phi National Park, was made famous following the 2000 Hollywood film "The Beach" starring Leonardo DiCaprio, but it has been degraded by the excessive number of tourists – at around 4,000-6,000 per day.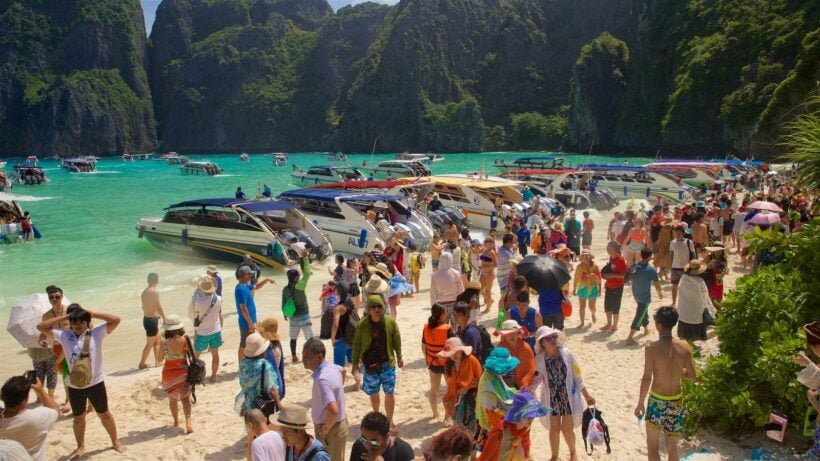 Following a recommendation by marine experts, the National Parks, Wildlife and Plant Conservation Department decided in late March to make the bay off limits from June 1 to September 30.
"Like I said, we focus more on the health of our ecosystem, not income. If we manage to do this, we can do it elsewhere – the more environmental friendly management," said Thanya Netithammakul, director-general of the department.
According to the department's National Parks Office director, Songtham Suksawang, the rehabilitation process, as well as the new management approach, will be based on academic knowledge.
The department has begun exploring the present extent of the damage to coral reefs in front of the bay. Techniques to replant the reefs will be introduced once the bay is closed, including coral-reef propagation, he said.
Access to the bay, Songtham added, would shift to the back of the island, where a new aluminium and plastic pier and bridge would be introduced as a new access to the bay to reduce ecological impacts from tourists.
Their number of transport boats will also be limited to half of the present figures, while an e-ticketing system will be introduced to help handle tourist demand.
"It's also sort of distributing tourists to other less-crowded spots to help handle pressure from them," said Songtham, echoing the government's toursim policy.
The Government has flagged that it wants tourist boats to take passengers to other islands around Phuket, whilst not as famous as Maya Bay, share the same topography and beautiful beaches.
Thailand still relies heavily on tourism, and according to Thon Thamrongnawasawat – a member of the national strategy committee on sustainable growth – it is one of the prime sectors highlighted in the 20-year national strategy to help drive the country's gross domestic product.
Tourism currently comprises about 20 per cent of GDP, with annual revenue estimated at around 3.3 trillion baht.
This year's foreign tourists are expected to reach 40 million, with more than 70 per cent tending to visit the country's popular marine locations, Thon pointed out.
This has caused several popular marine spots to become crowded with foreign tourists, and their carrying capacity having become extensively compromised, he added.
Thon said he was glad to see the initiative at Maya and it would be a turning point for reform on marine resources management.
"It's sort of you are telling the world that you are going to do this, and it is loud and clear this time. It's also a critical point for the reform of our marine resources management," said Thon, a marine ecologist who is also a member on the National Natural Resources and Environment Reform Committee.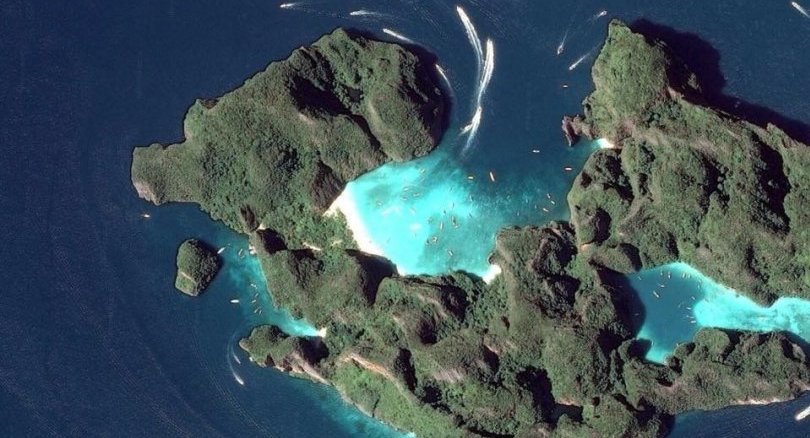 SOURCES: The Nation, The Thaiger, Dr. Thon Thamrongnawasawat

Thaiger Radio News – Tuesday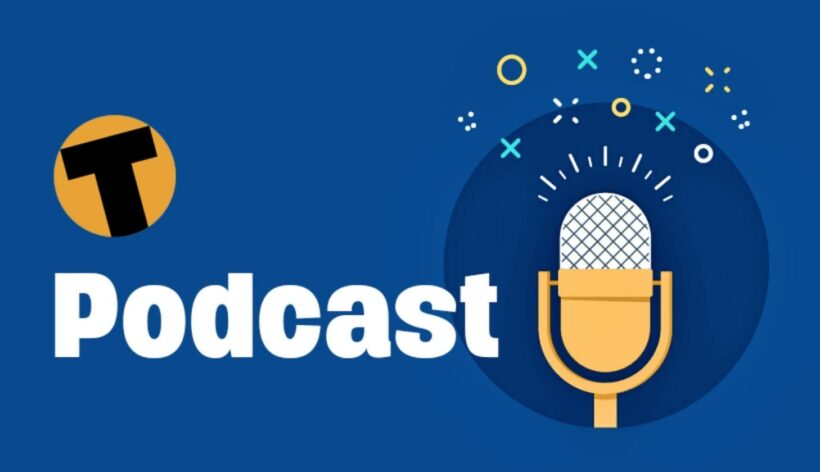 Muay Thai for five year olds – Sport or child abuse?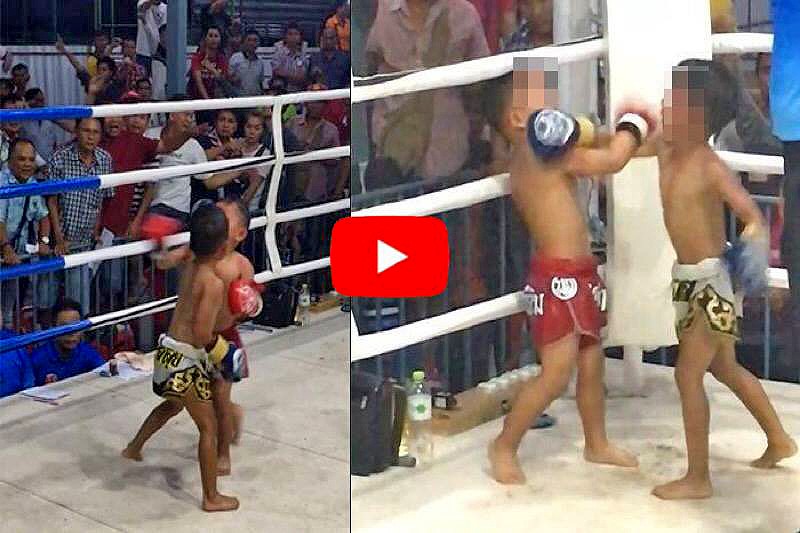 Video of two five year olds fighting in a boxing ring has sparked a lot of reaction. The young kids in the 17 kilo division (yes, there's such a thing) are shown punching each other's heads, with the occasional kick, as a crowd of baying adults urge them on.
Sanook reports that as one boy is repeatedly forced into a corner the referee makes no attempt to seriously intervene. He merely lets the boys continue flailing at each other in the center of the ring.
Neither child is wearing any head protection.
The video – posted by "Yuthaphoom Khunseuk Tragoonyang" – goes on for a full two minutes. You can watch the video HERE.
Sanook say opinion fell into two camps – one group were praising this as an expression of Thai culture though the national sport of Muay Thai, the other condemning it as nothing more than child abuse for the pleasure of adults that violated the rights of children.
Sanook said that doctors at Mahidol University have stated that 100,000 children under the age of 15 are competing in Muay Thai prize fights in Thailand. They point out that children of this age should not be fighting due to potential damage to the brain.
The Thaiger story about the Mahidol University report HERE.
Sanook said that moves are currently being made to seek a change in the law that allows such "sport".
SOURCE: Sanook
Thaiger Radio News – Monday