82-year-old assault victim dies – Assailant faces new charges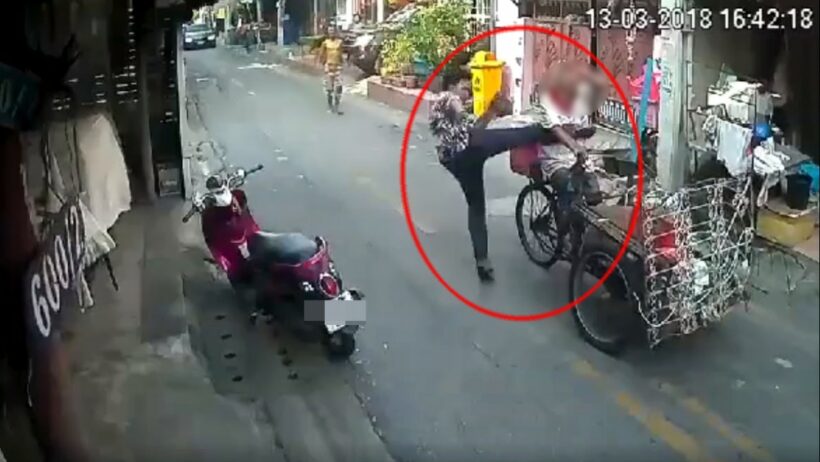 A 21 year old motorcyclist, alleged to have assaulted an 82 year old tricycle-riding scavenger over a minor collision in Bangkok's Huai Kwang district on March 13, has been hit with an additional charge of causing death to another person by inflicting injury without intent to cause death.
The new charge was filed against Narathorn Sodetiyung, son of a Pratunam-based clothing retailer, at 1.30am on Friday morning after victim Jaroon Maneephan died at 10.40pm on Thursday, said Huai Kwang superintendent Pol Colonel Kampol Rattanapratheep. The charge carries a sentence of imprisonment for 3-15 years.
Narathorn – who denied the new charge as police are still waiting for a medical report to confirm the death's link to the assault – was brought to court on Friday for a court order for the first 12-day detention period.
The suspect's girlfriend, identified only as May, later on Friday afternoon secured Narathorn's release on bail with a 180,000 baht cash deposit. She said they would attend Jaroon's funeral in Ayutthaya's Bang Sai district. The bail was granted by a court judge despite police arguments that the offence carries a heavy punishment and there was a risk Narathorn might flee.
Jaroon, who was said to be healthy from riding a tricycle while scavenging, became bed-ridden at home for 14 days following his hospital treatment for the serious injuries sustained from the assault. Narathorn reportedly negotiated to pay the family compensation by monthly installments of 3,000 baht.
Jaroon, who suffered from bedsores, was rushed to Rajavithi Hospital with a high fever on Thursday afternoon. His condition worsened and he stopped breathing.
Medical staff worked unsuccessfully for 30 minutes to resuscitate him before pronouncing him dead at 10.40pm. Jaroon's younger sister 65 year old Boonreun Thepphuthorn said she wanted police to proceed with legal actions against Narathorn over the death of her eldest brother. Jaroon had seven siblings.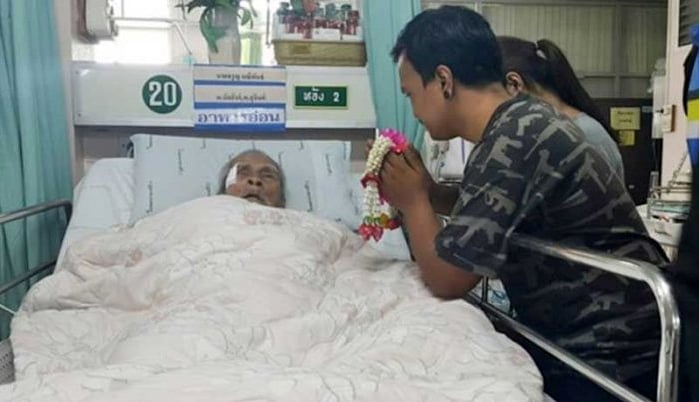 "Government stimulus package for Thai economy is unsustainable"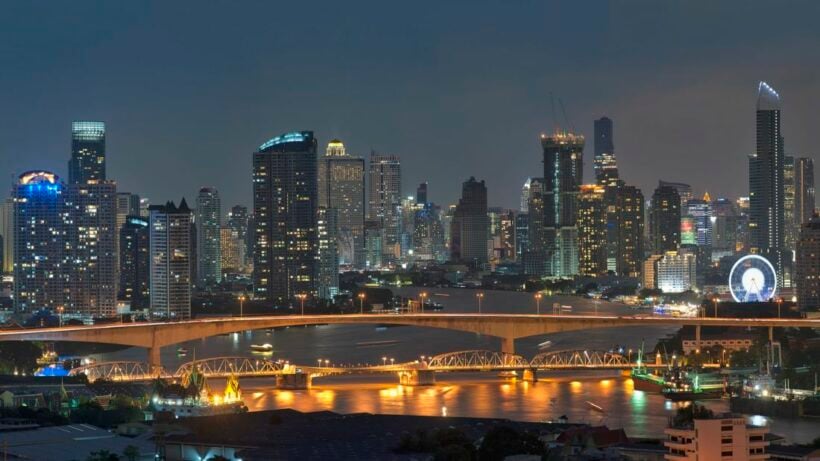 PHOTO: Wikipedia
Anusorn Tamajai, an economist from Rangsit University, says he expects the proposed package to make little difference and has declared it unsustainable.
The package, which should be approved this week, is worth 370 billion baht and includes cash handouts for farmers and low-income earners, grants for children, incentives for domestic travelers, and tax incentives for small businesses.
It's hoped to stimulate the economy by 3%, in the wake of domestic uncertainty and the ongoing US-China trade war. Last week, the Finance Minister said the aim of the package was to prevent growth sliding below 3% in 2019.
However, economist Anusorn Tamajai has his doubts.
"Short-term spending as part of populist policies will not help much, as the Thai economy is monopolised by big business."
He adds that most spending by low-income groups will end up as revenue for large businesses. However, he agrees with the plan to reduce the tax burden for small and medium-sized enterprises, which could lead to more private investment.
The government plans to offer generous tax reductions for those who import machinery to upgrade their production with a five-year depreciation allowance. The state-run Government Savings Bank and Krung Thai Bank will also provide combined soft loans worth about 100 billion baht.
The government also plans to direct a number of other state-run banks to provide soft loans to farmers and lower income groups, which Anusorn warns may not be sustainable as its effectiveness relies on public confidence in the future.
Thai governments often resort to state-run bank lending, quasi-fiscal measures that usually increase the burden for banks but translate into a burden for tax payers later.
SOURCE: The Nation
Calls for total ban on use of single-use plastic bags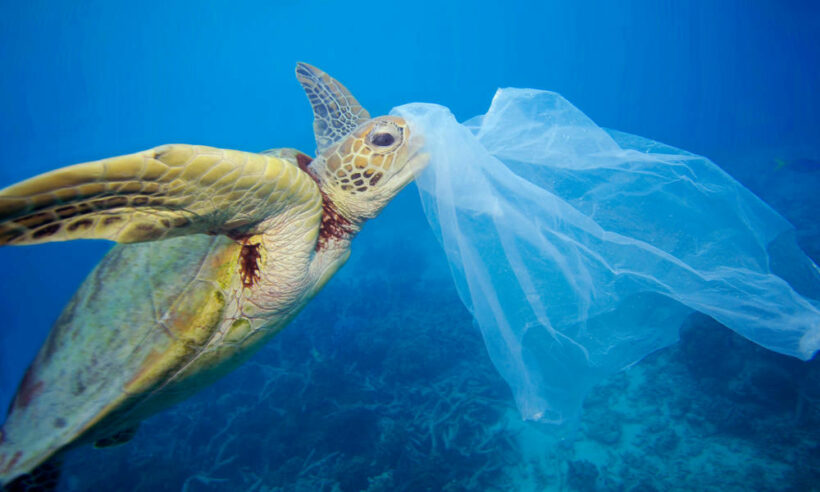 PHOTO: World Wildlife Fund
The death of baby dugong Mariam, which was found to be caused from problems associated with plastic bags blocking her digestive system, has brought about renewed calls for stricter control, or a complete ban, on the use of single-use plastic bags.
Marine scientist, and vice dean of the Faculty of Fisheries of Kasetsart University, Dr. Thon Thamrongnawasawat, told Thai PBS that the recent campaigns to reduce the use of plastic bags "was not enough".
The campaigns, much touted as 'environmental Community Service Initiatives', have been perfunctory and, whilst the 'savings' in plastic bag use sound massive, they are in a tiny proportion of the actual single-use plastic bag use in Thailand.
The Charoen Pokphand Group, owners of Thailand's 7-11 franchise, Family Mart stores – 51% owned by the Central Group and 49% by Japan's FamilyMart Uny Holdings – and Central Pattana, the operators of the biggest number of shopping centres around Thailand, could do a LOT to take single-use plastic bags out of the system but have so far been reluctant to do more than just pay lip service to the problem.
Dr. Thon suggests that single-use plastic bags should be banned, beginning next year, as was done in New Zealand, or a fee should be imposed for their use. He also says that the plan to reduce the use of plastic straws, due to begin in the next three years, should be brought forward to next year.
Dr. Thon admitted that he was shocked to learn about the sudden death of Mariam, and that several pieces of plastic were subsequently found in her intestine. The plastics ultimately resulted in the septic shock that killed her.
He disclosed that members of more than ten rare marine species, including sea turtles and whales, had died this year by becoming entangled in fishing nets or from eating plastic waste, including the case of a pilot whale which was found to have 85 plastic bags in its stomach.
He also cited the case of a leatherback sea turtle, which was found dead on a beach in Rayong province last month. Veterinarians found two plastic bags in its stomach, one plastic wrap for bread and five small pieces of plastic.
Thammasat University's vice rector Prinya Thaewanarumitkul, meanwhile, appealed to the Thai public to stop using plastic bags "so that no more marine animals will die from eating plastic bags or pieces."
"About 80% of the 2,000 tonnes of garbage dumped into the sea each day come from the rivers."
"The garbage, including plastic waste, dumped into natural inland waterways find their way into the sea."
SOURCE: Thai PBS
The Thaiger would like to call on Thailand's main retailers to initiate a total ban on single-use plastic bags.
UPDATE: 9 Chinese arrested over 5 billion baht fraud case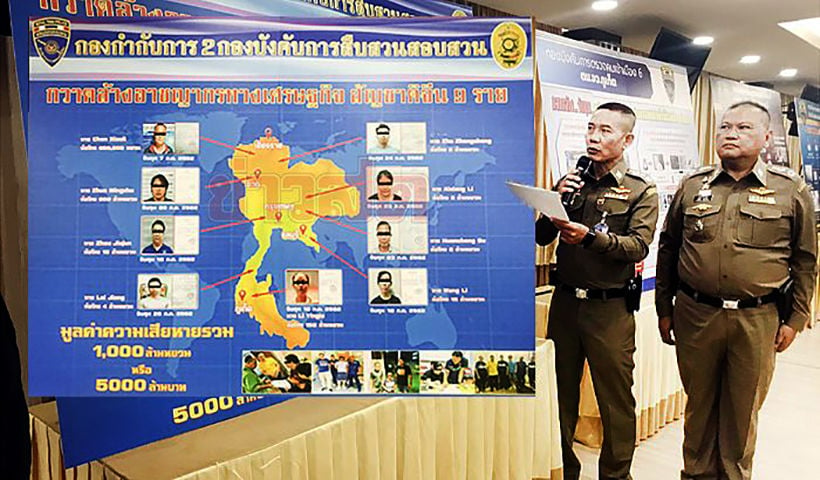 On Saturday The Thaiger reported that nine Chinese nationals had been taken into custody after travelling to Thailand in order to avoid prosecution for crimes in China. They were wanted by Chinese authorities for alleged crimes in China. Read that report HERE.

We now have some further details…

Out of the 9, 5 were male and 4 were female. They were involved in a case that, according to Chinese counterparts, had affected the Chinese economy by forging contracts. After receiving the information from Chinese police, a Thai investigation team started to search for the 9 Chinese individuals who had sought refuge in Thailand.

The nine had opened an online selling business that they used to cheat victims in China. The suspects worked together in creating fake businesses and accounts that cheated online transactions systems to their advantage in defrauding customers. Their actions allegedly defrauded the Bank of China resulting in damages valued over 5 billion baht.

The 9 suspects will be prosecuted including having their visas revoked before being deported back to China. All 9 suspects will be blacklisted to prevent them from visiting Thailand again.