No rain in sight, eight Thai provinces on verge of water crisis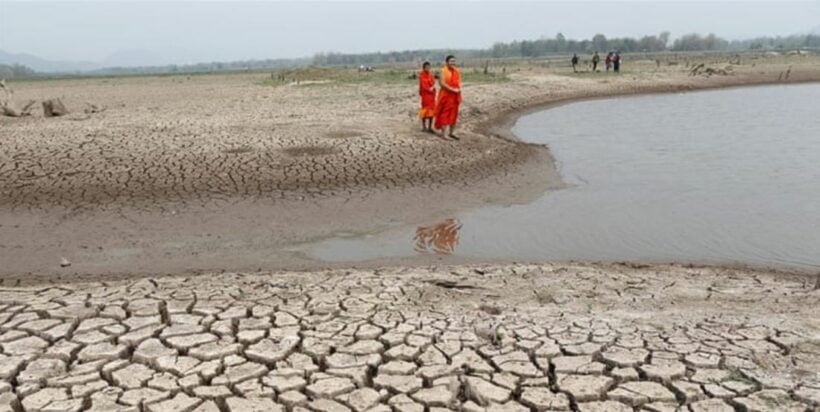 Thailand's water situation is becoming critical with eight provinces now listed as critical. Officials are now describing the situation as the worst drought in 50 years.
PM General Prayut Chan-o-cha has allocated 1 billion baht to finance the expansion of local water bodies in drought-hit provinces. The lack of rain has left as many as 17 major dams in the country almost empty.
• Five districts in Nakhon Ratchasima – Phimai, Chum Phuang, Non Daeng, Non Sung and Prathai – have been suffering drought for nearly three months now with paddy fields abandoned due to the lack of water. Locals are also struggling to find water to survive as their taps have dried up.
All reservoirs in the province are almost empty, especially Phimai dam, and if there isn't any rain in the next week, all crops will die.
• Khon Kaen province is urgently pumping water into 1,000 rai of drought-hit fields. Khon Kaen governor Somsak Chungtragoon said he is working with related agencies to follow up on the installation of pumps to push water from a local water basin to monkey cheeks nearby, so water can be pumped to irrigate crops in neighbouring areas.
• Farmers from Phichit are calling on the Kamphaeng Phet irrigation office to pump water from Ping River to 30,000 rai of their paddy fields which are slowly dying because the local rubber weir has been damaged and cannot store enough water.
Drought in Phichit, north-central Thailand, has become severe especially in areas upstream of the Yom River, because the Sam Ngam rubber weir was damaged five years ago, reducing its ability to store enough water.
• In Phuket the three major catchments are currently less than 10% of their full capacity and urgent rain is now needed in the remaining half of the wet season to avert a major water crisis for the forthcoming tourist high season.
• Irrigation authorities in Chiang Mai province say 3.9 million cubic metres of water will be reserved to ensure taps do not dry up.
• In Lop Buri, the Pa Sak Jolasid Dam reservoir has dropped dangerously low, to only 4% of capacity, even lower than it was four years ago when the central province withered in the grip of severe drought.
• In Nan in the North, millions of worms have infested 47,000 acres of cornfields spanning all 15 districts, more than half the province's land devoted to corn.
• In Nong Khai in the North-east, the Mekong River is running too low to catch any fish. The level is more than 10 metres below the top of the bank on the Thai side.
• The Kwang Noi Dam in Phitsanulok currently holds 134 million millimetres of water, 14% of its capacity. One of four major dams designated for dispensing water for public consumption, it is able to release just 10% of what it normally shares.
But some good news in Ubon Ratchathani, also in the North-east, where a significant amount of rain fell on Tuesday, credited to cloud-seeding operations. An Ubon farmer said his rice had narrowly escaped devastation in what he called the most severe drought he'd ever seen.
SOURCE: The Nation
Keep in contact with The Thaiger by following our
Facebook page
.
Never miss out on future posts by
following The Thaiger
.
Lucky escape for chickens in Udon Thani as crocodile caught trying to enter coop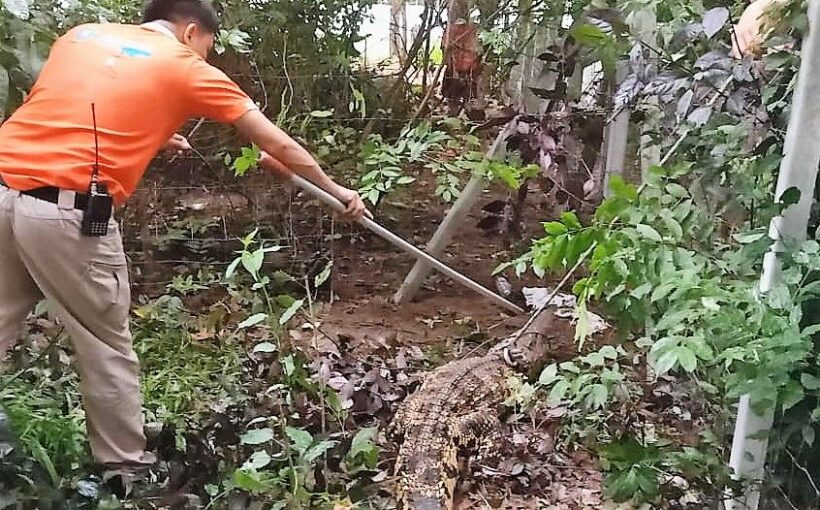 Rescue workers in the north-eastern province of Udon Thani have ruined a hungry crocodile's dinner plans, capturing it as it was trying to enter a chicken coop in the sub-district of Mak Khaeng. Nation Thailand reports that local rescuers were called to remove the 3 metre long croc as it was attempting to enter the chicken enclosure and enjoy a big lunch.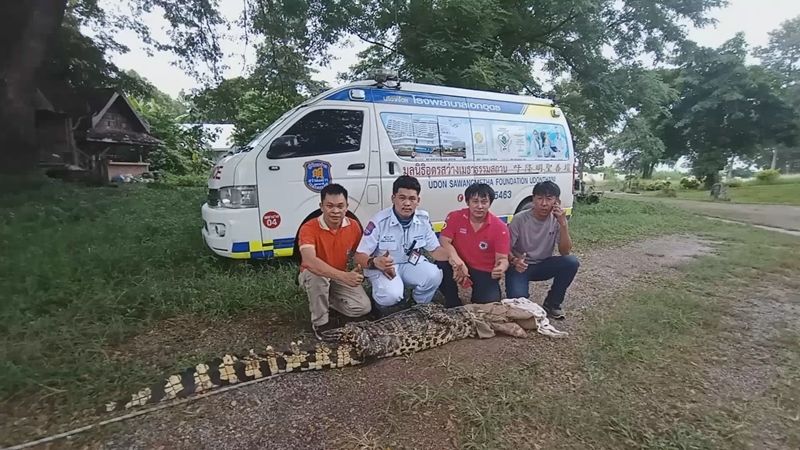 PHOTO: Nation Thailand
It's understood it took the workers, who have no experience in handling crocodiles, around an hour to close the reptile's mouth. It then needed 5 men to transport the croc to a waiting vehicle, with the animal putting up a fight the whole way.
Pitchaya Chiewkanrob, the 60 year old homeowner who notified rescue workers of the croc's presence, says she believes the animal escaped from captivity at a farm, pointing out that there is no water source close to her home. Local police officers are attempting to trace the reptile's owner.
SOURCE: Nation Thailand
Keep in contact with The Thaiger by following our
Facebook page
.
Never miss out on future posts by
following The Thaiger
.
Alleged kidnapping attempt in Isaan region, missing child found tied up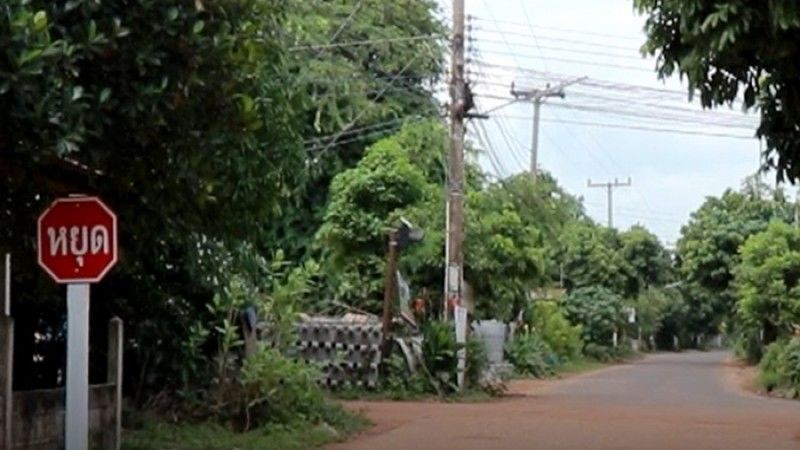 A girl was allegedly kidnapped by a group in the Isaan province Amnat Charoen. She was found with tied up and her was mouth stuffed with paper.
The girl says a teenager approached her and offered candy. She said she wasn't hungry and that she didn't have money, but the teen allegedly replied that it was okay and he had snacks in his car. When the girl got to the vehicle, a group of people tied up her hands and feet, and stuffed paper in her mouth, Thai media reports. The vehicle did not have license plates, and apparently came from out of town. Thai media says the car was driving around the village for a while.
The girl's grandparents noticed the child had been gone for a while and went looking for her. After searching for her, they contacted the village chief and an announcement was made on the village's speakers.
When the alleged kidnappers heard the announcements about the missing girl on the loud speakers, they dropped the girl off and drove away, Thai media reports. Villagers who heard the announcements helped search for the missing child. She was found with her hands tied up with a sweater, her feet tied with electrical wire and her mouth stuffed with paper.
"Villagers believe these types of gangs kidnap the children for sale and is a big part of human trafficking in Thailand."
Thai media did not report on any arrests or possible suspects.
SOURCE: Thai Residents
Catch up with the latest daily "Thailand News Today" here on The Thaiger.
Keep in contact with The Thaiger by following our
Facebook page
.
Never miss out on future posts by
following The Thaiger
.
Khon Kaen school director accused of sexually abusing students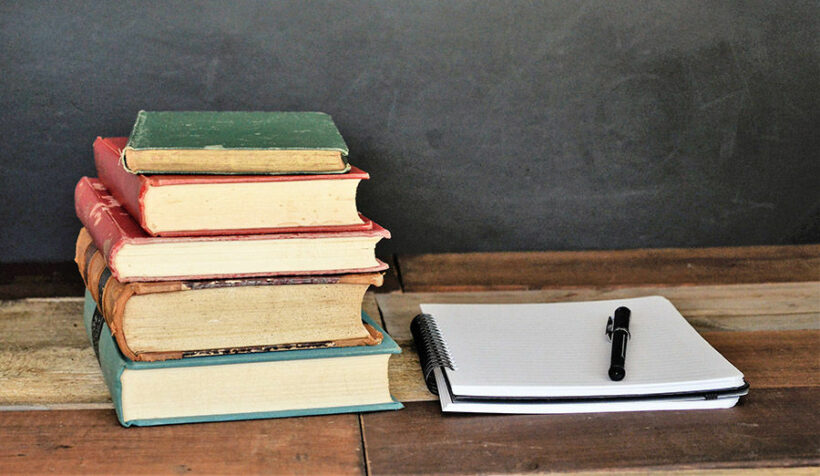 5 students in the north-eastern province of Khon Kaen are accusing the director of Ban Thung Mon School, in the district of Ban Phai, of sexual abuse. The girls have filed an official police complaint, with the assistance of Pawanamporn Thaewnon-ngiew, a teacher at the school. The Bangkok Post reports she accompanied them to the police station after they confided in her.
It's understood the girls are all Grade 8 students. Pawanamporn says she spoke with the children's parents to confirm if they wished to bring charges, at which point the parents indicated that they did. Pawanamporn says similar allegations have been made about the school director in the past, by students from grades 6 to 9. Investigating officers say the students claim the man hugged and touched them, while asking if they had boyfriends and if they wanted money.
The unnamed man, who has been transferred to an inactive post pending the results of the investigation, denies the accusations, blaming Pawanamporn, who he claims has always been critical of him and the school. He says CCTV cameras throughout the school will prove he has done nothing wrong.
SOURCE: Bangkok Post
Keep in contact with The Thaiger by following our
Facebook page
.
Never miss out on future posts by
following The Thaiger
.