No rain in sight, eight Thai provinces on verge of water crisis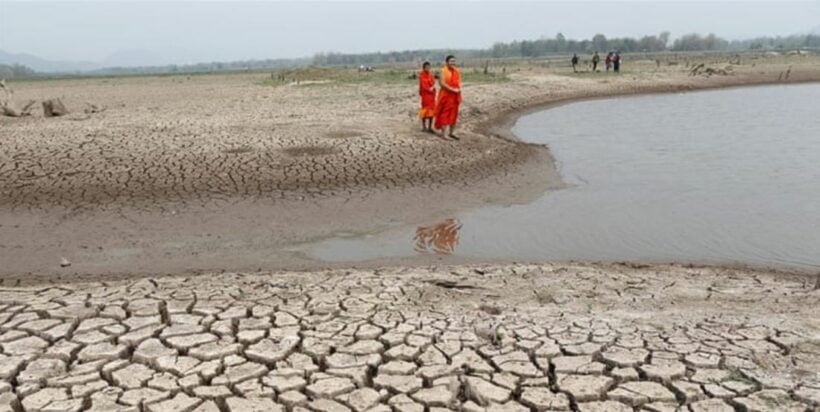 Thailand's water situation is becoming critical with eight provinces now listed as critical. Officials are now describing the situation as the worst drought in 50 years.
PM General Prayut Chan-o-cha has allocated 1 billion baht to finance the expansion of local water bodies in drought-hit provinces. The lack of rain has left as many as 17 major dams in the country almost empty.
• Five districts in Nakhon Ratchasima – Phimai, Chum Phuang, Non Daeng, Non Sung and Prathai – have been suffering drought for nearly three months now with paddy fields abandoned due to the lack of water. Locals are also struggling to find water to survive as their taps have dried up.
All reservoirs in the province are almost empty, especially Phimai dam, and if there isn't any rain in the next week, all crops will die.
• Khon Kaen province is urgently pumping water into 1,000 rai of drought-hit fields. Khon Kaen governor Somsak Chungtragoon said he is working with related agencies to follow up on the installation of pumps to push water from a local water basin to monkey cheeks nearby, so water can be pumped to irrigate crops in neighbouring areas.
• Farmers from Phichit are calling on the Kamphaeng Phet irrigation office to pump water from Ping River to 30,000 rai of their paddy fields which are slowly dying because the local rubber weir has been damaged and cannot store enough water.
Drought in Phichit, north-central Thailand, has become severe especially in areas upstream of the Yom River, because the Sam Ngam rubber weir was damaged five years ago, reducing its ability to store enough water.
• In Phuket the three major catchments are currently less than 10% of their full capacity and urgent rain is now needed in the remaining half of the wet season to avert a major water crisis for the forthcoming tourist high season.
• Irrigation authorities in Chiang Mai province say 3.9 million cubic metres of water will be reserved to ensure taps do not dry up.
• In Lop Buri, the Pa Sak Jolasid Dam reservoir has dropped dangerously low, to only 4% of capacity, even lower than it was four years ago when the central province withered in the grip of severe drought.
• In Nan in the North, millions of worms have infested 47,000 acres of cornfields spanning all 15 districts, more than half the province's land devoted to corn.
• In Nong Khai in the North-east, the Mekong River is running too low to catch any fish. The level is more than 10 metres below the top of the bank on the Thai side.
• The Kwang Noi Dam in Phitsanulok currently holds 134 million millimetres of water, 14% of its capacity. One of four major dams designated for dispensing water for public consumption, it is able to release just 10% of what it normally shares.
But some good news in Ubon Ratchathani, also in the North-east, where a significant amount of rain fell on Tuesday, credited to cloud-seeding operations. An Ubon farmer said his rice had narrowly escaped devastation in what he called the most severe drought he'd ever seen.
SOURCE: The Nation
Keep in contact with The Thaiger by following our
Facebook page
.
Another illegal concrete structure has to be removed from Thai national park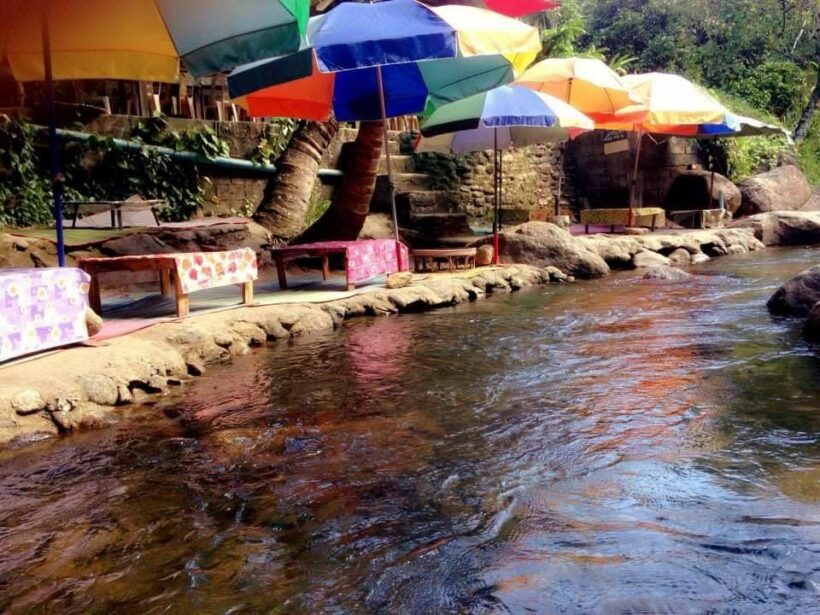 PHOTO: ชมรมstrong-จิตพอเพียงต้านทุจริต จังหวัดนครศรีธรรมราช
A website run by anti-corruption activists has posted a picture of a concrete platform built into a Nakhon Si Thammarat waterfall by food vendors, accusing authorities of failing in their duty to prevent such encroachment. This is the second pouring of concrete encroaching into the creek pointed out by police for immediate removal over the past week.
In both cases the concrete pours had been developed along the banks, providing space for riverside restaurants, encroaching into the stream.
The action by the Chom Rom Strong-Jit Porpiang Tan Thudjarit website prompted national park officials to order that the structure be removed immediately.
It was erected at the Tha Phae waterfall in Khao Luang National Park by vendors supplying food and drinks in the area.
The Bangkok Post reports that this is the second such structure to be erected at a scenic landmark, after similar encroachment on the Klong Tha Dee river in Khiriwong village, Nakhon Si Thammarat.
The structure erected there was widely criticised by netizens, with officials ordering vendors to remove it by Sunday. Read the story HERE.
SOURCE: Bangkok Post
Keep in contact with The Thaiger by following our
Facebook page
.
Police arrest con man who left bride to pay for 3.5 million baht wedding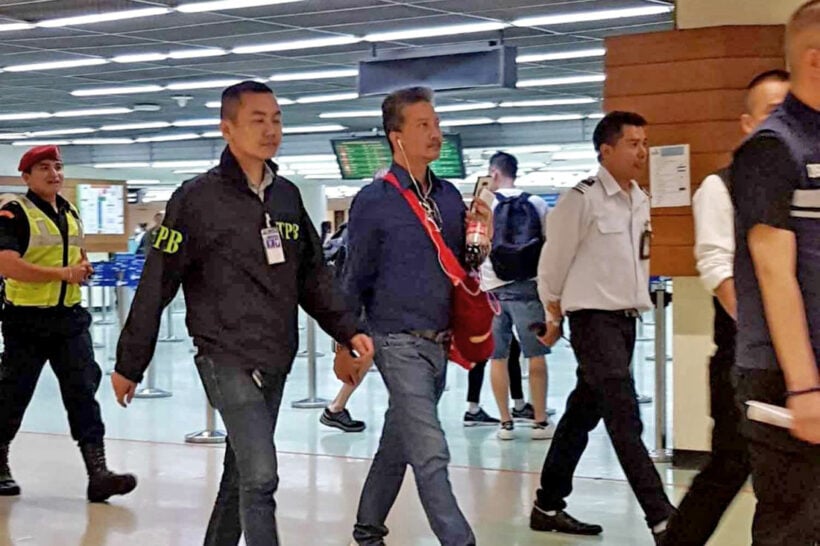 PHOTO: Immigration Police
A man who conned his bride into believing he was a billionaire, then absconded after their wedding leaving her to pick up the tab, has been arrested at Don Mueang airport in Bangkok. He remains in custody and is currently being questioned by police.
49 year old Thananat Siripiyaporn was detained after getting off an Air Asia flight from Hong Kong on Thursday night.
The Bangkok North Municipal Court had issued a warrant for his arrest on a fraudulent cheque charge and the authorities were alerted of his arrival by the biometrics system being used by Thai Immigration police.
The Bangkok Post reports that Thananat married a 30 year old product presenter in a lavish ceremony in Buriram, north-east Thailand, last May.
A woman has divorced her husband after 8 months of marriage after she discovered he'd lied about being a multi-millionaire. Incredibly, this was the only reason she'd married him in the first place.
The party is understood to have cost 3.5 million baht, which the groom left the bride's family to pay after he absconded shortly after the event, taking the dowry cheque with him.
His wife claims he told her he was a wealthy businessman, worth billions of baht.
A con man and a cad!
See original story HERE.
SOURCE: Bangkok Post
Keep in contact with The Thaiger by following our
Facebook page
.
Soi Dog assisting displaced animals in flood-ravaged north east Thailand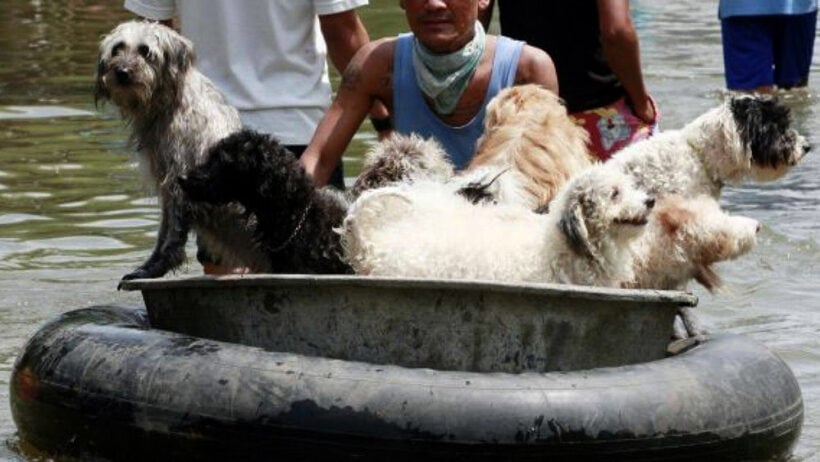 PHOTO: Fox News
The record flooding in September in the province of Ubon Ratchathani, north east Thailand, lead to the destruction of many homes, the fleeing of hundreds of people to safe areas and the subsequent leaving behind of many owned pets, as well as the displacement of a large number of stray animals who live in the area.
The Soi Dog Foundation has cooperated with the Department of Livestock Development in Ubon Ratchatani to help both the domestic and stray animals affected by the floods.
Focusing on their well-being, especially dogs, the foundation joined the campaign to raise help using the #SaveUbon hashtag with Facebook fan page posts, and supported with the donation of 10.8 tonnes of dog and cat food, and 5 bamboo pavilions for stray dogs stranded in an open space without protection from the sun at the area of ​​Tha Kok Hae temple, Muang District. There are still many dogs that need to be taken care of.
Soi Dog has also provided a mobile sterilisation clinic to neuter and vaccinate these dogs from both Muang and Warin Chamrap districts throughout October.
Together with Chomromkhonraksard Ubon (Ubon Animal Lovers Club), Soi Dog is also helping to find owners of the dogs that became lost during the flooding. The foundation had moved 60 dogs to house of Ms.Orathai Saisena, an Ubon Ratchatani woman who has a history of helping stray dogs around the town by providing temporary shelter at her home, including many dogs in the area which were scattered after the floodwater receded.
Right now, Soi Dog and the Ubon Animal Lovers Club are coordinating to help reunite owners and pets.
For further information about Soi Dog, and their work, click HERE.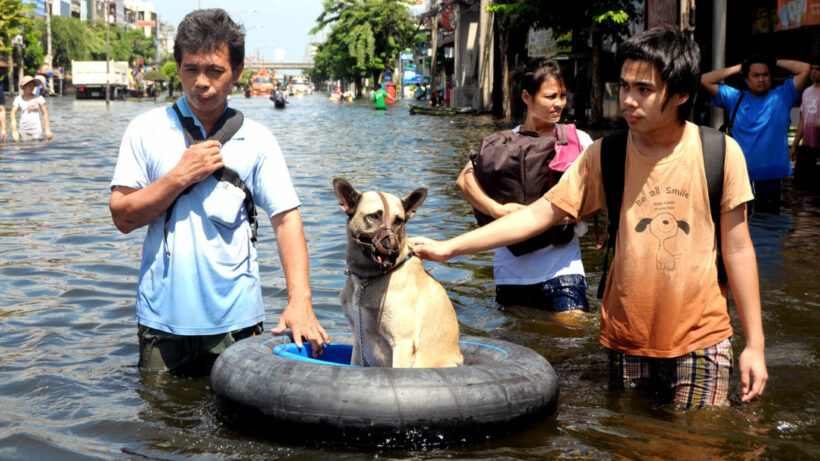 PHOTO: grist.org
Keep in contact with The Thaiger by following our
Facebook page
.