No rain in sight, eight Thai provinces on verge of water crisis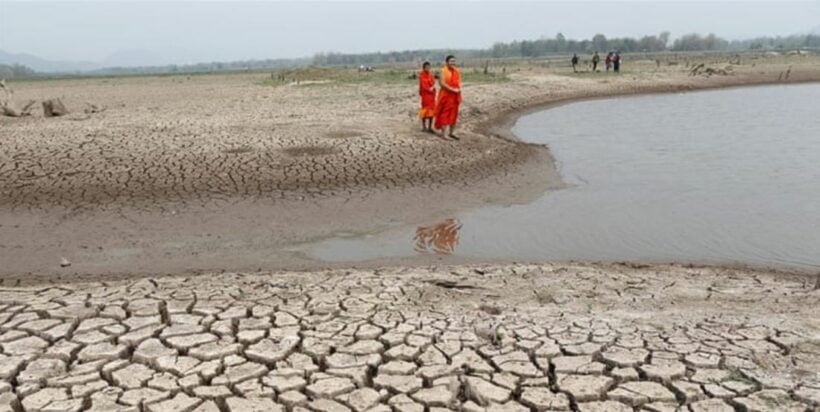 Thailand's water situation is becoming critical with eight provinces now listed as critical. Officials are now describing the situation as the worst drought in 50 years.
PM General Prayut Chan-o-cha has allocated 1 billion baht to finance the expansion of local water bodies in drought-hit provinces. The lack of rain has left as many as 17 major dams in the country almost empty.
• Five districts in Nakhon Ratchasima – Phimai, Chum Phuang, Non Daeng, Non Sung and Prathai – have been suffering drought for nearly three months now with paddy fields abandoned due to the lack of water. Locals are also struggling to find water to survive as their taps have dried up.
All reservoirs in the province are almost empty, especially Phimai dam, and if there isn't any rain in the next week, all crops will die.
• Khon Kaen province is urgently pumping water into 1,000 rai of drought-hit fields. Khon Kaen governor Somsak Chungtragoon said he is working with related agencies to follow up on the installation of pumps to push water from a local water basin to monkey cheeks nearby, so water can be pumped to irrigate crops in neighbouring areas.
• Farmers from Phichit are calling on the Kamphaeng Phet irrigation office to pump water from Ping River to 30,000 rai of their paddy fields which are slowly dying because the local rubber weir has been damaged and cannot store enough water.
Drought in Phichit, north-central Thailand, has become severe especially in areas upstream of the Yom River, because the Sam Ngam rubber weir was damaged five years ago, reducing its ability to store enough water.
• In Phuket the three major catchments are currently less than 10% of their full capacity and urgent rain is now needed in the remaining half of the wet season to avert a major water crisis for the forthcoming tourist high season.
• Irrigation authorities in Chiang Mai province say 3.9 million cubic metres of water will be reserved to ensure taps do not dry up.
• In Lop Buri, the Pa Sak Jolasid Dam reservoir has dropped dangerously low, to only 4% of capacity, even lower than it was four years ago when the central province withered in the grip of severe drought.
• In Nan in the North, millions of worms have infested 47,000 acres of cornfields spanning all 15 districts, more than half the province's land devoted to corn.
• In Nong Khai in the North-east, the Mekong River is running too low to catch any fish. The level is more than 10 metres below the top of the bank on the Thai side.
• The Kwang Noi Dam in Phitsanulok currently holds 134 million millimetres of water, 14% of its capacity. One of four major dams designated for dispensing water for public consumption, it is able to release just 10% of what it normally shares.
But some good news in Ubon Ratchathani, also in the North-east, where a significant amount of rain fell on Tuesday, credited to cloud-seeding operations. An Ubon farmer said his rice had narrowly escaped devastation in what he called the most severe drought he'd ever seen.
SOURCE: The Nation
Keep in contact with The Thaiger by following our
Facebook page
.
British man repays street vendor's kindness by scamming him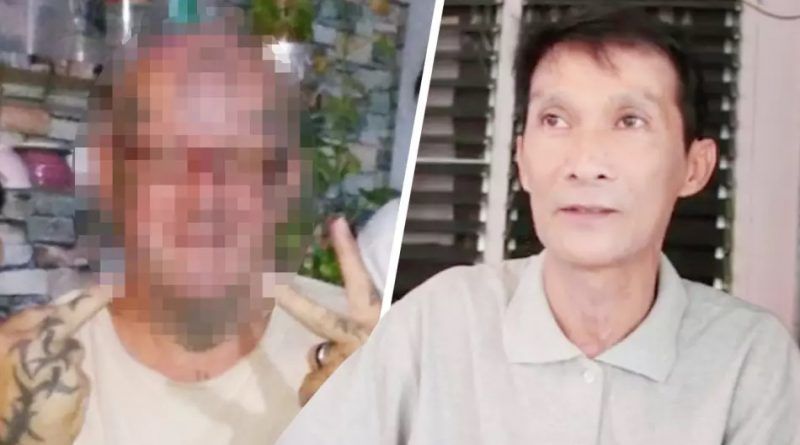 PHOTO: Thai Residents and Sanook
Surichat, a 50 year old BBQ food vendor in Khon Kaen province, north-eastern Thailand, became the victim of a shameless petty con-artist when he tried to help the man out of financial difficulty. The man introduced himself as 'Stuart' and claimed to be from England. He told Surichat he had a wife and child in Bangkok but was living in a Khon Kaen hostel since his wife kicked him out.
Stuart became a regular visitor to Surichat's shop, stopping every day for drinks and some food. Surichat would call a motorbike taxi for him and when Stuart claimed to have lost his wallet one day, the driver didn't charge him.
The following day, Stuart told Surichat he was going to Bangkok to meet a friend who was bringing a credit card from Stuart's mother in England. But on the day he was meant to travel, he claimed his friend had been in a fight with an Australian man and was in police custody. Stuart claimed he would be unable to get his mother's credit card and had nowhere to stay.
Surichat, feeling sorry for the man, gave him 1,000 baht. Stuart returned the money two days later, but the following day sent an email asking to borrow some more. In total, over the next couple of days, Surichat gave him 4,000 baht, after which Stuart left for Bangkok, claiming to be getting some money.
When he didn't return, Surichat texted him, asking for his whereabouts and saying people were worried about him. Stuart's reaction was to text him back, calling him stupid, and then proceeding to text inappropriate images to Surichat's wife.
Surichat later found out that he was not Stuart's first victim, with another man having lost 10,000 baht to the conman. He plans to file a police report.
SOURCE: Thai Residents
Keep in contact with The Thaiger by following our
Facebook page
.
After 60 years, electricity arrives in Ubon Ratchatani villages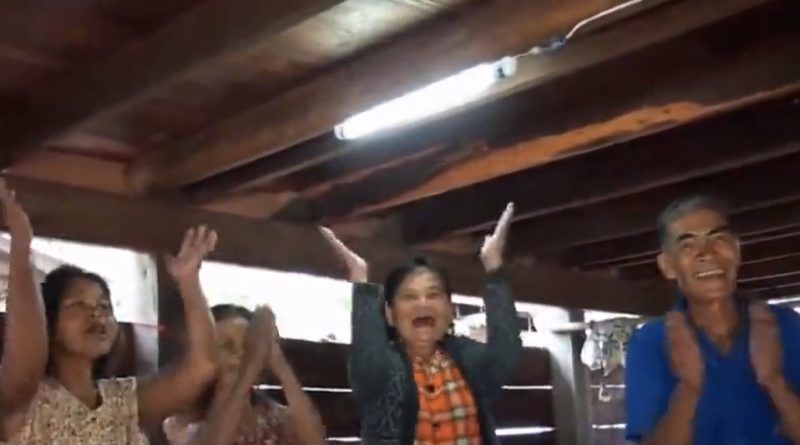 PHOTO: Thai Residents
Let there be light! After waiting 6 decades.
More than 200 families in two villages in Ubon Ratchatani in north-eastern Thailand are celebrating the arrival of electricity in their homes. Residents in Si Muangmai district can now enjoy the delights of television and laptop computers for the first time in 60 years.
Located along a 17 kilometre stretch of mountain, the local Provincial Electricity Authority (PEA) certainly had its work cut out installing the required concrete poles and electricity lines in the villages.
But with the job successfully completed, everyone is happy, with one young student saying the electricity has made her life easier and she no longer has to do her homework with the help of a light bulb connected to a car battery.
PEA officials said the hard work was all worthwhile when they saw the happiness on everyone's faces.
SOURCE: Thai Residents
Keep in contact with The Thaiger by following our
Facebook page
.
11 die in early morning passenger van collision in Sa Kaew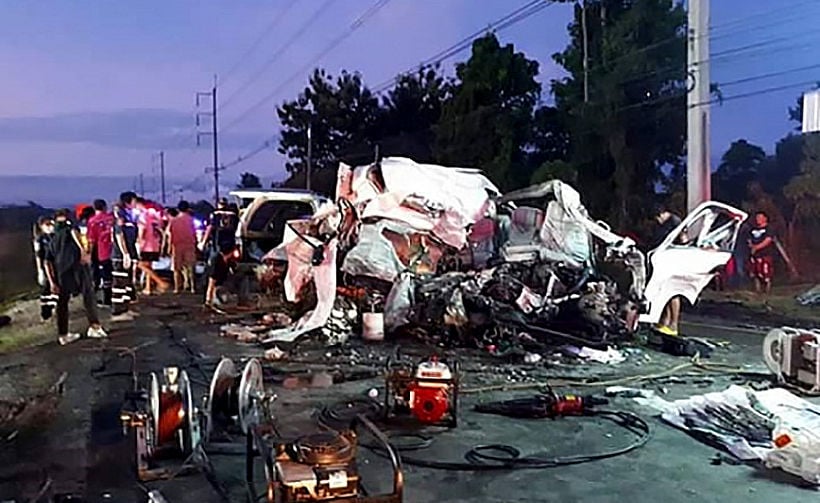 PHOTOS: The Nation
Eleven people have been killed and four others seriously injured after a chartered van carrying Lao workers collided with an 18 wheel truck in Sa Kaew province, east of Bangkok on the Cambodian border, early today (map below).
The Nation reports that they were travelling to the Chanthaburi immigration checkpoint to renew their visas.
Police suspect the Thai van driver, Sansern Sathongkhan, might have dozed off behind the wheel, and driven the passenger van into the opposite lane where it crashed head-on with the oncoming 18 wheel truck.
Police and rescue workers rushed to the scene at 4.15am on the Sakaew-Chanthaburi Road section of the highway near the entrance to the Wang Somboon District Office.
They found the dead bodies of the van driver and Lao passengers, many of whom were crushed in the wrecked van while others were flung out of the van with the force of the impact. Rescue workers were able to remove four seriously wounded people from the wreckage, including three Lao passengers and the truck driver, Subin Pengmoo, to rush them to the district hospital.
SOURCE: The Nation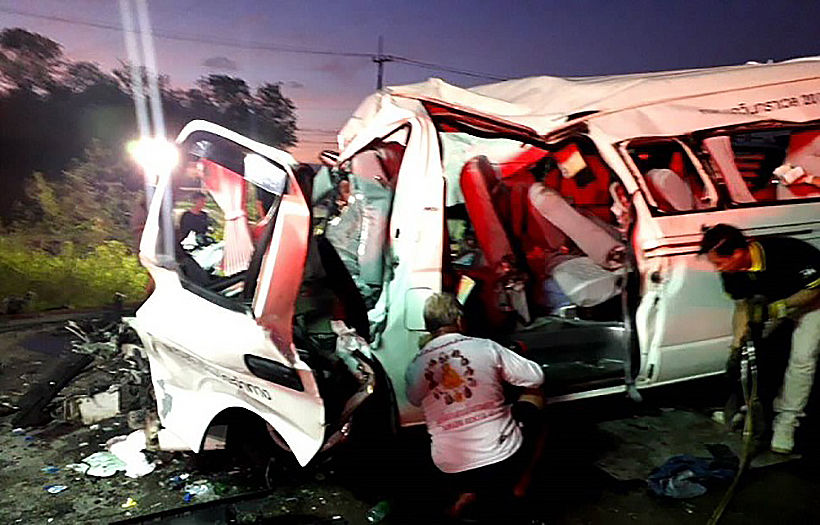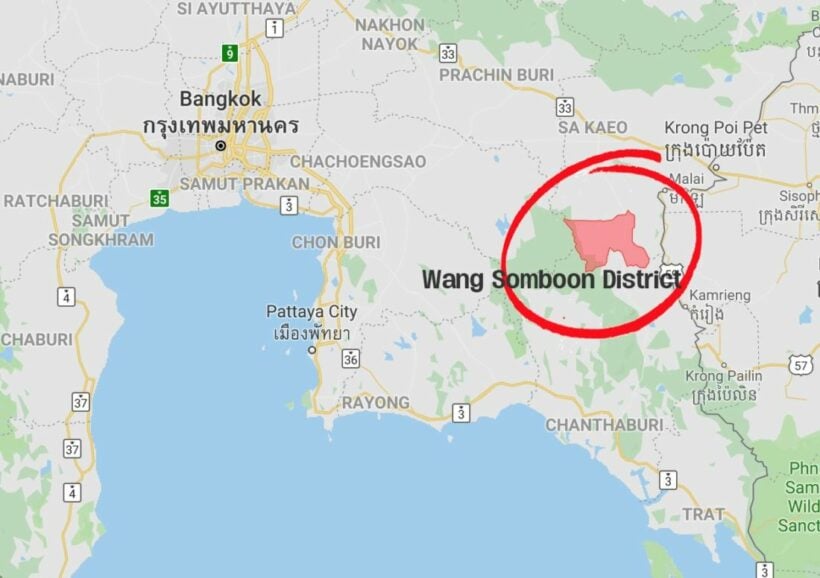 Keep in contact with The Thaiger by following our
Facebook page
.