Nakri weakens to a storm as it heads into Laos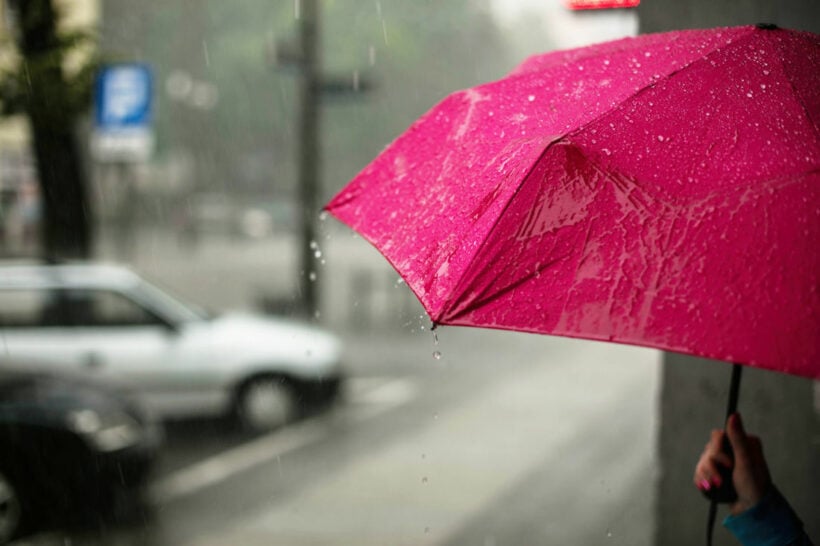 Typhoon Nakri weakened as it crossed the Vietnam coast on Saturday night/Sunday morning. It has since been downgraded to a tropical storm, and now to a storm as it weakens and moves inland toward southern Laos. Despite a lot of rain and strong winds in central Vietnam, no bad damage or injuries have been reported at this stage.
The storm will continue to weaken into a low depression over southern Laos and this will bring isolated rain to Thailand's lower northeast and eastern regions through to Wednesday, according to the Thai Meteorological department.
Meanwhile, another strong cold front from China is forecast to cover the northern parts of Thailand from Wednesday through Friday this week, initially bringing heavy rain to the northeast, east and, eventually, the northern and central regions.
After the rains, temperatures in the northeast and north are forecast to fall 3-5 degrees C, with cold weather in mountainous areas falling to a minimum of 8 degrees C. Temperatures in the eastern and central regions are forecast to dip 2-4 degrees C.
Bangkok and its surrounding areas will be cold and windy overnight into tomorrow morning, with a minimum temperature of 22C and a maximum of 34C.
SOURCE: Thai Meteorological Department
Keep in contact with The Thaiger by following our
Facebook page
.
"The first quarter of 2020 looks terrible" – tourism in northern Thailand.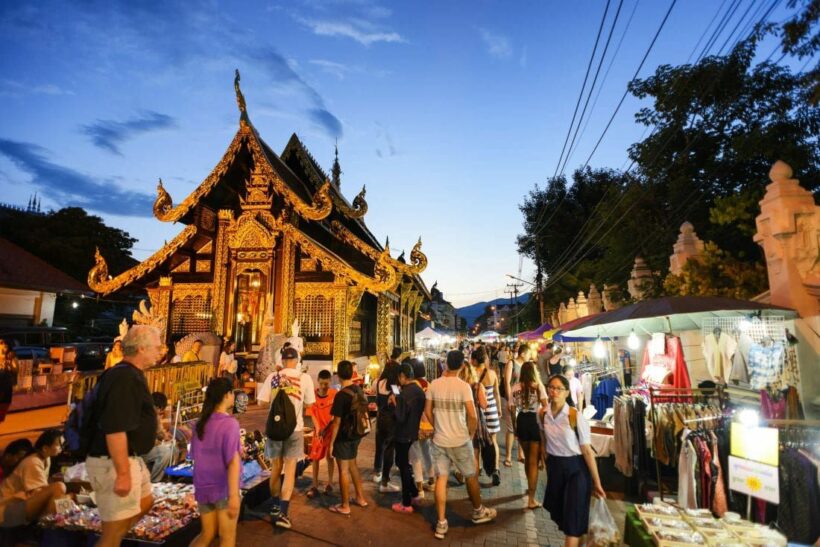 "Bookings in the north are down and the outlook for… the first quarter of 2020 looks terrible."
The head of the Northern Hoteliers' Association based in Chiang Mai is painting a grim picture about the immediate future for tourism in northern Thailand.
She was bemoaning that bookings in the north are down and the outlook for the end of this year, and entering the first quarter of 2020, "looks terrible".
Speaking to snook.com, La-iat Bungsrithong painted a picture of a sluggish tourist landscape in the north and poor pre-bookings during the, usually, busy Christmas and New Year period, and into the early months of next year.
She was blaming many of the same issues brought up by others in the tourism game – the high Thai baht, US-China trade wars and sluggish global economy.
"Compared to last year tourism was down and there seemed little hope on the horizon."
"Chinese visitors remain the mainstay in the North with direct flights coming in from China cities but the expansion of hotel rooms in recent times is only seeing less of the pie for each operator."
SOURCE: Sanook
Keep in contact with The Thaiger by following our
Facebook page
.
Mekong River is turning blue. That's not good.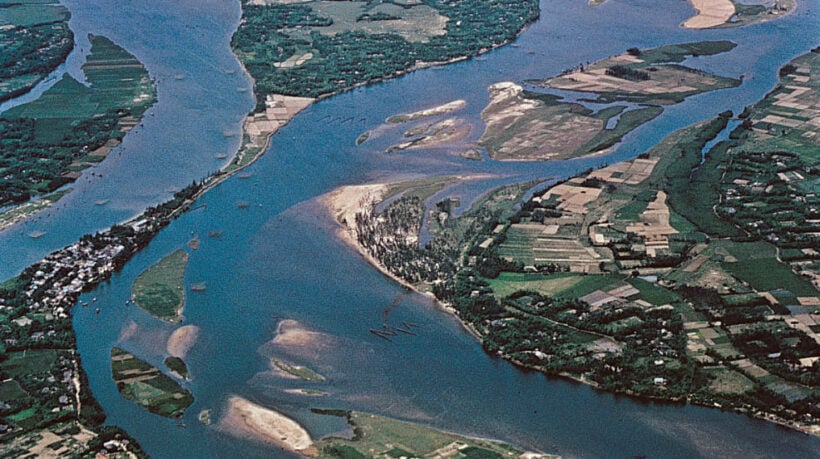 PHOTO: britannica.com
Water levels in the Mekong River are now reaching a critical point. The river's normally brown waters have turned aquamarine, like sea water, and sandbars are emerging, some of them several kilometres long.
Arthit Panasoon, president of a conservation group in the northeastern province of Nakhon Phanom, says the rare change in water colour, although it might look attractive, is a deceptively gloomy sign that the river is running dry.
He explains that the average depth in his vicinity is now around one metre, the lowest in more than fifty years. Because it's so shallow, the river flows slowly, causing sedimentation, usually kicked up from the riverbed, to sink and remain unmoved, producing the aquamarine colour.
Arthit notes that the dry season has already begun and it will be six months before any rain returns, but the river is already drying up due to the many dams in China and Laos, and to the recent poor rains that can be attributed to climate change.
The drought is also causing other problems for local business and farmers. The Mekong Paradise cruise ship had to suspend operations since November 28 as it's unable to navigate the river whilst it's so low. And farmers, who used to draw water from the river, have had to extend their water pipes further to reach water.
SOURCE: Thai PBS World
Keep in contact with The Thaiger by following our
Facebook page
.
Deer found dead in Thai national park – 7 kilos of garbage found in stomach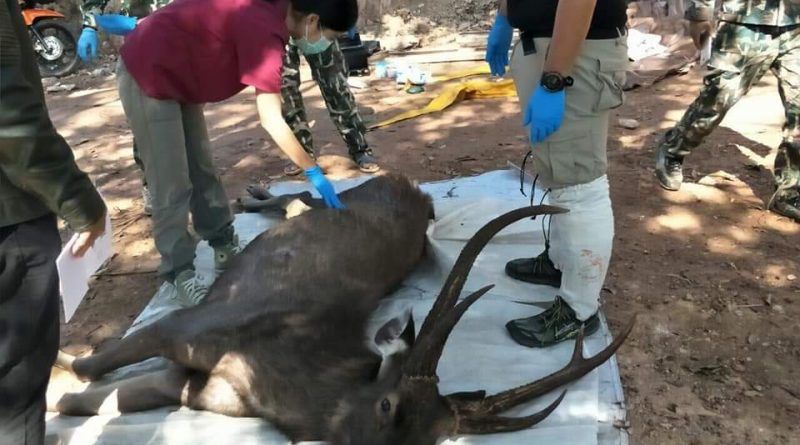 PHOTO: Thai Residents
Thailand's love affair with plastic, coupled with a casual attitude to littering, appears to have claimed another wildlife victim.
The body of a wild deer has been found with an astonishing 7 kilograms of garbage in its stomach. The deer was found at a national park in Nan province, northern Thailand.
Thai Residents reports that the deer was found just inside the entrance of the Kun Sathan National Park, with officials estimating it had been dead for about two days. Although there were no visible injuries to its body, its fur was falling out and it had a large scar on one of its hooves.
An autopsy detected irregularities in the animal's kidneys, heart and lungs, with the veterinary team shocked to discover 7 kilos of garbage in the deer's stomach. The contents are said to have included multiple plastic bags, including black garbage bags, as well as plastic coffee packs, instant noodle plastic bags, clothing and rope. The cause of death has been listed as intestinal blockage coupled with old age.
SOURCE: Thai Residents
Keep in contact with The Thaiger by following our
Facebook page
.