State offices and public spaces need to provide better access for the vision impaired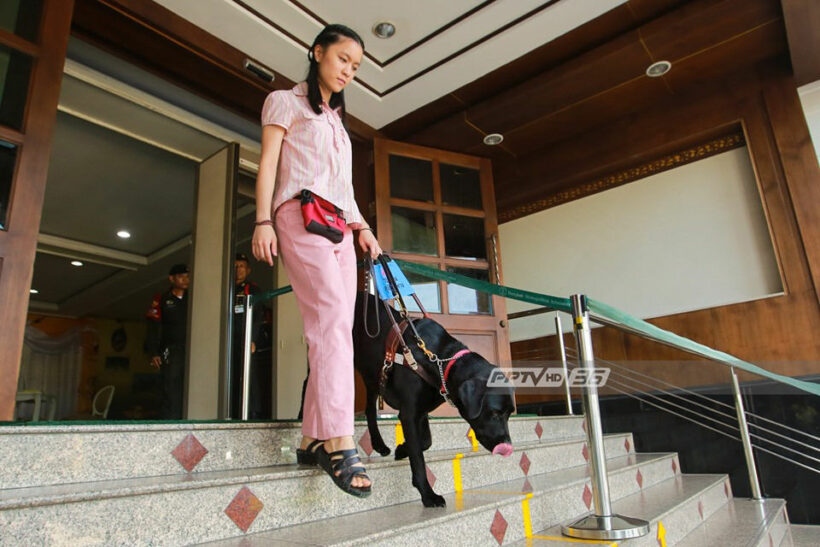 PHOTO: PPTV HD 36
Bangkok's Governor Aswin Kwanmuang says he will coordinate with related agencies and public parks about making access for the disabled better around the city.
He made the announcement after meeting with a visually-impaired person complaining about her guide dog not being allowed into state offices and other public sites.
Sight impaired Kirin "Sai" Techawongtham, who created a Facebook page about herself and her 3 year old black Labrador, Luther, to raise public awareness about guide dogs, told the Governor it was difficult for visually-impaired people to access state offices because officials still did not understand the function of a guide dog and prohibited them from entering public offices.
Kirin, a new psychology graduate from Hendrix College in the US state of Arkansas.
"I understand that pets are prohibited from entering public offices in order to avoid disturbance, but a guide dog undergoes intensive training and does not cause any disturbance or property damage. So, I want to call on officials and agencies to open their hearts to guide dogs."
She told the Governor that getting around roads and footpaths in Thailand is also difficult for the visually impaired because there are so many obstacles on the ground and overhead.
Kirin lost her sight at age 13 due to a brain tumour. She met Luther, her guide dog, two years ago at a New York-based non-profit organisation "Guiding Eyes for the Blind".
Aswin said Thai law actually allows blind people to bring their guide dogs to public places, adding that apart from coordinating with related agencies about allowing guide dogs into public spaces, he will also have the Bangkok Metropolitan Administration urgently start promoting guide-dog training.
SOURCE: The Nation
Keep in contact with The Thaiger by following our
Facebook page
.
30,000 baht reward offered after prisoner walks away from Bangkok prison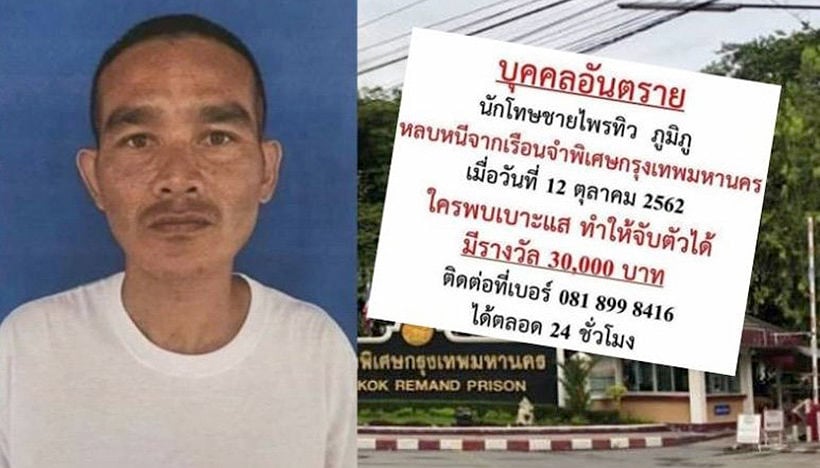 Police in Bangkok are offering a reward of 30,000 baht for information that leads to the capture of an escaped convict. The Daily News reports that Pol Col Chanaworasin Suphaphanarak, the chief of Prachacheun police in northern Bangkok, confirmed the reward yesterday.
Phraiphiw Phumiphu, a convicted thief, escaped Bangkok Remand prison on Saturday. It's understood he had been working outside the prison gates when he ran off.
Press reports say the escaped prisoner is "unstable", while the poster issued to publicise the reward for his capture describes him as "dangerous."
It's understood Phraiphiw previously served a jail sentence for theft but had re-offended.
SOURCE: Daily News | ThaiVisa
Keep in contact with The Thaiger by following our
Facebook page
.
Festival of lights will decorate 13 Bangkok bridges until October 25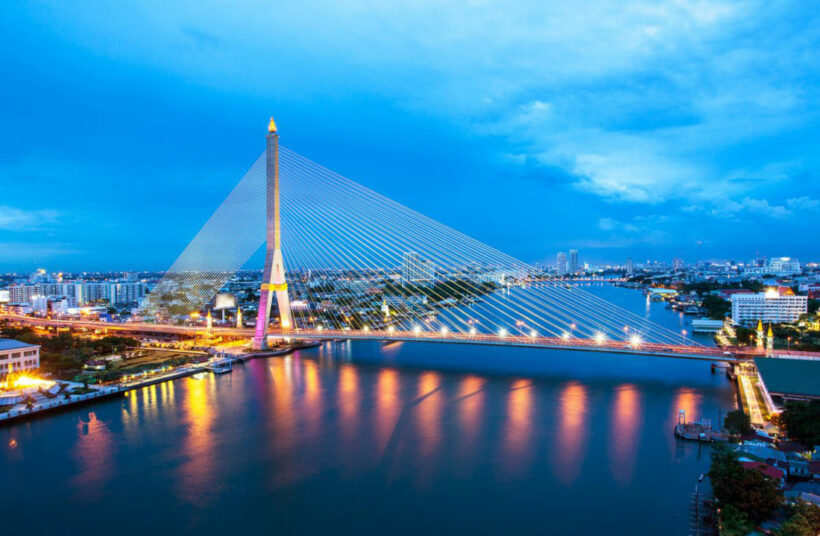 PHOTO: TakeMeTour
Thirteen bridges over Bangkok's Chao Phraya River, as it snakes its way through the metropolitan areas, will be lit up in a festival that runs through to October 25.
The Department of Rural Roads is decorating Rama III, Rama IV, Rama V, Rama VII, Maha Jesadabordinthanuson, Somdet Phra Pinklao, Phra Phuttha Yodfa, Phra Pok Klao, The King Taksin , Krung Thon Buri, Bangkok, Bhumibol 1 and Bhumibol 2 bridges.
The special decorations are a part of the final part of the May coronation ceremony and will feature barge processions along the Chao Phraya.c The bridges will be lit up from 7pm to 10pm each night, and 6pm to midnight on October 24.
The move is meant to show the unity of Thai people and project the beauty of the Chao Phraya River to promote tourism.
The Government and TAT have outlined a range of other projects to Cabinet, including concerts, festivals, expos, tourism discount promotions and even a 'Ganja World Festival' in Buriram, in efforts to push the international tourist numbers past 40 million.
In a challenging year, the tourism numbers started well with forecasts of over 40 million for 2019. But March, April and May saw some changes to the demographics and some of the traditional favourite locations noted big drops in numbers. But the numbers appear to have stabilised since and a drop in overall Chinese tourism has been matched with surges is some other markets.
SOURCE: The Nation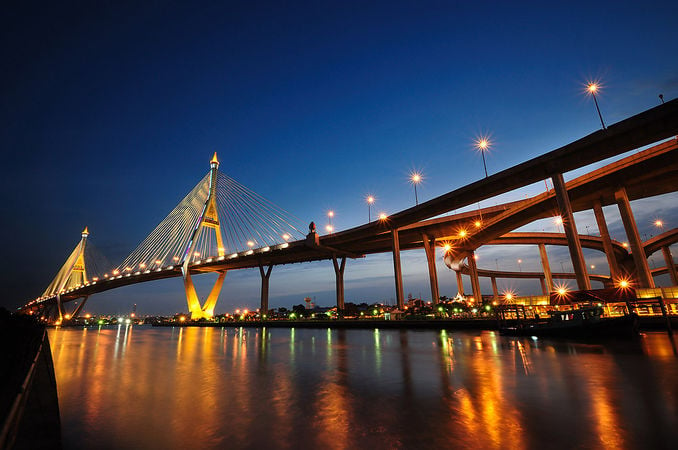 Keep in contact with The Thaiger by following our
Facebook page
.
Professor: Military government too interested in tourism – not people's welfare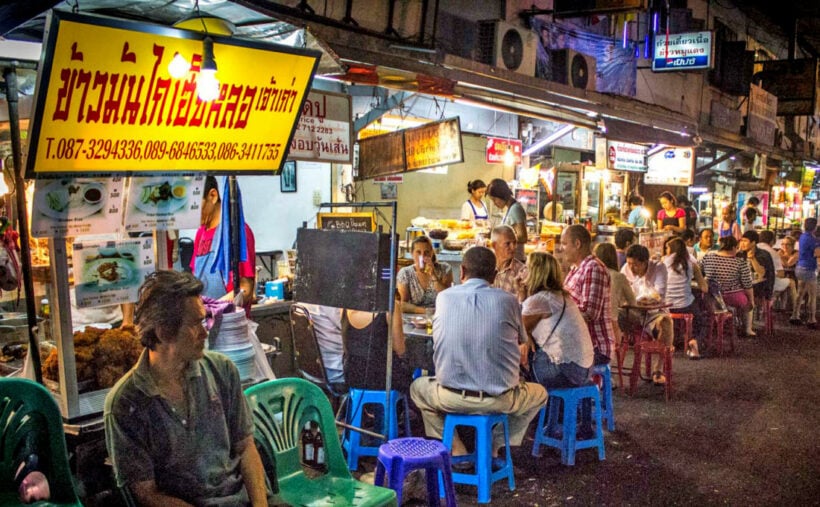 A professor of Rangsit University has criticised the previous military government for focusing too much on tourism and not enough on the welfare of the Thai people. The professor was speaking at Chulalongkorn University at a seminar discussing street stalls and urban development.
She questioned the National Council for Peace and Order's policy of clearing street vendors in all but a few areas such as Yaowarat and Khao San Road that mainly cater to tourists.
She claimed that the NCPO – in power since the coup of 2014 until this year's election – was more interested in economic development through tourism than in the welfare of the public.
Having affordable street food options was not just about tourism, she said, it was vital for poor workers who have migrated from the countryside, adding that it was part of an informal rather than a formal economy.
"For years people had earned their living from selling goods and services, including food, on the streets."
This in turn provided an affordable option to eat for workers who came to Bangkok on for large investment projects. The issue, she said, was not just about tourism but the wider economy that might benefit.
The professor noted that CNN had once called Bangkok the best place in the world for street food but this had changed with the sanitized food trucks that have appeared since stalls and vendors were banned from most areas.
The Thaiger notes that banning street vendors has divided the capital. Many are happy that the sidewalks are easier to navigate, but others – including tourists – have said that the lifeblood and character of the city has suffered.
SOURCE: Naew Na | ThaiVisa Forum
Keep in contact with The Thaiger by following our
Facebook page
.