Chiang Rai and Hat Yai airports NOT closing – Thai transport minister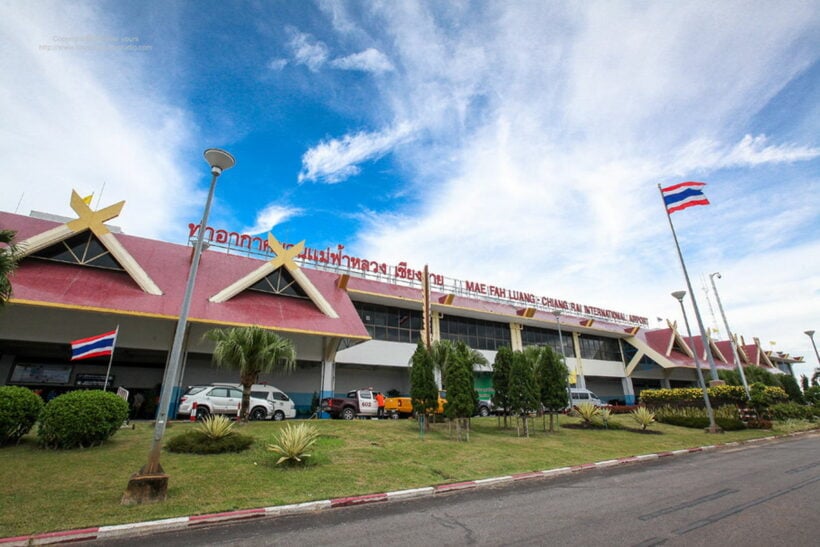 PHOTO: Chiang Rai Airport – mychiangmaitravel.com
Chiang Rai's International Airport is not slated for closure, according to Thailand's Transport Minister. The comment came after Airports of Thailand's president announced on Monday October 28 that AOT was 'considering' closing Chiang Rai and Hat Yai airports, throwing media, and the staff at the two airports, into a spin.
The minister has told The Nation that AOT "has no plans to close or downgrade any airport in Thailand, including those in Chiang Rai and Hat Yai." He says there is no change to the planned expansion of six airports.
The press reports regarding the planned closure of Hat Yai International Airport in Songkhla province and Chiang Rai International Airport were "just misinterpretation," AOT's president told The Nation, adding that the real message is that the high-speed train project might lead to fewer travellers for both airports.
"The AOT will draw up a flexible plan to deal with the development."
Passenger numbers at most airports, except Chiang Rai International Airport, are far above capacity. The Chiang Mai Airport serves 11.32 million travellers annually despite capacity of just 8 million, and Phuket Airport, with capacity of 12.5 million, is struggling now with 17.85 million, and growing. Hat Yai Airport is serving 4.03 million passengers a year, and has just 2.5 million in capacity.
More than 64 million people have passed through Bangkok's Suvarnabhumi Airport so far this year, with a capacity of 45 million, and its secondary Dong Mueang Airport has served over 41 million despite capacity of only 30 million.
Chiang Rai's airport is doing better with 2.95 million, a bit below its full current capacity of 3 million pax. These six airports have a combined total capacity of 101 million passengers, which is expected to rise to 186 million by 2024, according to the transport minister, who also said that he has requested that AOT collaborate with relevant organisations to improve the immigration process, using electronic e-visas to lessen density at checkpoints, providing convenience for tourists and enhanced efficiency.
SOURCE: Chiang Rai Times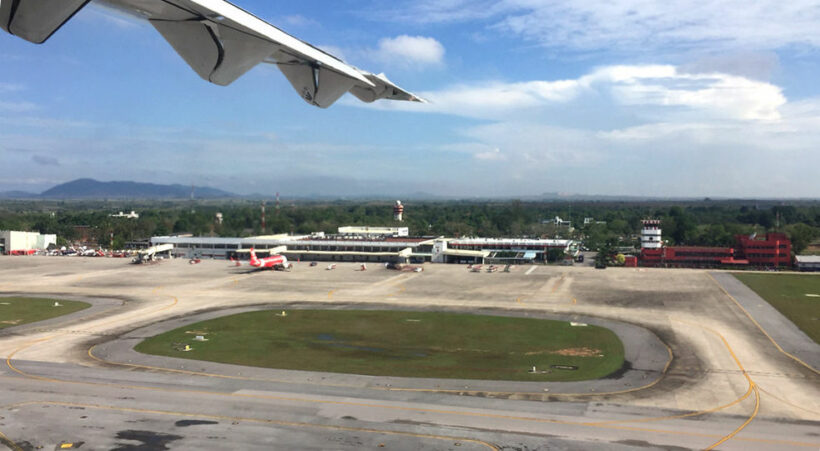 PHOTO: Hat Yai Airport – Flickr
Keep in contact with The Thaiger by following our
Facebook page
.
Heroin smuggler busted in Chiang Rai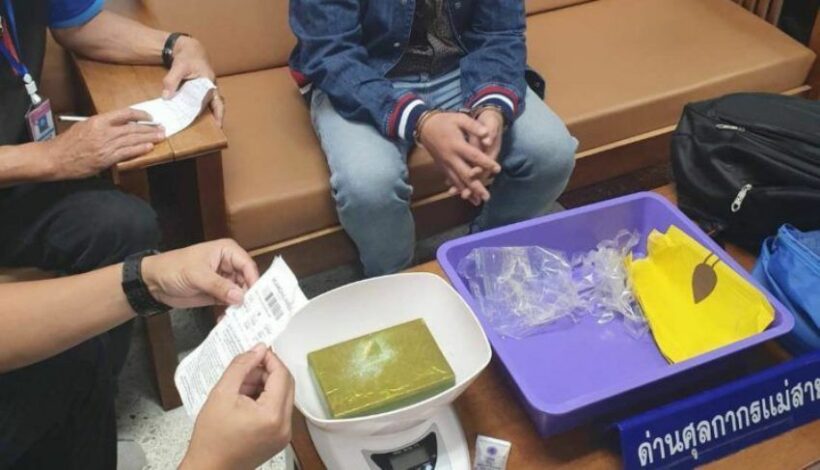 A man has been arrested in Chiang Rai's airport attempting to smuggle heroin. 27 year old Jatuporn Saeuan was searched and detained before boarding a flight to Bangkok when security officers found his behaviour suspicious.
Security officers say Jatuporn "kept wandering back and forth in front of the entrance" to Mae Fah Luang Airport, so they asked demanded to inspect his luggage. His luggage was put through the airport x-ray and he went through the personal scanner.
When he raised his arms for the scan, they notised a yellow plastic bag tucked into the back of his trousers. Security staff opened the package and found it contained a white power. Test results quickly indicated the powder was a narcotic. and security called police.
Police told Thai media that Jatuporn admitted travelling to Myanmar to buy the heroin, sneaking across the border at Mae Sai, Chiang Rai into Myanmar's Tachilek province. After buying the drug he sneaked back into Thailand with help from the dealer.
Jatuporn drove to Chiang Rai's Mae Fah Luang Airport where he was subsequently arrested. He admits he planned to sell the heroin in Bangkok.
He has been charged with possession of an illegal narcotic with the intent to sell. Under Thai law, he could face the death penalty, though capital punishment is rare in Thailand. In reality he faces a fine of up to 100,000 baht fine and/or 10 years in prison.
SOURCE: Chiang Rai Times
Keep in contact with The Thaiger by following our
Facebook page
.
Poor air quality in Bangkok and northern Thailand today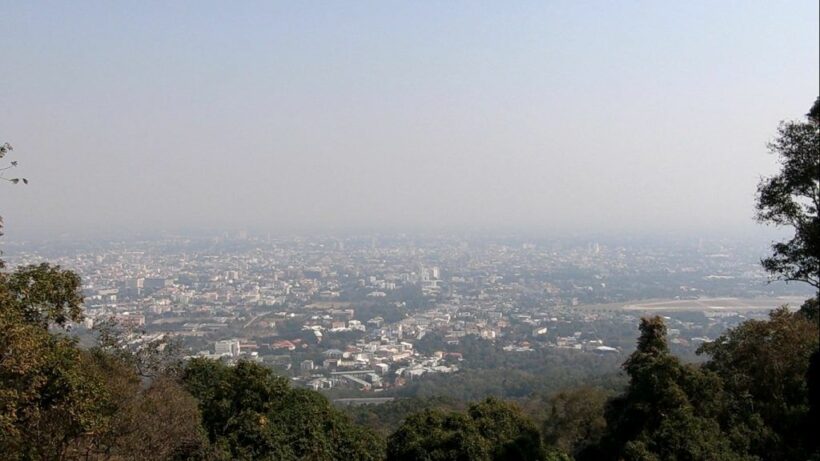 Poor air quality and persistent haze is plaguing much of Thailand's north today, with the worst pollution in Lampang province, just south of Chiang Mai in northern Thailand. Meanwhile, a bit further south, Bangkok residents had more of the fine-dust particles, aka. 2.5 microns, in eight of the city's districts yesterday.
The Pollution Control Department in the north has reported unsafe levels of pollution in 11 of the 15 air quality measurement stations – including Mae Sai district in Chiang Rai; City area of Chiang Mai; City and Mae Mo districts of Lampang; City area of Lamphun; City area of Phrae; and City area of Phayao.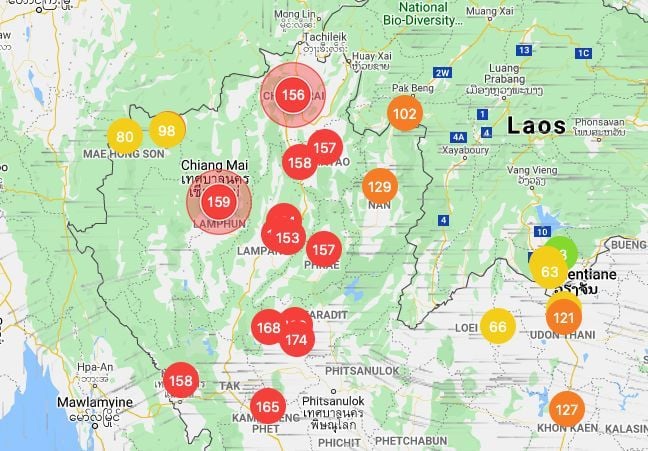 A business owner in Chiang Mai told The Thaiger today that the haze and smoke is at its worst for months. 'Neo' runs a flower and giftware shop in central Chiang Mai.
"We are seeing a lot of customers come in today with face-masks and everyone is talking about the problem. Most of us think it is coming from sugar cane plantation burn-offs."
The readings, in excess of 150mg in many locations around the north, are up to three times the Thai government's nominal upper-limit of 50 mg of 2.5 micron particulate per cubic metre, and over six times the upper safe limit from the World Health Organisation.
In the capital, the Bangkok Metropolitan Administration reported high PM2.5 levels in eight suburbs – Klong San, Bang Khlaem, Wang Thonglang, Phra Nakhon, Klong Toey, Laksi, Bang Khen and Bung Kum. The capital's most polluted air was in Bang Khen, according to the Bangkok Post.
SOURCE: Bangkok Post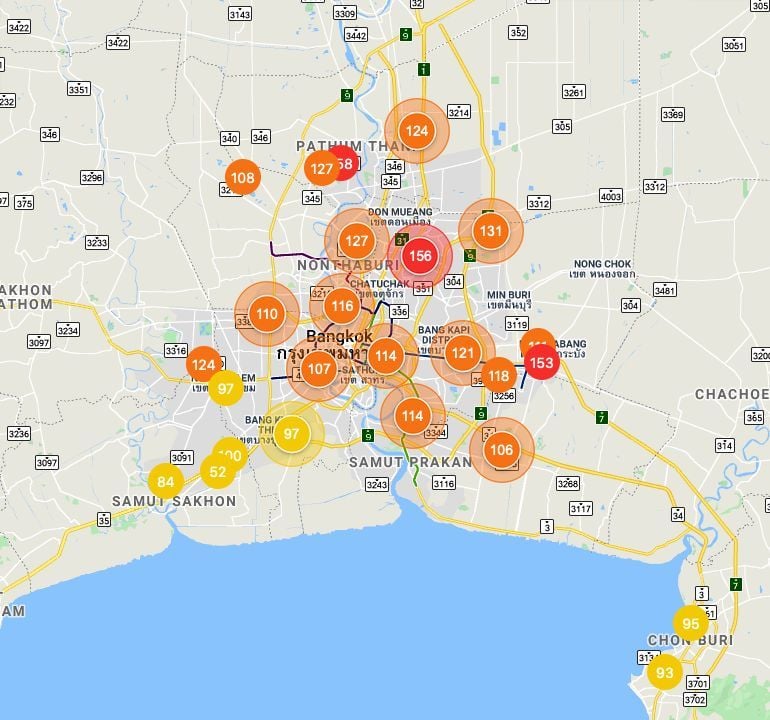 SCREENSHOTS: AirQuality.com
Keep in contact with The Thaiger by following our
Facebook page
.
Freak hailstorm causes blackouts, damages homes in Chiang Rai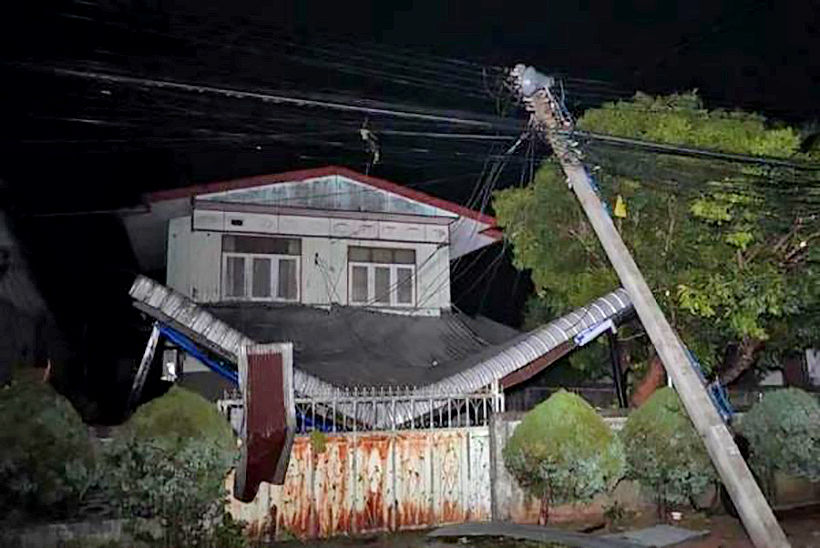 PHOTOS: Thai PBS World
Heavy rains and hail have damaged homes and caused widespread blackouts in the northern province of Chiang Rai. Strong winds knocked down trees in several districts, blocking traffic. Officials say the sudden storm, which struck Mae Sai, Chiang Saen and Mae Chan districts, lasted about 30 minutes and damaged several houses.
They say the relief operation was hindered by the blackout, which lasted several hours.
According to the local weatherman, the freak storm was caused by hot westerly winds over the northern region, drawing up humid air up the ground.
"This resulted in the formation of vertical clouds and subsequent storms."
The Thai Meteorological Department warns there may be other freak rain or hail storms in some areas of Mae Hong Son, Chiang Rai and Chiang Mai provinces today.
SOURCE: Thai PBS World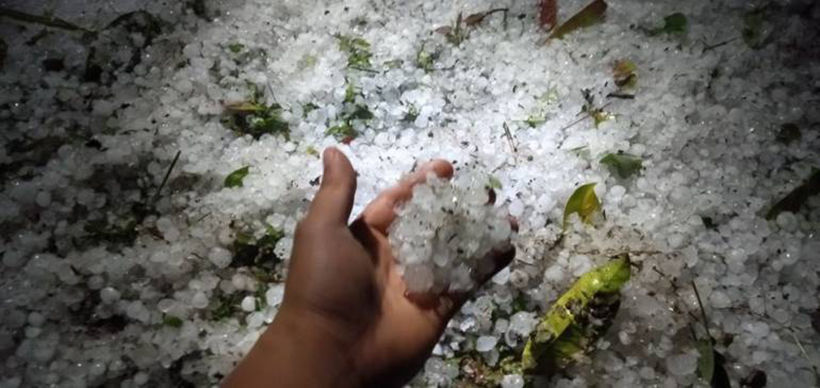 Keep in contact with The Thaiger by following our
Facebook page
.