Visa-on-arrival passengers from 18 countries can now apply online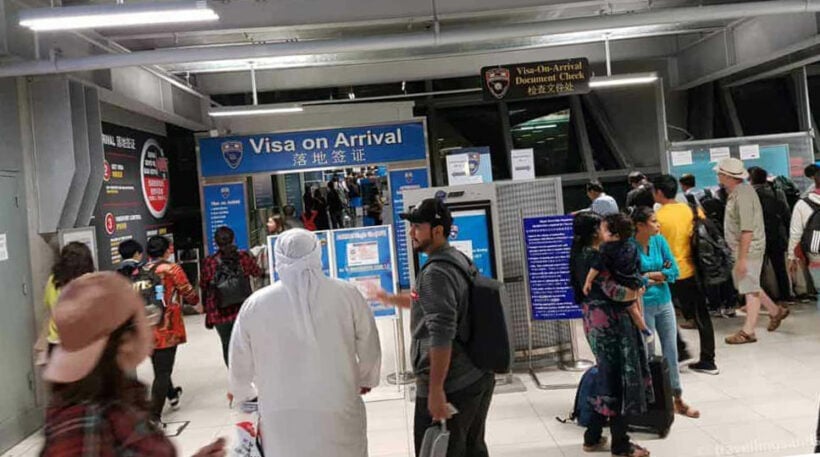 PHOTO: travellingsands.com
Visitors from 18 countries, entitled to visas-on-arrival, are being advised by the Tourism Authority of Thailand to apply online for their e-visa.
Thai Residents reports that nationals of Bhutan, Bulgaria, China, Cyprus, Ethiopia, Fiji, Georgia, India, Kazakhstan, Malta, Mexico, Nauru, Papua New Guinea, Romania, Saudi Arabia, Taiwan, Uzbekistan and Vanuatu are all exempt from paying the 2,000 baht fee for visas-on-arrival for visits of less than 15 days' duration.
The TAT is now inviting citizens of these countries to use the new online e-visa application and approval system available at either www.thailandevisa.org or thailandevoa.vfsevisa.com
Applicants will need to complete an online form, scan and upload the required paperwork, pay any fees online and then download the approved visa and present it to Immigration officials on arrival at Suvarnabhumi, Don Muang, Phuket or Chiang Mai international airports.
Although exempt from the 2,000 baht visa fee until April 30, 2020, applicants are still required to pay an online visa processing fee. The fee is 600 baht for the normal processing time of 24 – 72 hours, whereas 2,500 baht will get you to the front of the queue and approval within 24 hours.
SOURCE: Thai Residents
Keep in contact with The Thaiger by following our
Facebook page
.
Thai Navy rush to contain oil slick in the Gulf – three rescued off sunken vessel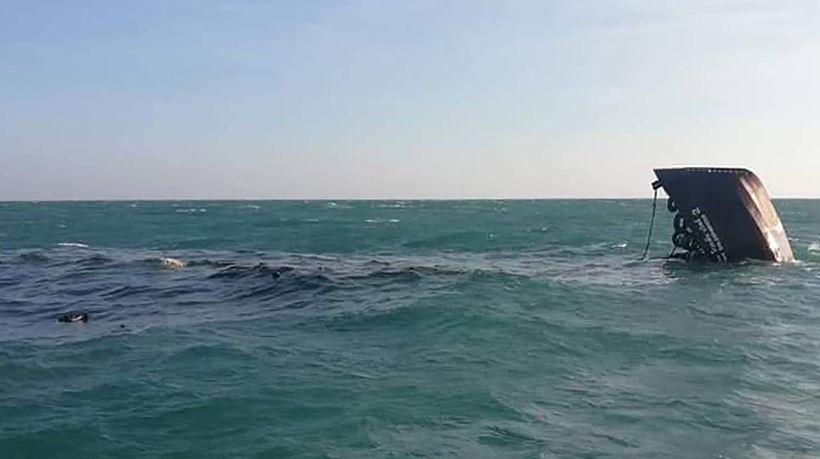 The Royal Thai Navy has sent two ships to prevent a 4 kilometre-long oil slick from advancing toward Thailand's eastern Gulf coast. The vessels are equipped with skimmers, oil booms and oil dispersants contain the spill.
The oil slick came from a sunken tanker, the Golden Bridge 2, that capsized and sank in high seas on December 3. It was about 15 kilometres from Si Chang Island off Chon Buri province moving west, according to the Geo-informatics and Space Technology Development Agency.
The slick is estimated to contain around 20,000 litres. The Golden Bridge 2 contained about 104,000 litres of oil when it capsized.
GISTDA says it's closely monitoring the slick's movement using its Sentinel 2A satellite and has been analysing the situation via radar.
The Department of Natural Resources and Environment fears the oil could damage marine life and corals around Koh Si Chang, just off the Laem Chabang coast, mangrove forests along the coasts of Phetchaburi province and even Bangkok.
Three sailors were rescued from the Golden Bridge 2 boat, on the same morning that a Burmese fisherman was rescued by the Navy after surviving ten hours alone at sea.
SOURCE: The Pattaya News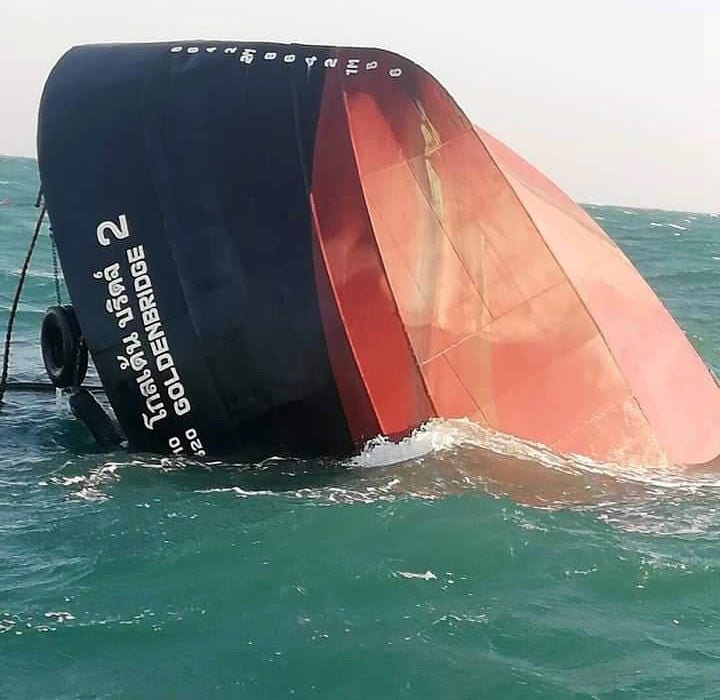 Keep in contact with The Thaiger by following our
Facebook page
.
Wanted MP sneaks into Thai parliament for crucial vote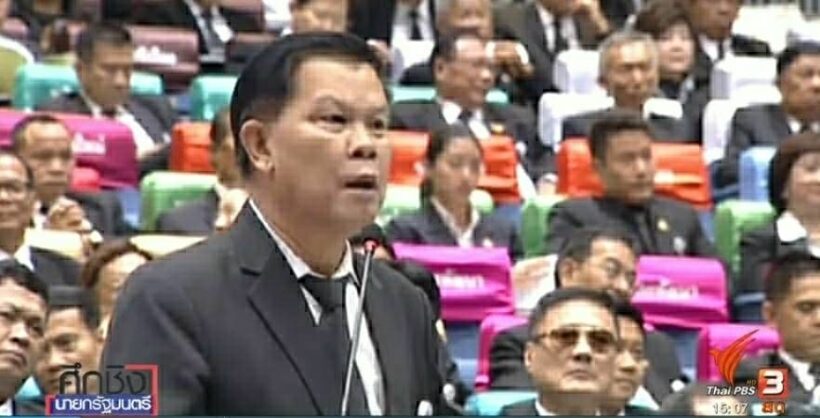 WANTED: Pol Lt-Gen Waipote Arpornrat
Renegade fugitive MP Waipote Arpornrat escaped the notice of parliamentary police, and government MPs, when he managed to stroll in the Lower House parliamentary chamber undetected during Wednesday's sitting. Arpornrat is a member of Palang Pracharat, the most prominent party of the ruling government coalition after jumping ship from the Pheu Thai party,
He was stripped of his MP status on September 12 but has been laying low ever since.
He was apparently there to help the government reach a quorum for a vote recount, in an effort to stall an investigation of the controversial "blank cheque" Section 44 of the 2014 interim constitution. How he was able to get into the Parliament undetected will be a source of questions by the government opposition parties.
The former red-shirt leader faces arrest under a warrant issued by the Supreme Court, for his role in disrupting the 2009 ASEAN Summit in Pattaya. (The red shirts are a political movement that formed after the 2006 coup against the PM Thaksin Shinawatra and live on, philosophically as the Pheu Thai party).
The warrant was issued after he failed to appear in court on Tuesday. Two other red-shirt leaders, Samroeng Prajumrua and Worachai Hema, were sentenced to four years in prison over the protests at the Pattaya Summit.
House Speaker Chuan Leekpai and Deputy PM Wissanu Krea-ngarm have said separately that police can arrest Waipote on sight, but parliament police, conveniently, missed his presence and no Government MPs reported that they saw him.
Waipote was one of 250 government MPs who appeared in parliament after the Government party whips to make sure they attended.
On September 12 it was reported that, "Palang Pracharat MP for Kamphaeng Phet province Pol Lt-Gen Waipote Arpornrat has lost his MP status after the Supreme Court upheld the 4 year prison sentence handed down by the Appeals Court for his involvement in the disruption of the ASEAN Summit in Pattaya in 2009."
SOURCE: Thai PBS World
Keep in contact with The Thaiger by following our
Facebook page
.
Thai central bank calms businesses concerns over strong baht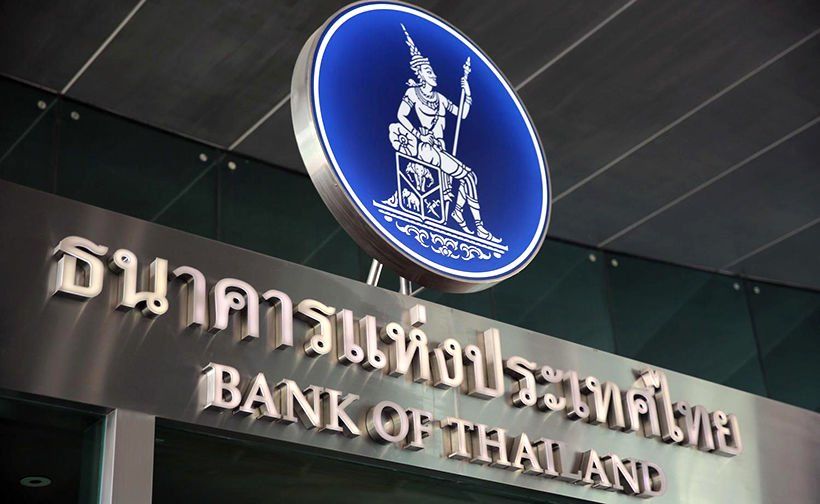 The Bank of Thailand is attempting to quell business concerns over the strong baht, saying the currency will eventually reverse its upward trend and that more two-way movement in relation to the US dollar is expected in 2020.
The central bank's deputy governor Mathee Supapongse says that investors now see the baht as overvalued, given the kingdoms sluggish economic forecast (much of forecasts connected to the strong local currency), a narrowing current account surplus and a thin spread between Thai and other nations' rates.
"The baht might no longer be seen as a safe haven. The baht is starting to reverse its upward trend."
In the last couple of years the baht has strengthened significantly against the US$. It's gained around 7.5% this year alone, making it Asia's top performing currency.
"The central bank is not complacent about the recent baht surge. We've imposed measures to rein it in, including tightening regulations on non-resident baht accounts and periodically stepping into the foreign exchange market."
Last month the central bank relaxed rules related to foreign currency profits and foreign securities investment, to encourage capital outflows and limit the baht's explosive growth.
These included allowing exporters to park foreign currency proceeds abroad without a time limit, enabling retail investors to invest up to US$200,000 per year in foreign securities without the need for a Thai intermediary, and opening up outward transfers, with exceptions for a few specific purposes.
SOURCE: Bangkok Post
Keep in contact with The Thaiger by following our
Facebook page
.