Tourism chief appeals for patience, but admits things will "never be the same"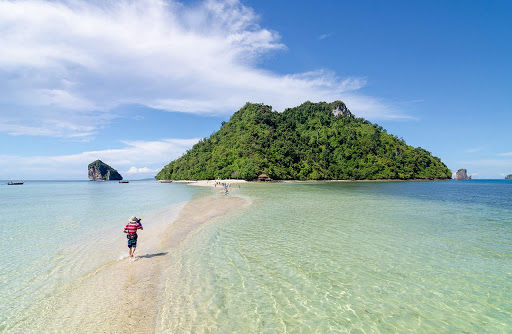 "The primary source markets would be Northeast Asia and the ASEAN countries, with a customer target of people in good health and high-purchasing power."
Patience is not only a virtue, but a necessity, according to the Tourism Authority of Thailand Governor Yuthasak Supasorn. The TAT chief is appealing to the Thai tourism industry to be "patient, united, and confident in weathering the current crisis", which he predicts, under a best-case scenario, will almost certainly be over by 2021 (although he didn't state 'when' in 2021).
Yuthasak was speaking to the Thai Hotels Association and said that, although this was the worst of the many crises that Thailand has experienced… "it will be overcome with the same spirit of solidarity and unity like in the past".
He noted that tourism was Thailand's "largest foreign exchange earner and job-creating industry" and would lead "into a new future that would see creative and innovative solutions being applied to building a more sustainable and resilient industry".
The Governor said he did not want to focus on how much pain the industry had suffered, but rather on how to prepare positively for the time when a vaccine would be found and restrictions on international travel lifted (the "pain" has been significant with an estimated 2.5 million tourism and hospitality-related workers losing their jobs).
He speculated that, under a best-case scenario, if there are no more disruptions, TAT projects 20.8 million international visitors next year, about half the record arrivals of 39.8 million arrivals in 2019.
The TAT, working with Thailand's public health department and CSSA, have come up with numerous pilot 'plans' to relaunch tourism, giving the industry's player hope, only to have the plans scuttled in later announcements. The end result is that nearly six months after Thailand's borders were closed to international tourists, the borders remain largely sealed except for returning Thais and a handful of international visitors and expats that fall into specific categories.
"The primary source markets would be Northeast Asia and the ASEAN countries, with a customer target of people in good health and high-purchasing power."
The crisis had created an opportunity to deal with old problems; such as, illegal hotels, tour operators and guides, waste problem and tourist exploitation. "I would like to see these problems disappear along with COVID-19. Let's rebuild the industry. How can we learn to play a new game? How do we create this new future together?"
Citing one positive outcome, he noted that national parks had now set strict limitations on the number of visitors in line with carrying capacity principles. He expressed hope this would remain in place after the Covid-19 crisis recedes.
"Another positive outcome is the new focus on improving the quality of hygiene and sanitation."
"The TAT was working overtime to help hotel businesses tap the potential of domestic tourism and maintain an occupancy of at least 30%, not so much to enhance business profitability, but rather to help maintain employment levels."
Yuthasak said he had formulated a "3D" strategy for the transition to a new era.
• Domestic tourism, which would now get more priority than previously.
"It is clear that we have to stimulate and open up more opportunities to help each other, especially to tap the potential of the 12 million Thais who travelled abroad in 2019."
• Digitalisation of business processes would open up many new opportunities to find new customers, improve retention, cut costs, create value and grow revenue. TAT is very active on this front, and had many more projects in store for next year.
• Dynamics: the industry as a whole has to create new dynamics and seek a better balance between creating efficiency and managing risk. "We don't know what kind of crisis will happen next, but we have to be better prepared to deal with it. If there is ever a situation where we have to work from home, we will need a proper instruction manual on how to do it."
The TAT chief says that "nothing will be the same again", but that TAT is ready to help the industry adapt to new challenges and to support, encourage, motivate, and lead it towards a more promising future.
"We are ready to be the wind beneath your wings. I believe we have to come back stronger. Never give up. You are not alone. TAT will help you all overcome the Covid- 19 crisis together."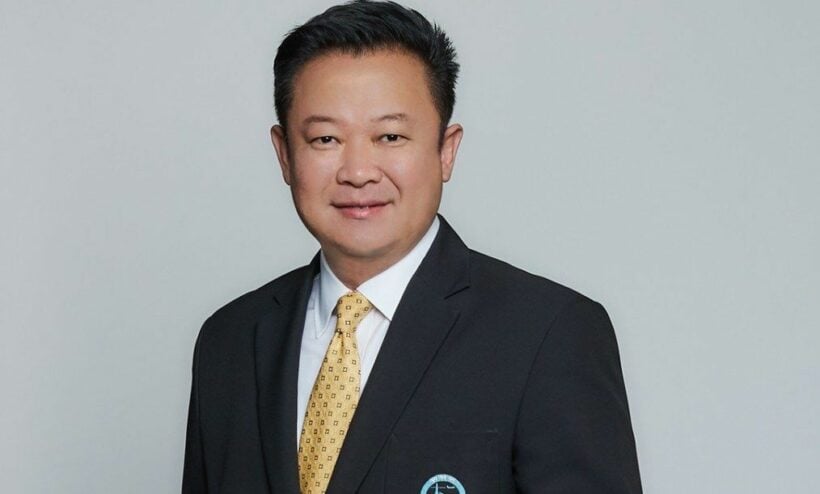 PHOTO: Tourism Authority of Thailand Governor Yuthasak Supasorn
SOURCE: TAT
Keep in contact with The Thaiger by following our
Facebook page
.
Never miss out on future posts by
following The Thaiger
.
Armed men allegedly steal more than 100,000 baht from Ayutthaya monk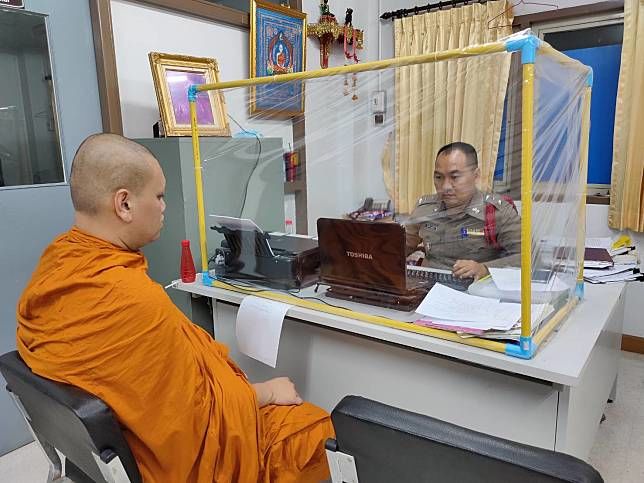 Police are searching for men who allegedly robbed a monk at an Ayutthaya temple, taking off with more than 100,000 baht in cash. Thai media reports that 2 of the men have been arrested and police are still searching for the other 2 men.
The monk was in his room at the Dokmai Buddhist Temple when he heard dogs barking. The monk says he opened his door to see what was going on outside. Just as he was closing the door, 4 men wearing hoods and holding guns and knives forced their way inside his room, the monk says. They allegedly took around 120,000 to 130,000 baht in cash. The money had been given to the monk to organise a ceremony to make merit.
One of them dropped their helmet as they were running out of the temple. Police say they will try to track down the owner of the helmet. Police are still investigating.
SOURCES: Thai Residents| News Channel 7
Catch up with the latest daily "Thailand News Today" here on The Thaiger.
Keep in contact with The Thaiger by following our
Facebook page
.
Never miss out on future posts by
following The Thaiger
.
Raja salvage operation resumes, garbage truck, pick-up raised from seabed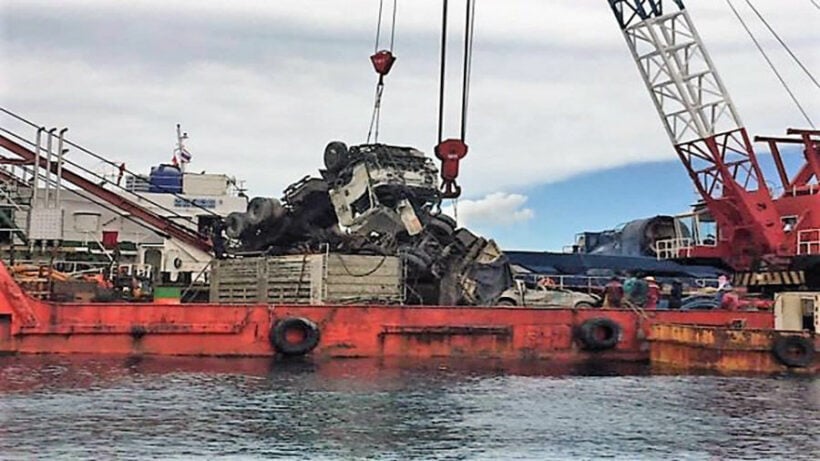 An operation to raise the sunken Raja 4 ferry and its cargo of vehicles from the seabed off Koh Samui has resumed, after being delayed due to bad weather. The ferry sank on the night of August 1 as it was transporting several garbage trucks from Samui to the mainland. The ferry had set sail in bad weather and capsized when its cargo of trucks shifted during the crossing. 5 of the 16 people on board died in the accident.
Having first been suspended briefly due to bad weather a couple of weeks ago, and more recently due to storm Noul, the salvage operation is once more underway, with workers removing an 18-wheel truck and a pick-up from the seabed.
Nation Thailand reports that operators MS Service have been using 2 cranes, installed on 2 boats, to carry out the salvage operation. Prior to being lifted, the garbage truck was covered in netting, to prevent any further refuse from entering the water. Small boats were also used to pick up any rubbish that managed to escape the netting.
The Ministry of National Resources and the Environment has previously threatened to sue the ferry company over the environmental fallout from the ferry's capsize. The ferry itself is yet to be lifted from the seabed.
SOURCE: Nation Thailand
Catch up with the latest daily "Thailand News Today" here on The Thaiger.
Keep in contact with The Thaiger by following our
Facebook page
.
Never miss out on future posts by
following The Thaiger
.
But it was my idea! Thai producer loses battle for Ultraman superhero copyright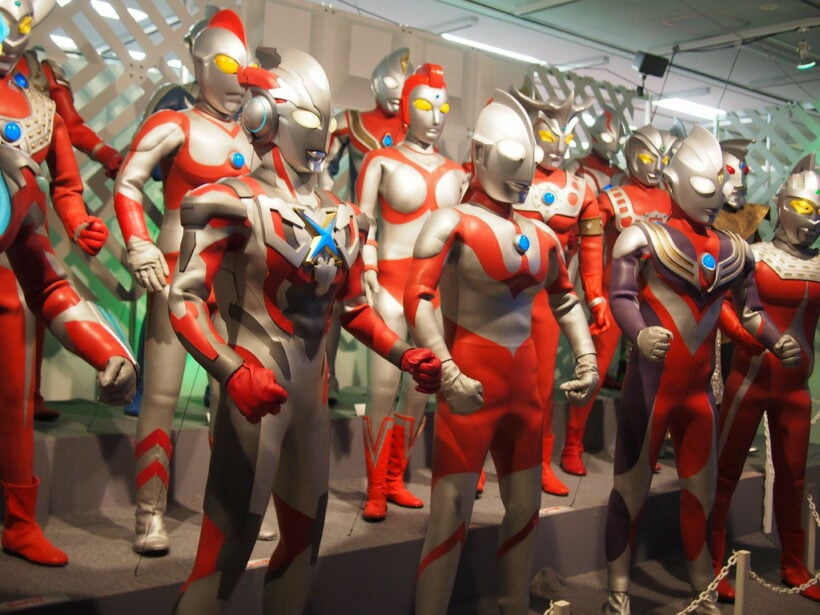 A Thai producer says he came up with the superhero "Ultraman," but he recently lost a battle with a Japanese special effects studio over the copyright. The Thailand Supreme Court rejected an appeal by the owner of the Thai Chaiyo Productions Company Limited who tried to claim copyright for the superhero films which date back to the 1960s.
Owner of the Thai production company, Sompo Saengduanchai, says the superhero comes from his imagination. He says he created Ultraman while on a fellowship in Japan studying film production. He claims he was involving the projects "Jumbo A", "Ultraman 1 – Ultra Q," "Ultraman 2," "Ultraman Seven," "Return of Ultraman," "Ultraman Ace," "Ultraman Taro," "Jamborg Ace" and "Hanuman Meets Seven Superheroes."
Chaiyo Productions Company Limited has been in a copyright war with the Japanese special effects studio Tsubaraya Productions Company Limited. The Appeals Court ruled in Tsubaraya's favor, then Chaiyo appealed that decision. That appeal was just rejected by the Supreme Court Division for Intellectual Property Rights and International Trade.
The Japanese special effects studio is best known for the "Ultra" TV series. It was founded in 1963 by special effects producer Eiji Tsubaraya and the "Ultra" series first aired in 1966. His family ran the company until October 2007, when the family sold the company to advertising agency TYO Inc.
Sompo says he's worried that the Supreme Court decision will have a negative affect on his movies. He says some are registered as national heritage cultural properties.
SOURCE: Thai PBS
Catch up with the latest daily "Thailand News Today" here on The Thaiger.
Keep in contact with The Thaiger by following our
Facebook page
.
Never miss out on future posts by
following The Thaiger
.