Thailand's tourism industry ponders drop of Chinese tourists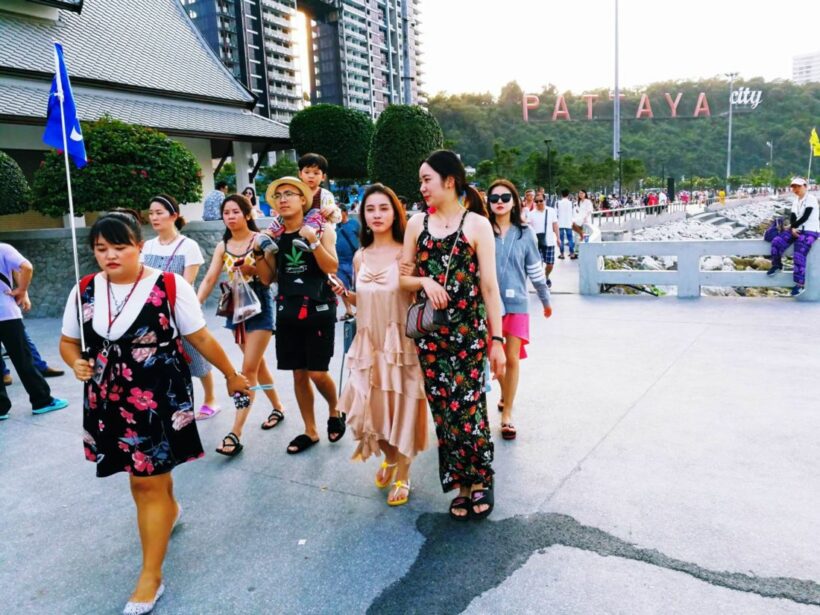 Thailand's tourism authorities are getting jittery as the Kingdom continues to bleed Chinese tourists in the wake of a surging baht. They fear Thailand is losing its reputation as one of the most affordable destinations in south east Asia for Chinese tourists. Thailand's most popular resorts, Pattaya and Phuket, have been particularly suffering from the discernible drop in Chinese visitors.
Chinese tourists have accounted for up to 30% all foreign visitors to Thailand in the past three years but their numbers have dropped 5% for the first six months of 2019, from 5.9 million down to 5.6 million, after last year's tour boat incident which killed 47 Chinese tourists, the opening up of flight routes to new destinations and the rise of the baht against the Chinese yuan.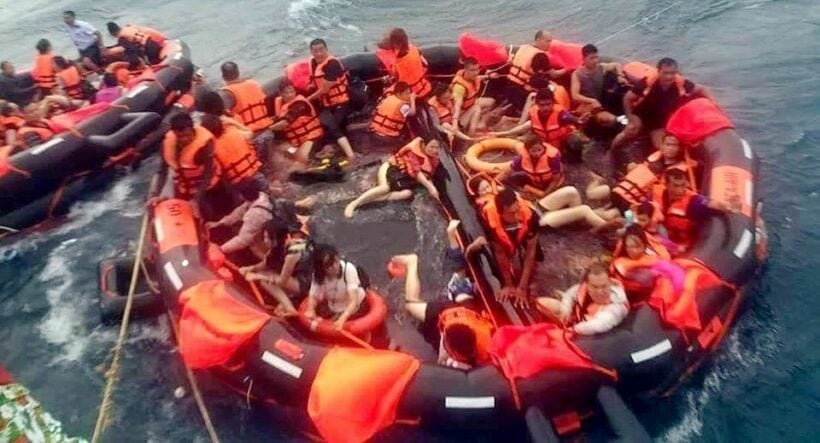 The images of Chinese tourists scrambling for life rafts in the wake of the 'Phoenix' tour boat sinking spread like wildfire around Chinese social media, an enduring reminder of Thai safety standards.
Pipat Ratchakitprakarn, the inexperienced minister of tourism and sports, continues to lay the blame on the currency challenges as a deterrent for tourists looking to book a holiday.
Narit Stapoldecha, an analyst at TMB Analytics says the Bank of Thailand's moves to kerb currency speculator's enthusiasm for the baht has had limited impact.
"The baht has appreciated 12% against the yuan in a year. The currency's recent appreciation puts Thailand at a disadvantage when it comes to attracting tourists, especially those who are sensitive about prices such as family or budget travellers."
The effects of a surging baht have also been felt by tourists from other countries, such as Russia, Australia and those in Europe. In Pattaya, the infamous tourist town 2 hours east of Bangkok, businesses catering to tourists have already begun to feel the pinch.
Ping, a souvenir vendor in Pattaya, says tourists ponder more on value when they spend on accommodation, transport and food. Bars and restaurants in Pattaya have reported losses in profit.
"Tourists no longer spend on tips at a restaurant. They'd rather buy food and drinks from a convenience store and eat on the beach instead."
Ping says tourists are bored with Pattaya and looking for new destinations in the region to visit, especially places where they could feel more comfortable to spend a longer period while enjoying similar holiday experiences".
The Entertainment and Tourism Association of Pattaya City reported a year-on-year decrease in the number of visitors of about 20-30% earlier this month, according to the Bangkok Post.
In Krabi, the southern resort town on the Andaman Sea coast, tourist numbers have fallen at around the same rate as Pattaya, according to Wat Reongsamut, head of the Krabi Tourism Association.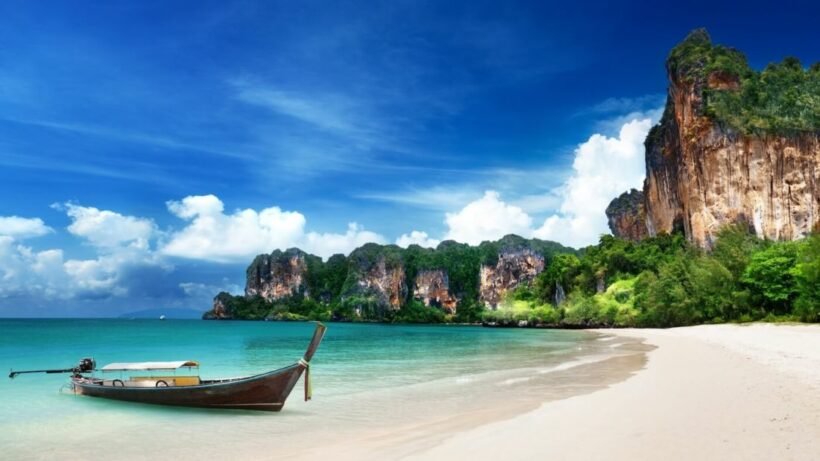 "While a drop-off in visitor numbers is to be expected during the monsoon season, which usually lasts until October, Wat said his association and tour operators from the nearby island of Phuket were looking to launch new packages that deliver high-standard services that include safety, cleanliness and professionalism at reasonable prices as a means to cope," according to the South China Morning Post.
He says that Thai tourism authorities will focus more on high-spending visitors next year as they look to hit revenue targets.
"The baht's strength has not affected the region's five and six star hotels or tourism operators, because customers in that sector can still afford it."
Kasikorn Research Centre, meanwhile, urged Thailand's tourism sector to keep adapting if it wants to take advantage of China's growing middle class. The centre predicted a 2-4 per cent rise in visitor numbers to the country this year.
SOURCE: South China Morning Post
Keep in contact with The Thaiger by following our
Facebook page
.
Public toilets going underground in Pattaya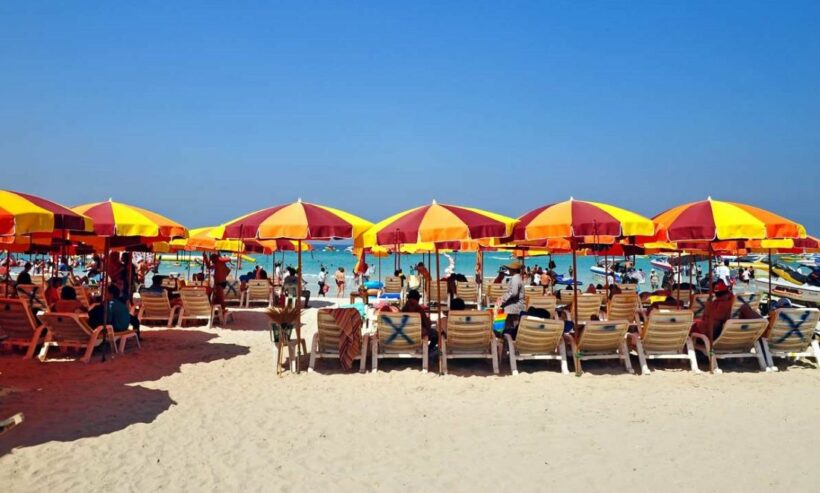 PHOTO: Bangkok.com
Plans are afoot to build new public toilets underground on Pattaya beaches, according to a report in The Pattaya News.
Deputy Mayor Pattana Boonsawad says 4 underground facilities will be built along Pattaya Beach Road initially, with additional amenities being opened on Jomtien and Dongtan beaches.
It's understood the washrooms need to be built below street level to comply with the ban on construction on Thai beaches. Deputy Mayor Pattana lists Vietnam as an example, saying the model has worked well on that country's beaches.
The project is part of the plans to upgrade Pattaya's infrastructure, which will also see modern cigarette bins installed at the new facilities.
It's understood that the proposal is only in the planning stages for now. Local authorities must first find suitable locations for the new facilities and then apply for funding.
There was no mention on whether or not the new public toilets would be free to use.
SOURCE: The Pattaya News
Keep in contact with The Thaiger by following our
Facebook page
.
Pattaya down the drain – big rains hit the city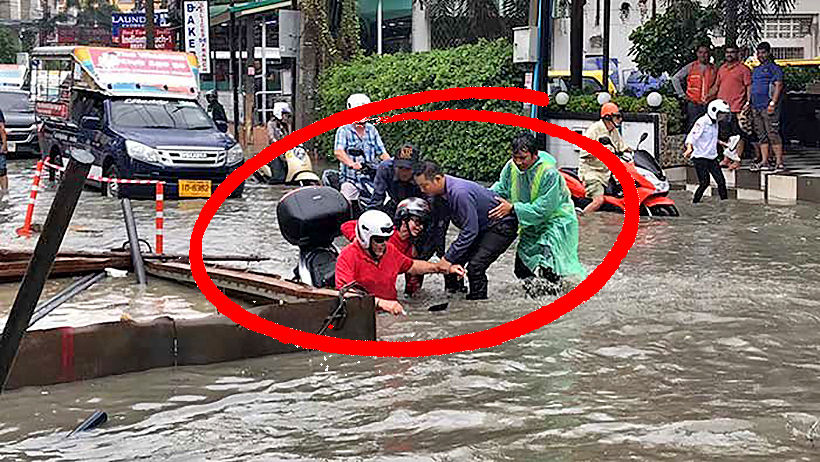 PHOTOS: 77kaoded
Hours of torrential rain that hit Pattaya yesterday caused flooding and made some roads impassable. But that didn't stop some adventurous drivers giving it a red-hot shot!
The road by the railway, heading towards Sattahip, was under half a metre of water in places. The area is prone to flooding when the monsoonal rains kick in, according to the 77kaoded report. The Beach Road was passable but the water there was "black and stinking" and flowing straight into the sea.
A foreigner, along with his female passenger, ended up even further underwater when they drove into an unseen drain. They were both wearing helmets at the time but it may have been more use if they'd worn lifejackets instead.
SOURCE: 77kaoded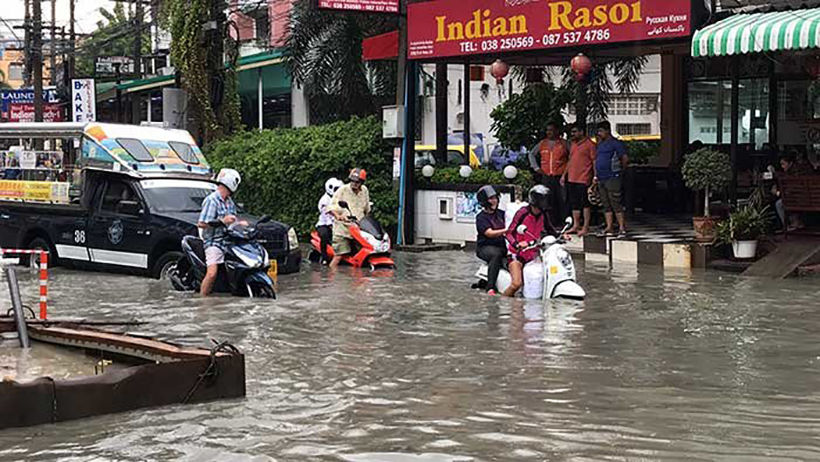 Keep in contact with The Thaiger by following our
Facebook page
.
Two foreigners arrested in Pattaya for long overstays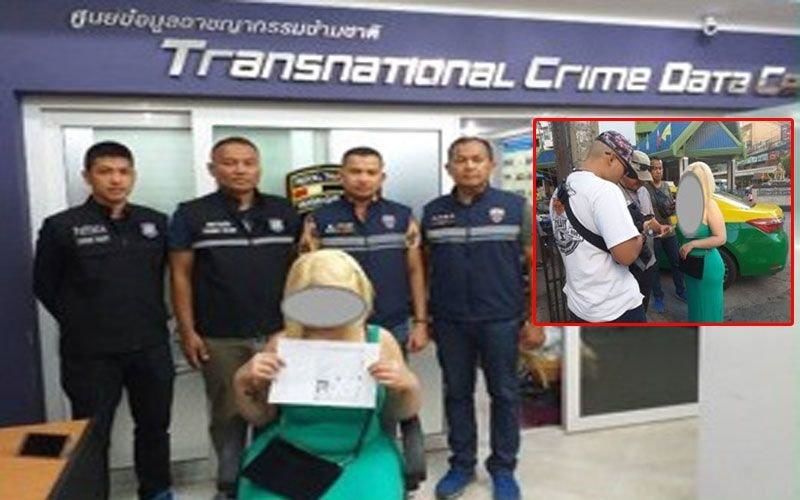 A woman from Turkmenistan has been arrested in Pattaya for overstaying her Thai visa by 2,675 days.
It's understood the woman was detained by Chonburi Immigration and the Tourist Police on Friday. She was stopped outside a hotel in what was a random passport check in the area.
On the same day, a Russian man who was randomly stopped and checked in the Pratumnak area, was found to have overstayed by 683 days.
The Pattaya News reports that the law in Thailand states foreigners must carry a copy of their passport and entry stamp at all times.
SOURCE: The Pattaya News
Keep in contact with The Thaiger by following our
Facebook page
.