Online video platform TikTok assessing live streaming in Thailand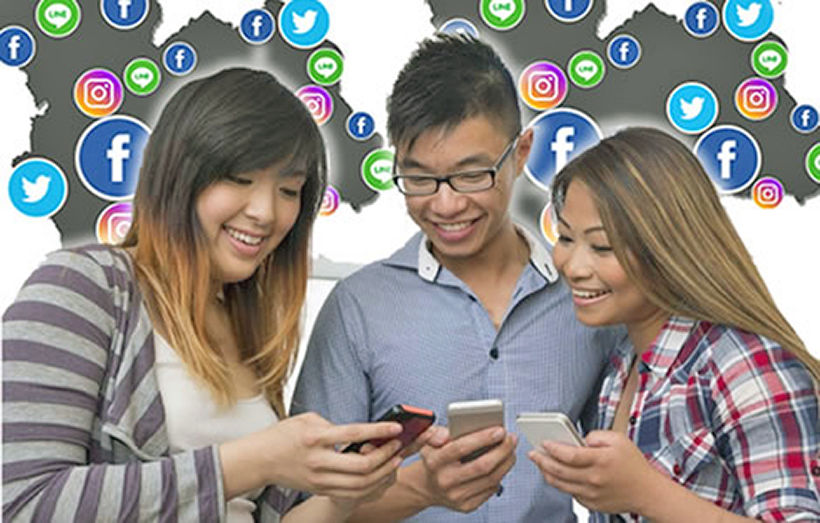 TikTok, the most downloaded app in the world for 2 years running and the world's leading short-video platform, has announced a trial of its first live streaming series in Thailand as part of its push to develop platform experiences for users around the world. TikTok's first live streaming in Thailand was hosted by Vuthithorn "Woody" Milintachinda, a celebrity and influencer, featuring interviews of his virtual guests, some of TikTok's top creators.
"Woody From Home's" live stream was filled with fun and laughs and showcased the unique and inspiring work of each creator. The series has gone viral and gotten huge traction from users.
According to the company, TikTok "is committed to inspiring creativity and bringing joy to people around the world. TikTok builds a global community and encourages users to create, share and discover new interests and experiences."
As the world's leading short-video platform, TikTok always explores new ways to enhance its platform experience. Live-streaming is a beta feature currently being offered to select global organisations and local celebrities.
With millions forced indoors due to Covid-19, online platforms are exploding, providing entertainment and leveraging news. In TikToks' live streaming, local celebrities including artists, actors and TV personalies will be hosting, performing and interacting with audiences real time.
In a few days, TikTok, will host a live stream of a concert featuring "Passakorn Chirathivat aka Pok Mindset (@pokmindset)." This is a major event for music lovers as they'll be able to stream the concert in real time from their smartphones.
SOURCE: Chiang Rai Times
Keep in contact with The Thaiger by following our
Facebook page
.
Man arrested after hacking bank account of nearly 400,000 baht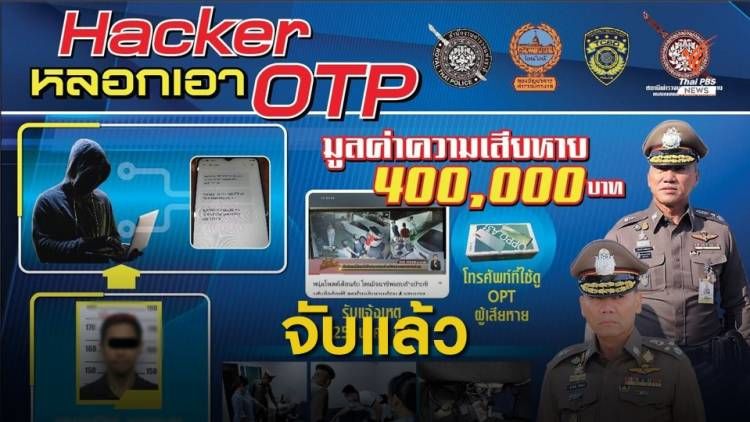 Police arrested a man for fraud after he hacked into a rich businessman's bank accounts using a smartphone sent in the mail, posing it as a prize. 34 year old Anontwat Vorametchayangkul took 395,000 baht from the man's accounts, police announced yesterday. He has a background in computer science, and police say he is wanted in 9 cases which are mostly fraud related.
A text message was sent to the businessman saying he won a phone in a customer reward promotion from a luxury hotel where he had recently stayed. He also received calls from the number, and when he didn't answer, they contacted his mother's phone saying the won the phone in a random drawing and he also won a free 3-day stay at the hotel.
The phone was later delivered to his house in Bangkok and was told to keep the SIM card in the phone for 2 hours to verify his reward. He checked his bank account sometime after and noticed money was missing.
The delivery driver was questioned. He said he took short term jobs he found online and was hired to deliver mobile phones people won in a hotel promotion for 5,000 baht. Police say the driver was not involved in the scam.
SOURCE: Bangkok Post
Keep in contact with The Thaiger by following our
Facebook page
.
Robots provide novel approach to virus prevention at Bangkok mall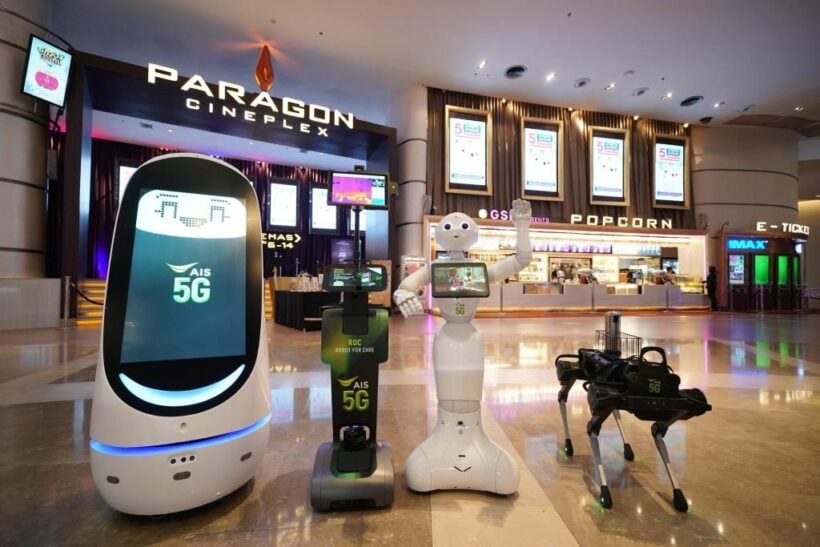 A robot dog is helping protecting people from the coronavirus at a Bangkok shopping centre by dispensing hand sanitiser. It's name is K9 and it runs off 5G internet from the mobile phone operator AIS (The Thaiger smells a PR stunt for the new AIS 5G network). K9 looks like he, or she, needs a head and a wagging tail.
A shopper who came across the robot at Central World mall called it "creepy", but an AIS marketing officer says robots are to assist people "and many people think K9 is cute". There's also the robot ROC, who checks temperatures, and LISA, who helps with customer service. While the robots help with checking temperature and dispensing hand sanitiser, they also help with social distancing, reducing the risk of person to person contact. All the robots run off 5G, which is providing faster internet speed as its rolled out around the country. AIS plans to launch 5G network smartphones by the end of the year.
As shopping malls opened back up last month, preventative measures have been put in place, such as temperature checks before entering, signs throughout reminding people about social distancing and personal hygiene practices. There's also been an app for check ins to assist with contact-tracing should there be a confirmed case within the shopping precincts.
Bangkok's Seacon Square shopping centre, has a machine they call the "Face Bot" which takes temperatures and scans faces to make sure people are wearing a face mask. And Foot pedals were installed at the Srinakarin Department store at the mall bro e used instead of buttons on the elevator.
SOURCE: Agence France Presse
Keep in contact with The Thaiger by following our
Facebook page
.
Bangkok braces for Black Lives Matter rally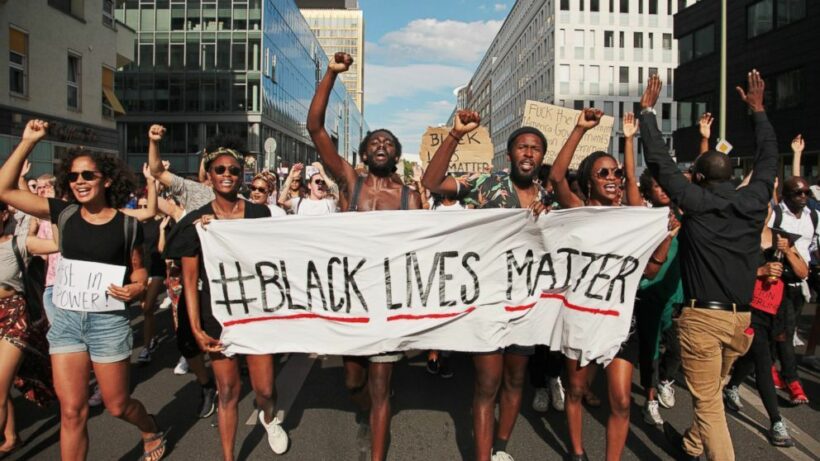 The death of black American George Floyd at the hands of police burgeoned into a storm of protests reaching across the globe; one that will reach Bangkok this weekend. The vast majority of demonstrations over the past 8 days in the US have been peaceful, but some have turned violent and curfews have been imposed after looting in a number of US cities. "Justice for George Floyd (Peacefully Paying Our Respects)," a rally in support of the Black Lives Matter movement, is expected to be held Sunday from 1pm-3pm at a location to be confirmed.
Attendees are encouraged by the event's organisers to wear black, wear masks, bring signs and practice social distancing. The event was announced Tuesday, and more than 800 people have so far expressed interest. Reached for comment this afternoon, organisers said the event is more likely be held "virtually". Public assembly is currently banned in Thailand under the Emergency Decree enacted to fight the spread of Covid-19.
Thailand, which has its own history of police brutality, denied using using that decree last month as a pretext to quash an anti-government rally.
New charges have been announced against all of the sacked US police officers present at George Floyd's death in Minneapolis, Minneota. The charge against the officer who held his knee on Mr. Floyd's neck, has been elevated to second degree murder. 3 other officers, previously uncharged, now face counts of aiding and abetting murder.
SOURCES: Coconuts Bangkok | BBC
Keep in contact with The Thaiger by following our
Facebook page
.