Grab v Get v Food Panda – Delivery apps battle for the streets of Thailand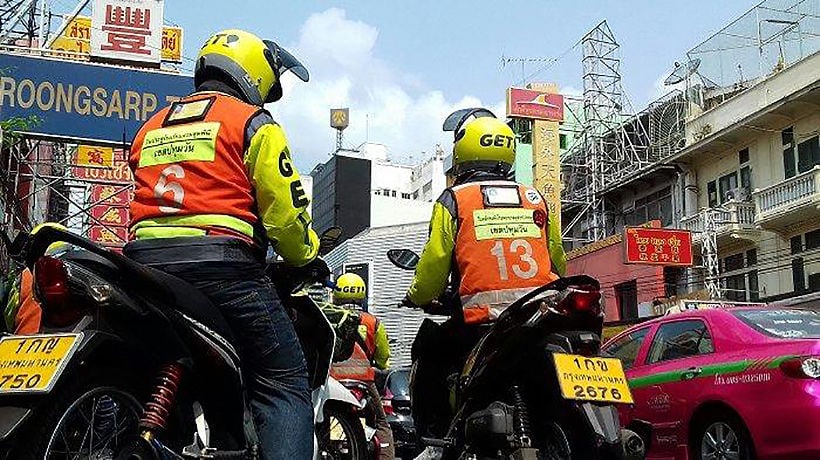 PHOTO: Tribune News
"Like hotel bookings, travel, airline booking, news, banking and music, the food delivery business is starting to transform the restaurant business too."
Food delivery apps Get, Grab and Food Panda are locked locked in delivery war. But instead of flak jackets and guns, they're wearing branded vests and carrying hot pizza on motorbikes. The pink Food Panda motorbikes plying the streets, just about everywhere in Thailand, are ubiquitous these days.
The two startups Get and Grab are both claiming strong growth with deliveries, especially around Bangkok. But all this might change after ride-hailing services may receive full government approval with plans to legalise the service early in 2020. Food Panda have been less forthcoming with their current successes in Thailand.
Both claim to be taking advantage of the "lazy economy". The growing popularity of the food delivery services is also seeing changes in the restaurant industry where special kitchens are now being opened servicing the 'online' app market only. Like hotel bookings, travel, airline booking and news, the food delivery business is starting to transform the restaurant business too.
The delivery services are starting to impact traditional restaurants where people are enjoying the convenience of eating at home and not having to battle with the traffic, especially around Bangkok.
Tarin Thaniyavarn, the head of Grab Thailand says that this is an exciting year for Grab in Thailand.
"In the past 10 months we achieved over 120 million bookings across all services."
"It is the largest, fastest and Number one food delivery platform in Thailand."
GrabFood claims to have registered 4 million transactions or bookings in the first four months of 2019, compared with 3 million throughout last year.
Kantar, a market research unit, says that, in the third quarter of this year, 54% of 599 consumers surveyed said GrabFood is often used for their food delivery.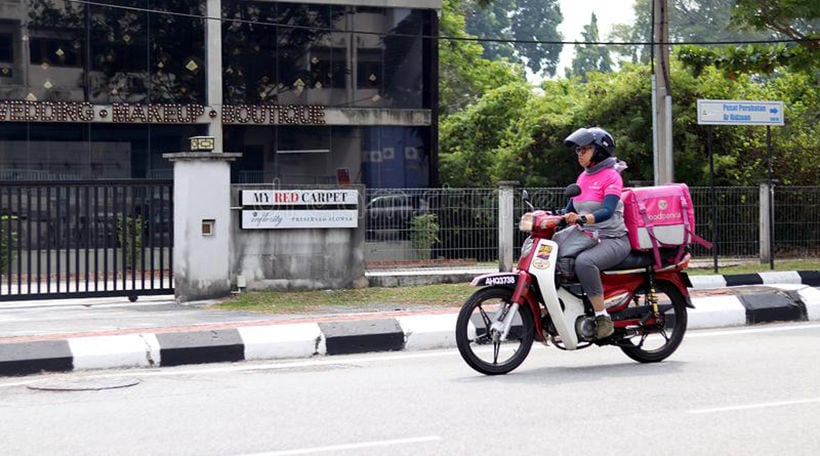 Meanwhile, Get Thailand, the Thai arm of Indonesia's 'Go-Jek' ride-hailing app, says they've added 10 million trips in Bangkok for all services since launching in February.
Wongtippa Wisetkasem, Get's director of platform operation, says the major contributor of the growth is Get Food service as it uses artificial intelligence to provide menus that suit each customer.
Get's major group of customers are 23-39 year olds.
"In a month, GET has over 300,000 orders of bubble milk tea which indicates the continual rise of the bubble milk tea era."
Both say the food delivery services are just a part of their apps. Both also provide rides and delivery of just about anything. The two companies are in competition with the traditional 'win' motorbike services that have rules the roads (and sidewalks) of Thailand for decades.
Grab says they provide ride-hailing service in 20 cities of 18 provinces and aims to expand more in second-tier cities that focus on tourism.
Both admit that they have not made profits as yet but are hoping that their business models will show a profit next year.
SOURCE: Bangkok Post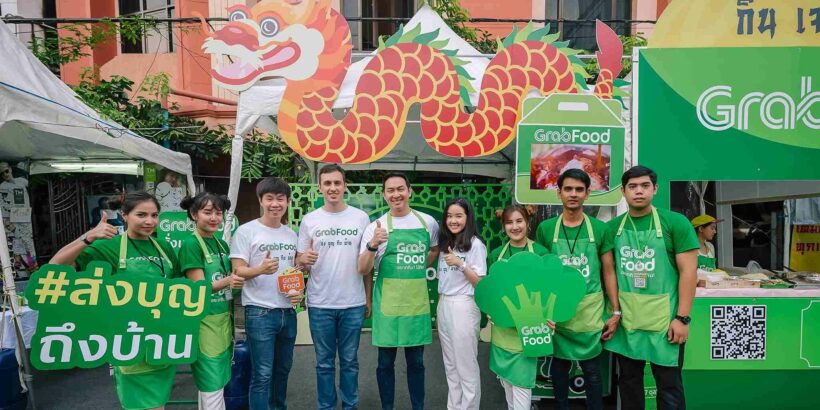 Keep in contact with The Thaiger by following our
Facebook page
.


Find restaurant and food listings around Phuket at Thaiger Bites.

Read more headlines, reports & breaking news in Bangkok. Or catch up on your Thailand news.

Top Ten things to know about the Bangkok Skytrain (BTS)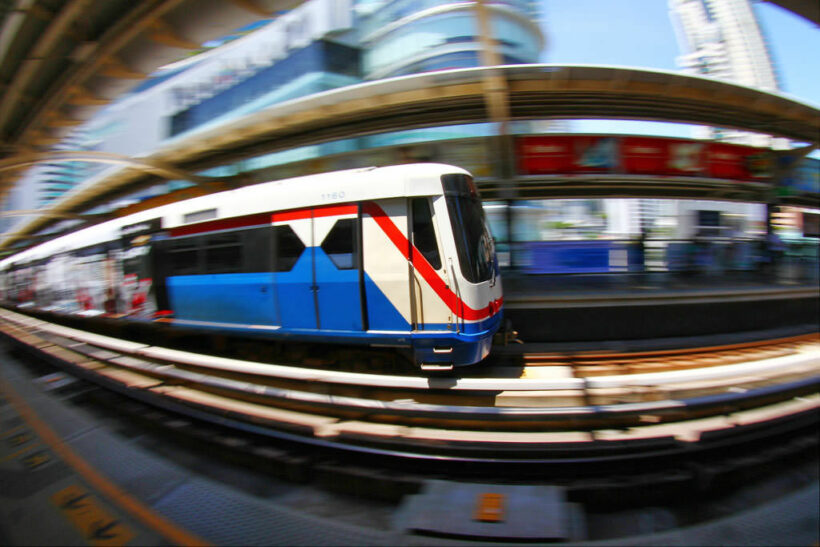 Bangkok Transit System, better known by locals and tourists as the 'Skytrain', is as ubiquitous in Bangkok as good street food and fake Viagra.
It is operated by Bangkok Mass Transit System (BTSC), a subsidiary of BTS Group Holdings, under a concession granted by the Bangkok Metropolitan Administration (BMA).
The system consists of 43 stations along two lines: the Sukhumvit Line running northwards and eastwards, terminating at Mo Chit and Kheha respectively, and the Silom Line which serves Silom and Sathon Roads, the central business district of Bangkok, terminating at National Stadium and Bang Wa.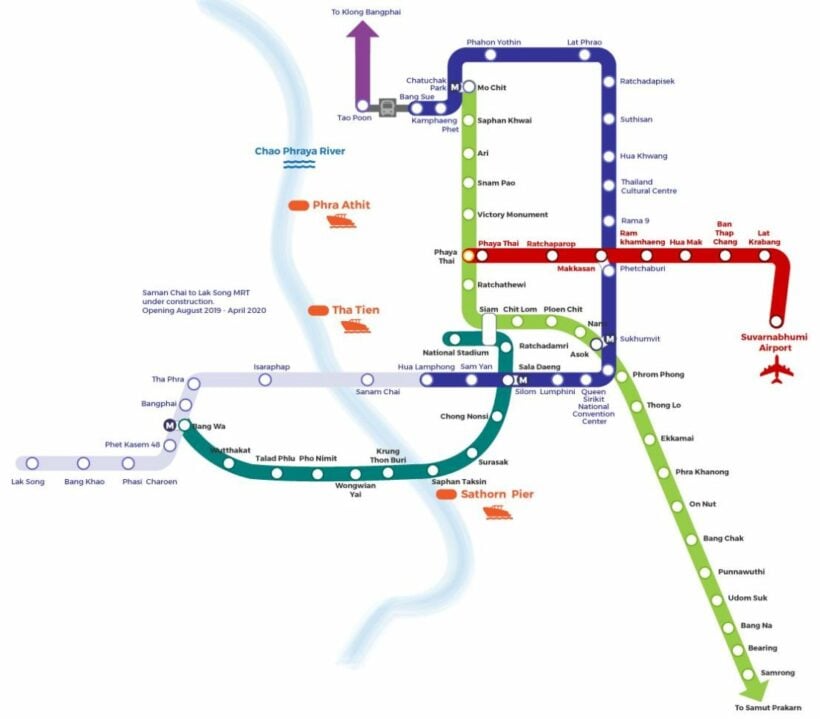 There is also the dedicated Airport Link from the city to Suvarnabhumi and soon a line will open to Don Mueang.
Besides the BTS, Bangkok's rapid transit system includes the underground and elevated Mass Rapid Transit (MRT) railway lines. The growth in daily BTS traffic has been huge in the past ten years.
Before we get started, whilst it's 35 degrees outside the BTS, it can often be at least 10 degrees cooler inside. Pleasant on some trips, can get icy cold on others.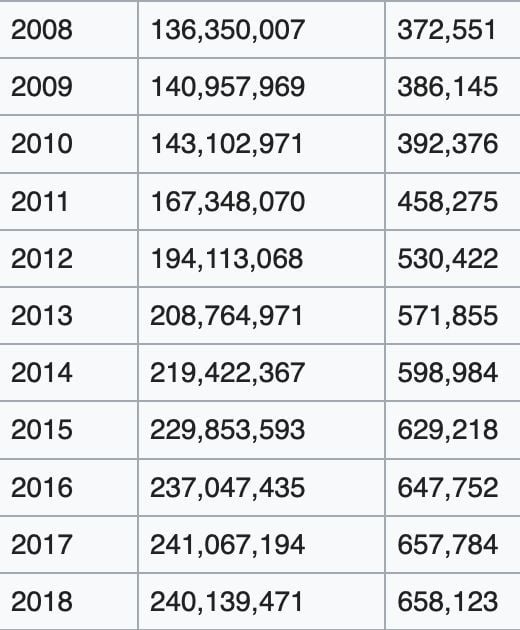 The Skytrain system was opened on 5 December 1999 by Princess Maha Chakri Sirindhorn. Bangkokians avoided it like the plague for the first few years but slowly fell in love with the elevated trains. Now the BTS is a vital part of the Bangkok public transport system with growing numbers of passengers every year.
The BTS has a fleet of 52 four-car trains. Here are ten things to know before you travel on the Skytrain.
1. No one reads newspapers or magazines anymore, no one!
The future of marketing is in stark focus when riding on the BTS Skytrain. No one reads newspapers or magazines and it's estimated that 86% of travellers will look at their smartphones at least once during any trip on the BTS. The actual carriages are adorned with marketing messages and branding, some of them completely 'skinned' in the branding of paying organisations. The stations feature a lot of screens and large format advertising as well as inside the carriages. Given the 663,000 daily users on the Skytrain, basically a captive audience, where are you spending your marketing baht?
The Bangkok Mass Transit System was making more from advertising revenue than ticket sales until 2013.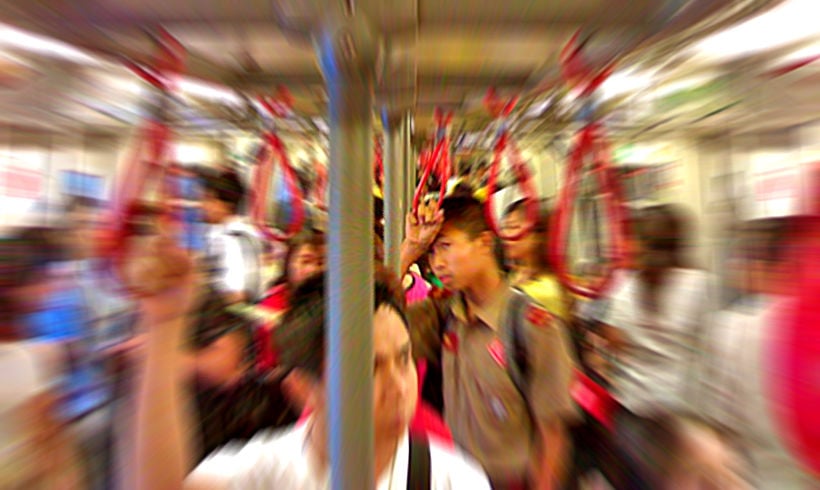 2. One Day Pass is the way to go
At least for tourists who don't have many days in Bangkok, one day pass is good for travellers who plan to go to at least 2 locations in 1 day. But if your destinations are less than 5 stations apart, then go with Single Journey Ticket. The one day ticket will save you A LOT of time especially in rush-hours when queues for tickets can add to your frustration.
To get single-journey tickets you have automatic dispensers where you'll need to know your way around and have plenty of change with you. Every Skytrain station has helpful staff that are used to tourists and bewildered expats not knowing the system. You can also buy your day passes from these staff.
Also (and it could change anytime) there is currently no 'seniors' card or discount available on the BTS, although there is a discount currently available for over 60s on the MRT (underground).
3. Watch out for slamming gates
The automatic ticket gates open and close fast! So once you've popped in your ticket or touched your token onto the gate, those flipper doors will swing open. They slam closed again just seconds later. If you're not ready to burst through the gate at this time you'll miss your chance and have the gates grab onto your backpack as you try and get through.
4. No Durian!
Thais love their durians but not on the BTS or MRT. You shouldn't bring anything stinky into the carriage, including yourself. There are security staff doing bag checks at many stations – they'll detect your durian a lot quicker than they'll get close enough to find any weapons.
5. Let passengers out before you get in
One of the most frustrating things when taking the BTS or MRT is when passengers start rushing in whilst you're still trying to get off the train. Please let people get out first. BTS and MRT will give you plenty of time and sound an alarm before the doors close.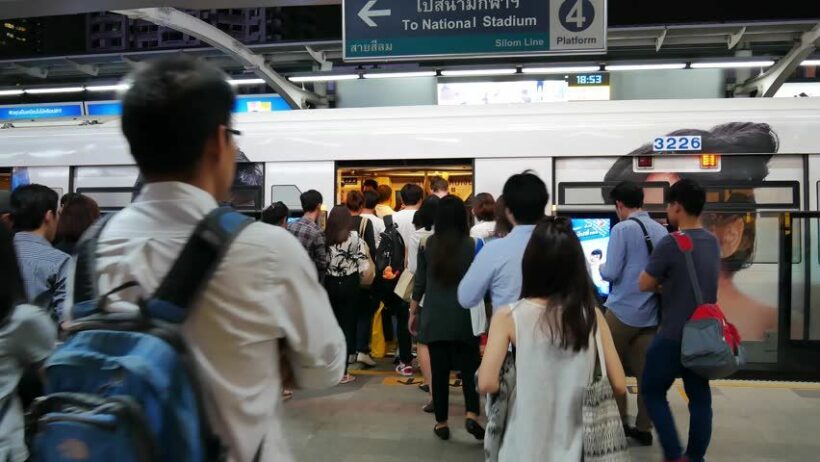 6. Keep right
Keep to the right side if you want to stand on the escalator. Stay left if you want to walk up or down the escalator. Be assured if you stand on the left side of the escalator someone will give you a polite budge to move across.
8. Avoid peak hour
If you don't like crowds then avoid the BTS at 7-9am and 5-7pm. It's hell. Consider 10 millions people trying to get from one part of Bangkok to another. You may have to wait until a few trains come and go before you get a chance to get into the carriage. If you're standing on a platform with thousands of other Bangkokians on a hot April day waiting in peak hour you won't forget it fast.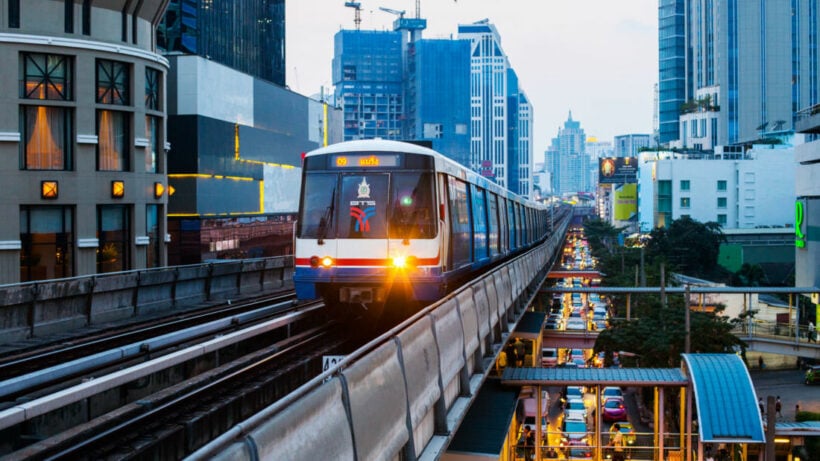 9. Know the first and last train time schedules
The BTS first train from Mo Chit and Bearing stations depart at 5:15am and the last train leaves the station at midnight. For the Silom line, the trains start from 5:30am and run to midnight. The MRT (underground) runs from 6am-midnight everyday. Keep in mind that the station gates will be closed approximately 10 minutes before the last train arrives at the station.
10. No bathrooms in the stations or actual carriages
There are no restrooms/bathrooms/toilets in BTS or MRT stations or trains. Luckily, there are so many malls by some stations that you can just use their public restrooms along the way. Although the MRT and BTS are the fastest ways to get around Bangkok, if your destinations are far apart, you may need to forward-plan your restroom visits.
10a. Not to be confused with the South Korean band
Type in BTS into your Google machine and you'll get millions of entries about RM, Suga, J-Hope, Jimin, Jin, V and Jungkook – the seven members of BTS (which comes from their name in Korean which translates as Bullet-proof Boyscouts – Bangtan Sonyeondan). If you want to find out about the Bangkok Skytrain, type in 'BTS Bangkok'.

The most popular stations for the BTS?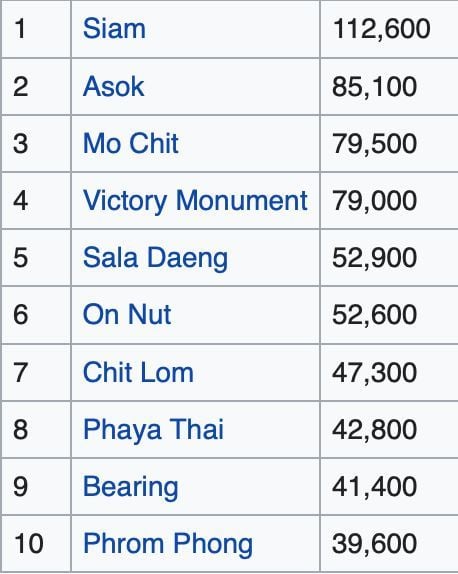 Keep in contact with The Thaiger by following our
Facebook page
.
Woman sues daughter and bank for stealing over 250 million baht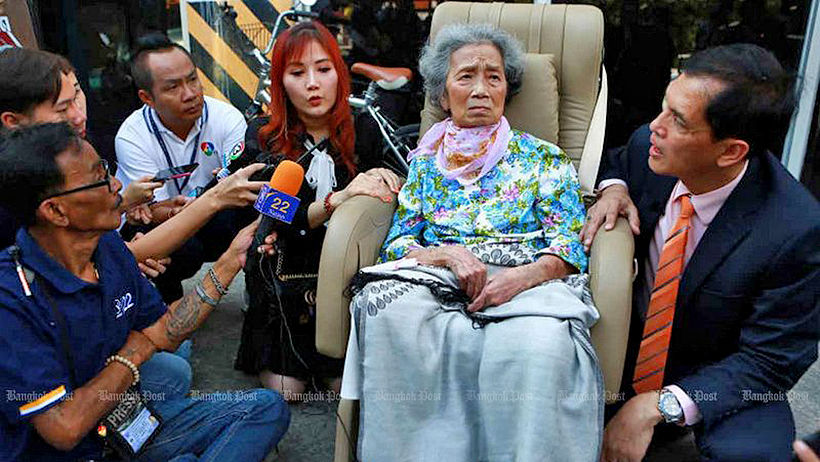 PHOTO: Somchai Poomlard /Bangkok Post
A 76 year old woman is suing her own daughter, as well as the Kasikorn Bank and four of its bank employees, claiming they were complicit in stealing over 250 million baht from her account.
The Nation reports that Huay Sriwirat filed the lawsuit at the civil court in the Phra Khanong district of Bangkok, alleging her daughter and the bank employees used fake documents to access the funds in her account.
Huay alleges that the embezzlement began in 2014, while she was in hospital undergoing treatment for heart disease. She accuses her daughter and four of the bank's employees of changing the rules applicable to her account so that a fingerprint could be used to withdraw money instead of a signature, saying they used a fake power of attorney document to confirm the withdrawal.
According to the Nation report, the public prosecutor is bringing a criminal case for embezzlement and document forgery against the daughter and the four bank workers.
Meanwhile, Kasikorn Bank has issued a statement claiming its employees were merely acting in accordance with the wishes of Huay's close family member and that it will cooperate fully with the court's orders.
SOURCE: The Nation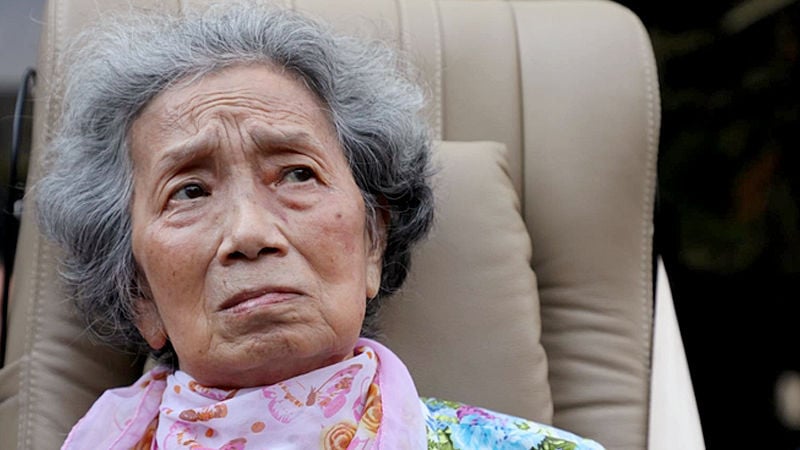 PHOTO: The Nation
Keep in contact with The Thaiger by following our
Facebook page
.
'The Cave' premieres in Bangkok, first feature film about the Tham Luang rescue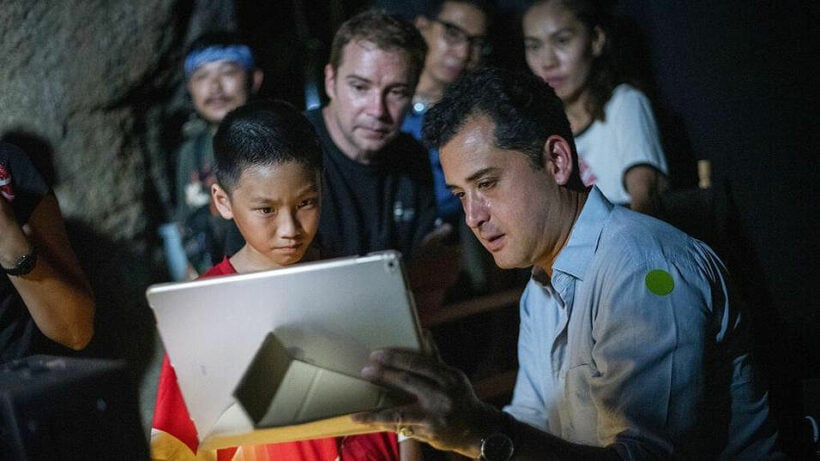 PHOTO: Director Tom Waller goes over a scene of his film 'The Cave' – Associated Press
A feature film about the story of the 2018 Tham Luang cave rescue had its Bangkok premiere yesterday. Rescuers, starring as themselves in the movie, walked the red carpet at the premiere. The film focuses on the stories of the rescuers who risked their lives to save the 13 young men who were trapped inside by flooding.
Tom Waller's 'The Cave' focusses its attention on some of the key people who were part of a 7,000-person international rescue mission to retrieve the 13 members of the Mu Pa (Wild Boars) football team from the flooded caves.
The riveting story, and happy ending, gripped the world's attention with blanket media coverage. It has also become a valuable brand which is being managed by a committee set up by the Thai government.
Netflix has already signed up a multi-million dollar deal to tell the story from the point of view of the 13 young men (including interviews with the team members), and Universal Studios is making a feature film. But 'The Cave', an independent film, directed by Thai-Irish director Tom Waller, is the first major project to hit the screens.
At the start of November the public were allowed inside the opening section of the Tham Luang cave for the first time since last year's July rescue. The area, once rarely visited, has since become a major tourist attraction, visited by more than a million tourists already.
Four divers who were involved in last year's summer rescue mission – Erik Brown, Mikko Paasi, Jim Warny and Tan Xiaolong – all played themselves in 'The Cave'. They all walked the red carpet at the Bangkok premiere last night.
SOURCE: The Guardian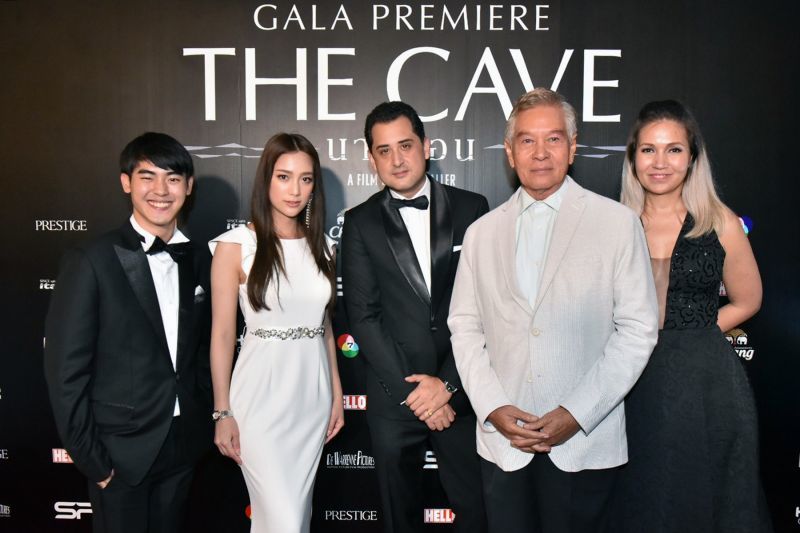 PHOTO: naewna.com
Keep in contact with The Thaiger by following our
Facebook page
.