Holiday weekend road death toll: 59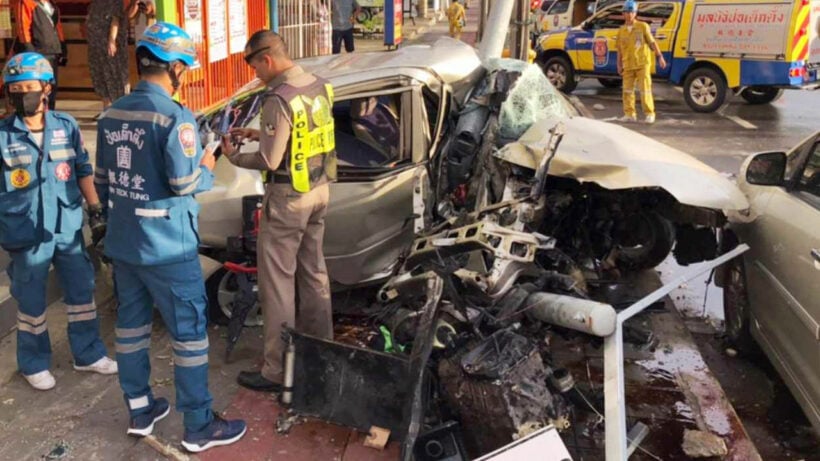 Road deaths surged during the holiday weekend. 59 people were killed in road incidents and 365 people were injured, according to the Transport Ministry. From last Thursday to Monday, a total of 405 road incidents were reported across Thailand. 116 of the incidents involved motorcycles and 31 out of the 59 deaths involved motorcycles. Many of the crashes and collisions were related to speeding.
Bangkok and Suphanburi had the highest number of road incidents. Bangkok had 38 car incidents and Suphanburi reported 9 road incidents involving motorcycles.
More than 14 million vehicles drove in and out of a Bangkok. The ministry says it was nearly 39% more than they had expected. Many people traveled by driving private cars. The ministry expected more people to utilise public transportation. While 9.82 million people used public transportation, it was nearly 11% less than what was expected.
Many had last Friday and Monday off work as substitute days for Songkran after April's water celebrations were cancelled due to lockdown measures. Songkran is also known as the "7 Deadly Days" due to the hundreds of road deaths during the holiday. Just 1 day of Songkran last year racked up 59 deaths and 598 injuries.
SOURCES: Nation Thailand | Bangkok Post
Keep in contact with Thaiger by following our Facebook page.
Never miss out on future posts by following Thaiger.
Thai man dies after motorbike hits tree in Phuket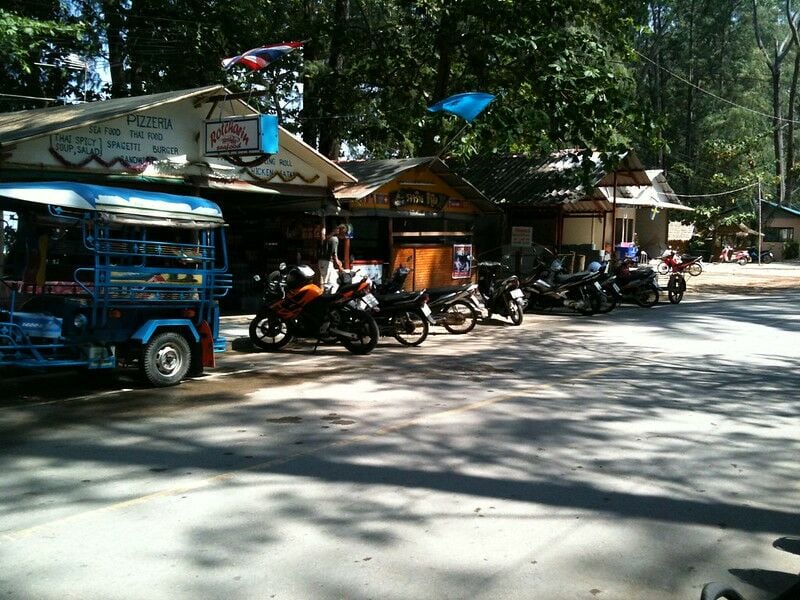 A Thai man has died after over shooting a curb and hitting a tree in Phuket Town last night. 36 year old Narongchai Samat, from Phang Nga, became the 23rd person to die on Phuket roads this year. Phuket City Police were called around 10:15pm last night, to the scene of the accident, which was near the Phuket office of the Department of Disaster Prevention and Mitigation on Damrong Road.
Police say witnesses told them he was riding at speed along the road, which was slippery from rain. They say he overshot the curve, hitting a large tree. They say his body was taken to Vachira Phuket Hospital for further examinations and it was released to his family so they could hold a funeral for him.
Meanwhile, officials set a target of 0 fatalities this week on Phuket's roads for the upcoming 7 days of Danger road-safety campaign that will run over this Songkran holiday, or Thai New Year. The campaign will be enforced from April 10-16. Since January, 3,912 people have been killed and 255,656 have been injured on Thailand's roads, according to the Thai Road Safety Committee website.
In Phuket alone, 23 people have died and 3,380 have been injured in road accidents since the start of the new year. During Songkran, the roads become dangerously wet as water-splashing and water-fights consume the country as they ring in the Thai New Year, but this year water-splashing is banned due to Covid-19 restrictions that aim to prevent the possible spread of the virus.
SOURCE: The Phuket News
Keep in contact with Thaiger by following our Facebook page.
Never miss out on future posts by following Thaiger.
Most motorcycle accidents in Thailand involved cars cutting in front of traffic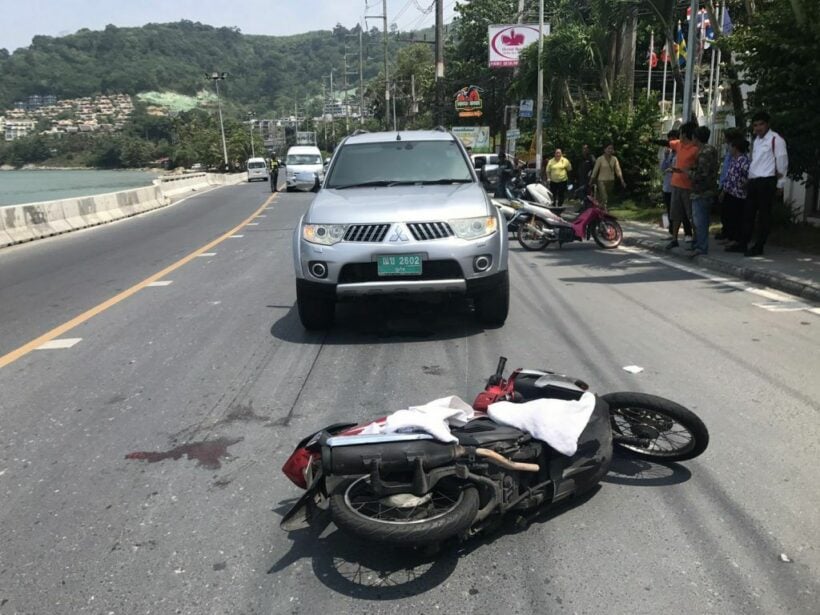 Thai roads are among the most deadly in the world and most of the fatal accidents involve motorcycles. A recent study found that 80% of motorcycle accidents are related to cars cutting in front of oncoming traffic.
Honda and Yamaha partnered with the Thailand Accident Research Centre, or TARC, for the "In-depth Accident Investigation in Thailand," reviewing 1,000 motorcycle accidents that took place between 2016 and 2020. The study was intended to help find solutions to help reduce the number of accidents.
The study found that most motorcycle riders involved in accidents were riding at normal speeds of around 20kph to 60kph. Researchers say most were not under the influence of alcohol. Many victims were young riders.
More than 40% of riders who died motorcycle accidents suffered severe injuries, with 62% of those riders not wearing a helmet. TARC recommends that Thai police tighten enforcement on those riding without a helmet. They also recommend that there should be a speed limit of 80kph for motorcycles as well as stricter regulations on motorbike modifications.
TARC recommends Thai officials come up with new road designs that focus on safe motorcycle riding by limiting the mix of motorcycles and cars at accident-prone areas like U-turns, intersections and highway entrances and exits.
TARC also suggests Thai officials review driving courses to add more focus on skills that help with a driver's judgement and decision making.
SOURCE: Nation Thailand
Keep in contact with Thaiger by following our Facebook page.
Never miss out on future posts by following Thaiger.
2 killed, 1 injured in early morning Songkhla car crash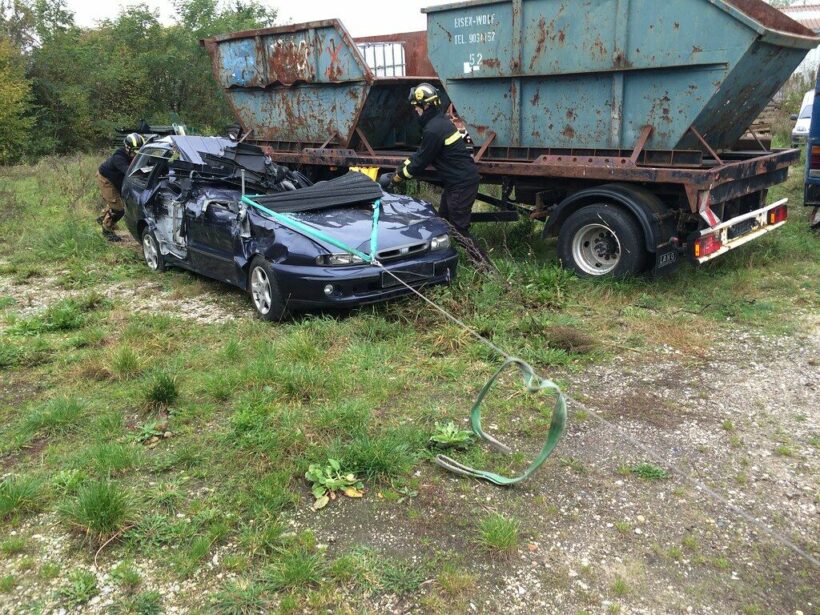 2 men were killed and 1 was injured in an early morning accident after their car rear-ended a container truck in Thailand's southern province of Songkhla. The crash occurred at 12:30am in Rattaphum district at the Khuha intersection on the main highway in tambon Khuan Ru, according to the district's deputy investigation chief.
The car, a Honda City, with Bangkok license plates, hit the back of a cargo truck and became wedged under its tray, trapping 2 people in the back seat and killing them. Rescue workers used a hydraulic jack to open the car and remove the bodies. The victims of the accident are thought to be migrant workers, as investigators found construction tools inside the wrecked car.
The car hit the container truck after it had stopped at the Khuha intersection, with investigators saying they believe the driver had fallen asleep at the wheel. Officials did not say whether the driver of the truck was injured, but did say they would call him in for questioning.
Meanwhile, a teenage scout drowned yesterday after jumping in a swamp during a mock war with teachers who were throwing rocks at the students, acting as if the stones were bombs. The teen was later reported missing when he did not return home. It took divers 4 hours to search the 3-metre deep swamp and find 15 year old Noppakao Sita's body.
Police say the Wat Na Ban Kor School in the Isaan province Kalasin had sent the students out to the nearby swamp for scout activities. Reports say teachers were throwing rocks at the students. The students pretended the rocks were bombs and jumped into the swamp, dodging the stones. Police suspect Noppakao did not know how to swim and was forced to participate in the activity. At around 2pm, people noticed that Noppakao didn't return home, and reported him missing to police 6 hours later.
SOURCE: Bangkok Post
Keep in contact with Thaiger by following our Facebook page.
Never miss out on future posts by following Thaiger.