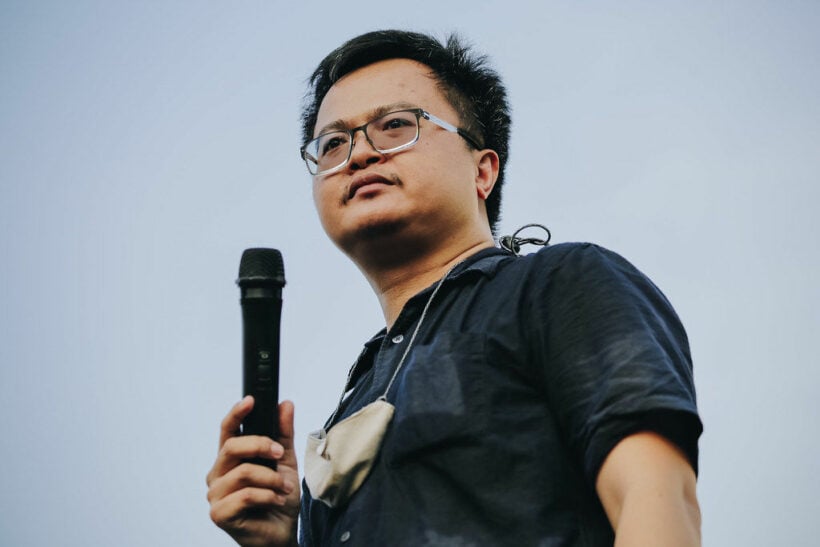 Prominent human rights lawyer and protest leader, Anon Nampa, is calling on guards at anti-government rallies to remain peaceful. He says that getting violent will only harm the movement and play into the hands of the government. According to a Bangkok Post report, Anon credits his next door neighbour in Chiang Mai for the advice.
"Last night, while I drank alcohol, which an aunt next door brought me to go with barbecued pork, we discussed a wide range of political topics. She said if guards on the front line stick to a peaceful approach and do not break ranks, we will win. I slept on it and agreed. The front line, which the dictatorship wants to de-legitimise, is guards. If our guards break ranks and get involved in clashes or do anything that appears to be violent, this will deal a blow to the entire movement. On the contrary, if guards remain calm and use peaceful means, we will win."
His comments come as Bangkok police say they are continuing investigations after a smoke bomb was allegedly thrown at officers at a rally on Sunday. However, the leader of the We Volunteer group, Piyarat Chongthep, claims smoke bombs were used to defend protesters against the high power water cannons deployed by police.
Meanwhile, the People's Movement has issued an apology following an incident in Pattaya, on Sunday night, in which an irate protester head-butted a Russian man who was watching on with his daughter and wife. The protester, named as Narathiwat Khamma and also known as "Kane" or "Ken", has been released from custody on 10,000 baht bail, but faces criminal charges.
PM Prayut Chan-o-cha has weighed in on the latest developments, warning both sides to refrain from violence and pointing out that the attack on the Russian man has damaged Thailand's reputation.
SOURCE: Bangkok Post