Anti-government Bangkok protest descends into scuffles between activists and police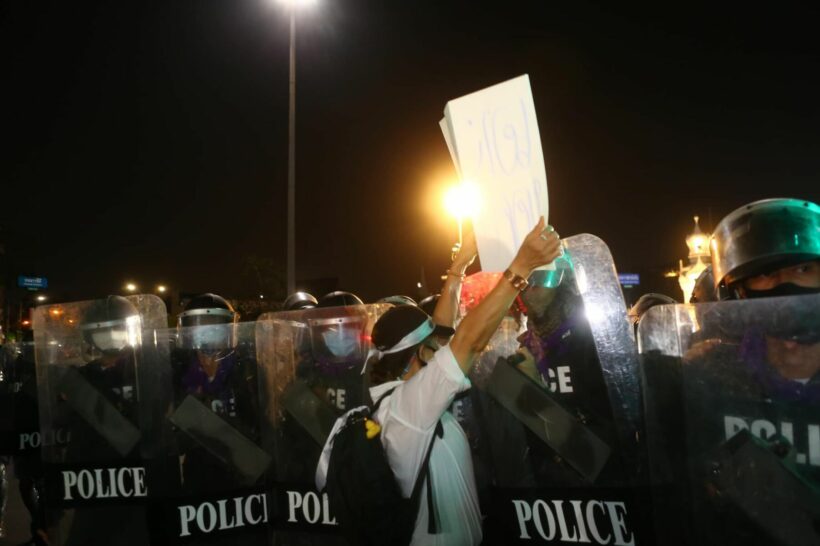 PHOTOS: Free Youth Facebook page
Last night's Bangkok protests around Sanam Luang, adjacent to the Grand Palace, the Democracy Monument and along Ratchadamnoen Nok Road, descended into clashes between a small rump of anti government protesters and riot police. It was a night where less was said and most of the events became theatre for the troupe of journalists pursuing the action.
Police were waiting, fortified with shipping containers that had been stacked up to impede the progress of the protesters. But the tactics, on both sides, are now well understood and the young protesters were well prepared to move the containers and proceed. Police used rubber bullets, tear gas and fired off their high-power water cannon as a warning salvo.
Earlier in the day, Samesky Publishing was raided where the Redem group had stored books about the Thai monarchy. Police seized the books, "Monarchy and Thai Society", critical of the current monarch and calling for constitutional limitation of the powers of the Thai royal family.
Police say they seized around 200 copies of the controversial books. But there were still plenty of the books available at the rally later in the day, displayed for the media and free for people to take. Redem claimed they had 10,000 copies for people to read. The book included speeches from earlier pro-democracy rallies in 2020 and photographs from the protests. Redem also posted a PDF version of the book for anyone to download. Police claimed that it could be a crime to have a copy of the book in your possession.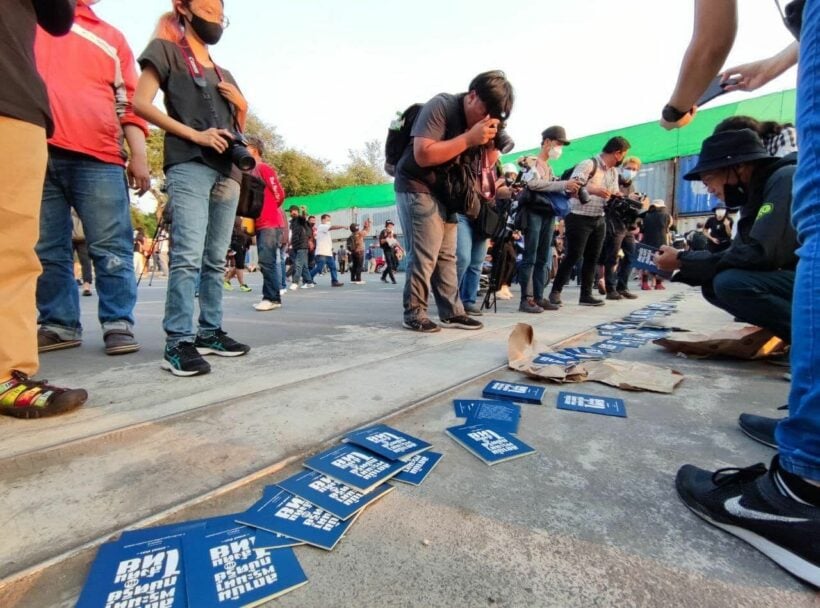 The seizure of the books precipitated the pro-democracy rally in Sanam Luang later in the day. The rally had been vocal, but peaceful, but when some protesters started to remove the stack of shipping containers between them and the Grand Palace, armed riot-control officers and the water cannon were waiting. The rally had fewer than 1,000 people this time. But things turned ugly, quickly, as police, initially firing the water cannon into the air as a warning, advanced, in lines spanning the entire road, on the protesters.
What followed lost all semblance of a formal protest and police response, and descended into a series of smaller plays as protesters goaded riot police, as individual police ran down protesters for arrest. The scuffles were caught on video, with much of the violence captured on live streams, both sides very aware of the immediacy of the coverage of the made-for-social-media events.
Tear gas was deployed, according to some protesters and media covering the event, and rubber bullets were used as a deterrent by riot police. Small groups of protesters lit fires along Ratchadamnoen Avenue as police continued to chase down the remnants of the protest rally. Both police and many of the protesters, as well as some of the media, were carrying gas masks in anticipation of the use of tear gas. Medical personnel report that they treated around 30 people for injuries. The Bangkok Post reports that police arrested 5 people from the evening's scuffles. The crowd had been dispersed just after 9pm but police continued to track down protest ring leaders as the night wore on.
The Redem group (Restore Democracy) had earlier published a post feature a red guillotine with a faded image of the Grand Palace in the background. The group, a vocal sub-set of the pro-democracy movement, is focussed on the removal of the Thai monarchy and its replacement with a constitutional democracy.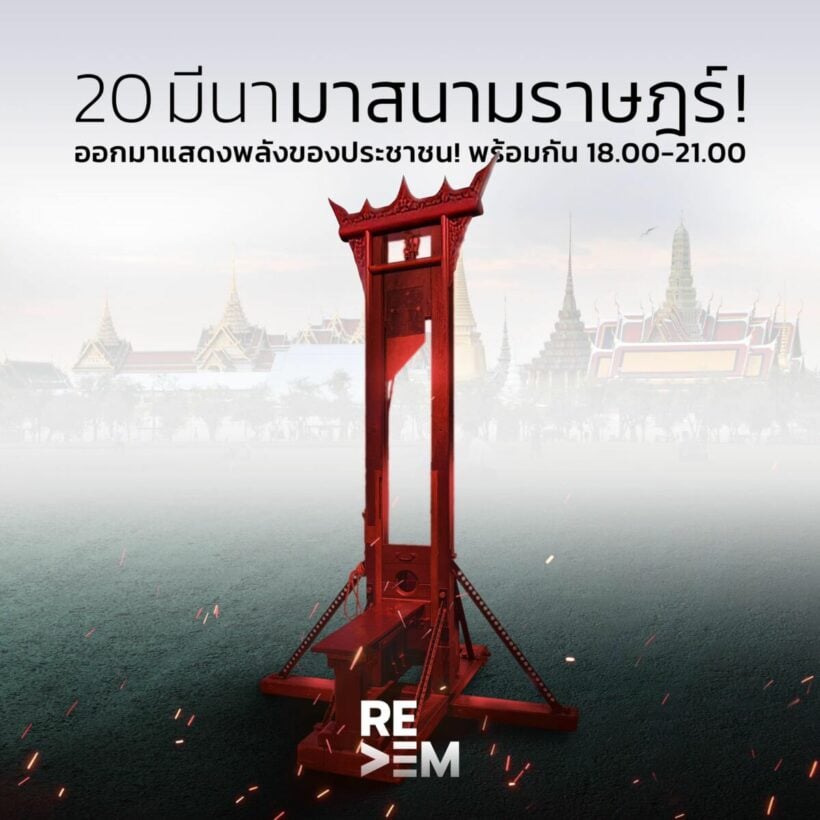 Other groups, all under the banner of the Ratsadon movement, include Free Youth, Redem, Free Art, Anon's Friends and Ratsskate. All posted events at yesterday's rally point on their social media pages.
73 people are now reported to have been charged with lese majeste under the Thai Criminal Code since last year, mostly for activities during last year's pro-democracy rallies. 7 of the main protest leaders remain in both the Bangkok Remand Prison and the Thonburi Prison on charges including lese majeste, violating the country's current emergency decree and other computer crime-related activities.
SOURCES: Bangkok Post | Free Youth | Khaosod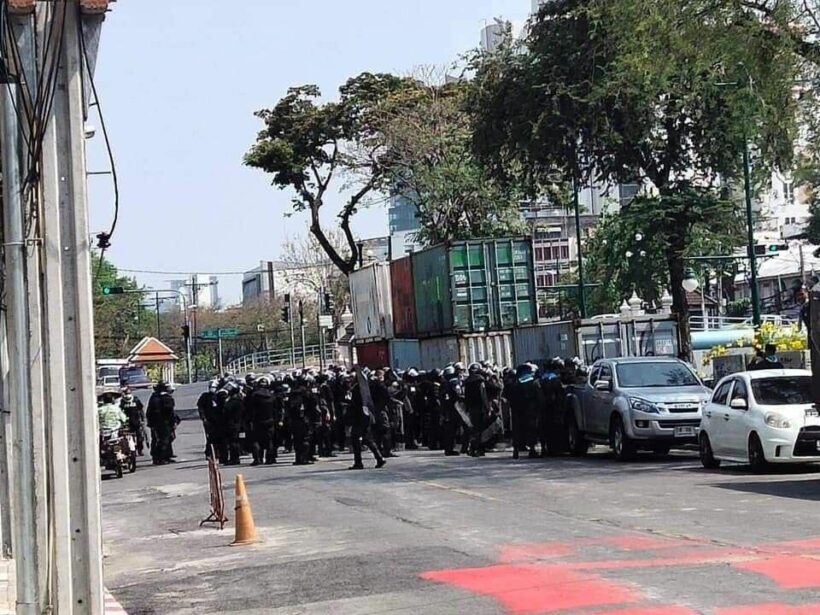 📱 Download our app on Android or iOS for instant updates on your mobile
📧 Subscribe to our daily email newsletter
👍 Like/Follow us on Facebook
🔔 Subscribe to or Join our YouTube channel for daily video updates
Human Rights Watch calls on Thailand to release activists detained on lèse majesté charges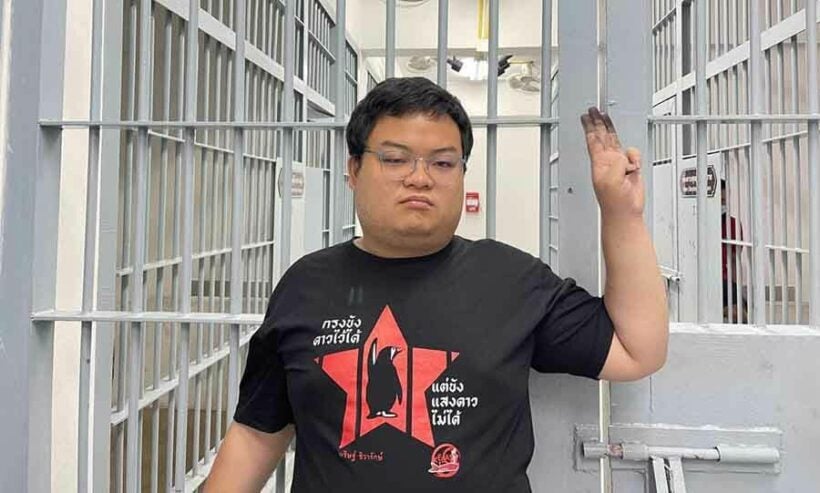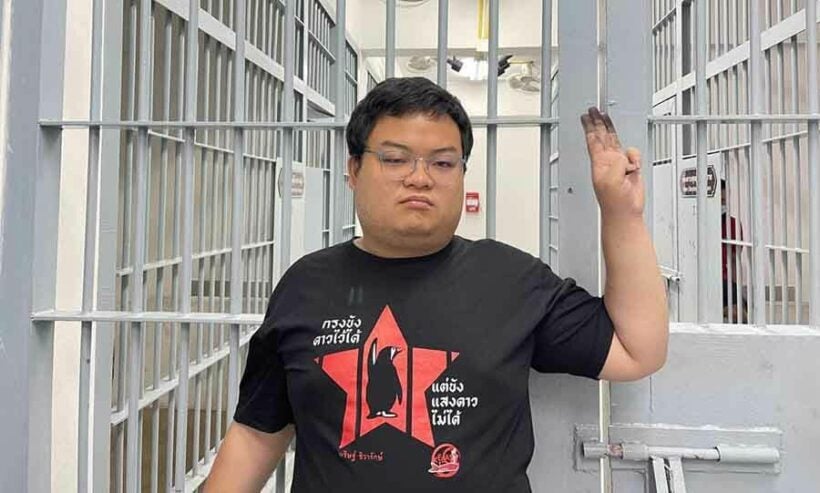 The Human Rights Watch is calling on Thai authorities to release pro-democracy activists who are detained on lèse majesté charges which carry an up to 15 year prison sentence for insulting the Thai Monarchy. HRW says the charges should be dropped because the activists' rights to freedom of expression and assembly have been violated.
2 of the detained activists, both students at Thammasat University, have been on a hunger strike as a form of protest against their pre-trial detention. Parit Chiwarak has been on a hunger strike for 35 days and Panusaya Sithijirawattanakul has been on the strike for 21 days. HRW says the 2 activists should be released and transferred to a hospital for medical supervision.
HRW Asia director Brad Adams says Thai authorities should immediately drop the cases against Parit, Panusaya as well as others who were "unjustly charged for their peaceful pro-democracy protests, but at a minimum, they should be released on bail."
"Holding activists in detention prior to trial and conviction, which could be years away, seems aimed to unfairly punish them rather than fulfill a legitimate state interest."
Back in February, Parit along with 3 other prominent activists Arnon Nampha, Somyot Pruksakasemsuk and Patiwat Saraiyaem, were ordered to pre-trial detention for charges related to their actions in the pro-democracy movement. Last month, Panusaya and 2 other democracy activists, Jatupat Boonpattararaksa, and Panupong Jadnok, were ordered by the Bangkok Criminal Court into pre-trial detention for lèse majesté charges relating to speeches demanding monarchy reform at a September rally.
Under Section 112 of Thailand's Criminal Code, known as the lèse majesté law, insulting or defaming the Thai Monarchy carries a maximum punishment of 15 years in prison. The activists were also charged with sedition under Section 116 of the Criminal Code, which carries a punishment of up to 7 years in prison.
The activists have been denied bail and the HRW says they could end up being detained for years until their trial is concluded. HRW says holding the activists in pre-trial detention on lèse majesté charges violates their rights under international human rights law.
With the rise of the student-led pro-democracy movement, the number of lèse majesté charges has increased over the past year. For nearly 3 years prior, lèse majesté prosecutions never made it to court. Over the past year, 82 people have faced lèse majesté charges for actions at rallies or on social media related to the pro-democracy movement. Adams calls it a "witch hunt."
"The Thai government should stop this witch hunt against peaceful dissenters and demonstrate respect for human rights by permitting all viewpoints… The government should engage with United Nations experts and others about amending the lèse majesté law to bring it into compliance with Thailand's international human rights law obligations."
SOURCE: Human Rights Watch
📱 Download our app on Android or iOS for instant updates on your mobile
📧 Subscribe to our daily email newsletter
👍 Like/Follow us on Facebook
🔔 Subscribe to or Join our YouTube channel for daily video updates
Thai police to focus on busting house parties and other social gatherings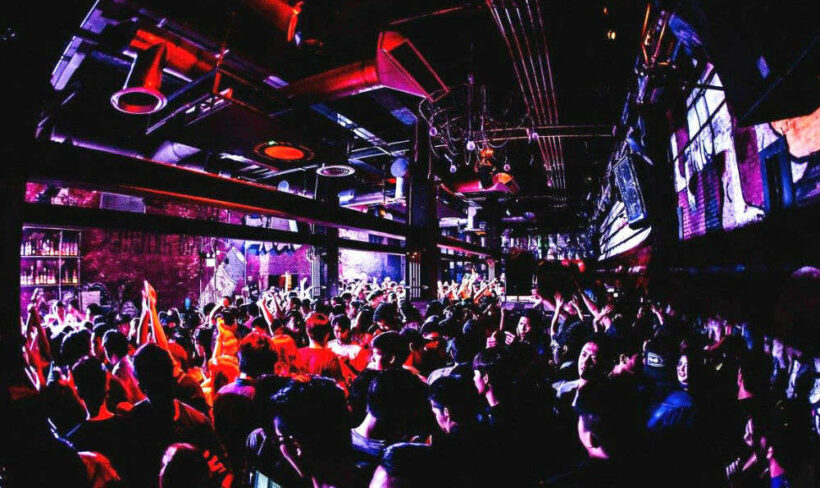 Police are now focusing on busting house parties and other social gatherings in an effort to combat the spread of Covid-19. With large parties and nightclub hopping setting off a new wave of the coronavirus, with the epicentre in nightlife district in Bangkok's Thong Lor area, the Royal Thai Police are now ordered to delay its crackdown drunk driving to focus on stopping illegal social gatherings.
Officers are now on the look out for loud music and party lights as well as venues that are break the Covid-19 closure orders. They are also keeping an eye on social media as well as the traffic to see if people are flocking to a particular area. The public is also asked to report any illegal gatherings and parties to police.
Police will focus on stopping private parties and other social gatherings in 18 provinces classified as "red zones" under the highest control to contain the spread of Covid-19 including Chon Buri and Bangkok. Under the emergency orders, there are also policies and rules for police officers to protect themselves from the virus.
While police have been ordered to put the drunk driving campaign on hold, officers may still set up road checkpoints for crime prevention.
SOURCE: Pattaya News
📱 Download our app on Android or iOS for instant updates on your mobile
📧 Subscribe to our daily email newsletter
👍 Like/Follow us on Facebook
🔔 Subscribe to or Join our YouTube channel for daily video updates
Group rallies outside US Embassy in Bangkok, calls for America to stop interfering in Thai politics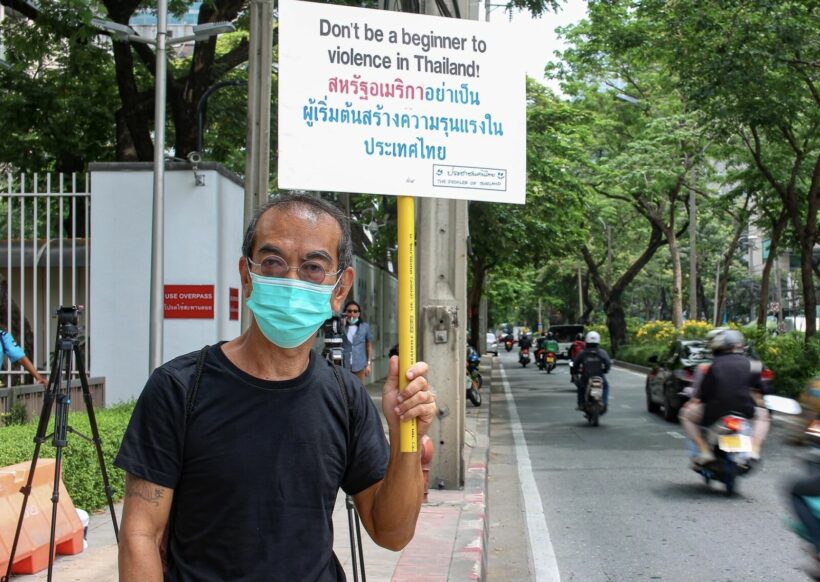 In the midst of a pro-democracy movement in Thailand, some claim the United States government is influencing Thai politics and even fueling the divide between political parties, particularly those who support the Thai monarchy and the younger activists who are pushing for democracy and monarchy reform. Yesterday, a group rallied outside the US Embassy in Bangkok calling on the American government to stop interfering with Thai internal affairs.
One of the leaders of the Prachachon Khon Thai group, Phichit Chaimongkon, says the American government pushes for democracy across the world and has been meddling in the affairs of various countries for the past 2 decades, leading to conflict. He claims the US has been involved in political groups in Thailand that threaten both national security and the monarchy.
The demonstration was led by Nitithorn Lamlua, a lawyer and a former leader of the now-defunct People's Democratic Reform Committee, a group that pushed for democracy with the king as head of state and called for the removal the then-prime minister Thaksin Shinawatra. Yesterday, the group submitted a letter to US Chargé d'Affaires Michael Heath in its second call to the US government to stop interfering in Thailand's internal affairs.
US embassy spokeswoman Nicole Fox says the US government is not funding or supporting protests or political movements in Thailand.
Back in October, a group of Thai royalists gathered outside the US Embassy in Bangkok and called on the American government to stop a so-called "hybrid war," saying the US was interfering in Thai politics and creating a political divide in Thailand.
SOURCE: Bangkok Post
📱 Download our app on Android or iOS for instant updates on your mobile
📧 Subscribe to our daily email newsletter
👍 Like/Follow us on Facebook
🔔 Subscribe to or Join our YouTube channel for daily video updates