Malaysia's Deputy PM sympathises with Azmin's family over gay sex video scandal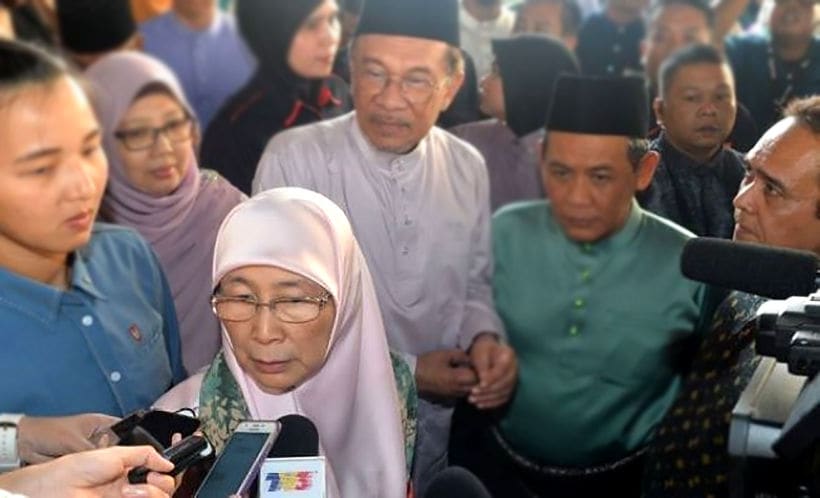 Malaysia's Deputy PM Datuk Seri Dr Wan Azizah Wan Ismail has expressed sympathy for the family of Economic Affairs Minister Datuk Seri Mohamed Azmin Ali, who has been linked to a sex video scandal.
Read The Thaiger story HERE.
She said she rejected any practice of gutter politics as she had experienced it before.
"I reject 'gutter politics' because I have been through it and I sympathise with Azmin's family," she said when commenting on the confession by Santubong PKR Youth chief Haziq Abdullah Abdul Aziz that it was him in the sex video with, as he claimed, Malaysia's Economic Affairs Minister.
In his online confession he alleged that Azmin was the other man in the video, but the minister has categorically denied the allegation. In several videos released since the first allegations, the faces of the two men are quite clearly identified.
The Malaysian deputy PM stressed that there was no place for dirty politics as all parties needed to focus on developing the country.
"We Malaysians have to think more about everything because we want to develop our country," she told reporters after the Aidilfitri open house hosted by her husband Datuk Seri Anwar Ibrahim.
Meanwhile Anwar Ibrahim quashed rumours that his faction is behind a plot to topple Datuk Seri Azmin Ali by releasing video clips allegedly showing homosexual acts between his deputy and another party man.
The Port Dickson MP said there was no reason for him or his supporters to be involved in such a despicable act.
"There is already an attempt to slander one person and the reason why that happened cannot be justified by another slander.
"What's the reason for us to do such a thing? Some say it was due to threat, what threat?" said Anwar, who is PKR president.
Anwar has been caught in several high profile allegations, court cases and imprisonment over alleged gay sex acts.
Anwar served as the Deputy PM of Malaysia from 1993 to 1998 and Finance Minister from 1991 to 1998 when he was a member of UMNO, the major party in the ruling Barisan Nasional coalition. However, he was removed from his post by then Prime Minister Mahathir Mohamad (who is currently Malaysia's PM) and jailed in April 1999.
His prosecution was criticised by human rights groups and several foreign governments, including the US, UK and Australia. Following his release in 2004, Anwar became the leading figure in the opposition and helped coalesce the opposition parties into the Pakatan Rakyat, which contested the 2008 and 2013 general elections.
Anwar began a five-year prison sentence in 2015, after a second sodomy conviction was upheld. Human rights groups again called the conviction politically motivated. However, he received a royal pardon from Sultan Muhammad V, and was released from prison on 16 May 2018.
Keep in contact with The Thaiger by following our
Facebook page
.
Never miss out on future posts by
following The Thaiger
.
Malaysian PM proposes a state of emergency in a political move to postpone budget vote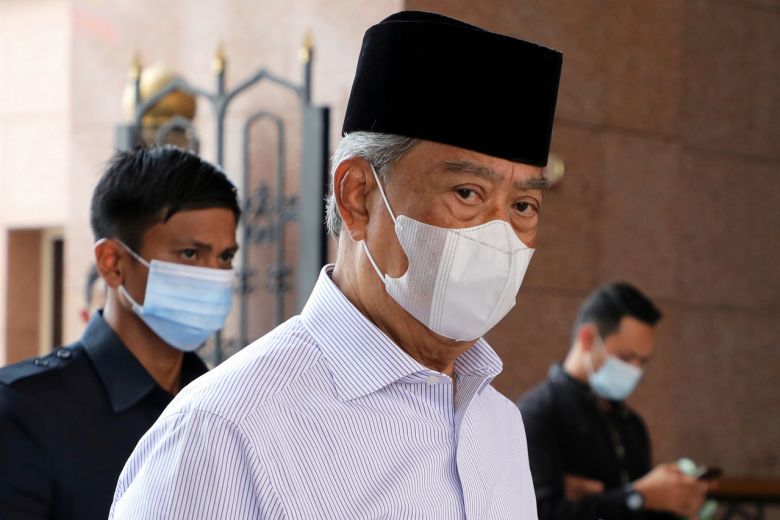 Malaysia's head of state is said to be consulting with the country's other hereditary rulers to discuss a proposal by Malaysian PM Muhyiddin Yassin, who has requested that the King declare a state of emergency. The Star newspaper is reporting that the country's rulers would meet at 2.30pm tomorrow, after which the king will deliver a decision to the PM.
Muhyiddin had an audience with King Al-Sultan Abdullah yesterday to formally request the rare state of emergency which would result in a suspension of the Malaysian parliament. On the face of the request is the need to take emergency measures to control a recent outbreak in new coronavirus cases. But opposition MPs say the manoeuvre is purely political and not related to the country's response to Covid-19. They say the country is well equipped to make decisions related to public health and the coronavirus outbreak
Opposition leader Anwar Ibrahim has denounced the move as a "power grab" by the country's PM. The Council of Rulers, which groups the heads of Malaysia's 9 royal houses, has the power to withhold consent from any law and deliberate on questions of national policy.
Malaysia is suffering a resurgence in Covid-19 cases, much more pronounced than the first wave in March and April. The move to apply for the dissolution of the Malaysian parliament is being read by commentators as a political stunt, unrelated to the coronavirus spike, since PM Muhyiddin faces a leadership challenge from opposition leader Anwar, who last month claimed majority support in parliament to oust the premier.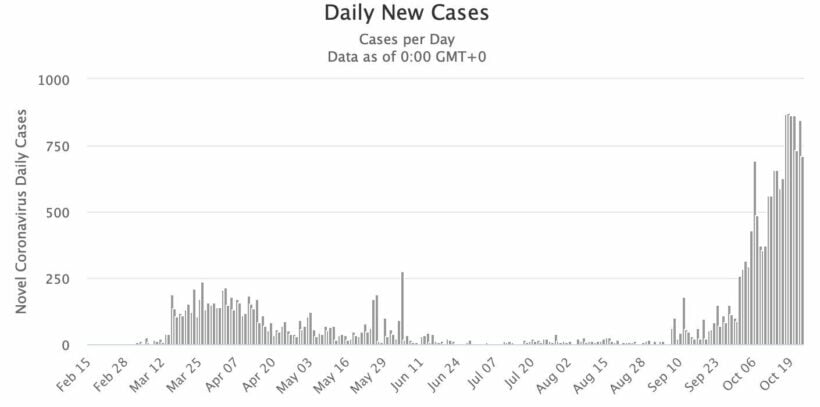 Meanwhile, the palace has not formally identified the specific recommendations made by the PM, and says the king will "soon" be discussing the motion with Malaysia's other heredity rulers.
"Al-Sultan Abdullah greatly understands the need for the country's administration to continue to tackle the threat of Covid-19."
Malaysia has suffered between 800 – 950 new cases per day over the past week, a spike in new cases, causing concern for the South East country that had largely contained the worst of the spread earlier this year.
As a background, the ruling government government is scheduled to propose its 2021 budget on November 6, and there have been questions over whether the PM can muster a majority to pass the supply bill. Defeat on the budget would count as a vote of no-confidence and could trigger an election. Any state of emergency, involving the dissolution of parliament, would postpone a vote on the forthcoming budget.
The government agreed at yesterday's special cabinet meeting that declaring a state of emergency would halt any attempts to politically destabilise the government, "allowing it to focus on containing the outbreak".
In a state of emergency, the Malaysian King is able to act on any important bills at his discretion.
SOURCE: Reuters | The Star
Keep in contact with The Thaiger by following our
Facebook page
.
Never miss out on future posts by
following The Thaiger
.
Air Asia diversifies from an airline brand to e-commerce powerhouse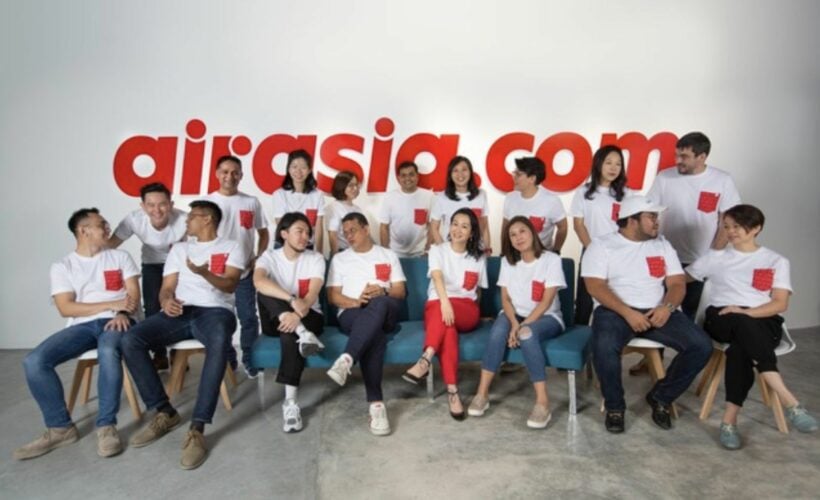 Airasia.com has revealed its greatly extended new online brand identity online as "ASEAN's super app", completing what it calls a "transformation from digital airline to comprehensive lifestyle platform".
The airasia.com ASEAN super app combines a host of related online experiences in a "faster and more convenient user experience" with over 15 types of products and services under 3 main headings – travel, e-commerce and fintech (financial technology).
On the announcement of the new App's launch, airasia.com is having its first-ever airasia.com Super Sale that supersedes the past successful AirAsia free seat promotions.
"The biggest sales in the region will take place from October 12 (1000, GMT +8) to October 18, 2020 with storewide discounts of up to 90% across all product offerings on airasia.com super app and the airasia.com site."
AirAsia Group CEO and founder Tony Fernandes says the airline group has not wasted the crisis.
"Now with airasia.com, we are enabling everyone to fly, to stay, to shop, to eat, all at the convenience of one super app. We've been using the lockdown period to fine tune our platform, unify the user experience and simplify our payment to a one-click checkout."
Some of the deals under the new super app include a 90% off SNAP flight+hotel combo, 90% off on AirAsia shop; 50% off on AirAsia food and "AirAsia fresh", formerly known as OURSHOP. 50% off all Malaysian domestic flights and 10% off flights of any other partner airlines to over 3,000 destinations worldwide.
SOURCE: ttrweekly.com
Keep in contact with The Thaiger by following our
Facebook page
.
Never miss out on future posts by
following The Thaiger
.
Top 10 must-see towns in Asia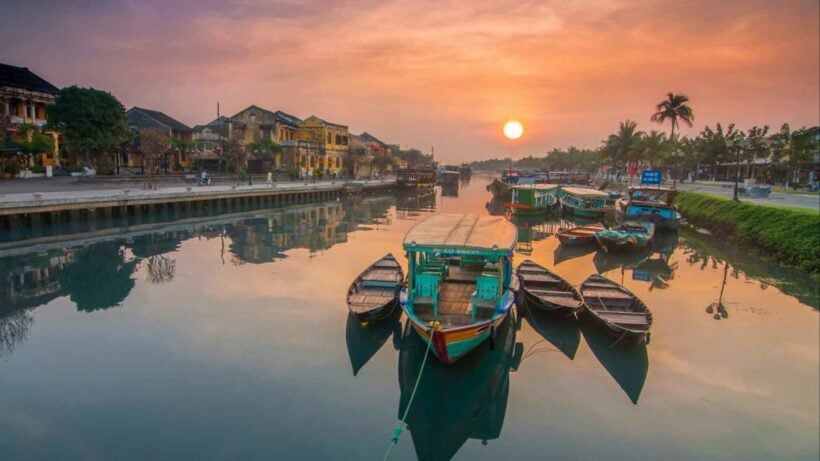 Tropical nights, curious mountain silhouettes, sprawling rice paddies and exotic cuisine. You'll also find some snow-topped mountains as well. The Thaiger has selected the Top Ten of these camera-worthy towns. Southern Asia is a concoction of the ancient, very modern, traditional and enigmatic. Amongst the islands, megacities and spectacular scenery, there are also some very pretty towns that deserve your days pottering around and investigating. Some of them you would have never heard of. Here's our Thaiger Top Ten must-see towns in Asia, in no particular oder…
Old Phuket Town, Thailand
Most tourists head for the beaches, but the southern Thai island of Phuket offers a lot, lot more these days up and down the west coast and across to the island's east coast as well, not just Patong. The historic old quarter of Old Phuket Town, located in the central east coast of the island, is lined with Sino-Portugeuse colonial shophouses, built during the island's tin-mining boom of the 18th and 19th centuries.
Twenty years ago you couldn't give them away. Now the old shop-houses are hot property and getting spruced up and re-used for a new generation of tourists and culture vultures. There are plenty of hip shops, cafés, restaurants, bars, art galleries and book shops. The area is also filled with Chinese temples, crumbling mansions and cultural museums.
Check out the weekly Sunday night 'Lard Yai' market along Thalang road for some local market vibes in amongst some local ephemera, astonishing Thai street food, some local performers and a few bargains. Kicks off around 4pm. If it rains during the island's wet season (May to November), you'll get wet but it's always around 30 degrees C and you can duck undercover anywhere around the Old Town's sidewalks.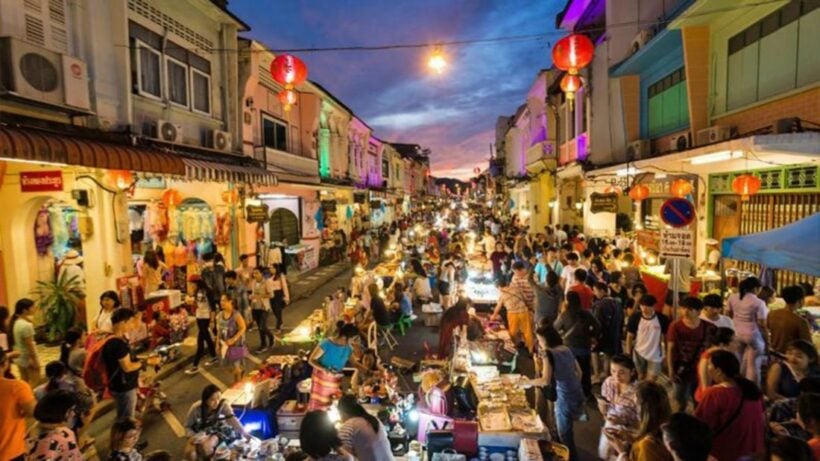 Galle, Sri Lanka
On the southwestern coast of Sri Lanka is the walled town of Galle, an important trade port for centuries.
The UNESCO-listed fortress has been through three bouts of colonial rule – the Portuguese from 1505-1658, the Dutch from 1658-1796 and the British from 1796-1948. These days, many of the old merchant houses are renovated into museums, boutique hotels, shops, restaurants and bars.
The dining scene has grown in breadth and popularity, with fresh seafood, excellent Sri Lankan curries and egg hoppers (dome-like pancakes). There's also plenty to see as you walk off all that food. The Dutch Reformed Church, Sudharmalaya Temple, Galle Clock Tower, Galle Lighthouse, Meeran Mosque and the old Spice Warehouse. Then head down the southern coastline to enjoy the surf, diving, whale-watching or just laying around Unawatuna Beach.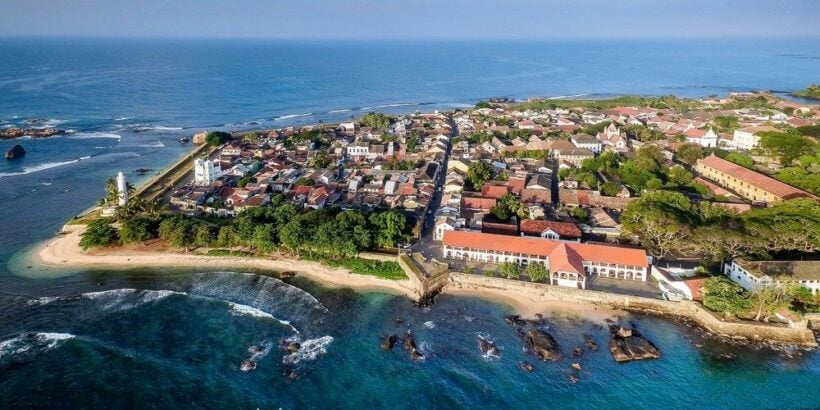 City of Vigan, Philippines
Experience a rich history of Spanish colonial-era architecture in the city of Vigan. It lies on the west coast of Luzon island in northwestern Philippines. Vigan was established by the Spanish in 1572. It's also a UNESCO World Heritage City.
Conquistador Juan de Salcedo developed a modern grid plan for the city, and Spanish architects designed beautiful churches, grand mansions and schools with unique windows and dark timber interiors.
Most of the colonial buildings are situated around the Plaza Salcedo, including the St Paul's Cathedral. This beautiful Baroque structure was first built in 1641 and then restored after several earthquakes and fires.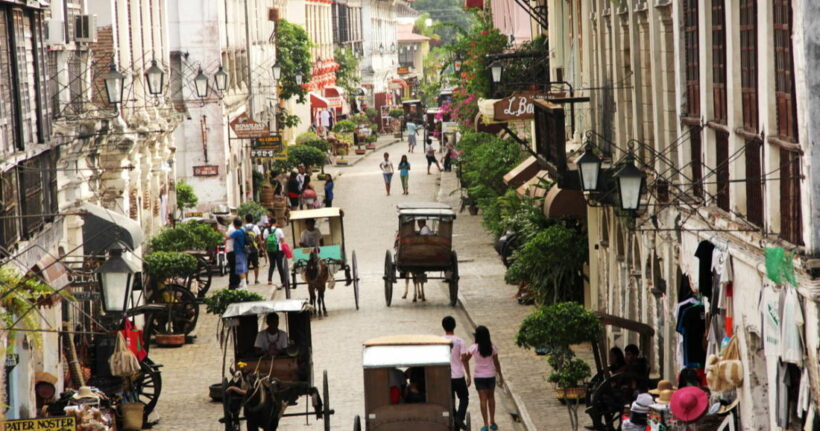 Hoi An, Vietnam
Located on the central coast of Vietnam, about 40 minutes drive south of Da Nang, Hoi An's Old Town has an international reputation as a haven for photographers, architecture lovers and lovers of food. Added to the UNESCO World Heritage list in 1999, the town was a former French colonial trading port that has been a commercially vital town for Vietnam since the 16th century. It's now more important to Vietnam as a commercially vital tourist magnet.
The rambling narrow streets of Hoi An feature rows and rows of charming mustard coloured old trading houses. Many are now trendy restaurants, bars, design boutiques, coffee shops and tailors. Seemingly with a production designer preparing the town as a set for a 'colonial asian' movie, lush foliage spills from the rooftops and silk lanterns light up the town at night. It's right out of a picture book.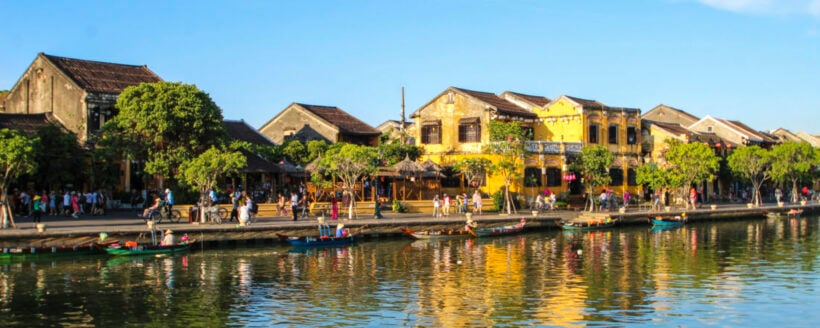 George Town, Malaysia
Designated a UNESCO World Heritage site, the sprawling historic quarter of George Town on Penang island showcases its many cultural influences over the centuries. You'll also find some similarity with Phuket's Old Town, just 600 kilometres north, but with a broader cuisine and more colonial influence.
George Town's colourful heritage traces back 500 years when the former British colony was a prominent hub of trade on the Malacca Strait, enabling cultural exchange between Malay, Chinese, Indian and European residents. The town still resinates with influences from all of these cultures. There is an eclectic mix of pastel-hued shophouses, Chinese mansions, churches and temples, colonial buildings, food and fortresses.
George Town deserves its reputation as the "food capital of Malaysia" and remains one of the best food cities in Asia – from street food to hawker centres, chintzy local restaurants to fully renovated mansions serving up high end fusion cuisine. Like the architecture, the local cuisine captures George Town's multicultural history.
If you're heading to George Town, take your appetite.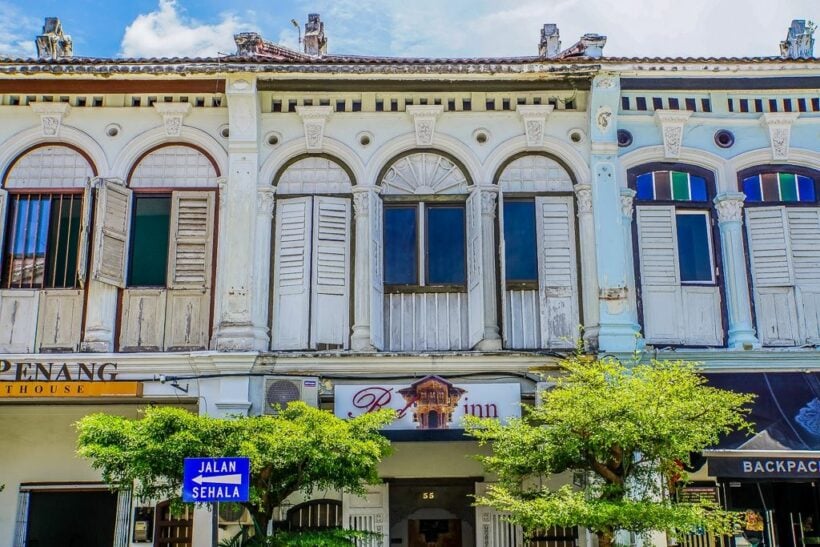 Luang Prabang, Laos
The former capital of Laos on the banks of the Mekong River, is the picturesque Luang Prabang, home to temples and dramatic natural scenery.
It's either one of Southeast Asia's most spiritual places or an emerging party town for the backpacker set, or both. Either way Luang Prabang makes a dramatic first impression.
The town is hugged by mountains as it rests at the bottom of a valley in central Laos. The location was the first kingdom in Laos from the 14th to 16th centuries, Luang Prabang was long a strategic location along the famed Silk Route. Since then the French have also had their time as colonial overlords which has resulted in a fusion of European and Laotian architecture creating a distinct townscape.
Although Vientiane, on the Thai border, is now the capital, Luang Prabang, named a UNESCO World Heritage Site in 1995, continues to be the country's cultural and artistic capital.
In addition to the graceful architecture, Luang Prabang is also home to beautiful natural attractions including the Kuang Si Waterfalls and Phousi Mountain. There are also more than 30 Buddhist temples, the Royal Palace Museum, night markets, river boat rides and biking tours.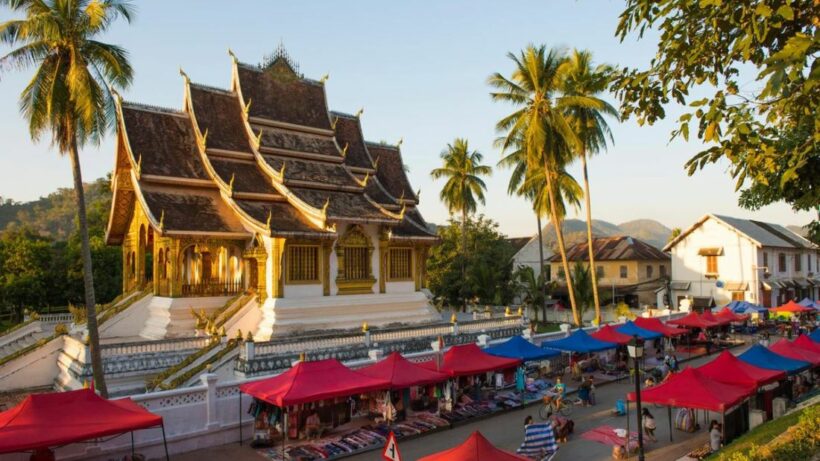 Kampot, Cambodia
Think Cambodia and you automatically think 'Angkor Wat', but Cambodian travellers are falling in love with the southern charms of Kampot.
The serene coastal town, on the southern coast along the Gulf of Thailand, is getting a reputation as one of the prettiest small towns in the region. Think colourful French colonial shophouses, tidy pedestrian-friendly streets, river activities and a feast for the cameras. You can spend your days kayaking, mountain trekking, biking, river cruises, paddle-boarding, or you could take a day trip through the countryside's lush paddy fields, cave temples and waterfalls.
Kampot has a growing foodie reputation as a culinary playground with everything from traditional Khmer cuisine to vegan delights. The town still has a bit of a 'rough' reputation but is well worth a visit and certainly deserves its place amongst the top ten prettiest towns in Asia.

Kota Gede, Indonesia
Among the oldest parts of Yogyakarta in central Java, Kota Gede is known for its silver industry, cute laneways and photogenic architecture.
The location's history goes back to the 15th century, when Yogjakarta was the seat of the Mataram Sultanate, the last kingdom before the Dutch colonised Java island. Wealthy merchants built palatial homes in the Kalang style, a mix of Dutch structural elements, traditional Javanese layouts and local craftsmanship.
Travellers in the 21st century can now walk along Jalan Kemasan and browse through boutiques, art galleries and silver workshops showcasing the famous jewellery and elaborate tableware. For a little history, travellers can also venture out to Yogyakarta's most famous UNESCO-listed landmarks – the Prambanan Temple and the eighth-century Borobudur Temple.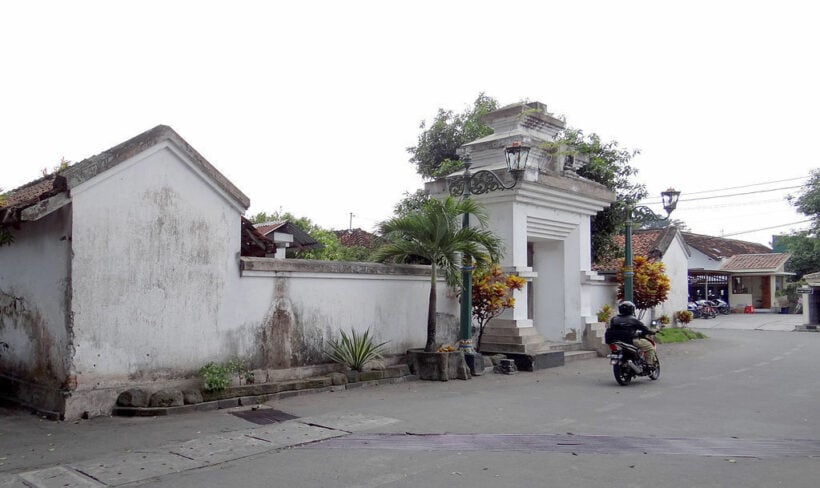 Mawlynnong, India
In amongst one of the world's most chaotic and messy countries, lies Mawlynnong, located in the East Khasi Hills of northeastern India, which has been named the "Cleanest Village in Asia". Go figure!
The village lives up to its reputation thanks to the Khasi community who call the town 'home' and take great pride in keeping the village pristine. The town is famous for its meticulously pruned gardens.
There's a popular 85 foot high tree house called Sky View constructed of bamboo that overlooks the jungle canopies all the way across the plains of Bangladesh to the south. There's also the Mawlynnong Waterfall, while a living tree root bridge creating a scene from Game of Thrones or an Indiana Jones movie.

Ghandruk, Nepal
Ghandruk is a mountain village at the foothills of the Himalayas in central Nepal. The village is more than 2,000 metres above sea level, the highest in our Top Ten list.
The village is about a five-hour hike from Pokhara, a pretty lakeside city in central Nepal that acts as the starting point for the popular Annapurna Circuit (and also worthy of a visit for a few days). You'll find traditional tea houses, a mountain-top temple, horseback riding and the local customs of the Gurung people who live here.
Members of this Nepalese community have served in the British Army's Gurkha regiments during many conflicts and you should make time to visit the Old Gurung Museum which provides lots of fascinating historical insights.
And the village has quite a spectacular backdrop with Mounts Annapurna, Machhapuchhre and Himalchuli looming large as you look over your shoulder.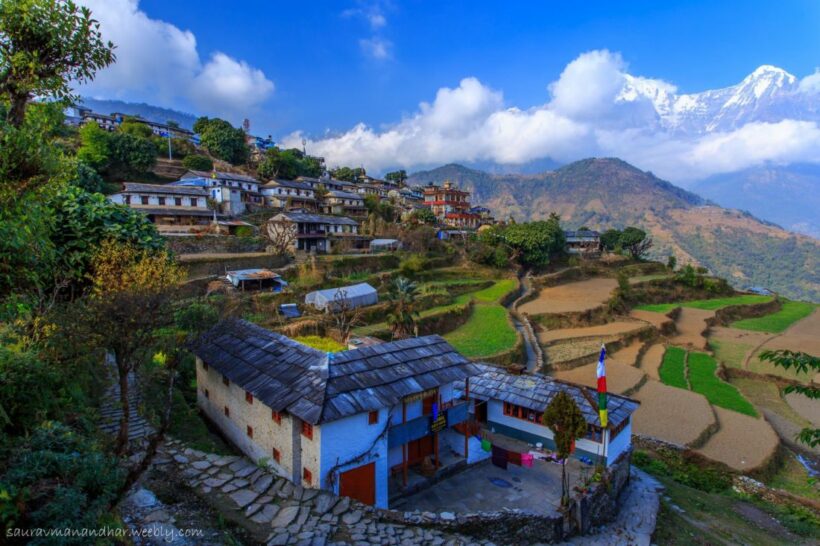 Keep in contact with The Thaiger by following our
Facebook page
.
Never miss out on future posts by
following The Thaiger
.