From 'Sawadee' to 'Pad Thai'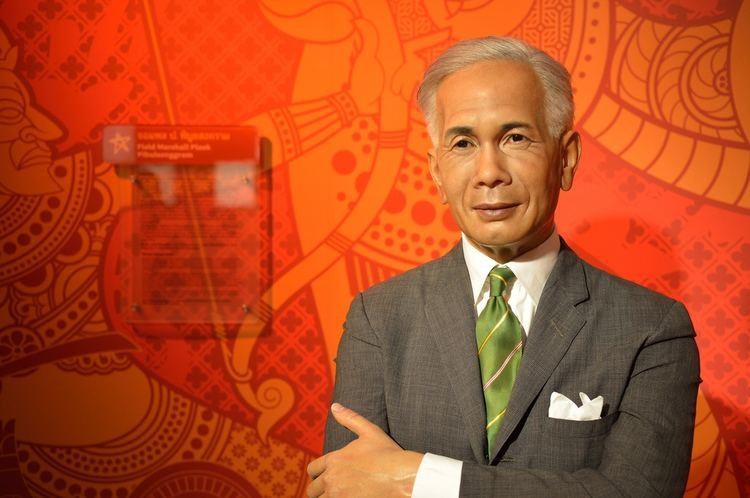 by Dan Brook
Thai culture is ancient and one can even see evidence of its beautiful bronze-age civilisation in Ban Chiang, near Udon Thani in Isaan, Thailand's least-visited north-east region.
But not everything in Thai culture is quite so old. In fact, some major things closely associated with Thailand are relatively recent — and all of them are related to Field Marshal Plaek Phibunsongkhram.
Phibun — as he is often called in the West, though he is better known as Chomphon Por in Thailand — was one of the leaders of the coup that overthrew the absolute monarchy in 1932, creating the constitutional monarchy that Thailand has had since. He also exerted more state control over the economy through nationalisation.
Culturally, however, Phibun may have had even more influence. As Thailand's longest serving prime minister, he supported fascism (though he later de-emphasised this and embraced a form of democracy), extreme nationalism, and a cult of personality focused on himself. His photos were ubiquitous and his quotes were regularly in the newspapers. He mandated that Thais salute the flag, know the national anthem, and speak Thai.
Phibun changed the country's name from Siam to Thailand in 1939, changed the new year from the traditional Thai one on April 13 to the European Gregorian one on January 1, and codified, promoted, and possibly created Thailand's signature eponymous dish, pad thai, by adapting a Chinese noodle dish. His law requiring Thais to wear hats in public, however, clearly did not endure.
Shortly after he simplified the Thai script, Phibun adopted the word sawadee (from svasti, the Sanskrit word for blessing or wellbeing) from a Chulalongkorn University professor and made it the "official" Thai greeting, starting in 1943, still so commonly said.
Any one of these changes is huge. Combined, Phibun helped create modern Thai culture as we know it!
Dan Brook, Ph.D. teaches sociology at San Jose State University, from where he organises the annual Hands on Thailand (HoT) program. Dan has free ebooks on Smashwords.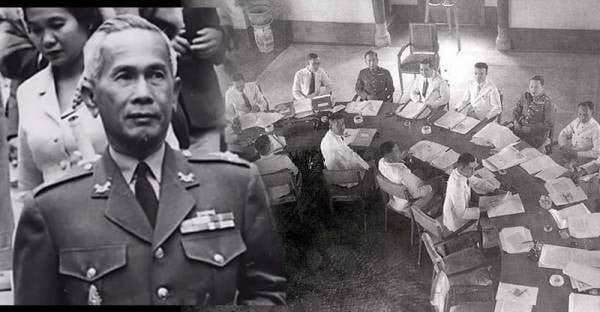 Have something to say? Scroll down to leave a comment, or visit our Thaiger Thailand Q&A Forum to discuss people, events, to-do and more with the local community.

Mu Pa 13 have 22 film offers awaiting appro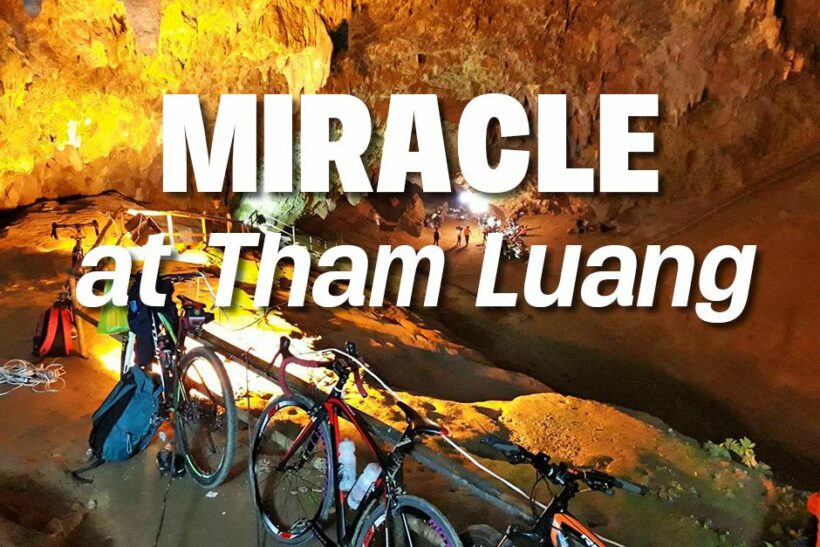 Looks like we're going to see many screen adaptions of the 'Miracle at Tham Luang' (and whatever other titles they come up with).
22 movie, documentary and book project and ideas, about the Tham Luang cave rescue and life of the 13 young men, have been proposed by both local and foreign studios to the Creative Media Committee. This was confirmed by the Culture Minister Veera Rojpojanarat today.
In addition, there are 27 TV show programs for the boys and their coach from Thai and foreign TV stations still being considered by the committee.
Thai PBS is reporting that producers are invited to apply for the rights to shoot movies, documentaries or animation films of the dramatic rescue mission, the life of the rescuers and the boys trapped in the cave complex for two weeks during the period between November 15-30.
Minister Veera says foreign producers will have to seek approval from the Ministry of Sports and Tourism whereas the Thai producers must contact the Culture Ministry for approval.
Of the 22 proposed projects, ten are movie projects with five each proposed by Thai and foreign producers and ten documentary projects with the remaining two being book projects.
The minister said the committee agreed that there was no need for the rights to be given to just one producer or studio and all of them would be treated equally.
Studios can start their production based on the information which is already available publicly, but for in-depth information about the private life of the boys, consent from the boys and their parents is needed and also with the approval of the committee which will consider the benefits to be offered to the boys, said Mr Veera.
He stressed that any commercial deals involving the team must be approved by the committee and must have the consent of the boys and their parents.

PHOTO: Nation Multimedia
SOURCE: Thai PBS
'Big Joke' is the 'real deal' according to Thai Rath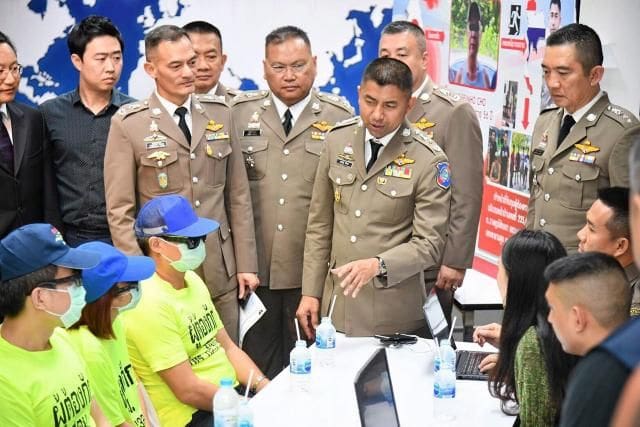 PHOTOS: Thai Rath
Thai Rath have published a feature on the closest person Thailand has to Batman (aka Maj-Gen Surachate Hakparn) or "Big Joke" as he's affectionately know to the Thai media. He's taken the role of Thailand's poster-boy crime fighter.
He's also recently been promoted to the top job at Thai Immigration.
The article says that Big Joke is the 'real deal' and his appointment will mean greater security for the country and better services to the wider public. They say that will include tourists and expatriates in Thailand.
Two weeks ago Maj-Gen Surachate Hakparn replaced the former Immigration Chief, Suthipong Wongpin, who took a sidewards step to become the head of the metropolitan police in Bangkok, a year before his retirement.
Surachate attracted the attention of the Thai government while working as deputy commander of the Thai Tourist Police.
His "One World One Team" vision emphasises teamwork and cooperation, not just within Thailand but internationally, according to the Thai Rath article.
Many have criticised "Big Joke" for being nothing more than a poster boy and 'lackey' of the elite but the Thai media is say this is 'shallow thinking'. Surachate's supporters point to his 'modern methods' in crime solving and dedication to stop corruption (which we note also appear to involve a lot of photos and media conferences parading the baddies in public).
"He is seen as new style of policeman the like of which Thailand has rarely if ever seen before", reports Thai Rath.
Many illegal foreigners posing as tourists have already been rounded up, sent home and black-listed creating a fear of further crackdowns. But Surachate says he's determined to root out illegals and criminals and protect the multi-billion dollar tourism industry.
"Ultimately bona fide tourists and expats will reap the benefit through greater security and improved service from immigration".
Deputy PM Prawit Wongsuwan its also calling for heightened security with an 'international focus'.
Surachate believes in giving greater satisfaction to foreigners in Thailand as well as committing to coordination within Thai police departments and foreign agencies.
Critics say that many of those arrested are relatively small fry and that "No Tip" signs that have gone up at immigration entry points are merely paying lip service to the issue. But Thai Rath seem convinced that 'Big Joke' is the real deal and will make a true difference.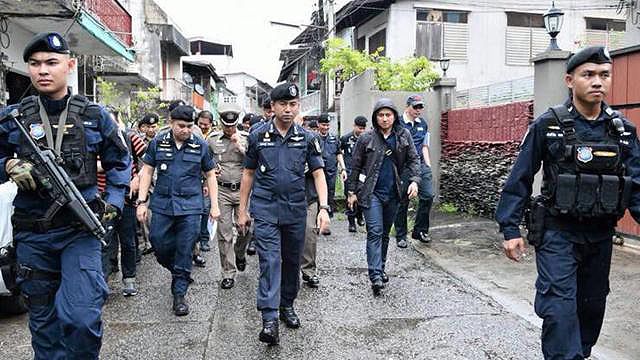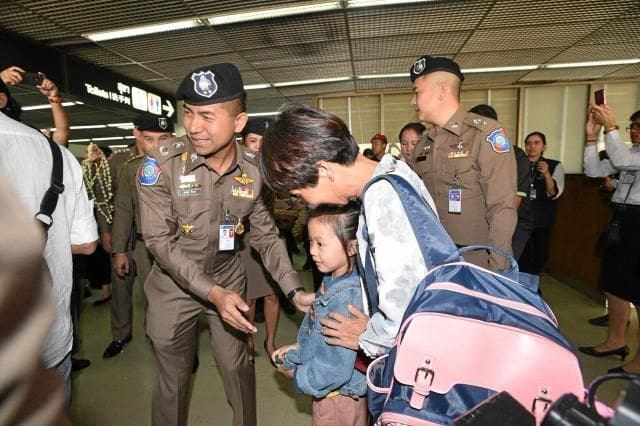 SOURCE: Thai Rath
Street art gallery in the ruins of Ban Roeng Chit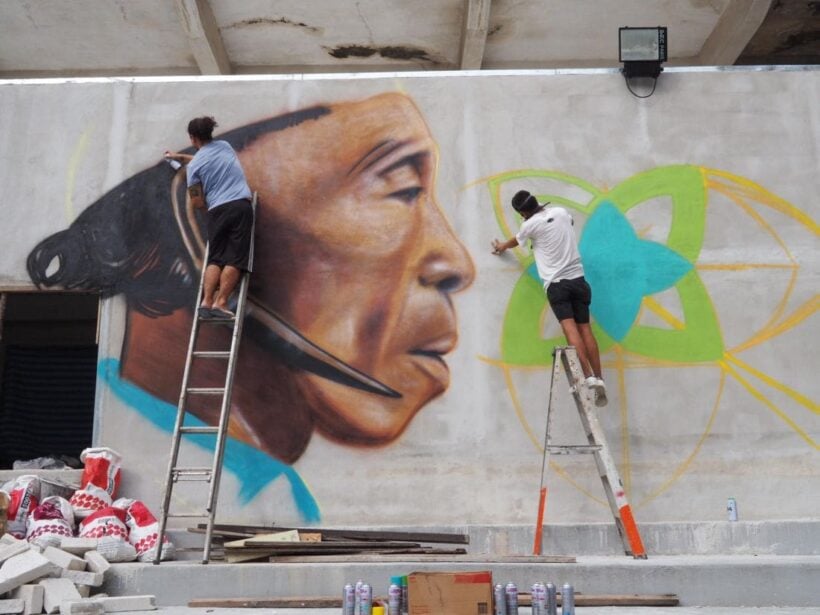 An interesting part of the Phuket Town's street art culture is that it tackles taboo social topics. It is a loud shout from street artists to express their opinions in a creative way and the former stand-alone theatre 'Roeng Chit' has become the location of Phuket street artists where they are allowed to freely spray their thoughts away.
One of the biggest pieces at the avenue is a graffiti against the elephant riding business. The ironic artwork depicts an elephant riding on an unhappy man to portray the idea of how unpleasant it is for an intelligent and loving wild animal to spend their lives exploited until the day they are retired.
"The elephant is widely respected among Thai people and they are the official national animal of Thailand, having contributed to the development of Thai history and society. They are wild animals that belong in the jungle."
"Think about it, who do we think we are that we can force them to do as we please and ride them just for entertainment. We have cancelled slavery among humans in Thailand since King Rama V but we still treat animals like uncivilised people," said Agradeth 'Amann' Tanhemnayoo, a group member of the artists behind the drawing.
"I was contacted by @thailandelephants asking us to create some street art so I said 'yes'. We don't mean to say that people shouldn't be happy spending time with elephants but our message is that people can choose to be happy by observing them with nature by their side without having to ride on them."

"I understand that we can't stop the elephant riding business immediately but we are offering an alternative way of traveling that is nature-friendly."
The crew went to create the art on World Elephant Day.
"On the opposite side of the elephant riding business is a human is a cycling activity which we proposed as an option to tag along the elephant while trekking."
"We plan to keep going back as we received a great support from the landlord, Ban Roeng Chit, and we planned together to make the avenue a centre to collect street art. So far, we have a dozen graffiti artists bringing their talents together and we want people to see the work of different creators."
No matter whether you are a professional photographer or just visiting, Ban Roeng Chit is the new spot to observe street art in the heart of Phuket town, where you'll see more than just graffiti, but also the social issues they confront.