Future Forward calls for an end to compulsory military conscription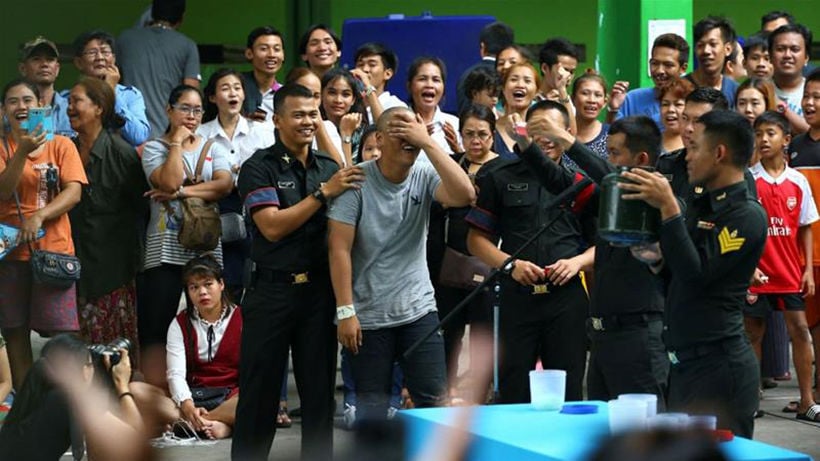 PHOTO: Thai Army Conscriptees are selected with a lottery system – Al Jazeera
Pongsakorn Rodchomphu and several other members of the opposition Future Forward Party have submitted a formal draft revision to the Conscription Act that would make military conscription voluntary, except in emergency situations.
The Nation reports that the proposal was put forward to House Speaker Chuan Leekpai yesterday.
Pongsakorn hopes it will be accepted as an amendment to Thailand's Conscription Act, adding that Future Forward believes the current legislation, unchanged since 1954, needs to be updated to reflect modern Thailand.
"We strongly believe military service should be voluntary rather than mandatory. Mandatory conscription should come into effect only in wartime or in states of emergency. Otherwise it is a violation of an individual's rights."
If approved, the amendment would mean an end to the mandatory conscription currently in place for all Thai men once they turn 21. Instead, those aged between 18 and 40 could sign up on a voluntary basis.
"We also propose that the period of service be five years rather than two and that enlisted personnel be allowed to progress through the ranks up to lieutenant colonel before being discharged no later than age 46. The amended act would also pardon those who avoided enlistment before the revised law came into effect."
Pongsakorn says extending service time and allowing members of the military to progress up through the ranks would improve efficiency. He says the proposed amendment is also designed to protect human rights and reduce the costs associated with mandatory conscription.
In comments to the media Pongsakorn also addressed the common thread that lower ranking conscripts acted as little more than 'houseboys' to senior military personnel.
SOURCE: The Nation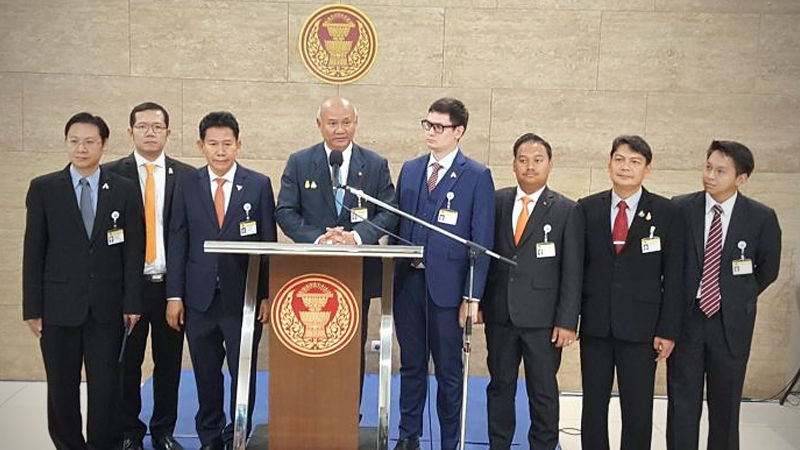 PHOTO: Future Forward politicians submit their amendments to the 1954 Conscription Act yesterday – The Nation
Keep in contact with The Thaiger by following our Facebook page.
Never miss out on future posts by following The Thaiger.
Opposition to provide evidence against government in upcoming debate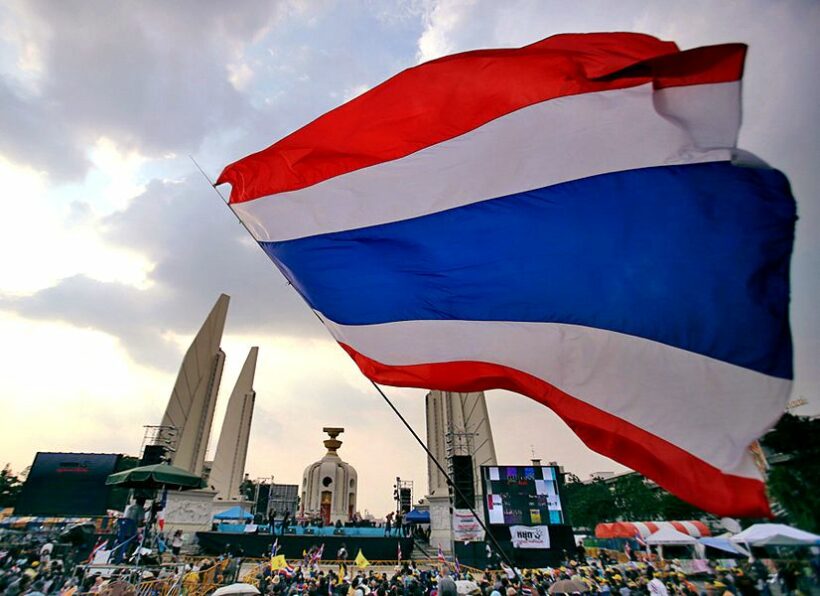 Thailand's opposition party members are preparing to provide evidence to back the charges being made against the government in an upcoming censure debate. The government is accused of policy-oriented corruption and of playing a part in structural conflicts. The allowance of illegal immigrants into the country and illegal gambling dens is expected to be discussed as it has been attributed to the 2nd wave of Covid-19 sweeping the nation.
Chief opposition whip Sutin Klungsang said the opposition parties have proof of wrongdoing that has played a part in damaging the country through mismanagement and hardship to the people. Sutin says more than 1 minister will be questioned.
"Several. At least seven."
He says they will finalise who will be censured this week based on the information they have gathered, and says they will meet again on Sunday to discuss their debate strategy and time allocation.
The opposition camp is planning to introduce a "no-confidence" motion against the government tomorrow, marking the 2nd of its kind to ever be lodged.
Sereepisuth Temeeyaves, leader of the opposition Seri Ruam Thai Party and former police chief says his information will deliver a "serious blow" to the PM after he was criticised for saying "even a hundred prime ministers will not be able to rid Thailand of illegal gambling dens."
"I made a crusade against illegal gambling dens long before I was the national police chief. What did the PM mean when he said things like that? Did they make the arrests or not? So, sit back and wait for the debate."
He says he is not sure if Deputy PM Prawit Wongsuwon would be grilled in the upcoming debate, but named Move Forward Party leader Pita Limjaroenrat, PM and Defence Minister Prayut Chan-o-cha, Public Health Minister Anutin Charnvirakul and Deputy Interior Minister Niphon Bunyamanee are among the targets.
SOURCE: Bangkok Post
Keep in contact with The Thaiger by following our Facebook page.
Never miss out on future posts by following The Thaiger.
US Ambassador to Thailand quits after Biden inaugurated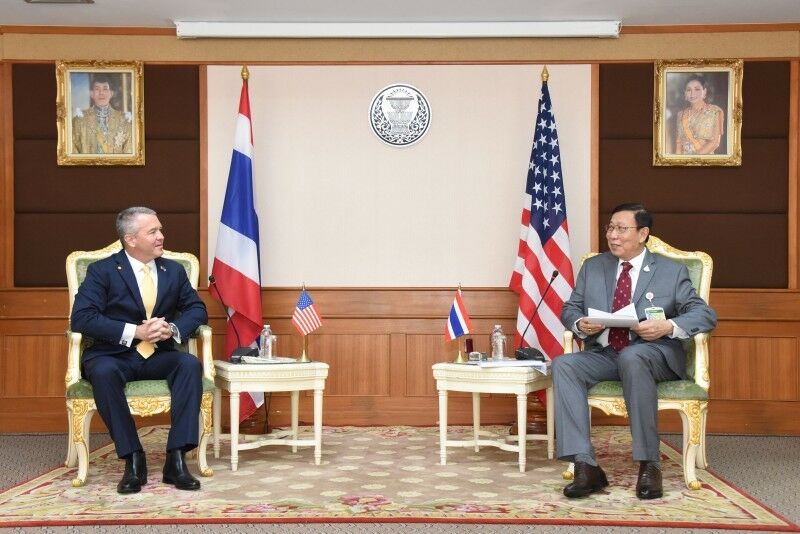 The US Ambassador to Thailand seems to have quit after only serving less than 1 year in office and moments after President Biden's inauguration. Michael George DeSombre, who was appointed by President Trump in early 2020, made the announcement of his departure on the embassy's official social media platform yesterday. A day before, he met with PM Prayut to "thank the Royal Thai Government" as is customary with departing ambassadors. DeSombre succeeded career diplomat Glyn T. Davies.
"It has been a privilege serving as the United States Ambassador to the Kingdom of Thailand. I am exceedingly proud of all we have done to strengthen the US-Thai relationship. I am signing off now from this account and leaving it in the good hands of our Embassy staff."
Now, as the US Embassy official website names Chargé d'Affaires Michael Heath as its diplomatic mission leader, it is not known when a new ambassador will be chosen by the Biden administration.
Just last year in October, DeSombre wrote, on the same day that President Trump tested positive for the virus, that he was less than supportive of a full-blown shutdown.
"The evidence over the last six months shows that the costs of a really extreme shutdown are generally worse than the benefits and it is better to keep the economy running."
According to Wikipedia, DeSombre co-founded Republicans Overseas for Americans abroad in 2013 in which the organisation focuses on tax reform. Upon his appointment as Ambassador, DeSombre stated that his office would primarily encourage the economic partnership between the two countries, with a focus on American investments and Thailand's infrastructure projects and supply chains.
He has also said that US firms were interested in increasing investments in Thailand, including in areas under the 1966 Amity treaty. Thailand and the US established relations in 1818 and later formalised the ties in 1833.
SOURCE: Khaosod English
Keep in contact with The Thaiger by following our Facebook page.
Never miss out on future posts by following The Thaiger.
PM vows action against 'not factual' information on vaccine plan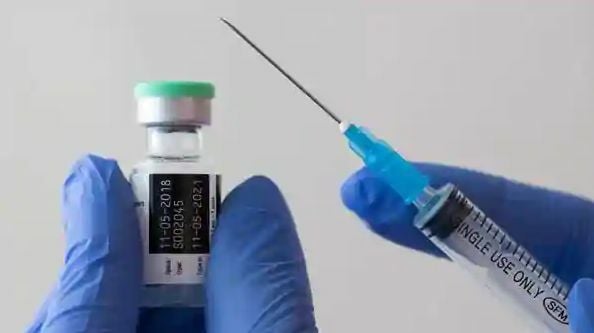 PM Prayut Chan-o-cha will order legal action against anyone who "distorts information" about the government's Covid-19 vaccination plan after the banned opposition politician Thanathorn Juangroongruangkit had raised the topic of "Royal Vaccine: Who Benefits and Who Doesn't?" on his Facebook Live feed on Monday.
On the Facebook Live, Thanathorn criticised the government's vaccine procurement and production, commenting that the government is too slow in securing sufficient inoculations.
"Thailand pinned its hopes only on AstraZeneca which allowed local pharmaceutical manufacturer, Siam Bioscience, to produce its vaccine. The government had not held talks with other countries until Jan 3 when it announced it will buy 2 million doses of vaccines from Sinovac which is a very small quantity… enough for only 1.5% of the population."
Siam Bioscience is a royally-sponsored company that has partnered AstraZeneca to produce the vaccines for Thailand and other countries in the region.
According to Dr Nakorn Premsiri, director of the National Vaccine Institute, Siam Bioscience invited the British-Swedish pharmaceutical group AstraZeneca to visit its plant to see whether it met the criteria required to produce the vaccine at a minimum of 200 million doses per year. The government approved 600 million baht to improve the plant's facilities to produce the Covid-19 vaccine according to the requirements of AstraZeneca.
Responding to Thanathorn's comment, the PM says he will order prosecution for anything "that is distorted and not factual" that gets published, whether in media or on social media and that he has to protect the government's credibility from those who are "irresponsible" with their remarks.
SOURCE:Bangkok Post
Keep in contact with The Thaiger by following our Facebook page.
Never miss out on future posts by following The Thaiger.