Families call on government for answers to alleged activist abductions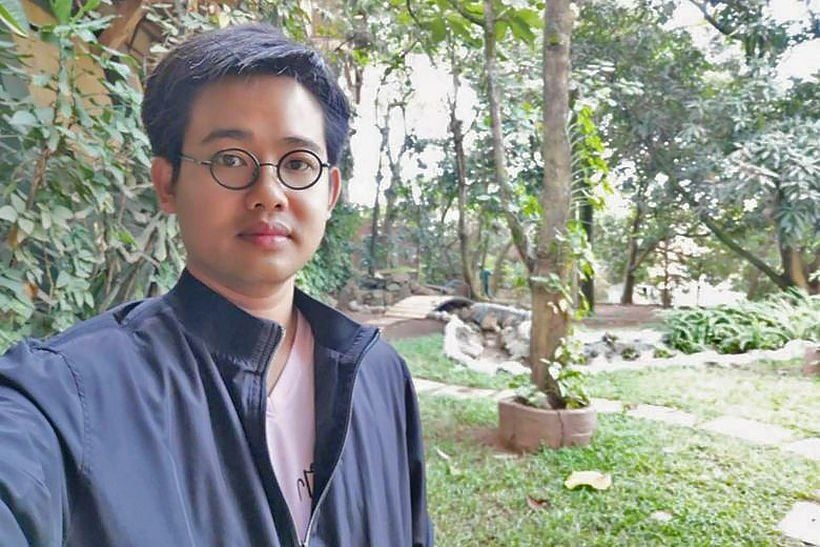 Families of those who were allegedly abducted while abroad are calling on the government to give answers to the missing cases. The families gathered together yesterday in remembrance of those they lost from enforced disappearances.
Recently, protests sparked after the June disappearance of Wanchalearm Satsaksit who was living in exile in Cambodia. Surveillance footage shows Wanchalearm, a Thai Monarchy critic, appearing to get forced into a car. Activists say that he was abducted, and some suspect he was murdered.
His sister, Sitanan, says both Thai and Cambodian governments could not give her much information about what happened to her brother.
"Thai people should be educated about the torture and enforced disappearance law. It would be a relief to know that similar cases would be followed up in the future."
Kanya Theerawut says her son Siam was living in exile and went missing after being extradited from Vietnam. He faced charges for violating the lèse majesté law after his performance in a comedy play "The Wolf Bride."
"I don't understand why he had to run away from his country for playing a role in a theatre."
The daughter of Tanong Pho-an, a labour leader who opposed a 1994 labour law, says that when her father was abducted she realised that the army could easily abduct and kill people. They could claim it was for national security reasons, she says.
Some people are critical of the new draft of a torture and enforced disappearance bill which would allow the Department of Special Investigation to intervene in the cases.
A legal advisor for the International Commission of Jurists says the torture and enforced disappearance draft does not specify the definition of "enforced disappearance" and does not outline the involvement of military court.
A Human Rights Watch advisor says the government does not honour their commitment to prevent international enforced disappearances.
"The government's draft doesn't correspond to international regulations and it should not be encouraged. Thai people should support the public draft to enter the House so that the new law is in line with international standards."
SOURCES: Nation Thailand | Bangkok Post
Keep in contact with The Thaiger by following our
Facebook page
.
Never miss out on future posts by
following The Thaiger
.
PM orders Thai police to collaborate with Interpol to bring Boss back to Thailand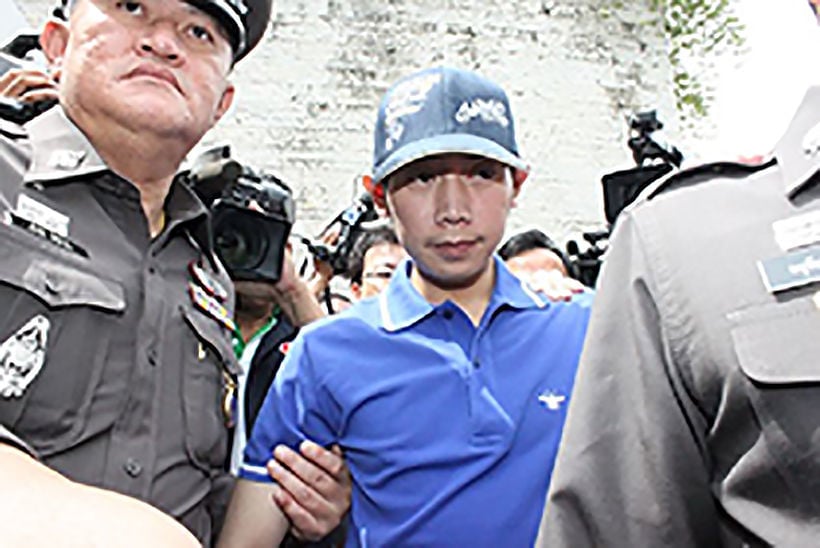 The Thai PM is ordering Thai police to work with Interpol, the International Criminal Police Organisation, to find Vorayuth "Boss" Yoovidhya and bring him back to Thailand for prosecution. The Red Bull heir has been on the run since 2017 and faces charges reckless driving causing death and using cocaine, charges which date back to the incident in 2012 in Bangkok.
In 2012, Boss allegedly sped his Ferrari down Sukhumvit Road in Thong Lor, running over and dragging a 47 year old police officer 100 metres down the road, killing him.
Prosecutors have now officially indicted Boss on the reckless driving causing death and drugs charges, the Office of the Attorney General announced last Friday. The recent indictment, more than 8 years after the fatal crash, follows public backlash after Boss's cases were dropped altogether in July by the deputy attorney general.
PM Prayut Chan-o-cha made a post on his Facebook page saying he ordered police to work with international authorities to find Boss and bring him back to Thailand for trial. He says a Red Notice has been issued and he expects an update by next week.
"I ask every officer to handle this matter correctly and effectively."
Boss, the son of the co-owner of the Red Bull energy drink empire, fled the country in 2017. His hearings were delayed 7 times. He reportedly packed up and fled to Singapore on his family's private jet just 2 days before he was due to face charges. Since then, Boss has been seen and photographed at his family home in London as well as at Red Bull events.
The story has caused ongoing rage in Thai social media with people using the cases as proof Thailand's warped justice system where wealth and power can help you bypass official investigations.
There has been no comment from the Yoovidhya family, Boss or his legal representation since last week's official prosecution.
SOURCES: Nation Thailand | Thai PBS
Keep in contact with The Thaiger by following our
Facebook page
.
Never miss out on future posts by
following The Thaiger
.
Bangkok nightclub busted for underage drinking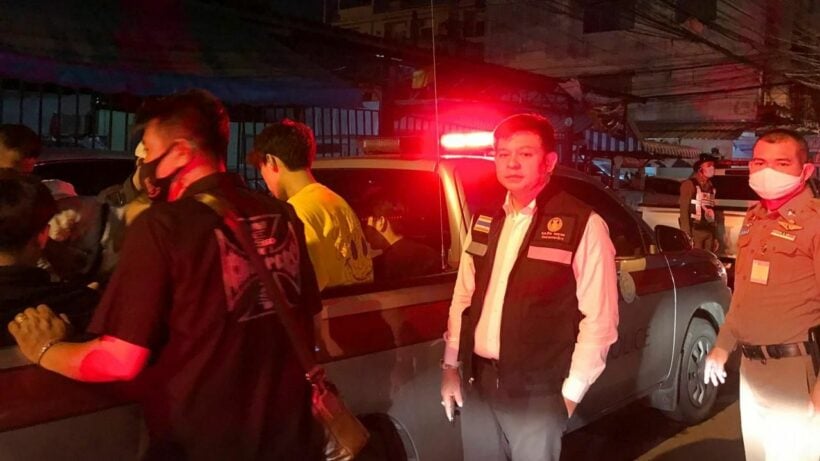 A Bangkok nightclub was raided last night when police arrested numerous underage drinkers after city officials received a complaint about "unlawful assembly". Police say many of the 50 people at the nightclub were under Thailand's legal drinking age of 20 years old. They added that the patrons at the venue did not abide by Covid-19 prevention rules like wearing a mask, social distancing, and that the venue's management didn't limit the number of people at a social gathering.
The venue, known as "Peak" in Bangkok's Lak Si district, north of the city centre, was ordered by police to close down because it served alcohol to underage customers and the venue did not abide by Covid-19 prevention measures.
Police raided the venue and were then waiting outside as partygoers tried to flee to provide free drug tests. Along with arresting the alleged underage drinkers, the police also arrested a young man for alleged drug use after a test for illicit drug use came up positive. Police did not specify what drugs they tested for. Reports also fail to say how many people were arrested, but Pattaya News says all the underage drinkers were arrested.
Palang Pracharath's Bangkok MP Sira Jenjakha was reportedly also involved in the raid. He told Pattaya News that he is dedicated to eradicating social issues involving adolescents, and venues that serve alcohol to underage youth will face charges.
SOURCE: Pattaya News
Catch up with the latest daily "Thailand News Today" here on The Thaiger.
Keep in contact with The Thaiger by following our
Facebook page
.
Never miss out on future posts by
following The Thaiger
.
10 million baht in damages from alleged wholesale pajama scam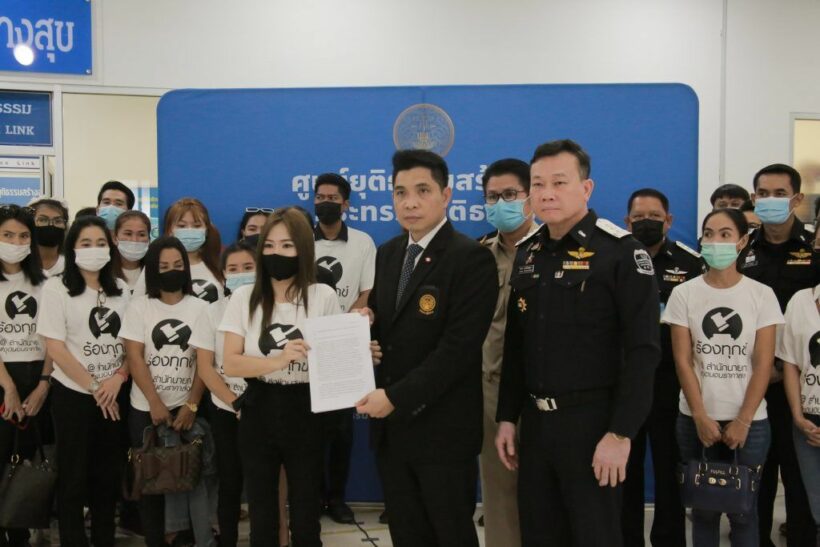 A wholesale online shopping scam allegedly tricked dozens of people who wanted to start a pajama business. People spent around a total of 10 million baht for pajamas that were never shipped out.
A large group of victims filed complaints together against a Facebook page advertising wholesale packs of pajamas at the Ministry of Justice. They wore matching white shirts with a symbol of a judge's gavel and block.
The victims say they transferred money to a Facebook page named "Pajamas by Shopping" in October 2019. After waiting months to receive their orders, the victims filed a complaint. It's unclear how many complaints were filed, but Thai media says there hundreds of people were scammed, adding up to 10 million baht in damages. The scam allegedly had multiple accounts at various banks.
The victims first filed complaints with their local police departments, but they say nothing was done. Since the victims are from many different provinces, they decided to file complaints together with the Ministry of Justice.
The victims claim the same scammer started another Facebook page called "Wholesale Pajamas" in Thai. They say the group is still scamming people who want to start a pajama business.
The Department of Special Investigations is looking into the complaints and says victims can register their names on the department's website.
SOURCE: Thai Residents
Catch up with the latest daily "Thailand News Today" here on The Thaiger.
Keep in contact with The Thaiger by following our
Facebook page
.
Never miss out on future posts by
following The Thaiger
.