"Does Thailand plan to continue swinging between military coups and civilian rule?" Thanathorn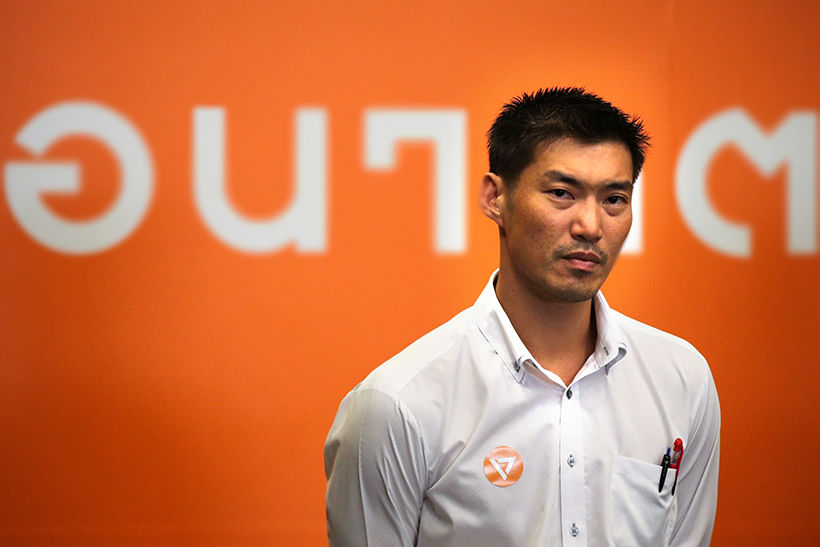 PHOTO: asia.nikkei.com
"It is about time we make some noise and guide our society out of this cycle."
Appearing at the Thai Constitutional Court, in defence of his media shareholding case, Future Forward's party leader Thanathorn Juangroongruangkit used his written closing statement to ask judges if they were happy for Thailand to continue swinging back and forth between civilian rule and military coups.
Thai PBS World reports that Thanathorn, who held a significant share in the V Luck Media company, says the company closed down on November 26 last year, prior to the Royal Decree on January 23 which announced a general election for March 24.
He insists it was not a media company, saying its magazines had nothing to do with politics and were not politically biased in any way. He points out that the magazines produced by the company included such publications as Who magazine, for which V Luck produced the last issue, along with an in-flight magazine for Nok Air and Wealth magazine for Siam Commercial Bank.
Thanathorn claims that the reason he's had to defend himself in court is not really due to his stake in a media company, but because he dared to challenge the junta's stranglehold on Thai politics. He says he created the Future Forward party by following proper legal procedure with the aim of amending the Constitution by peaceful and legal means.
"I have a dream that everybody is equal and there is rule of law, a dream of Thailand being prosperous and with no more coups. Is having these dreams a cardinal sin?"
Thanathorn says he'll accept the court's findings when it delivers its verdict on November 20 but that he plans to continue trying to fulfill his political aims, asking the judges if they really want to see the country continue back and forth between military coups and civilian leadership.
"Several judges are over 70 and have gone through several coups, while I was born in 1978 and have been through four coups. Do we want society to carry on like this? It is about time to review our history over the past ten years. It is about time we make some noise and guide our society out of this cycle."
SOURCE: Thai PBS World
Keep in contact with The Thaiger by following our
Facebook page
.
Future Forward's Thanathorn says he'll "bring people to the streets"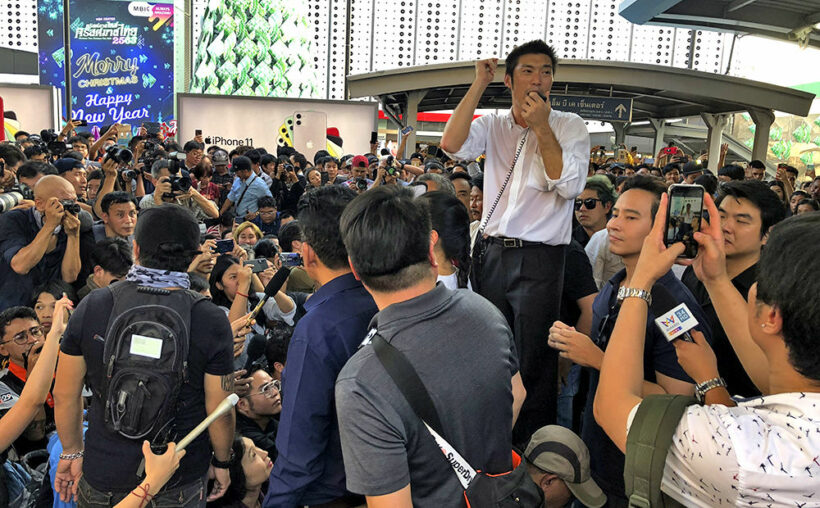 It's the biggest political rally since the general election in March, probably the largest rally in five years since before the military coup in 2014. Thousands of supporters chanted "Prayut get out" at an anti-military demonstration called by former MP, Future Forward Party leader Thanathorn Jungroongruangkit.
Thanathorn told demonstrators that last evening's rally on the skywalk linking the National Stadium and Siam BTS stations was just the beginning of actions against the government of PM Prayut Chan-o-cha. He threatened to "bring people to the streets," referring to the "Wing Lai Lung" (Run to Oust the Uncle) event, a running event planned for January 12.
Thanathorn says the rally was to demonstrate public anger at what he calls the injustice inflicted on him and the Future Forward Party. He organised the protest three days after the Election Commission voted to ask the Constitutional Court to dissolve Future Forward for alleged campaign finance violations.
The rally was peaceful, lasting less than an hour, with a minor skirmish between protesters and police around 5.40pm. The theme of the protest was a strong anti-military rhetoric. Although police say no permit was granted for the rally, they did not intervene.
Meanwhile PM Prayut dismissed the rally as "a personal matter," referring to Thanathorn's current legal problems.
SOURCE: Thai PBS World
Keep in contact with The Thaiger by following our
Facebook page
.
"This is just the beginning" – Thanathorn warns the government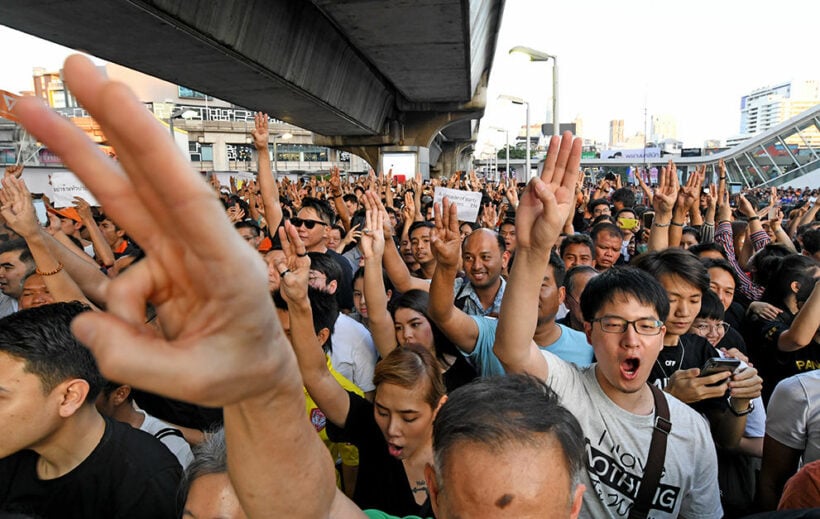 PHOTOS: Thousands gathered in the first large anti-government rally in over five years – Khaosod English
He tried to do it legitimately by running for office in the March election. His party performed above expectations, garnering the third highest number of votes after less than 12 months of existence. And Thanathorn was just votes away from being elected Thailand's Prime Minister.
Now he's back on the streets fighting what he, and his supporters, describe as "anti-democratic forces".
Thousands of people rallied in support yesterday in the largest street protest in more than five years. Future Forward Party leader Thanathorn Juangroongruangkit threatened "it's just the beginning".
Whether the charges against him and his party by the Election Commission are legitimate or trumped-up, Future Forward now find themselves on the back foot, being pushed out of parliament with a string of cases being heard by the Constitutional Court. Putting aside his parliamentary suit and tie for rolled up sleeves and megaphones in the street, puts Thanathorn on course for a head-on clash with the Thai establishment.
Thanathorn called for the central Bangkok protest on Friday after the latest moves to ban Future Forward – the most vocal challenger to the coalition government under the leadership of PM Prayut Chan-o-cha.
The crowd assembled on the skywalk linking the National Stadium and Siam BTS stations, not shy of making their statement right in the busy heart of the city. They didn't mince their words.
"We're just here today as a test run. Prayut, don't be afraid yet. The real thing is next month."
The protest, attracting thousands, ran for an hour, was without incident and wrapped up just after 6pm. During the protest many flashed the anti-junta "three-finger" salute, made popular in the movie "Hunger Games" and representing a stand against oppression..
The Election Commission approached the Constitutional Court this week asking for the ruling body to disband the Future Forward Party on grounds it had accepted money or other benefits from "an illegitimate source" under Section 72 of the Political Parties Act.
Thanathorn lent 191 million baht to the party in January this year. The loan was documented and signed off by party officials. Section 66 of the Act prohibits a donation of more than 10 million baht to a party by any individual in any one-year period. But Future Forward say it was a loan, not a donation. If found guilty, Thanathorn and 14 other FF party executives could be banned from politics for at least five years.
Back at the Pathumwan Intersection, Future Forward's Thanathorn Juangruangruangkit told several thousands supporters that the people would no longer put up with political injustice.
"We come together today in a show of force, to show that we will not retreat and will not put up with things any longer. This is not a day to protect the Future Forward, but a day to to protect the future of all Thais."
"An hour is enough. Once we're done, we will go home."
And they did.
But he parted with an invitation and urged supporters of Future Forward to show up next month at the "Run Against Dictatorship" running event scheduled to take place on January 12. He also said there will be a much larger rally in the future.
For the ruling government, and PM Prayut Chan-o-cha, Thanathorn is no longer a polite MP discussing matters in the Parliament. He is now a renegade high-profile voice against their legitimacy. The government, using its blunt tools of the Election Commission and the Constitutional Court, has now pushed Thanathorn and the Future Forward Party into a corner. And now they're fighting back.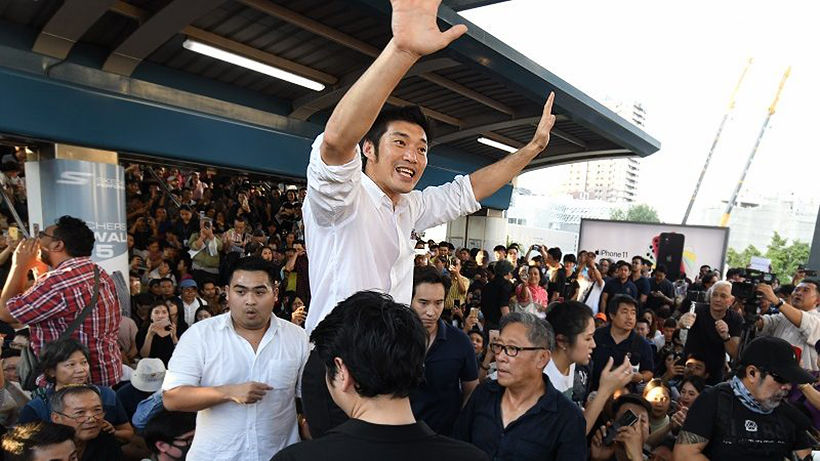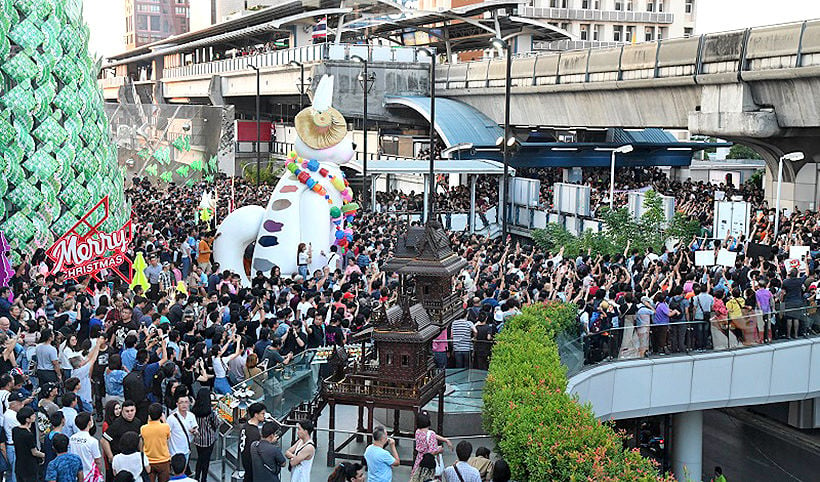 Keep in contact with The Thaiger by following our
Facebook page
.
Thanathorn invites supporters to a rally in Bangkok at 5pm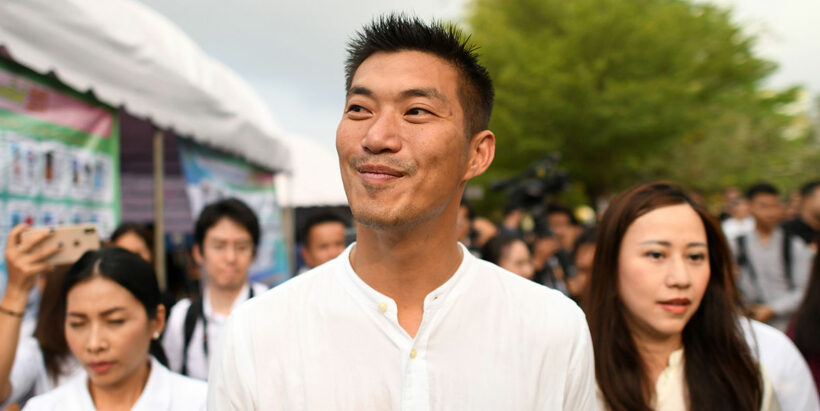 PHOTO: time.com
The Future Forward Party leader Thanathorn Juangroongruangkit is inviting his supporters to join him at a rally today. In a live video broadcast via his Facebook page, he invited people to a gathering at 5pm this afternoon at the Pathumwan intersection skywalk on Rama I Road. Stripped of his MP title he is now aiming to rally the voice of change from outside Parliament, rather than from within.
The call comes just days after Thailand's election commission called for the dissolution of Thanathorn's progressive Future Forward Party.
"I am fed up with the current state of Thai society and want to start a change."
"Today we will stand together and shout out our voices to the ones in power that we want fairness, justice and equality in the society."
Thanathorn had his latest stows with the Election Commission earlier this week. They've now petitioned the Constitutional Court to dissolve the Future Forward Party over Thanathorn's 191 million baht loan to FF. The EC alleges the loan was illegal for a political party.
Last month, the Constitutional Court revoked Thanathorn's parliamentary membership. The court ruled that he had registered to run in the March election while still holding shares in a media company, in violation of the law. Thanathorn produced published evidence at his hearings that this was not the case. But the Constitutional Court stripped him of his MP status anyway.
SOURCE: The Nation
Keep in contact with The Thaiger by following our
Facebook page
.