Politics
'Calm down, PM!' – supreme patriarch sparks Prayut rant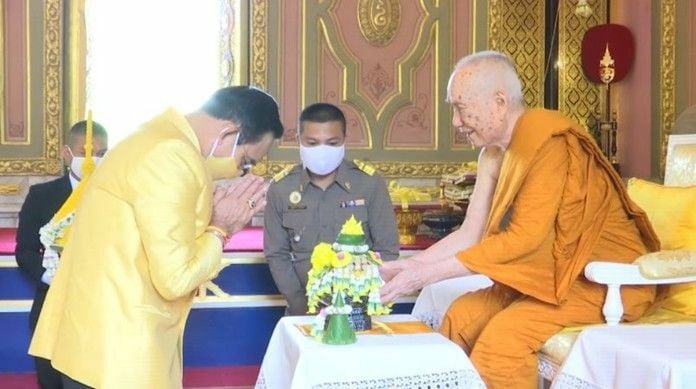 Prime Minister Gen Prayut Chan-o-cha is hardly known for keeping his head when all about him are losing theirs. Thailand is quite accustomed to stories of Prayut losing his cool in public, but the PM's avuncular facade often cracks open, revealing the volatile – let's say "passionate" – leader beneath.
When Prayut went to receive a blessing from supreme patriarch Somdet Phra Ariyavangsagatayana on New Year's Day, the Superior General of the Dhammayut Order sparked a typically-Prayut rant when he got delivered unwelcome truths along with some homespun advice. Thailand's top monk told the PM…
"Take it easy."
The inflammatory advice was given when Prayut visited the supreme patriarch at Wat Ratchabophit Sathitmahasimaram Ratchaworawihan to present a New Year's Day offering. On leaving the temple, Prayut told reporters that the supreme patriarch discussed Buddhism with him and gave him a few tips. The supreme patriarch had apparently told Prayut to "keep calm."
The patriarch's wise words did not appear to have any immediate effect. Prayut did not hesitate to berate reporters who playfully asked the PM to explain what the supreme patriarch might have meant.
Prayut shrieked…
"The supreme patriarch didn't say I'm hot-headed."
The supreme minister bawled…
"That's not what he meant."
Calming down somewhat, as per theological counsel, the PM explained to the skittish journalists…
"I have to deal with a lot of issues, so the supreme patriarch told me to pull myself together and avoid becoming irritated. I replied to the supreme patriarch that I've been trying."
Prayut fumed on…
"I'm not a person who gets angry out of the blue."
But he is exactly such a person. Prayut does not suffer fools gladly, and there is no shortage of designated fools in his life. Especially reporters. And especially reporters who ask him to comment on controversial issues.
Opponents and critics often make fun of the PM's sensitivity, calling it a smoke screen for his ignorance and inability to grasp the issues.
Prayut scowled when a reporter asked him whether he had set himself high goals for the new year. Instead of answering the question, Prayut ignored the journalist and turned to wave to unsuspecting worshippers inside the temple compound. When pressed further about his concerns for the year ahead, Prayut rounded on the reporter.
Forgetting his newly-recommended tranquillity and new year blessing, Prayut briefly lost track of who was in charge of the country. Losing his cool in public again, he began to demand guidance from a giggling press corps…
"And you? Do you have any concerns? Are you concerned when you ask me this kind of question? If you have concerns, please help me solve the issues. If not, don't talk to me."
When asked what kind of new year present he wanted, the prime minister replied that he wanted to see the country remain peaceful and continue its progress towards sustainable prosperity.
Prayut also posted a new year wish on Facebook which mostly amounted to raking over the successes of the past. He wrote that 2022 was a year of victory for Thailand because Thais united to overcome two crises: Covid-19 and geopolitical conflict.
It remains to be seen exactly how victorious over Covid the Thai people have been. And the effects of Thailand's good wishes toward the people of Ukraine and Russia – "Calm down, Putin." – have yet to show their full effect.