Single-use plastic bag ban just the beginning – Thai Minister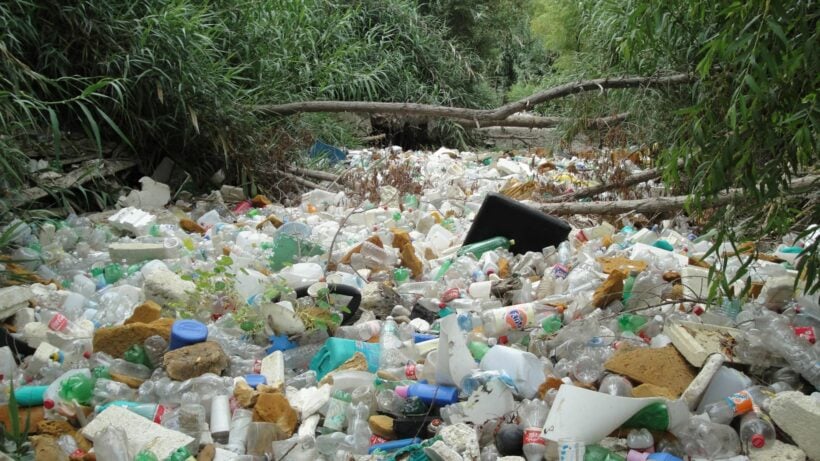 "It is a huge New Year's gift to Thailand and the world."
This proud announcement from the Natural Resources and Environment Minister Varavuth Silpa-archa voicing his strong support of the ban on plastic bags that kicked in yesterday.
75 companies, covering shopping malls, department and convenience stores, have stopped distributing single-use plastic bags. It's a positive step as Thailand's starts to battle against its own plastic bag addiction.
The new plastic bag ban links with a campaign, "Everyday Say No to Plastic Bags", launched by the ministry in cooperation with the private sector.
Apart from the "Every Day Say No to Plastic Bags" campaign, the Pollution Control Department has introduced a 20 year action plan on plastic waste management up to 2037, which includes measures to crackdown on the use of seven plastic items and types – cap seals, Oxo-degradable plastic, microbeads, single-use plastic bags, polystyrene (Styrofoam) food containers, plastic cups and straws.
Minister Varavuth says that public response to the current single-use plastic bag campaign was "quite enthusiastic" and the private sector, including the 75 private companies, have been "very cooperative", although it may not be as convenient for their customers.
The Minister maintains that consumers had already started to change their habits by refusing to accept single-use plastic bags or now bringing their own bags to carry their shopping. He also foreshadows consultation with the Education Ministry to educate students from the youngest classes, up, about environmental concerns.
Since the launch of the campaign in 2019, Thailand has managed to reduce single-use plastic bags by more than 2 billion, or by 5.7 million kilograms, valued around 400 million baht. Much of the money saved has been donated to hospitals, particularly in a campaign started last year by CP All, the owners of the 7-Eleven franchise in Thailand.
Dr. Thon Thamrongnawasawat, a the well-credentialed marine biologist and vice dean of the Faculty of Fisheries at Kasetsart University, says that 50% of all plastic waste found in the oceans are single-use plastic bags.
"This year we are going to push for a law against single-use plastics. At the moment, 127 of 192 countries worldwide have enacted single-use plastics legislation. Hopefully, our single-use plastics law will pass next year. Every country started by eliminating the use of single-use plastic bags, because they can be replaced by fabric or paper. Meanwhile, clear plastic bags for food are quite difficult to eliminate, since there is no suitable alternative"
SOURCE: Thai PBS World
Keep in contact with The Thaiger by following our
Facebook page
.
Dozens of plastic containers per person in state quarantine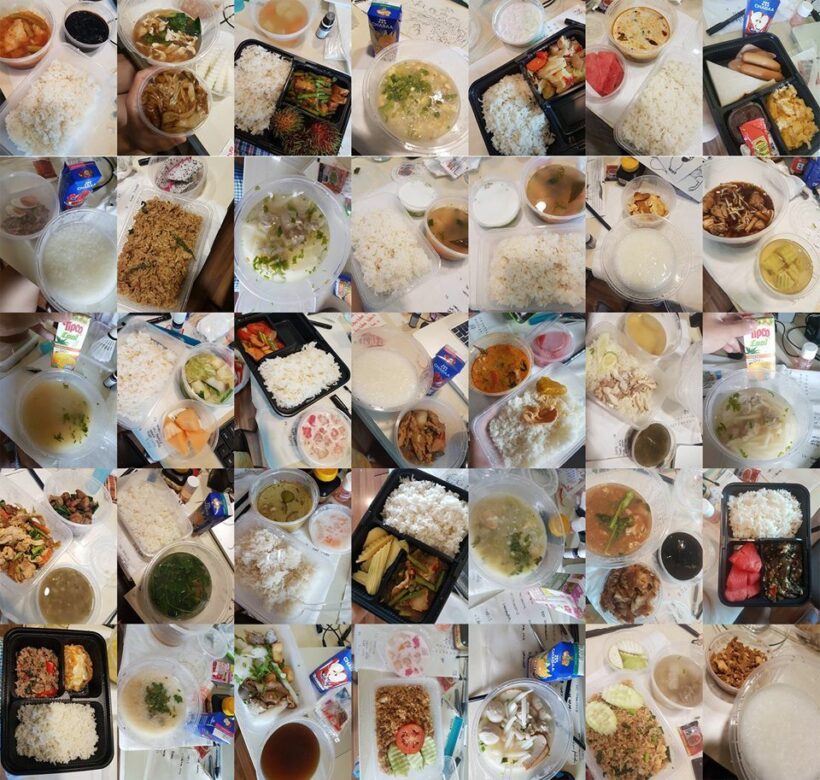 …and the rest of us haven't been helping the plastic problem either.
Thailand started the year eco-friendly by banning single-use plastic bags. All good, but with "stay at home" orders and mandated quarantines, plastic waste has been increasing. One Thai artist, who stayed in a state quarantine facility, added up all the plastic containers and bottles he used during his isolation. He had more than 100.
"I thought of this trash being multiplied by the thousands of people that had to go in state quarantine," Henry Tan told Khaosod English.
"Just my flight alone resulted in 200 people in quarantine."
If all 200 used just as much waste as Tan, that's more than 20,000 pieces of plastic waste.
Tan had to be quarantined after arriving back to Thailand from Japan. He stayed at the Palazzo Bangkok hotel. Meals were left outside his door 3 times a day, usually in a plastic box with plastic cutlery and condiments in plastic. Han took photos of the plastic containers and bottles laid out on the floor, as well as many of his meals served in plastic containers, and posted the photos on Facebook.
Plastic waste has been increasing since the pandemic, with a surge in delivery and takeaway orders. The director of Thailand Environment Institute said last month that the amount of plastic pollution has increased to 6,300 tonnes per day, Coconuts Bangkok reported last month that it was 1,500 tonnes per day before the pandemic.
SOURCES: Khaosod English | Coconuts Bangkok
Keep in contact with The Thaiger by following our
Facebook page
.
Huge rise in single-use plastic during Thailand's lockdown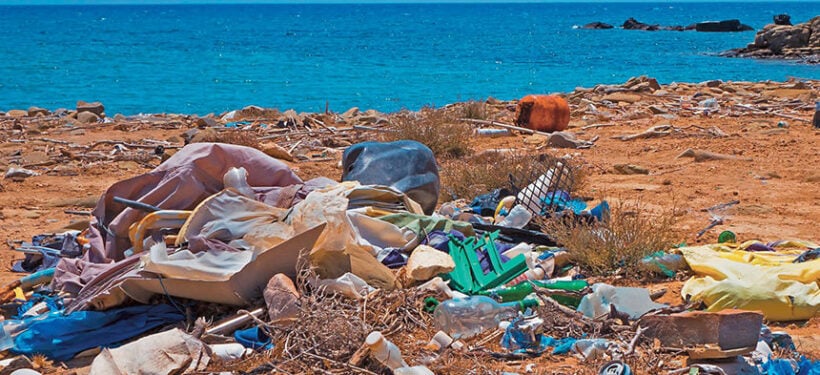 One positive of the world shutting down is nature being given a much-needed chance to heal and recover. Sadly though, another not so nice consequence of the Covid-19 lockdown has been the significant increase in Thailand's plastic waste. Why?
Coconuts Bangkok says the Thailand Environment Institute blames the rise on more people availing of single-use plastic during this time for takeaway and the delivery of food. Director Wijarn Simachaya urges the country's residents to be more aware of how much waste they are generating while ordering takeaway food. Non-plastic alternatives are still difficult to find and expensive to buy at this stage.
Latest reports say the country's plastic waste is now sitting at around 6,500 tonnes a day. To put that in context, it was 1,500 tonnes a day prior to the virus outbreak. In an attempt to reverse the upward trend, Wijarn is asking people to replace single-use plastic with reusable containers when ordering takeaway food. (Perhaps Wijarn can explain this to the providers of the take away services)
Earlier this year, many of the country's biggest retailers stopped offering single-use bags to customers, in an effort to address Thailand's overuse of plastic. See story HERE. And while the current ban on travel and severe restrictions on movement are proving very beneficial for the environment, it's important we don't reverse the progress Thailand has been making in reducing its plastic waste.
You may have also noticed that convenience stores are again offering plastic bags after earlier becoming part of the movement to stop handing out plastic bags for customers.
SOURCE: Coconuts Bangkok
Keep in contact with The Thaiger by following our
Facebook page
.
Bangkok temple develops hygienic face mask from recycled plastics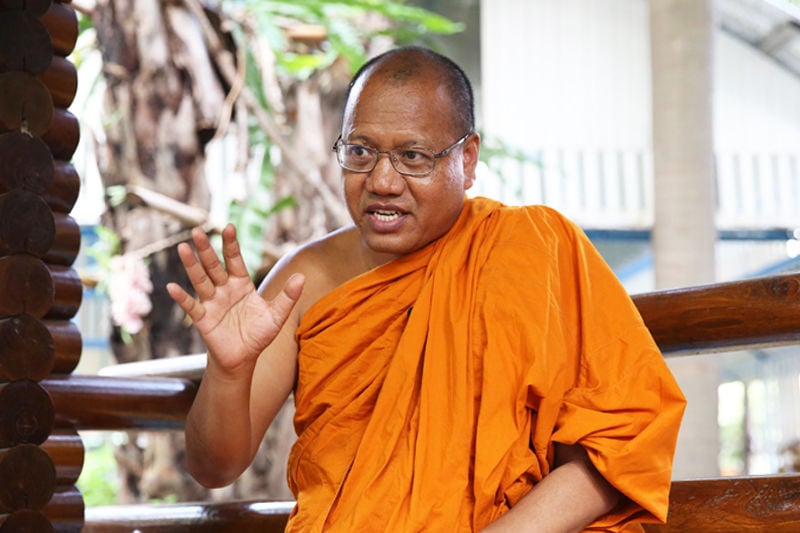 During the nationwide closure of temples and festivities during the Songkran holiday this week, some are taking the opportunity to improve hygienic practices. To help protect members of the temple and the community from contracting Coronavirus, the Abbot from Chak Daeng temple, on the banks of the Chao Phraya just south of Bangkok, has been busy crafting recycled plastics into face masks.
The Chak Daeng temple has developed a method of using recycled plastics donated from the community and retrieved from Bangkok's Chao Phraya river to make a fabric which they use for robes and more recently, into hygienic face masks.
Monks crush the plastic and shred it into small flakes allowing the material to be converted into polyester and spun into yarn and woven into robes in a beautiful polyblend of traditional and modern problem solving. With some alterations, the recycled plastics can be used to make face masks to help people stay safe this year.
Plastic can be transformed to clothes and COVID-19 masks

During the Songkran holiday period this year, scheduled for 13 15 April, all temples must refrain from organizing Songkran religious ceremonies, because of the COVID-19 crisis. Temples are considered vulnerable sites for COVID-19 transmission because there may be large gatherings of worshipers.To protect members of the temple from the virus infection during this difficult time, the abbot of Chak Daeng temple, Phra Maha Pranom Dhammalangkaro, has produced face masks from recycled plastic and set up hygienic measures in the area. This video explains how plastic can be transformed into clothes and face masks at Chak Daeng temple.

Posted by PR Thai Government on Tuesday, April 7, 2020
Adding an extra microbial protection layer sewn into the inner lining, the abbot hopes it will shield users from the virus. As an added measure, Chak Daeng temples talisman master writes a Buddhist prayer, "To know the problem is to find a way to end the suffering."
SOURCES: The ASEAN Post | PR Department
Keep in contact with The Thaiger by following our
Facebook page
.