Saying no to 'Say No' campaigns – Tackling Thailand's plastic bag problem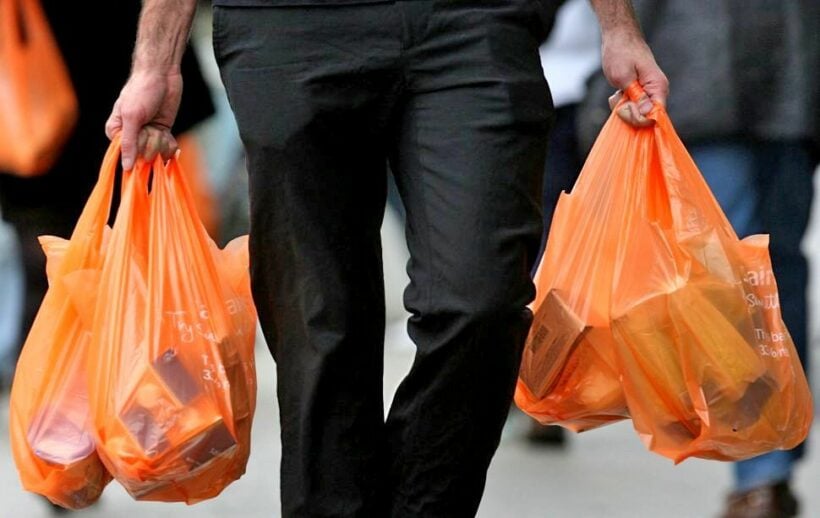 Some timid but long overdue steps are now being taken towards reducing Thailand's plastic waste. Baby steps to start with but there is no doubt that the issue has now entered the Thai national psyche. In reaction, so far, Thai businesses have, for the most part, made only cursory PR efforts at tackling the bigger problem but, again, it's a start.
Take, for example, a large Thai shopping centre chain proudly announcing that it will 'ask' customers once a month if they really want a plastic bag for their shopping. Useless. Meanwhile the plastic bags continue to walk out of their shops by the millions every month (including on the ONE day) and end up as single-use plastic bags filling up the limited land-fills or swishing around the surrounding seas. Their 'alternative' is to sell expensive canvas bags to shoppers, for 200-400 baht.
The government meanwhile is dithering with the issue of plastic waste, with no concrete laws or solutions that will have any long-term impact. Even with the clear and present danger of air pollution in many regions, including the capital, there has been finger-pointing and head-shaking but no useful campaigns or changes of laws that will have a useful or sustainable affect on improving Thailand's air quality.
But how do you change a generation's mindset? How do you stop a million people a day buying coffee and drinks in a plastic cup, with a plastic lid, inside a plastic carry bag, and a plastic straw?
Around the world, research shows that fear or shock tactics, or strategies based on shame, guilt and negative wording, are generally ineffective and can even end up having the reverse effect.
"Say NO" and fear campaigns are only effective provided that the target audience is already taking positive steps toward the desired behavioural change. In Thailand that is a long way from the current situation.
Campaigns not only need to explain the issue, but also provide straightforward advice on what do to about it. Saying 'NO' does nothing to empower people with the reasons to change and the alternatives available. There is a litany of failed 'Say No' campaigns for issues as diverse as illicit drugs, smoking, pain killers and plastic bags around the world.
Take for example the "Hey Tosser!", run by the New South Wales Environment Protection Authority in Australia back in 2015. The campaign was based on naming and shaming, mostly ineffective in a western culture and doomed to failure in a culture like Thailand where saving 'face' is paramount.
Encouraging the public to shame "tossers" (a play on words in Australia where 'tosser' is a derogatory nickname as well as a description of what they are doing with their garbage), creates an unhelpful stereotype that doesn't actually exist – people don't see themselves as the problem.
Author and social behaviour change expert Les Robinson suggests that rather than try to scare or shame people into changing habits, it's more useful to create a positive buzz around the change – create new behaviours that are easy to adopt and sustain, foster supportive activities, groups and alternatives that change habits, inform and entertain.
So if we want to tackle littering and reduce plastic bag use we should make people feel that they are part of an inclusive movement that is supported by their peers, community and government. And it has to be relevant to their lives.
Is it sustainable? Is it do-able? Is there an affordable alternative? If not, then telling people NOT to do something (like using less plastic bags) is a waste of time and simply alienates them from the cause.
The CP group (the owners of Thailand's 7-Eleven chain) say they have the (rather optimistic) plan of getting rid of plastic bag use within ten years.
The campaign has been supported by Artiwara "Toon" Kongmalai, the lead singer of Bodyslam and marathon runner, who ran from Thailand's south to north in a massive fund-raiser last year. Massively popular in Thailand as a role model, singer, celebrity and runner, Toon has been a big part of raising the consciousness of this campaign within the Thai community. But the plastic bags politely refused by willing customers are still a tiny fraction of Thailand's total plastic bag problem.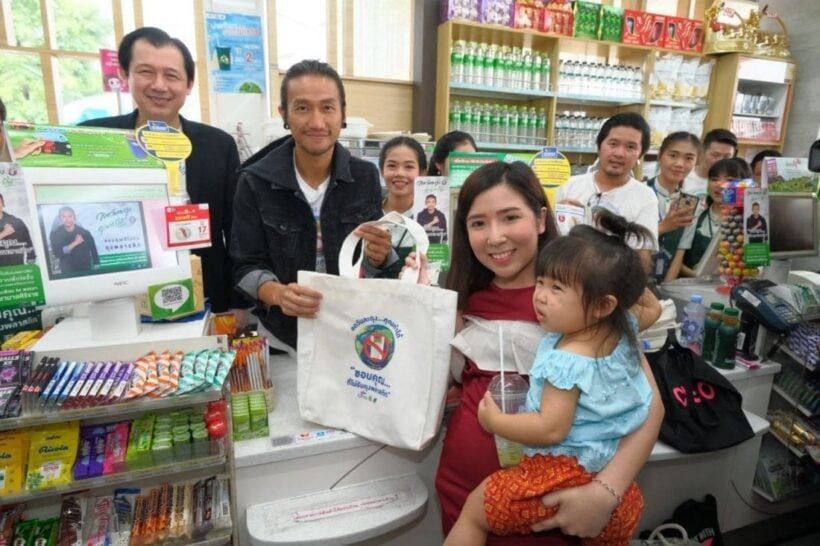 Tesco Lotus, too, jumped on the feel-good PR bandwagon and announced it would replace handing out plastic bags, for one day in November last year. Just one day with no plans or announcements to address the chain's ongoing contribution to Thailand's plastic bag problem.
Thailand's plastic bag problem, a big problem indeed, needs solutions from the top, down. At this time those messages aren't coming from the top but from the ground up – a fragmented group of individuals and well-meaning associations that are riding a wave of concern for the issue and, in many cases, pushing their own cause.


Read more headlines, reports & breaking news in Thailand. Or catch up on your Thailand news.
Will it be same same but different after this Sunday's vote?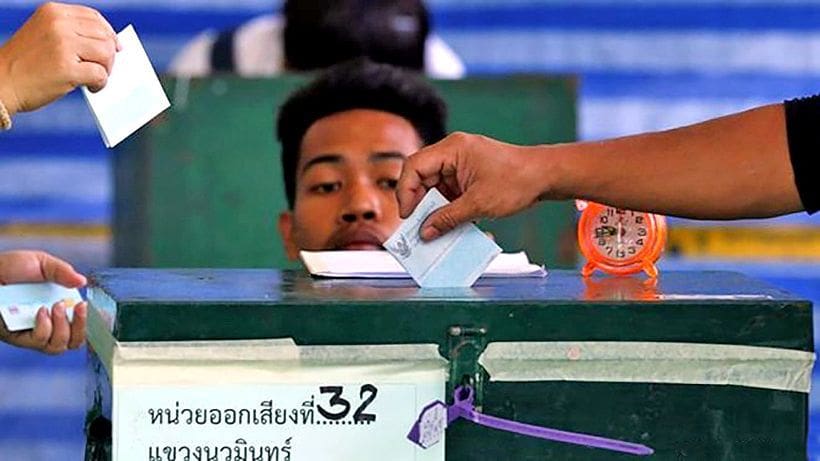 Thailand's military junta, which has ruled the Land of Smiles since snatching control in a coup in 2014, is now trying to bring its leader, Prayut Chan-o-cha, back as an 'elected' PM in next week's election.
The NCPO has cobbled together an ambitious economic plan that's rests on a 1.7 trillion baht (US$54 billion) spending spree to revive competitiveness in an economy that remains hamstrung by depressed business confidence and investment.
High speed rail links, an expanded economic corridor to the east of the capital, spending on airports and new infrastructure in the capital  – these are a few of the Junta's favourite things.
Economic growth is lagging its peers in the region, productivity has weakened and companies are reluctant to invest whilst the elephant remains in the room – political uncertainty and a whiff of military tampering.
The return of democracy this Sunday has its own risks. When the official results are eventually announced, perhaps weeks following the poll, there will be some sort of transition from military rule to civilian rule. If the Palang Pracharath party – pro-military and pro-Prayut – is able to convince voters to keep marching along, then the transition will be relatively simple.
If, however, and more likely, that a coalition of pro-democracy parties is able to form a majority in the country's lower house of Parliament, the transition may become 'messy'.
The new government will crow loudly that they have a mandate to unravel some of the long-term economic plans, and even the constitution, that was put in place by the NCPO during their half decade in power.
But the military-appointed upper house of review, the National Legislative Assembly, will likely quash any changes to the military's 'vision'.
And on we will go – more political uncertainty, more unrest, and potentially, more protests in the future.
Groundhog Day.
Thailand's establishment elites, principally based around Bangkok and parts of the south, have dueled for power with the populist alliances of former premier (and now fugitive) Thaksin Shinawatra for over a decade, a fault line that could bring gridlock to the next parliament.
Thaksin and his proxy parties have prevailed in each election since 2001, only to be unseated by the military or the courts each time, most recently in 2014 when the Yingluck Shinawatra government was kicked out of office.
The ongoing instability weighs heavily on Thailand's competitiveness and investment allure.
Thailand hasplunged 10 places on the World Economic Forum's global competitiveness index in the past 11 years, the biggest drop among South East Asia's top economies – to rank 38 out of 140 countries in 2018.
The index measures everything from the openness of the economy and quality of infrastructure to the strength of institutions and innovation.
But Prayut has cut red tape, making Thailand one of the 10 most improved nations in the World Bank's Doing Business 2018 rankings as it vies with neighbours such as Vietnam for investment.
Now it's the Thai voters who take the next step in this achingly slow politically drama that casts a long shadow over the future of Thailand.
Thailand's future is dissolving right before our eyes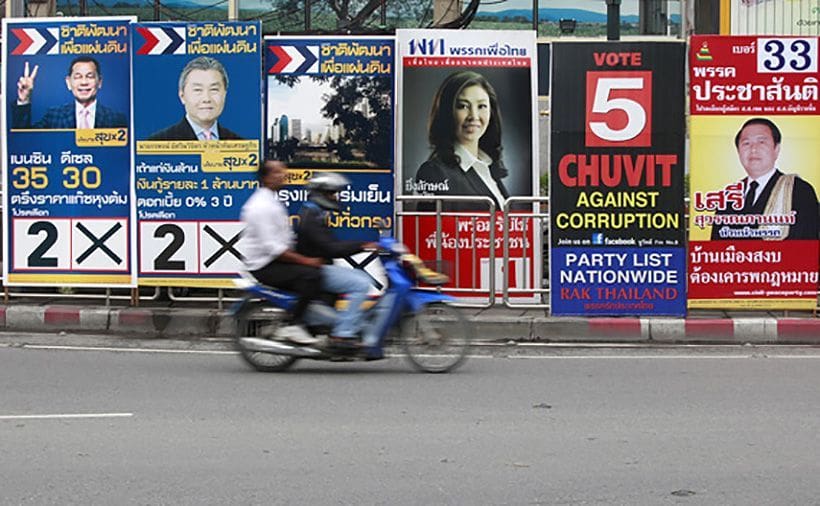 by Edward Kitlertsirivatana
When an animal is cornered, with no other options, its survival instinct kicks in.
It will fight tooth and nail for its life. With the dissolution of Thai Raksa Chart party, attempts to dissolve other rival parties are in the air. You can smell it.
If they were to be dissolved, desperate measures may materialise. And it doesn't bode well for the country. I therefore urge those with their hands on levers of power to consider carefully the consequences of such actions and let cool heads prevail over the instinctive "us vs them" impulse.
With each contest of power, the ice-cream cake of economic opportunities is melting away, while our neighbours' cake is expanding as reflected by their GDP growth. For a Buddhist country like ours that preaches compassion, tolerance and understanding, we use emotions far more than our cerebral cortex. A tragedy.
The biological reality is that most of the people in power today won't be there in 20 years. But young parties and their representatives, such as Future Forward, will be. Their worldview will likely differ from that of their parents.
Is it time then for a supra-national government comprising all major political parties? For instance, the Democrats may acquire the Finance Ministry, Pheu Thai gets the Ministry of Commerce and Transportation; Future Forward gets the Education Ministry; Pracharath gets Defence, and so forth.
Alternatively, drawing on Malaysia's constitutional monarchy system, where each ruler takes a turn as head of state every five years, each major Thai political party could likewise run the country and all ministries for five years, after which the next party would automatically take over.
Other parties waiting for their turn will serve as opposition. Absurd as these ideas are, they are better than the cycle of "election-and-coup" we have achieved thus far.
The bottom line: Politics is negotiable. Paying bills is non-negotiable. For the sake of the country's future, do not corner the Pheu Thai and Future Forward parties.
Reprinted from The Nation
The maths of March 24 – Thailand Election 2019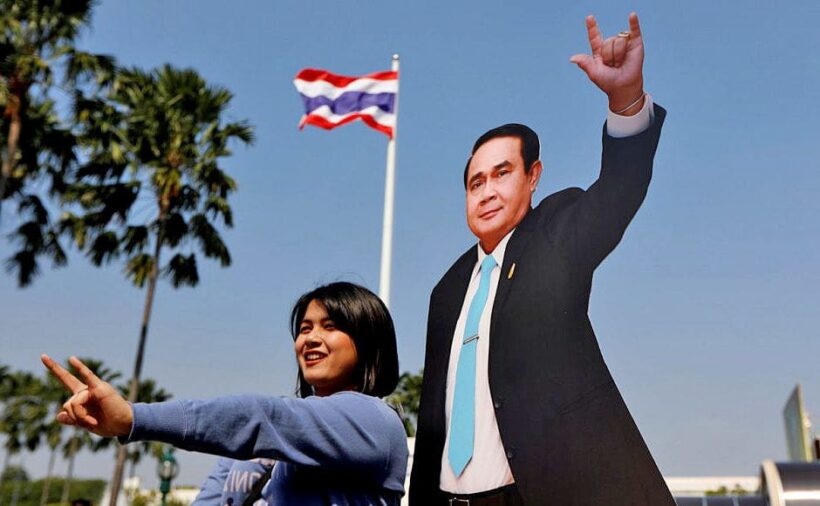 by Tim Newton
The views of the writer do not necessarily reflect the views of The Thaiger or its business partners.
Since it was first formed in 2008, along with the previous incarnations that swept Thaksin Shinawatra to power in the early 2000s, the Pheu Thai party has remained the dominant force in Thai politics. In 2011 it brought Thaksin's sister Yingluck to the prime minster's desk. But a coup in 2014 swept the elected government out of office citing dangerous street protests that had broken out between the Red Shirts (Thaksin sympathisers, mostly representing the populous north and north-east regions) and Yellow Shirts (Bangkok elite, 'monarchists' and southern provinces)*.
The maths are quite simple. All things being equal, the Pheu Thai and pro-Thaksin parties would win the March 24 election by sheer weight of numbers of the country's north-of-Bangkok population base.
But the military have shown that they will stop at nothing to reduce the possibility of Pheu Thai winning another election. They've changed the country's constitution, electoral system and run a, nearly, five year campaign of one-sided propaganda to ensure that a military-sympathetic government, and PM, will rule when the dust settles on the March 24 vote.
The Thai Raksa Chart Party was set up to 'manipulate' the new proportional voting system for the country's lower house of parliament. Early polls showed that the combined power of Pheu Thai and Thai Raksa Chart parties, plus support from a few other minor pro-Thaksin parties, would likely give it the magic 376 MPs to command a majority and form the next government.
With the Constitutional Court disbanding Thai Raksa Chart and banning it's MPs from forming new parties, a Pheu Thai victory is much, MUCH, more difficult. Taking advantage of the new proportional electoral system Pheu Thai only fielded candidates in 250 constituencies with Thai Raksa Chart fielding MPs in other electorates .
The Pheu Thai-led alliance still needs 376 MPs to regain political power, but it will have to win big and the votes fall their way under the new proportional system.
The mountain to climb has got a lot steeper.
To simplify an extremely complex electoral situation, you can break down the three 'camps' into the pro-military parties, the pro-Thaksin parties and the Democrats (and others).
According to recent polls the Pheu Thai party will win the largest share of electorates in the country, hands down. Second, a long way back, will be the Democrats (popular in the capital and southern provinces), the Phalang Pracharat party (with Prayut Chan-o-cha as its PM candidate) in third place and the new Future Forward party drawing the fourth largest block of votes (they have certainly emerged as the rising stars!).
It is statistically likely, actually highly likely, that no party will win a majority (376 seats) in the lower house of Parliament. So the phones will be running hot post March 24 as parties negotiate to form a workable coalition. The most obvious coalition, but historically unlikely, would be all the pro-Thaksin parties putting their numbers together with the Democrats – traditionally political enemies but both hell-bent in getting the military out of politics.
But TIT, it's Thai politics and, really, anything could happen.
Proportional Voting System: All ballots cast for all parties will be counted together and calculated into the number of seats each party gets out of 500. If it is figured out that Party A gets 200 seats and it already wins 190 constituency seats in the election, it will get an additional 10 seats.
• The Palang Pracharat Party, which has Gen Prayut Chan-o-cha as its prime minister candidate, can get several seats without having to win at any constituency (under the new proportional voting system), not least because it has taken many northern and northeastern veterans under its wings.
• If a party has a lot of constituency MPs, it will have a disadvantage when it comes to getting MPs from the proportional system.
• Thai Raksa Chart branched out from Pheu Thai allegedly out of hope that "many are better than one". The "satellite parties" do not need to win at constituencies, but they should be popular enough to gain substantial votes.
In short, Pheu Thai and its allies need a groundswell of public sympathy in the remaining two weeks. Previously hated by non-Pheu Thai voters, the 'reds' have become the underdogs and are getting back-handed support simply by being anti-military.
The court's short but eloquent ruling dissolving Thai Raksa Chart will be weighed against the emotional goodbye message of the party's leader and the outcome of that will influence voters.
Whatever happens on March 24, and the final make up of the lower house, the NCPO have 'rigged' the parliamentary upper house (the NLA) with military-sympathetic Senators who are all appointed.
Here's an outrageous prediction…
A coalition of non-military parties will form the next government post March 24. Because no single party will win a majority of seats and select their own Prime Minister, the two houses of parliament will sit to elect an 'outsider' PM.
That 'outsider' will likely be (roll the drums), Prayut Chan-o-cha.
Then a 'rubber-stamp' upper house will continue the conservative work of the past military government amid a whole new raft of daily political squabbles.
But March 24 is still two weeks away and more surprises are likely. TIT.
* Our broad definitions of Red and Yellow shirts are VERY general