Strong Thai baht brings financial woes for expat retirees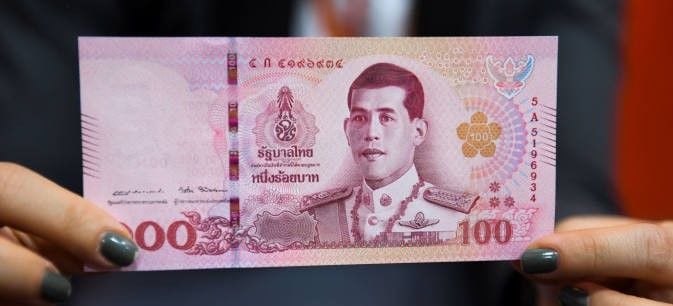 PHOTO: AFP
An interview with a retired Briton in today's Bangkok Post illustrates the financial difficulties some expats now face in the Land of Smiles as a result of the strong baht.
Brian Maxey moved to Pattaya from the UK to live off his sterling pension, but the surging Thai currency means he's now finding it a challenge to meet the financial requirements of his visa. Brian recounts how when he first moved to Thailand, the British pound would get him 60 baht. That figure has now plummeted to less than 38 baht.
"It was a cheap place to live then. It's not anymore."
Foreigners who meet the age requirement for a retirement visa must also prove they have a minimum of 800,000 baht in a Thai bank account, or a monthly income of 65,000 baht. But the strength of the baht means people like Brian, relying on a British pension, are struggling.
Niels Colov left Denmark forty years ago to settle in Pattaya, where he helps run a local expat club. Speaking to the Bangkok Post, he says many expats are now leaving the country, unable to justify the rising cost of spending their retirement in Thailand.
"There's an exodus of foreigners from this area to Vietnam, Cambodia and the Philippines. We're talking thousands of people."
Others are not yet ready to leave but are having to cut back on their spending, such as Austrian Christian Foerster, who moved here twenty years ago.
"There's an enormous change. Everything is more expensive. But it's about adjusting, adapting and living modestly."
The Bangkok Post reports how investors the world over see the Thai baht as a safe haven and the currency has been the world's best performer against the dollar for five years now, appreciating by more than 6% so far this year.
The Thai government continues to promote the country as a destination for retirees and despite the financial challenges, the cost of living is still lower than the US or Europe.
The Bangkok Post reports that Thailand issued 80,000 retirement visas last year, with the British availing of most of them, followed by the Americans, Germans, Chinese, and Swiss.
SOURCE: Bangkok Post
Keep in contact with The Thaiger by following our
Facebook page
.
Nightlife operators warned: follow the rules or face closure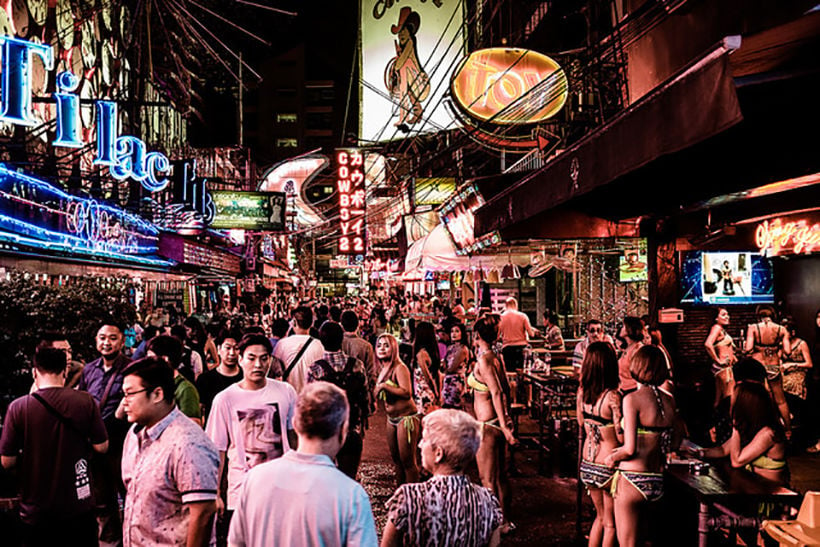 Bangkok police have issued a stern warning to nightlife venue operators… follow the rules or be closed again. National police chief Chaktip Chaijinda has instructed officers to make sure entertainment venue operators comply with disease control regulations and that both service providers and customers understand the "new normal."
The warning comes after a meeting of senior city police, the Health Department of the Bangkok Metropolitan Administration, and more than 200 entertainment venue operators, in which they were briefed on regulatory compliance in the fifth phase of lockdown relaxations. He said entertainment venues that fail to adopt the safety regulations will be warned, and if they refuse to comply, will be ordered to suspend their operations.
Dararat Matkham, a restaurant and karaoke operator, said she's relieved nightlife venues are being allowed to reopen, and has already put in place public health safety practices – she's provided sanitiser gel for customers and microphones will be cleaned regularly, although customers are being advised to bring their own microphones. She says her premises will place tables in accordance with social distancing rules.
Somwang Chuenhathai, a "soapy massage" operator says his business has made it mandatory for masseuses to wear face shields or masks while working, and his premises will be cleaned before and during opening hours.
SOURCE: Bangkok Post
Keep in contact with The Thaiger by following our
Facebook page
.
Bangkok Skytrain cancels seat spacing measures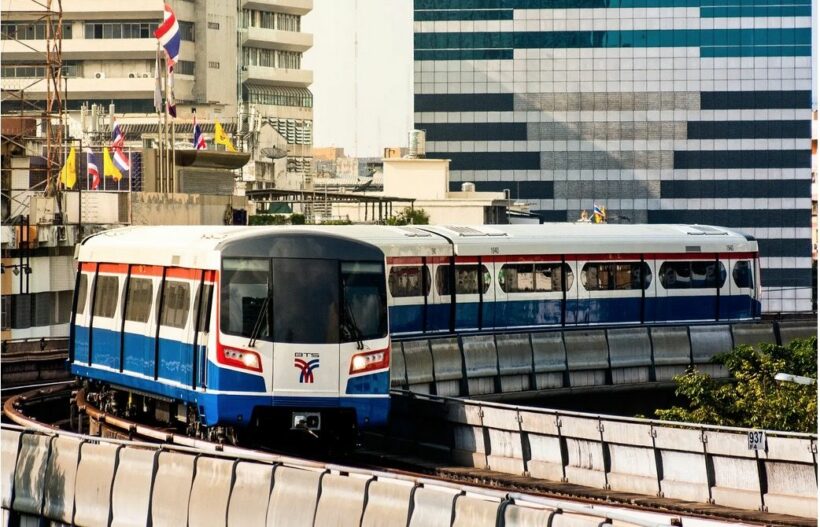 Bangkok's BTS Skytrain network has cancelled its seat spacing measures in order to increase passenger numbers after schools and colleges reopened today. Bangkok Mass Transit System's CEO says social distancing measures have been relaxed to boost convenience for passengers.
All BTS carriages had crosses on seating to separate seated passengers but had done nothing to keep standing passengers apart.
Stations and trains will still limit the number of passengers to 70% of normal capacity to prevent overcrowding. The BTS is also operating "group release" measures for passengers in the morning and evening rush hours, to prevent overcrowding on platforms. Passengers are being advised "not to talk on their phones" and to "avoid facing each other at close proximity" whilst on trains.
BTS says the frequency of rush hour service is 2 minutes, 25 seconds for trains on the Sukhumvit Line, and 3 minutes, 45 seconds for the Silom Line.
Temperature checks and Thai Chana scanning remain in place on sections of the network.
SOURCE: Nation Thailand
Keep in contact with The Thaiger by following our
Facebook page
.
Thailand re-opens its international borders today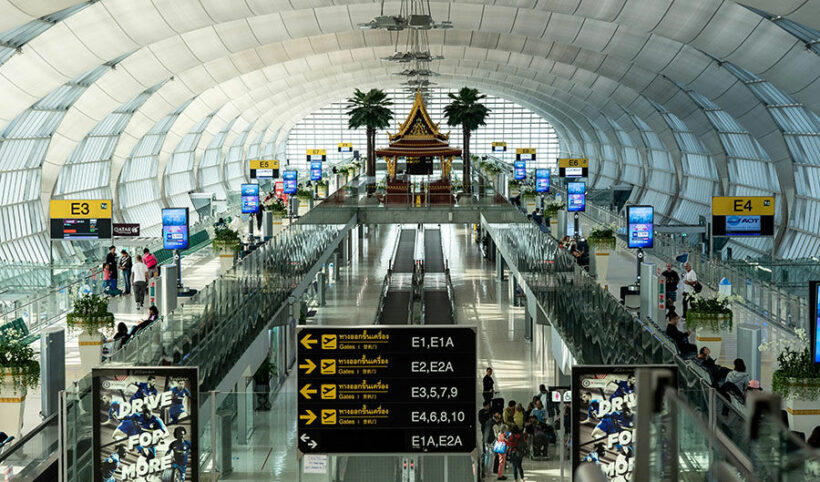 Thailand is lifting its ban on international flights on July 1. But before you dust off the suitcase and book your flight, there are still many restrictions on the return of foreigners into the country. The Civil Aviation Authority of Thailand says the ban on international flights is being lifted from July 1 but "conditions for re-entry apply".
"People entering Thailand must comply with the conditions, time limits and rules of the authorised persons under the Immigration Act, communicable diseases laws, aviation law and the emergency decree."
The announcement follows the government approving some foreign travel back into Thailand, including business travel and foreigners with spouses, work permit holders or people with permanent residency (not retirement visas). General tourism is not permitted at the moment.
The list of people allowed back into Thailand at this stage includes…
1. Thai nationals
2. Persons with exemption or persons being considered, permitted or invited by the Prime Minister, or the head of responsible persons accountable for resolving state of emergency issues to enter the Kingdom, as necessary. Such consideration, permission or invitation may be subject to specified conditions and time limits.
3. Non-Thai nationals who are a spouse, parents, or children of a Thai national.
4. Non-Thai nationals who hold a valid certificate of residence, or permission to take up residence in the Kingdom
5. Non-Thai nationals who hold a valid work permit or are allowed to work in the Kingdom, including their spouse or children.
6. Carriers of necessary goods, subject to immediate return after completion.
7. Crew members who are required to travel into the Kingdom on a mission, and have a specified date and time for return.
8. Non-Thai nationals who are students of educational institutions approved by Thai authorities, including the parents or guardians of the students.
9. Non-Thai nationals who are in need of medical treatment in Thailand, and their attendants. However, this shall not include medical treatment for Covid–19.
10. Individuals in diplomatic missions, consular affairs, international organizations, government representatives, foreign government agencies working in Thailand, or individual in other international agencies as permitted by the Ministry of Foreign Affairs, including their spouse, parents, or children.
11. Non-Thai nationals who are permitted to enter the Kingdom under a special arrangement with a foreign country.
It's understood that foreigners who are granted entry into Thailand will have to go through 14 days of mandatory quarantine at their own expense (unless they have been invited by the government). Anyone who believes they fall into one of the categories described in the CAAT's announcement (detailed below) should contact their local Thai embassy for more information.
Although the CAAT allowed the resumption of domestic flights at the end of May, the countries borders were kept shut until the end of June in a blanket ban on scheduled flights. The government has also been allowing Thais to return to Thailand over the past 2 months where many new cases of Covid-19 have been detected. All Thais repatriating to Thailand have to undergo 14 days of state-sponsored quarantine.
The Department of Airports report that fewer than 5 million people have passed through the country's 28 airports since the beginning of the year, the vast majority before the borders were closed in March and local airlines grounded.
With the country now progressively opening back up in recent weeks, a limited number of domestic flights have started slowly pushing up airport usage. Around 15,000 – 20,000 passengers are now passing through the country's 28 airports each day. Thailand's airports are currently managing between 60-80 scheduled flights a day, down from the daily average of between 160-170 domestic flights in previous years.
Keep in contact with The Thaiger by following our
Facebook page
.