Gin khao! Annual monkey buffet in Lopburi Province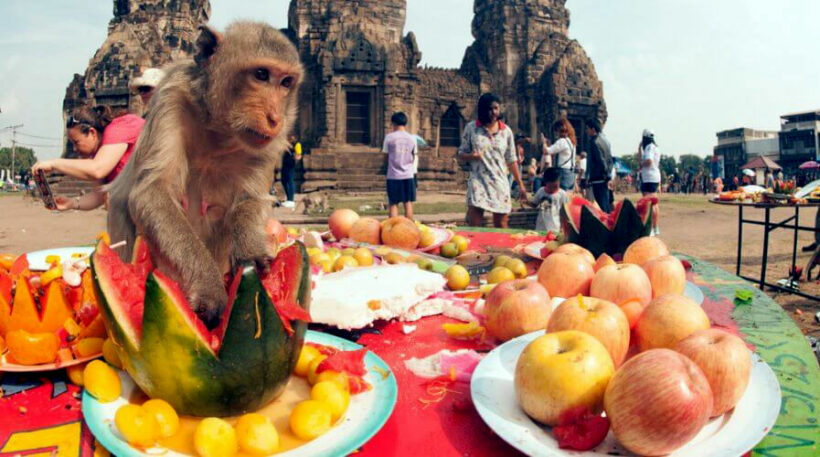 PHOTOS: Travel Wire Asia | INN News
Monkeys in the Lopburi province in central Thailand have enjoyed an annual buffet nicknamed the Tarzan Monkey Party. The is held at the War Phra Pang Sam Yot and is a traditional celebration of the monkeys and they ability to attract tourists. There is also a local legend of an ancient monkey saving the locals from a pesky demon. (More photos and video below)
This is the 31st such buffet for the local templemonkeys. The event takes place in front of the Phra Pang Sam Yot temple in the Tha Hin district. The temple is famous for having troops of monkeys that wait for visitors beside the Buddha Statues.
The food is placed in front of vans decorated just for the occasion with paint and depictions of the monkeys. On top of the van are hanging fruits and a rope so the monkeys can have a competition to win the prize at the end of each rope.
INN News reports that most of the monkeys in the area are harmless as long as you don't bother them or try and snatch their food. They are used to the hundreds of visitors coming in each day to visit the temple. There is a statue of a monkey holding a banana in front of the temple commemorating the value of the monkeys to attract tourists and bring prosperity to the town. Tourists are told, if you wish to give the monkeys food, just place it on the ground and they'll all run in for a feed
Locals and tourists packed the temple yesterday to see the monkeys run down and enjoy their feast. The Phra Pang Sam Yot is one of the main attractions in Lopburi that are just another representation of Thailand's history and culture in the region.
SOURCE: INN News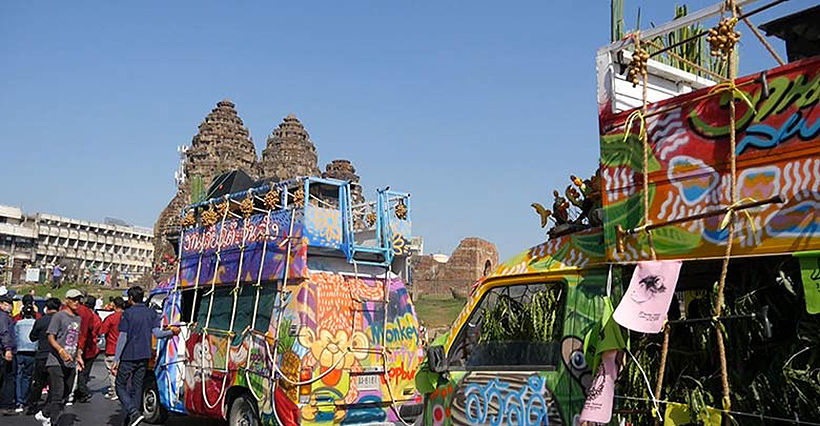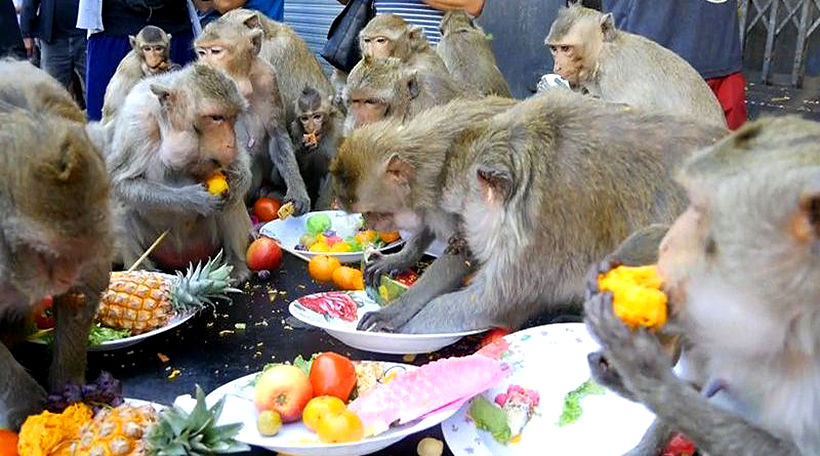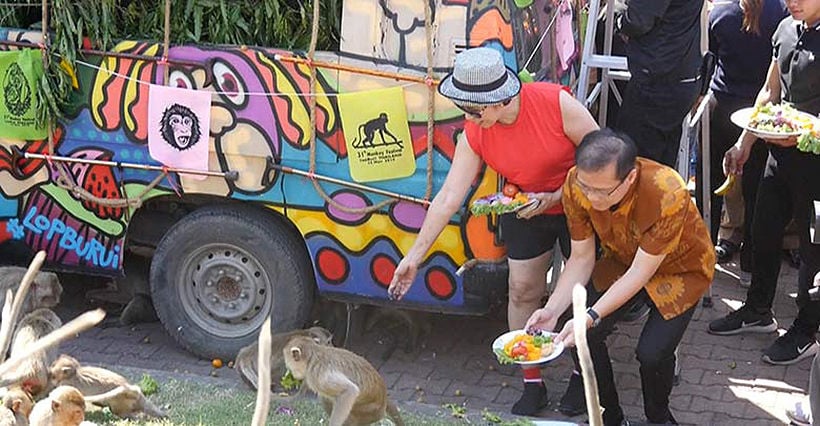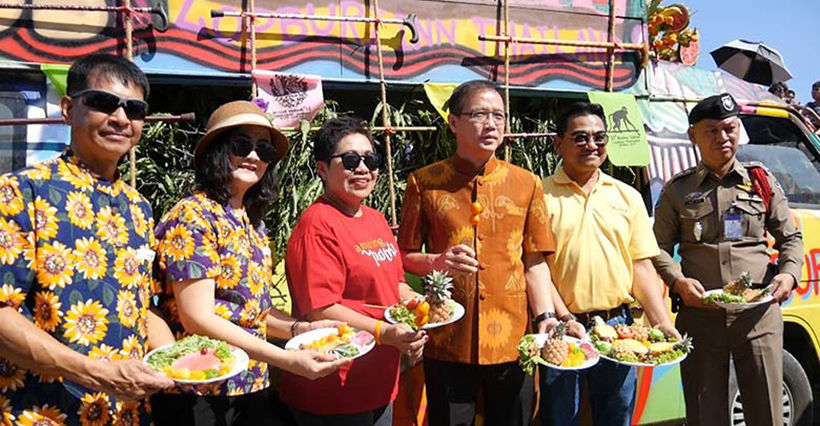 Keep in contact with The Thaiger by following our
Facebook page
.
The 33rd Phuket King's Cup Regatta runs to December 7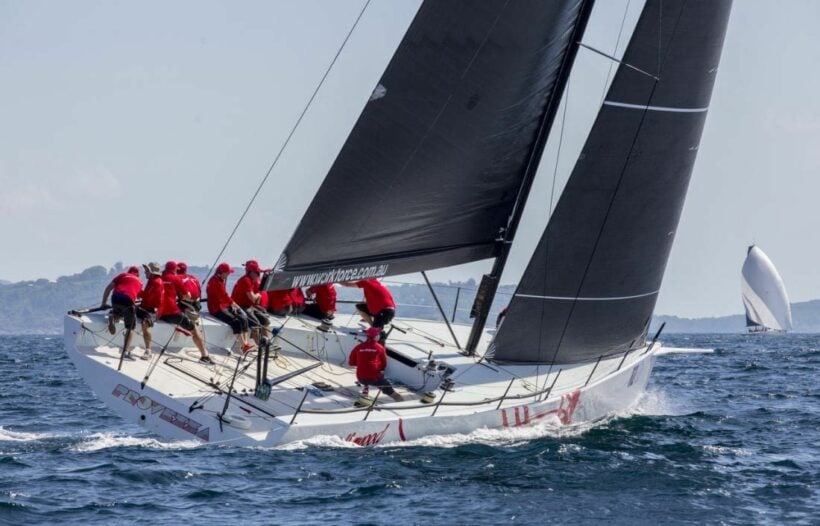 The Phuket King's Cup Regatta, kicks off its 33rd year this week and will run to December 7, 2019.
With 10 classes of Keelboats and Multihulls, and six International Dinghy Classes, and the new IOMC (International One Metre Class) class, the regatta aims to grow sustainable sailing communities and help develop the skills of a new wave of sailors and reaffirm Phuket as the hub for Asian Water Sports and Marine tourism.
Kevin Whitcraft, President of the Organising Committee, says the regatta has a special focus on growing the dinghy components of the regatta, as we in the sailing community in Thailand.
"The International Dinghy fleet is a fast-growing racing program designed to promote and encourage youth sailing in Thailand."
"In the 33 years since its inception, the Phuket King's Cup Regatta has gained a reputation as both a highly competitive event on the water featuring some of the world's best boats, skippers and crews, in one of the best holiday destinations in the world."
The keelboats and multihulls have been divided mainly into 10 classes including IRC Zero, IRC 1, IRC 2, Premier, Bareboat Charter A, Bareboat Charter B, Multihull, Multihull Cruising, Firefly 850 and Modern Classic/Cruising Class.
"This year is the biggest Premier Class we've had for many years," said Race Director Simon James. "The biggest yacht in this year's regatta is the Singapore-registered Team Spirit (Swan 90). There will be three IRC Racing Classes, split on design and performance, while the Modern Classics will combine with the Cruising Class. The Multihull Racing will be split into two classes, high performance and cruising."
The comprehensive classes with more than 100 competitors contested by the International Dinghy fleet are Optimist Boys and Girls, Laser 4.7 (Mixed), Laser Standard, Laser Radial and 420.
Appearing for the first time at this year's regatta will be the International One Metre Class (running from December 4-7, 2019) that has attracted many foreign competitors and is also open to disabled sailors. The one-metre long radio-controlled yachts provide highly competitive racing whilst the 'skipper' can remain dry and on land.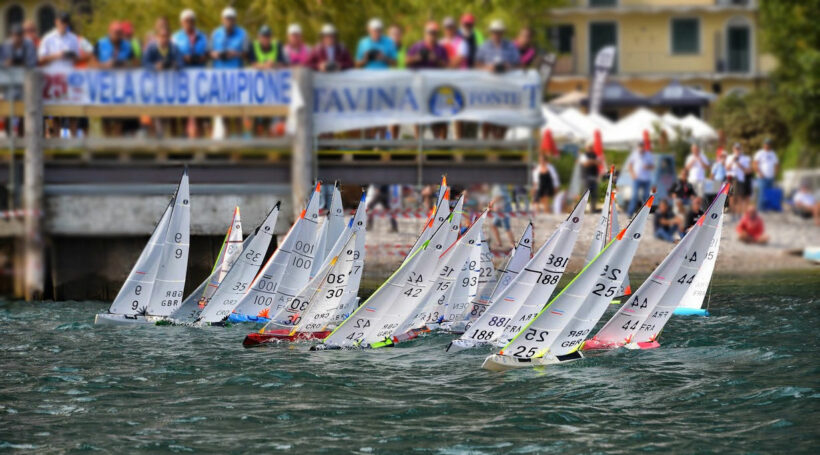 PHOTO: International Radio Sailing Association – Hanneke
The IOMC will be organised by the committee of the Phuket King's Cup Regatta under the auspices of the Royal Varuna Yacht Club in conjunction with the Yacht Racing Association of Thailand, the Royal Thai Navy, the Province of Phuket, Thailand RC Sailboat and the International One Metre Class Association (IOMICA).
There will be five days of racing for the keelboats and multihulls, with a reserve day on Thursday, December 5. For the International Dinghy Classes, four consecutive days of racing will start from Wednesday, December 4.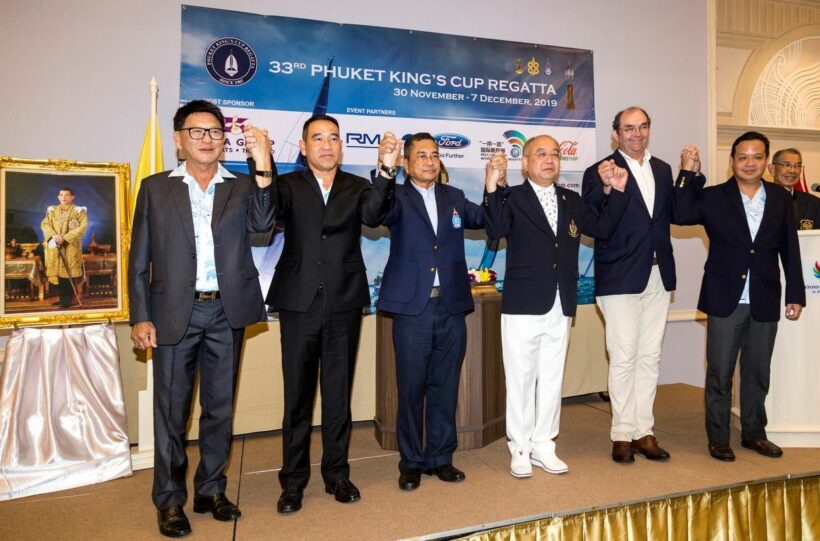 PHOTO: Mr. Pramookpisitt Achariyacha, Kata Group Resorts Founder and President; Vice Admiral Cherngchai Chomcherngpat, Commander of the Royal Thai Navy Third Area Command; Admiral Naris Prathumsuwan, President of Yacht Racing Association of Thailand; Mr. Pakapong Tawipat, Phuket Governor; Mr. Kevin Whitcraft, President of the Phuket King's Cup Regatta Organizing Committee and Mr. Nithipat Thansrikiat, Vice Commodore of Royal Varuna Yacht Club join the opening ceremony of the Phuket King's Cup Regatta 33rd at Beyond Resort Kata, Phuket.
Keep in contact with The Thaiger by following our
Facebook page
.
Thailand's Pulse Clinic now opens in Hong Kong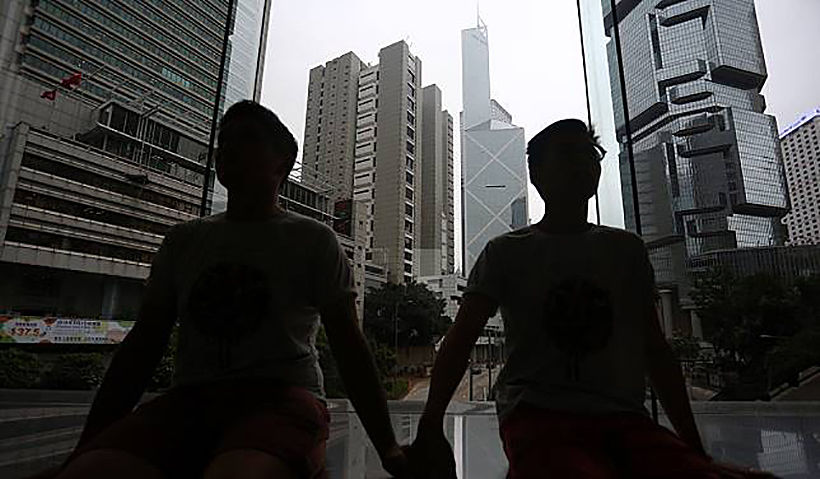 PHOTO: Jonathan Wong
Today is World Aids Day. Whilst the treatments and social acceptance of HIV and AIDS has come a long way since those scary days in the early 80s, stigmas remain, particularly in Asia. The Thaiger would like to commemorate the day by featuring a story about local Thai hero Dr Deyn Natthakhet Yaemim who has made knowledge about HIV/AIDS more available and modern treatments accessible in the Land of Smiles. And now Malaysia and Hong Kong as well.
Discrimination against sexual minorities remains rife in Asian health care. An encounter at a hospital in Thailand five years ago prompted Dr Deyn Natthakhet Yaemim to open a venue where LGBT community members are treated sensitively and, importantly, can access health care without discrimination, easily, and with the knowledge they'll be treated with the same respect as other hospital patient would expect.
An encounter with unprotected sex five years ago, found Deyn visiting a Bangkok hospital to get an emergency anti-HIV drug known as PEP, post-exposure prophylaxis. This antiretroviral medication significantly reduces, but doesn't eliminate, the chance of contracting the HIV, if taken within 72 hours of the sexual encounter. But the reaction from an attending nurse was a shock.
"Are you gay? How can you behave like that?" "Why are you gay?"
Deyn eventually received the PEP medication but not after being made to feel unwelcome and stigmatised.
The incident spurred him to open the Pulse Clinic in Bangkok in 2015.
"When we opened in Bangkok, it was like customers were coming to my family's house and we treated them that way, like you would a friend or a relative."
The first clinic in Thailand was a totally family affair. Deyn's mother was a nurse, his gay brother worked in reception, and his father in security.
In the first year the first Bangkok Pulse Clinic served 9,000 patients. Now there are three other Pulse Clinics in Thailand, another in Bangkok, one in Phuket, and another opening up in Kuala Lumpur, Malaysia, as well as the new clinic in Hong Kong. (Story continues below…)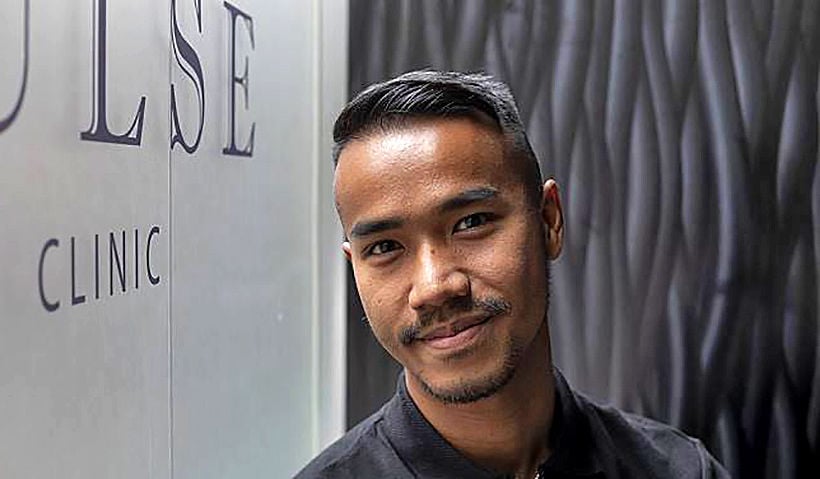 PHOTO: Local Thai hero Dr Deyn Natthakhet Yaemim, owner of Pulse Clinics
PEP and PrEP
PEP stands for post-exposure prophylaxis. It means taking antiretroviral medicines (ART) after being potentially exposed to HIV to prevent becoming infected. PEP must be started within 72 hours after a recent possible exposure to HIV, but the sooner you start PEP, the better. Every hour counts. If you're prescribed PEP, you'll need to take it once or twice daily for 28 days. PEP is effective in preventing HIV when administered correctly, but not 100%.
PrEP, on the other hand, (Pre-exposure prophylaxis) is when people at very high risk for HIV take HIV medicines daily to lower their chances of getting infected. A combination of two HIV medicines (tenofovir and emtricitabine), sold under the name Truvada® (pronounced tru vá duh), is approved for daily use as PrEP to help prevent an HIV-negative person from getting HIV from a sexual or injection-drug-using partner who's positive. Studies have shown that PrEP is highly effective for preventing HIV if it is used as prescribed. PrEP is much less effective when it is not taken consistently. www.cdc.gov
The recently opened Hong Kong outpost of the Pulse Clinic is in Central, where Deyn and staff welcome patients from the local LGBT community. But stigma against HIV still exists in Hong Kong forcing many Hongkongers living with HIV to go Thailand for treatment in the past.
"If they are HIV positive, they'd do treatment there as well because they feared their partner or anybody knowing about their status, and they didn't want to be registered in the government health care system there so they came to Bangkok."
Now Hongkongers can visit the clinic in Central, for sexual health services, STD screenings, HIV prevention and treatment strategies, and more. Importantly, confidentiality is assured.
HIV patients remain among the most unfairly demonised groups due to long-held, and mostly incorrect, misunderstandings about the virus. This, despite many medical advances including antiretroviral drugs that make patients highly unlikely to infect others.
While condoms remains the most popular barrier against HIV infection, Prep is also effective. PrEP (pre-exposure prophylaxis) is 99% effective at stopping the transmission of HIV through sex without condoms. Deyn cites partner studies (in which one is HIV positive, the other HIV negative) having almost "zero chance" of cross infection on this drug regimen.
"The protection would be 99% so it's even better than a condom. However, PrEP only prevents you from HIV, not other sexually transmitted diseases, so it is recommended you still use a condom."
A landmark study published in The Lancet in 2019 that tracked about 1,000 male couples across Europe for eight years (HIV positive gay men and their HIV negative partners) and found, thanks to antiretroviral drugs, there was no chance the HIV positive individual could infect the other, even though many participants reported having unprotected sex during that period.
SOURCE: South China Morning Post
Keep in contact with The Thaiger by following our
Facebook page
.
Thailand Charter Week a great success for Thai yachting industry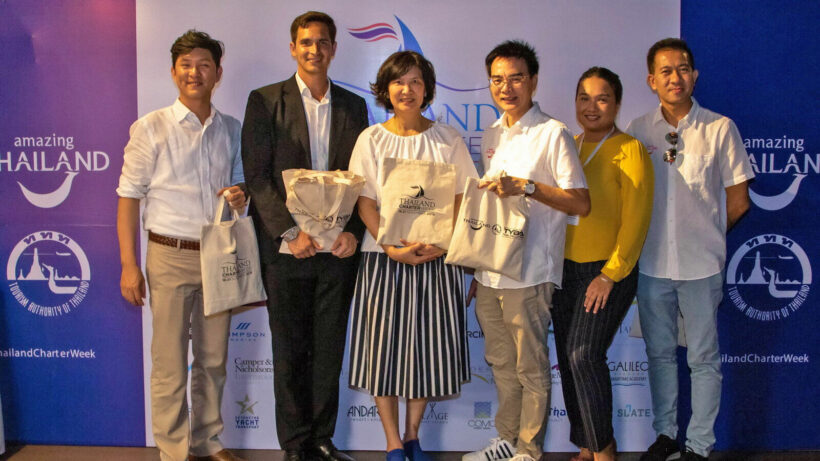 Organisers of the Thailand Charter Week hope to make next year's event even bigger after this month's successful inaugural edition at Phuket Yacht Haven. Yachts hosted familiarisation cruises around Phang Nga Bay and surrounding areas. The second edition is being held from November 14-18, 2020.
Many of the world's most renowned brokerage houses, Asia's leading charter companies and Thailand-based yacht service providers exhibited at the event, which was organised by the Thai Yachting Business Association.
The Tourism Authority of Thailand was a supporting sponsor, Asia's first international charter show for industry professionals.
Showcasing 21 charter yachts to attending brokers from all around the world, the event started with a lively opening ceremony and was followed by two days of inspections by brokers. The last three days featured 'fam' cruises aboard participating yachts to charter destinations around Phuket.
With several boats unable to exhibit due to a limit on space and numbers, Mathew Na Nagara, Chairman of TYBA, believes the second edition could grow with more space for yachts and word-of-mouth recommendation from exhibitors and attending brokers.
Mathew Na Nagara, Chairman of TYBA, hopes that the event will become a regular and important part of the yachting calendar in Southeast Asia.
"We're happy with the general format, the line-up of yachts and exhibiting charter companies, and the wide range of attending brokers from around the world."
"Phuket Yacht Haven and the fam trips showed the appeal of charter holidays in and around Thailand, so we were delighted the Tourism Authority of Thailand was among our sponsors. We're now helping develop connections made during the week and looking to get more space for exhibiting yachts next year, so we can make the second edition even better."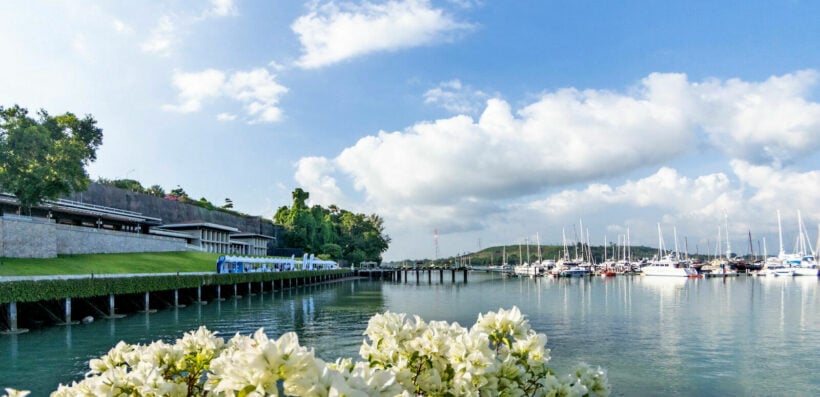 Camper & Nicholsons, Fraser, Northrop & Johnson and Ocean Independence were among the international brokerage houses exhibiting charter yachts at the event, respectively showcasing the 41m Ocean Emerald, 31.6m sailing yacht Silverlining, 31.5m Aveline and 29.5m Mia Kai. Northrop & Johnson also exhibited the 26.4m Sunseeker Maxxx, while the 32.2m Demarest was among 10 superyachts longer than 24m (79ft).
Simpson Marine, Asia's largest yacht dealer, exhibited two Lagoon sailing catamarans, the 52F Blue Moon and 620 Jyohana, while The Moorings, one of the world's largest charter companies, displayed a Moorings 4800 sailing cat.
Indonesia-headquartered Yacht Sourcing, which recently opened its Thailand office, displayed the 29.5m Lady Eileen II, the 27.4m wooden motor yacht Maha Bhetra and the Azimut 80 Mirage.
And Thailand-based Asia Yacht Agency exhibited the Princess 60 Mayavee and Princess 56 Shard 2, YCN (Yacht Charter Network) Asia represented the Riva 70 Aria Blue, Boat in the Bay showcased the Princess S65 Kati, Asia Marine presented the Azimut 55 Pillars Spirit and Derani Yachts displayed the DeFever 49Sea Princess.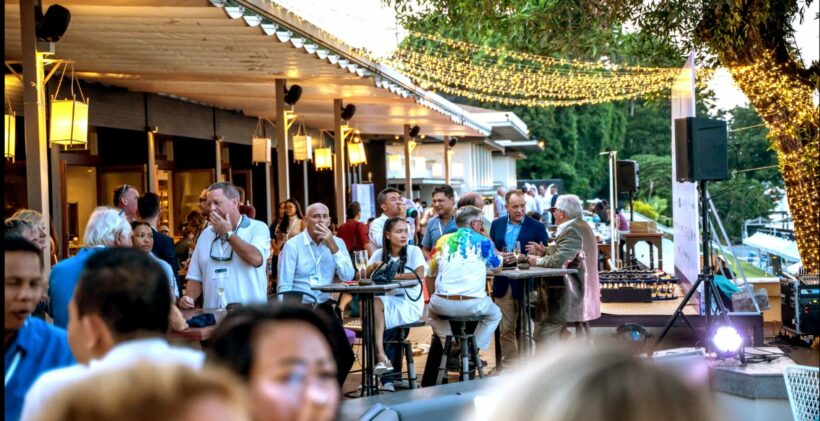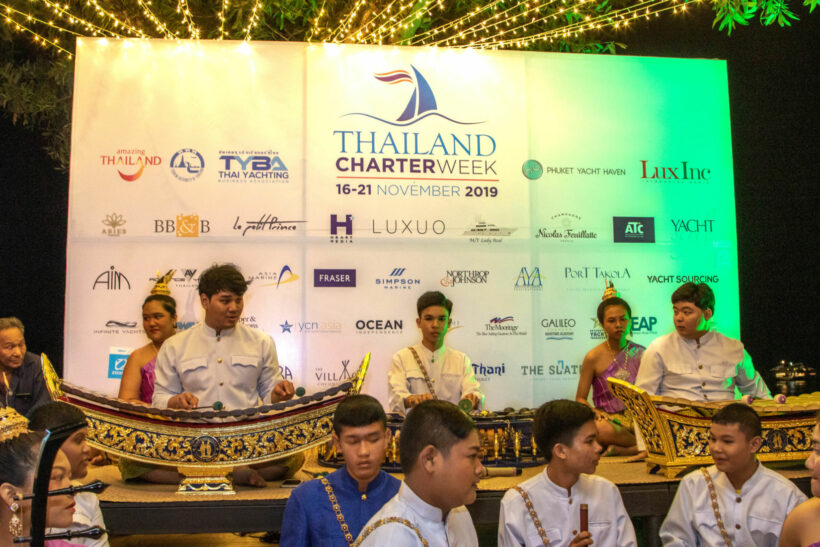 Keep in contact with The Thaiger by following our
Facebook page
.