Filipino and Japanese battle the weather in the 2019 Laguna Phuket Marathon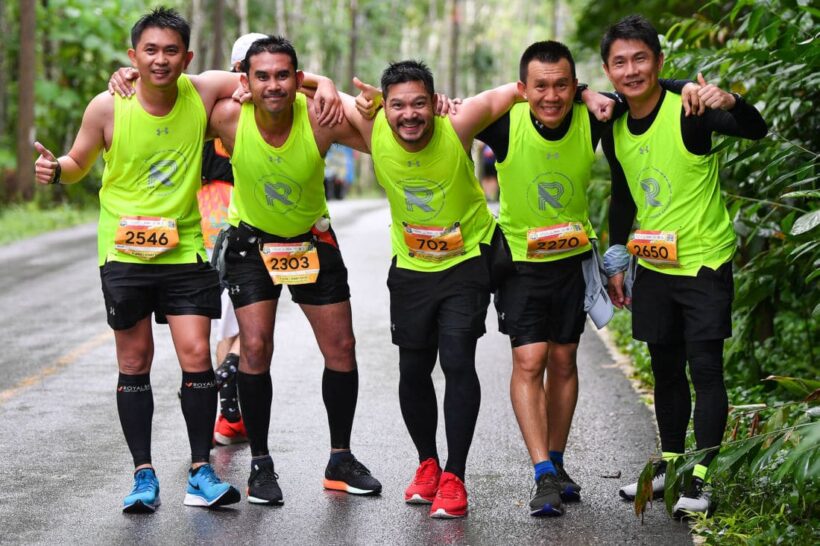 Full results below…
The Laguna Phuket Marathon welcomed a record 12,000-plus runners from 73 countries for its 14th edition. The two-day festival of sport and fun was held over the weekend. The weather wasn't kind to the event this year making the run additionally challenging for runners, and difficult for organisers.
A boon for Phuket's low season tourism, Laguna Phuket Marathon 2019 saw celebrities and singers – Nont Aulaphas Na Pom Petch, Somchai Khemkla and Supoj Chancharoe – actors and actresses – Jirayut Tantakul, Rachawin Wongwiriya, Aroonnapa Panichjaroon and Mathew Dean – rockstar Athiwara " Toon" Kongmalai, and many of Thailand's top athletes line-up together with runners from around the world.
The largest nationalities represented at this year's Laguna Phuket Marathon were Thai, Japanese, Chinese and British. There was also a large contingent of runners from the Philippines and who made their presence known with Richard Salano and Prince Joey Lee finishing first and second in the Men's Half Marathon, and Christine Hallasgo (PHI) and Christabel Martes (PHI) placing first and third in the Women's Half Marathon. Other notable Filipino performances were from Bryan Quiamco and Azlan Pagay (PHI) who placed second and third respectively in the Men's Marathon field, and April Rose Diaz who placed third.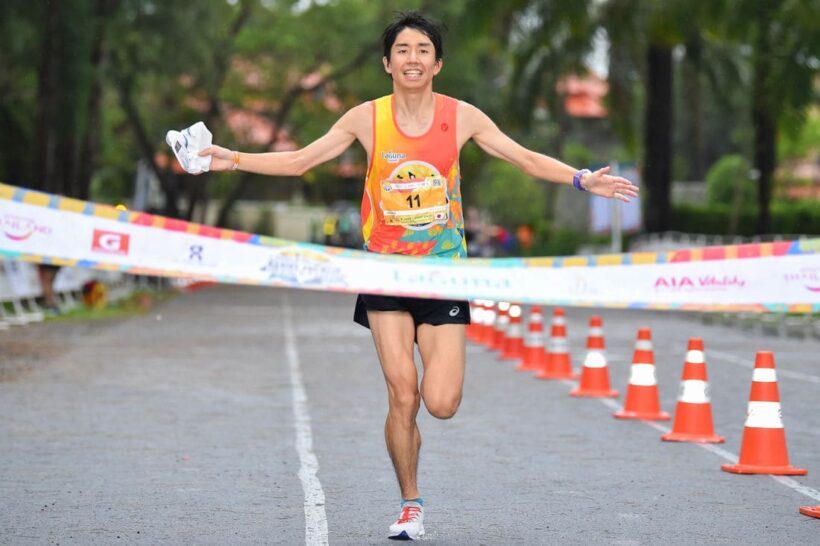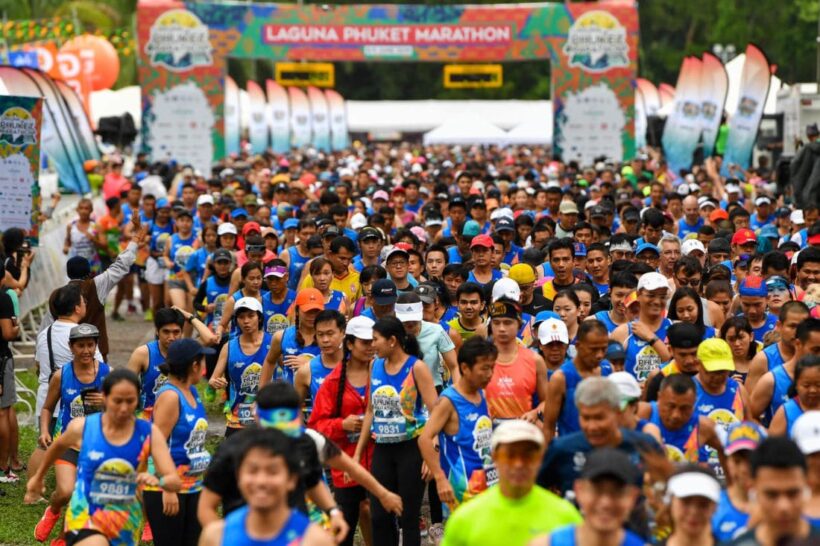 Japanese runners dominated the 10.5km distance with Hiroki Nakajima and Hisashi Kitamura claiming first and second in the Men's division ahead of Supit Chantharat (THA) in third. In the Women's race, Phuket-based Dimity-Lee Duke (AUS) won in a time of 00:41:30, 23 seconds ahead of Tomomi Nakajima (JPN), who out-raced compatriot Sawa Aoki.
The Japanese super couple of Hiroki Nakajima and Tomomi Nakajima won their respective Marathon distances at the 2017 Laguna Phuket Marathon and returning this year ran 10.5km on the first day, and Marathon the day after. While Hiroki was out sprinted to finish fourth overall in the Men's division, Tomomi went on to win the Women's distance for the second time ahead of Amy Mumford (GBR) and April Rose Diaz (PHI).
The Men's Marathon was won by another Japanese runner, Takashi Mino.
Top athletes from Thailand included Thai national team runner Supit Chantharat who finished third in the 10.5km and sixth in the Men's Marathon; former national team runner Natthaya Thanaronnawat, who finished second in both the Women's Half Marathon and 5km; and Thai triathlete Jaray Jearani who finished seventh in the 10.5km Men's race. Meanwhile Thai youngsters dominated the 2km Kids Run claiming all three top spots in the girls division and second and third places in the boys division.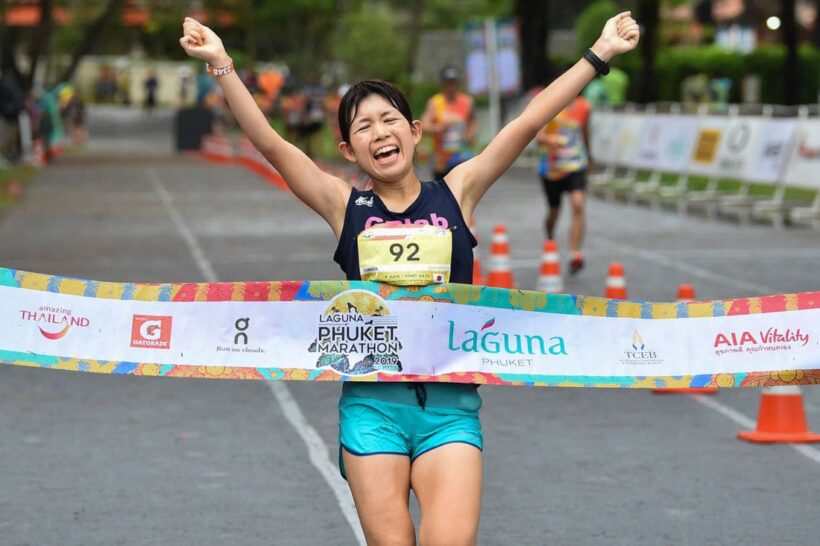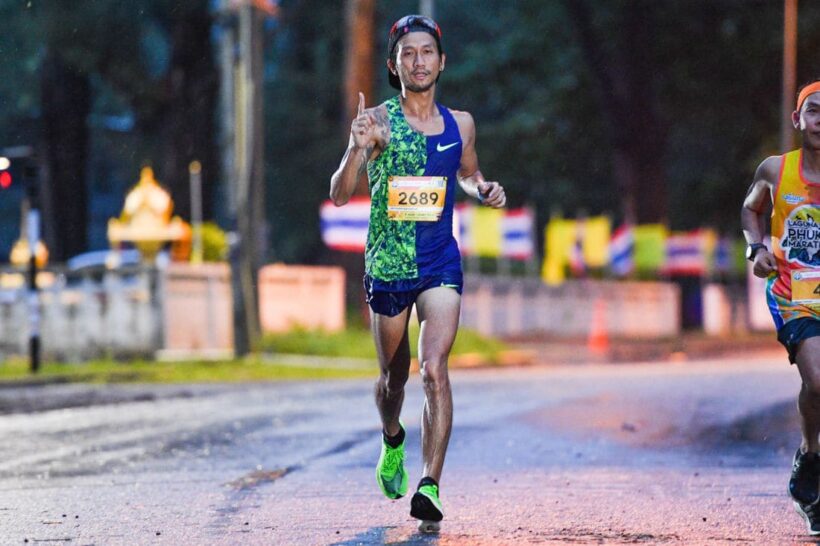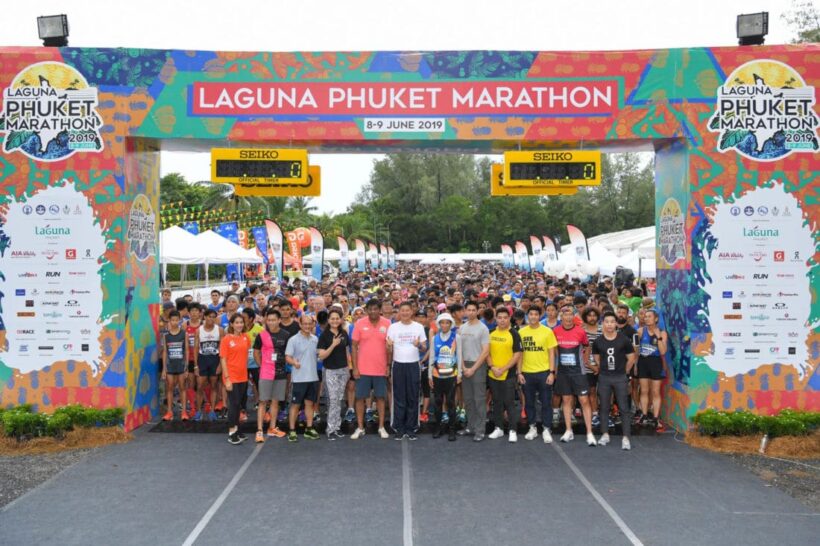 A notable performance from Australian Hayley Newman saw her win the 5km Women's race for the third consecutive time.
Famed for it's beautiful course around Laguna Phuket and the island's northern beaches, organisers strived to reduce single-use plastics on the course this year.
Top three winners in each distance…
Marathon
Male
Takashi Mino (JPN), 02:35:02
Bryan Quiamco (PHI), 02:40:15
Azlan Pagay (PHI), 02:41:20
Female
Tomomi Nakajima (JPN), 03:03:55
Amy Mumford (GBR), 03:10:10
April Rose Diaz (PHI), 03:24:57
Marathon Relay
Team 2 (THA), 03:25:27
Team Krating Peaw Relay Run (THA), 03:49:01
Team Cookie Run (THA), 03:54:08
Half Marathon
Male
Richard Salano (PHI), 01:13:25
Prince Joey Lee (PHI), 01:14:00
Daisuke Yamauchi (JPN), 01:16:59
Female
Christine Hallasgo (PHI), 01:25:28
Natthaya Thanaronnawat (THA), 01:29:00
Christabel Martes (PHI), 01:29:51
10.5km
Male
Hiroki Nakajima (JPN), 00:34:48
Hisashi Kitamura (JPN), 00:36:41
Supit Chantharat (THA), 00:37:06
Female
Dimity-Lee Duke (AUS), 00:41:30
Tomomi Nakajima (JPN), 00:41:54
Sawa Aoki (JPN), 00:45:12
5km
Male
Mohamed Rasheed (MDV), 00:16:43
Oliver Trott (GBR), 00:16:49
Jay Lilley (GBR), 00:17:00
Female
Hayley Newman (AUS), 00:19:23
Natthaya Thanaronnawat (THA), 00:19:40
Florence Williams (GBR), 00:20:55
2km Kids Run
Male
Conor Walby (GBR), 00:08:16
Korawin Chaichamroonphan (THA), 00:08:22
Natawan Chantarachota (THA), 00:08:53
Female
Puttikan Kanchanakamnoed (THA), 00:08:25
Chalinda Thongphueak (THA), 00:08:40
Ramonya Panrittidam (THA), 00:09:14


Read more headlines, reports & breaking news in Phuket. Or catch up on your Thailand news.
Toon's latest run-for-charity raises 15 million baht in the first hour for north-east hospitals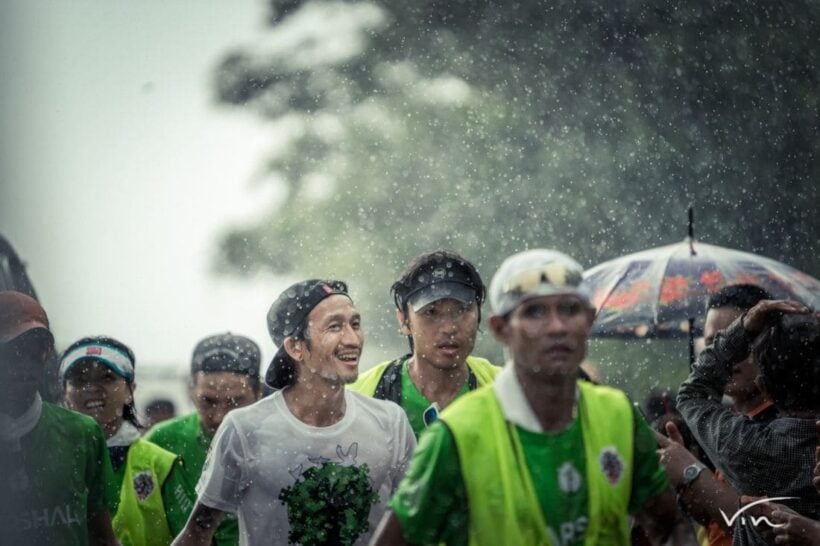 PHOTO: Facebook.com/kaokonlakao
Such is the star-power and respect Thais have for rocker-turned-charity-warrior Artiwara "Toon" Kongmalai, that his latest fund-raising effort raised 15 million baht in the first hour of yesterday moorning's run.
His latest project called Kao Kon La Kao-Kao Tor Pai Duay Palang Lek Lek Phak Isan (One step each by each person, move on with a small force in the Northeast) headed off early yesterday from Nong Khai in an effort to raise money for with Isaan public hospitals.
The popular 'Bodyslam' lead singer, along with his actress girlfriend Rachwin 'Koi' Wongviriya, actor Tanongsak Supakarn and other runners joined together for the first lap of the 10 kilometre run before handing off to actor Pakorn 'Dome' Lum to lead the next leg. Each of the laps were run by local and national celebrities, local dignitaries and officials, joining with Toon and the Kao Kon La Kao project.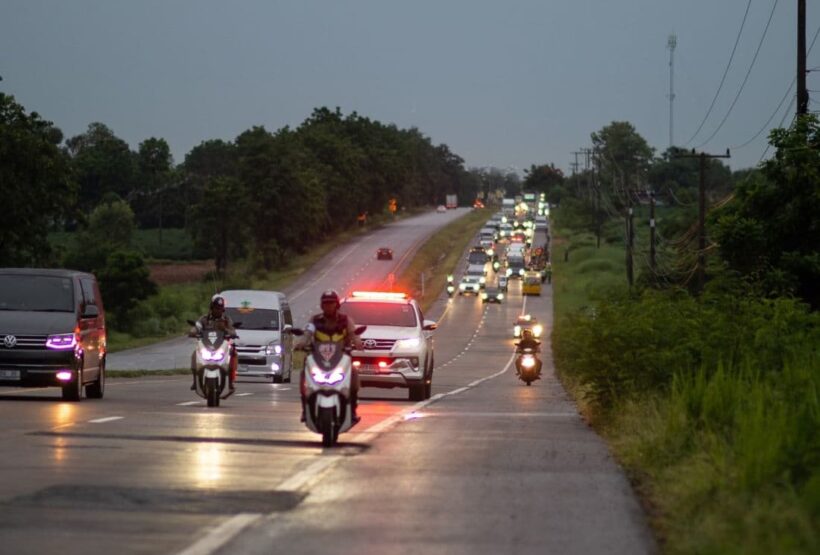 In 2017 he famously ran from from the southernmost to the northernmost tips of Thailand, raising money for some of the country's poorer hospitals – from Betong in Yala province to Mae Sai in Chiang Rai in the north.
The "Kao Kon La Kao" run covered 2,215 kilometres. It was an epic and inspirational marathon raising more than a billion baht and turning the rock star into a national treasure and philanthropist.
Meanwhile, yesterday, in just the first hour of the run, donations rose to 15 million baht. The weekend's runs have been travelling from Nong Khai to Khon Kaen.
You can see Toon and Bodyslam in action below…
Toon's running again, pounding the pavement for Thailand's hospitals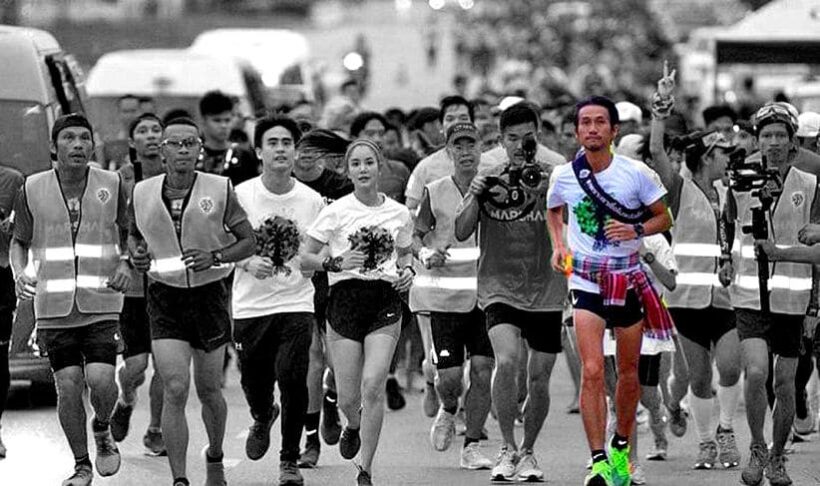 PHOTO: Kao Kon La Kao Foundation
Artiwara "Toon" Kongmalai has started his latest series of charity runs, kicking off in north-eastern Nong Khai province to raise funds for small hospitals to help them buy much-needed equipment.
Artiwara and his entourage started at 5am under the title of "Kao Kon La Kao – Kao Tor Pai Duay Palang Lek Lek – Isaan" (One Step Each by Each Person – Move On With Small Force – Northeast).
Artiwara led the first lap of the run for 10 kilometres before handing over the task to another actor. During the first hour of the run, donations worth of 15 million baht poured in, according to the Kao Kon La Kao Foundation Facebook page.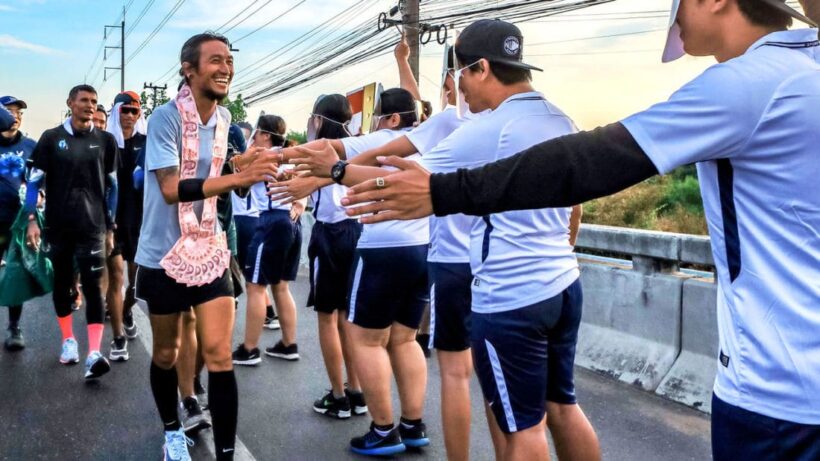 The first run of the Isaan charity run series aims to raise funds for eight hospitals in the region.
Toon became a national hero following the huge success of his epic 2017 charity run "Kao", which took him and other participants all the way from Thailand's southernmost to northernmost tips.
By the conclusion of that drama-filled effort, Toon had not only raised more than 1 billion baht for hospitals in need, but also catapulted Toon to 'national hero' status. That run has even become the subject of a Netflix documentary film (highly recommended viewing. It's called "2,215", referring to the number of kilometres he ran during the epic fund-raising journey).
Toon's 'Kao' project raised more than 1.6 billion baht in total for hospitals between 2016 and 2018. On May 8 this year, the project officially evolved into the Kao Kon La Kao Foundation. The Thaiger will continue to follow the progress of the new fund-raising journey.
Pattaya International Music Festival 2019 – Make it a date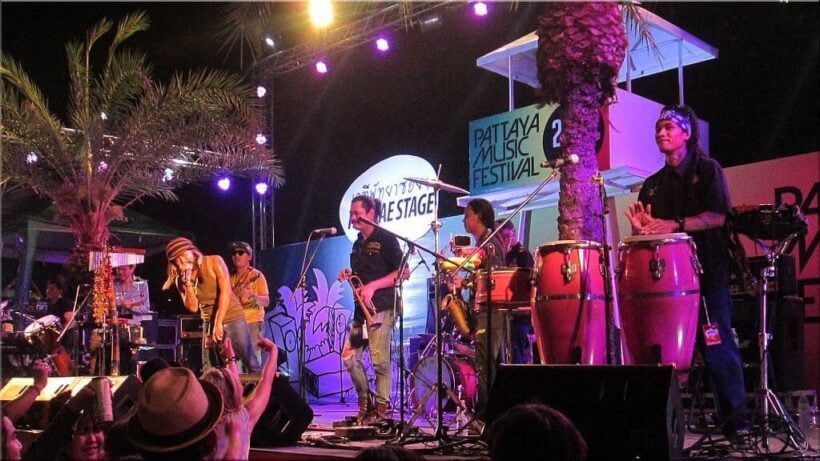 This year the annual Pattaya Music Festival takes place on June 14 and 15 along Pattaya Beach Road, Pattaya. Dates were postponed to June, instead of March as in previous years, so that the event is held as part of the 60th anniversary of Pattaya tourism.
Started in 2002, the Pattaya International Music Festival is a celebration of music. It's one of the largest beach music festivals in the world.
The festival hosts musicians from many music genres. These genres are celebrated on different stages along the beach, namely Universal in Central Pattaya, Moon on Pattaya Soi 4, Galaxy at Bali Hai Pier and reggae in south Pattaya. Every year, the festival uses a different colour scheme for each genre of music. In the past, the trend of colours is that the main stage is usually red and the reggae stage is usually yellow. The main stage is often located beside the legendary Hard Rock Café.
This year, different stages will be set up along the beachfront stretch between the Dolphin Circle Pattaya and Bali Hai Pier. Different genres of music will be featured ranging from Pop, Rock, Jazz, EDM by Thai pop stars, recording artists and local and international bands.
The events kick off at 6pm each day.