Drought prompts Tesco Lotus to increase bottled water production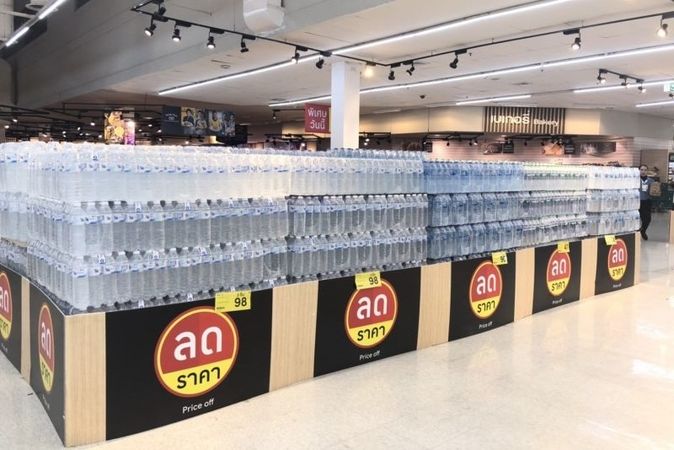 Tesco Lotus, the Thai division of Britain's biggest retailer, is boosting bottled water production to help customers cope with drought. The chain says it will increase production of its own branded bottled water and also increase orders of other brands to sell at its branches nationwide, in response to this year's drought and water shortages, which is predicted to be the worst in decades
A spokeswoman says that stocks of bottled water will be increased 50% compared to normal supplies.
Tesco says the move is intended "to ensure there will be enough water to serve the demands of its customers around Thailand during the drought season." Tesco Lotus is offering a discount on bottled water up to March 4 at all of its branches, including its Tesco Lotus Express stores, and is working with partners to reduce transport time by getting the water delivered directly from the factories to its stores, instead of via its warehouse facilities.
It has not been disclosed where Tesco is sourcing the water but, presumably, it is being sourced from current available water supplies.
Due to the hazardous pollution levels in Bangkok and the surrounding area, Tesco Lotus is also stocking proper N95 face-masks for people to protect against PM2.5 dust particles in the air. The masks are available at all branches. including Tesco Lotus Express. N95 classification masks will help reduce inhalation of the harmful 2.5 micron air pollution particles, as distinct with the flimsy, cheap paper masks distributed by government authorities and schools.
SOURCE: The Nation
Keep in contact with The Thaiger by following our
Facebook page
.
Never miss out on future posts by
following The Thaiger
.
Greenpeace Thailand names 5 local companies "top plastic polluters"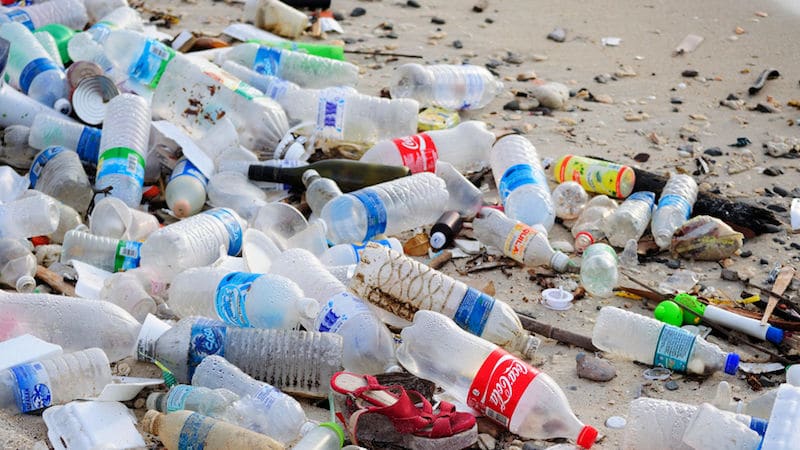 After collecting thousands of pieces of plastic waste, Greenpeace Thailand found that the majority of the trash comes from 5 Thai Companies, naming them the "top plastic polluters."
Volunteers from Greenpeace collected plastic waste from Doi Suthep in Chiang Mai and Wonnapa beach in Chon Buri. Out of the 13,001 pieces of plastic was collected, they say most of the waste traced back to 5 Thai companies: CP Group (which operates Thailand's 7-Eleven convenience stores), Dutch Mill Company, Osotspa (which produces M-150 drinks), TCP Group and Lactasoy.
This is the third year that Greenpeace Thailand and each year they find the same types of plastic from the same companies, according to leader of the organisation's "Plastic Project" Pichmol Rugrod. The CP Group was named the top polluter for the second year in a row.
"Single-use plastic has devastating effects not only to nature but to frontline communities as well. There will be no solutions to the plastic crisis unless there is a plan to urgently reduce plastic production and consumption."
"In addition, corporations must take full responsibility for the pollution they have caused, taking into account the externalised cost of their single-use plastic products- such as the cost of waste collection treatment, their continued contribution to greenhouse gas emissions and the irreparable environmental damage that will continue to harm people and biodiversity for years to come."
Director of Thailand's Ecological Alert and Recovery, Penchom Saetang, says the Thai government needs to step up plastic waste management and motivate companies to reduce single-use plastic products.
SOURCE: Greenpeace Thailand
Keep in contact with The Thaiger by following our
Facebook page
.
Never miss out on future posts by
following The Thaiger
.
Tigers and tiger body parts seized from Thai zoo investigated for alleged wildlife smuggling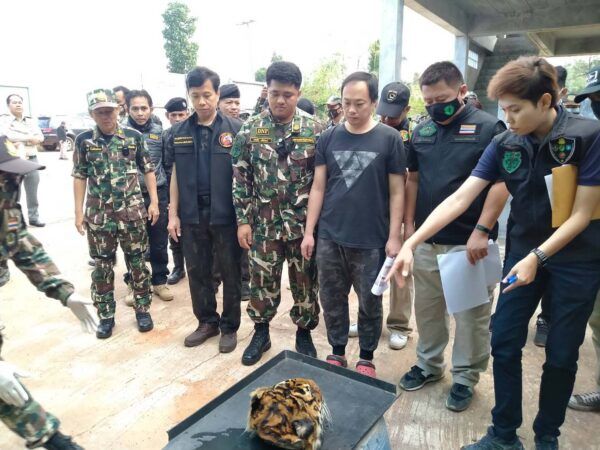 In a crackdown on suspected wildlife trafficking, the Department of National Parks, Wildlife and Plant Conservation seized 5 tigers from a private zoo in the Isaan province Mukdahan. DNA tests confirmed that at least 3 of the 5 tiger cubs are not related to the tigers in the Mudka Tiger Park & Farm, leading officials to believe the wildcats were smuggled in, according to DNP director general Prakit Wongsriwattanakul.
Thai media reports say that some of the tigers seized were not alive and photos of a severed tiger head apparently have been posted by various Thai news websites.
Apparently, this isn't the first time the Mukda Tiger Park & Farm has been investigated. In January 2018, DNP officials seized protected species from the park including red pandas, grey-shanked douc monkeys and elongated tortoises.
Officials are conducting DNA tests on another 20 tigers and the results will be released by the end of the month. If found guilty of wildlife smuggling, the park owner could face up to 5 years in prison.
SOURCE: Bangkok Post
Catch up with the latest daily "Thailand News Today" here on The Thaiger.
Keep in contact with The Thaiger by following our
Facebook page
.
Never miss out on future posts by
following The Thaiger
.
Protected hornbill dies from gunshot wound, 2 suspects in police custody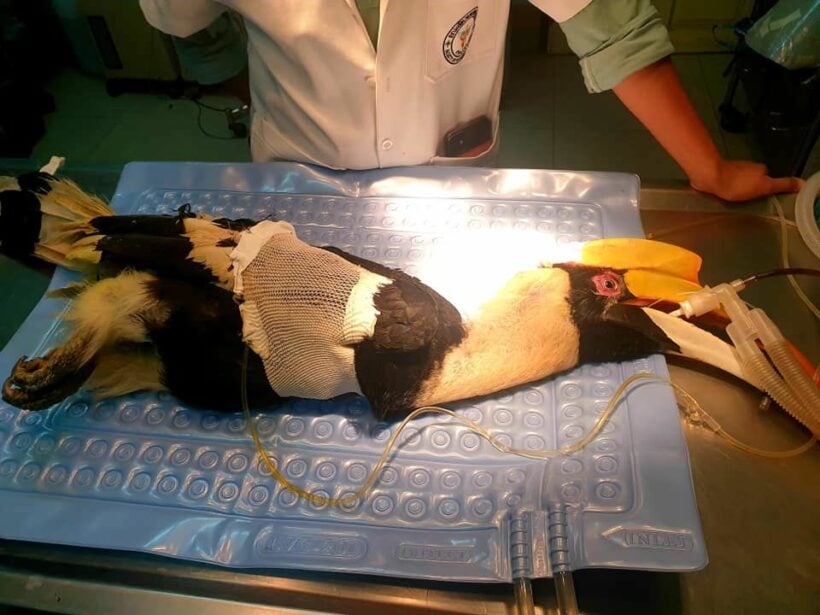 A protected great hornbill died after 5 days of medical treatment for a severe gunshot wound. 2 suspects are now in police custody and officers have seized a .22 calibre rifle, according to Thai PBS.
A tourist found the injured bird near the Khiriphet waterfall on Koh Chang. The hornbill, known in Thai as a nok nguek, was treated at the Nuern Plub Wan animal hospital in Chon Buri. The great hornbill's condition rapidly deteriorated and veterinarian Phadet Siriadmrong says the hornbill suffered brain stem death.
The great hornbill, Buceros Bicornis, is listed as a vulnerable species on the International Union for Conservation of Nature's Red List of Threatened Species. According to IUCN, hunting his substantial threat to the great hornbill.
Hunting poses a substantial threat to the species. Because of its predictable behaviour when regularly visiting the same feeding sites, it is easily targeted by local hunters.
Thailand's Wild Animal Reservation and Protection Act prohibits hunting preserved or protected wild animals. Those found guilty of violating the act could face up to 4 years in prison and a fine up 40,000 baht.
SOURCES: Thai PBS | Bangkok Post | IUCN
Keep in contact with The Thaiger by following our
Facebook page
.
Never miss out on future posts by
following The Thaiger
.