Chiang Mai still struggling for some fresh air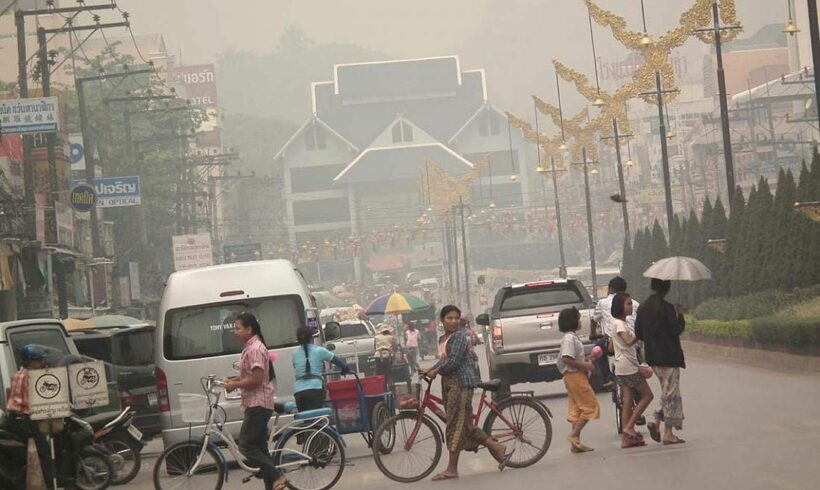 Chiang Mai is suffering yet another day of poor air quality index, according to aqicn.org. And whilst the air quality is bad, it's still a lot better than it was a month or so ago when the readings zoomed up to 300-400, and somedays, even higher.
aqicn.org data reports that Chiang Mai's air quality index had a PM2.5 level of 168 micrograms per cubic metre on average, 50 AQI being Thailand's upper safety limit. This represents the 86th consecutive day with air quality index above 100 in Chiang Mai. The AQI is a standard that indicates the level of air pollution – particulate of 2.5 micron particles per cubic metre of air.
• Level 0-50 means good air quality
• 51-100 means moderate quality
• 101-105 will affect sensitive groups
• 151-200 is slightly harmful to health
• 201-300 is highly harmful
• 301-500 means hazardous
Chiang Mai's air pollution has been a consistent issue, since the northern Thai city was declared 'most polluted city in the world' on March 10, according AirVisual.com. The city has 'won' the accolade on more than 10 days this year. Adding to the problem, in recent months, has been the forest fires challenging local authorities in the mountains around the city.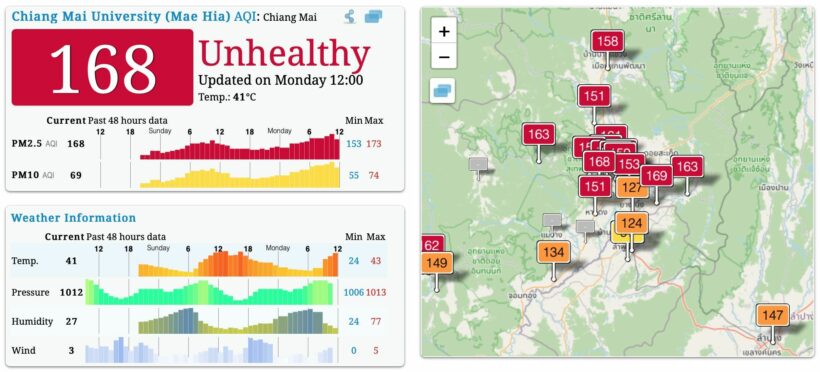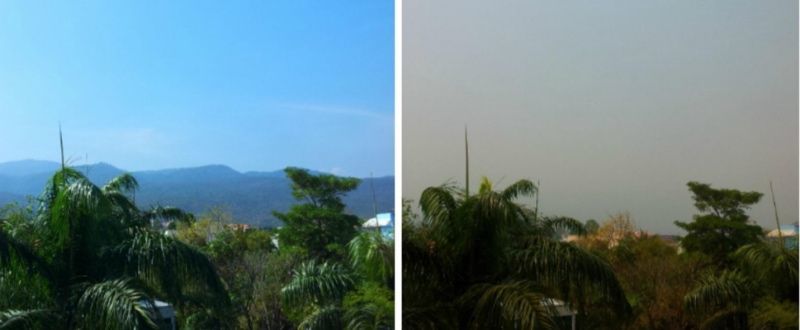 A news report from Channel News Asia (below) onApril 6 gives an insight into the long days and life of a firefighter in the region. Chiang Mai firefighter Amphon Kanchan said that the situation this year is more severe than before. He also describes the tough conditions as steep terrain makes certain parts of the forest difficult to reach.
"This year is dry. There has been no rain. I've been working nonstop for almost 2 months and haven't gone home yet"
Haze has been a common phenomenon in North Thailand and particularly Chiang Mai for more than a decade. It usually occurs from January to April, but peaks in March as extremely dry conditions increase the severity of forest fires, mostly deliberately lit. The situation is intensified by farmers who burn waste to clear land for the next harvest season.
SOURCE: Samui Times
Keep in contact with The Thaiger by following our
Facebook page
.
Never miss out on future posts by
following The Thaiger
.
Russian man allegedly stabs Chiang Mai park officer, tries to break into tourist bungalow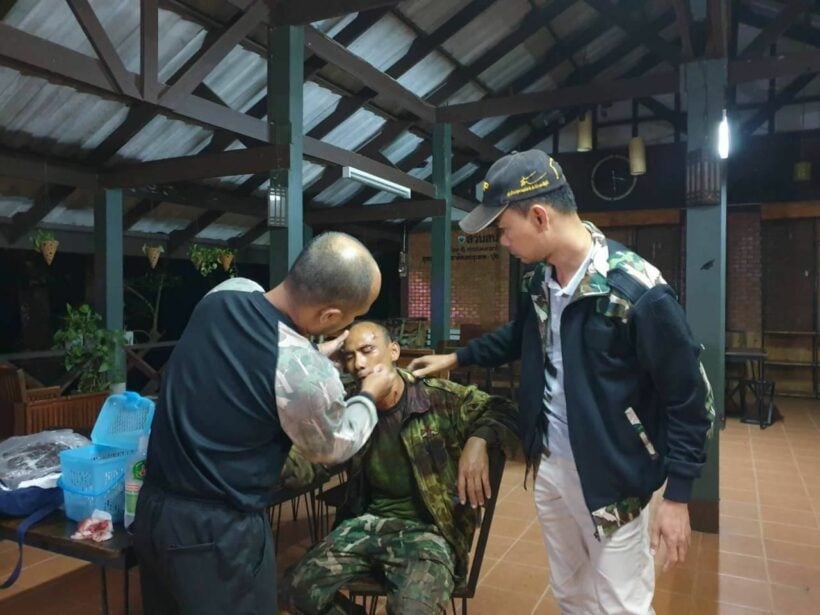 A Russian man has been arrested after he allegedly tried to break into tourist bungalows and stealing property at a Chiang Mai national park and stabbed a park officer with a pair of scissors. The incident follows months of complaints from Thai tourists at the national park reporting missing property.
Thai media reports the 32 year old Russian man as 'Cemnh Semin' allegedly tried to rob a tourist bungalow at Doi Suthep-Pui National Park. Cemnh allegedly stabbed a night patrol park officer in the neck and head with a pair of scissors and ran off. Other park officers on duty were able to catch the man and call Chiang Mai Police. The wounded park officer was taken to a local hospital where he has been reported as being in a stable condition.
For months, Thai tourists at the Doi Suthep-Pui National Park say they've woken up in the morning with some of their belongings missing. Park officers stepped up their night patrol after the complaints. The officers say they were surprised at finding out the alleged robber was a Russian man.
The man will face a range of charges following further investigation.
SOURCES: Chiang Rai Times | Thai Residents
Catch up with the latest daily "Thailand News Today" here on The Thaiger.
Keep in contact with The Thaiger by following our
Facebook page
.
Never miss out on future posts by
following The Thaiger
.
Thai Chamber of Commerce urges visa amnesty to be extended after today's deadline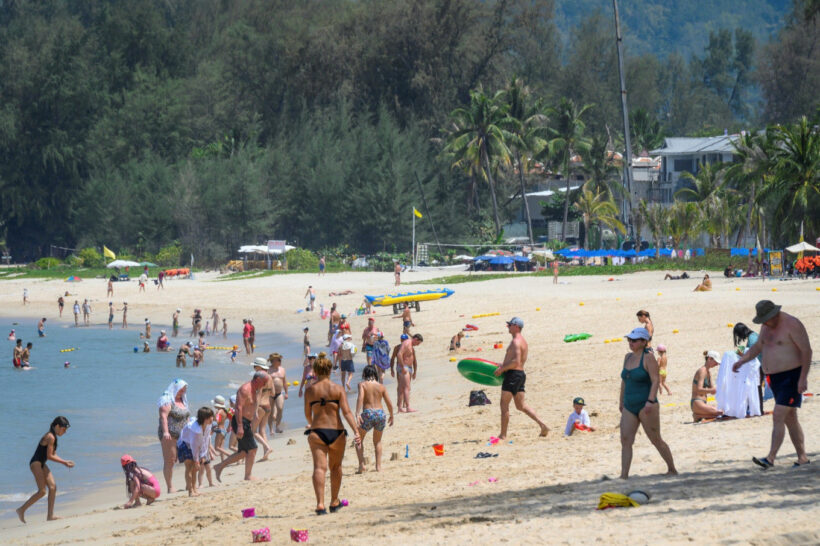 The Thai Chamber of Commerce is urging the government to extend the visa amnesty for the country's 400,000 tourists after today's deadline but has so far been turned down. The move comes as such provinces like Chiang Mai's immigration office sends messages giving tourists until Monday to sort out their visas (which is under the law as Saturday, the final day of the visa amnesty, is usually closed).
"For the foreigners that visas will expire on September 26, 2020, if come to continue the visa on Monday, September 28, 2020, no need to pay for overstay. If you haven't been able to sort through the queues and online bookings for an appointment, you also have Monday (at any immigration office) to get things sorted. Many of the country's immigration offices are open today. Good luck."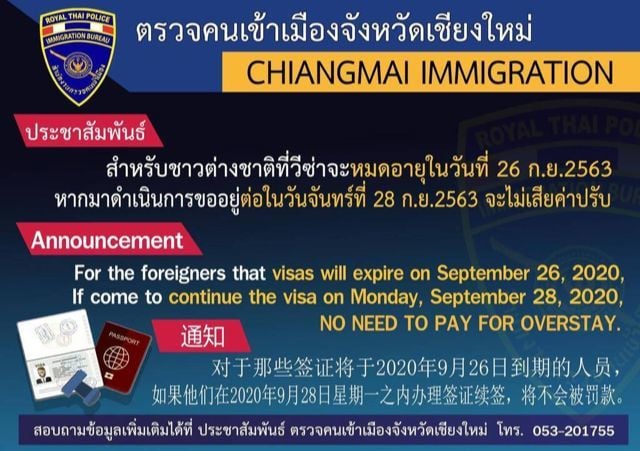 "We were told that this agenda was in the process, but there's been no progress so far."
Kalin says the deadline will bring even more chaos to those who await flights out of the country as they are not yet fully allowed. Furthermore, such provinces as Chiang Mai attribute stranded tourists as helping generate revenue at a time when the country desperately needs it. As these tourists need long-term accomodations, they undoubtedly bring revenue to the domestic tourism sector at a time when hotels and other types of accommodations are struggling.
"Instead of blacklisting those foreigners, the government should accommodate them with a more flexible period, particularly when the country cannot reopen for inbound tourists. The uncompromising stance towards visa extension scares tourists away despite the fact that they help drive the local economy in these tough times."
This week has been the busiest on record for stressed out Immigration officials who have been trying to cope with the last minute influx of tourists and expats whose visas had expired and were trying to extend, or apply for, visas to stay in the country.
Anantorn Hochindarat, president of the Tourism Association of Chiang Mai, says some businesses have received recurring revenue from international tourists which can help a lot when facing difficult times.
Although the profits from such tourists are much lower now, Anantorn says it can help businesses stay afloat. Despite such calls for an extension of visa amnesty, the Immigration Bureau has yet to announce any leeway to be given after today's deadline.
SOURCE: Bangkok Post
Keep in contact with The Thaiger by following our
Facebook page
.
Never miss out on future posts by
following The Thaiger
.
PM to tackle Northern Thailand's seasonal haze… again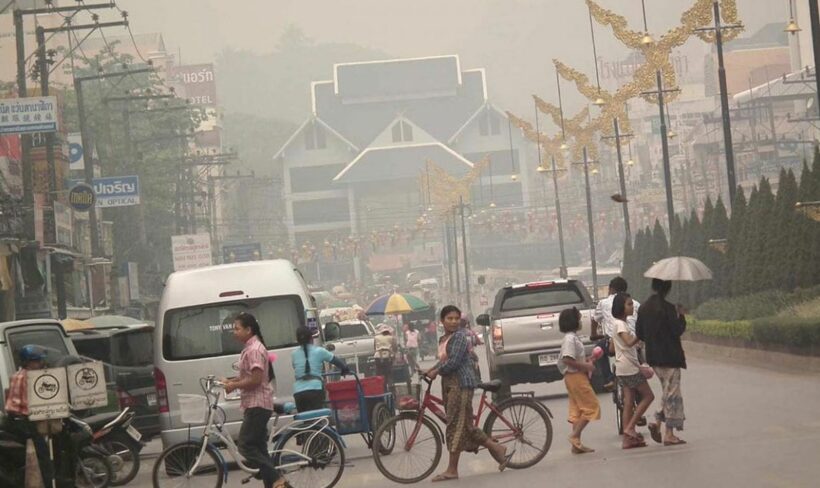 The Thai prime minister says he's working on a plan to tackle Northern Thailand's seasonal haze problem by cutting back manmade bushfires known to largely contribute to the air pollution. The issue has been broadly covered in Thai and foreign media for years, and been followed up with ministerial visits, promises, and little else.
PM Prayut Chan-o-cha spoke with governors of 17 northern provinces affected by seasonal haze, saying that he plans to supply villagers and local organisations with equipment, but reports did not go into much detail about what tools locals would get. He says authorities and state agencies need to step in to help combat the haze problem, suggesting that provincial governors head the local fight against wildfires.
"It's important to eradicate the root cause of wildfires that result from villagers' way of life… Even more farming space should be provided to farmers who need it to protect natural resources from being destroyed."
Prayut added that it's important for state agencies to collaborate on the firefighting effort and said members of the public can help raise awareness about wildfires.
The annual haze/smoke/air pollution problem is not just a Thai issue with the neighbouring countries, particularly Myanmar, causing their fair share of the illegal plantation fires, as shown in sharp detail in the satellite images.
Read The Thaiger's take on the annual 'smoke' problem HERE.
SOURCE: Chiang Rai Times
Catch up with the latest daily "Thailand News Today" here on The Thaiger.
Keep in contact with The Thaiger by following our
Facebook page
.
Never miss out on future posts by
following The Thaiger
.