change.org petition calls on Phuket locals to take action on construction dump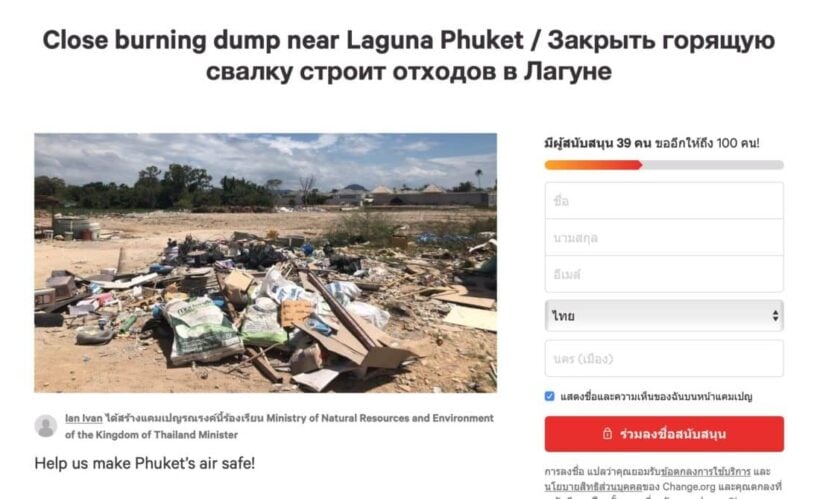 Locals have launched a petition on Change.org to draw attention to a construction dump operating in central Phuket, in the suburb of Cherng Talay, which adjoins the coastal towns of Bang Tao, Layan and Surin. We print the article verbatim, spelling and all. The article is titled "Close burning dump near Laguna Phuket" and has been penned in English and Russian languages. Click on links to the page to get involved.
"Help us make Phuket's air safe!
In the city of Cherngtalay in the area of ​​the world-famous resort of Laguna of Phuket Island, close to other resorts, villages and kindergarten a huge construction waste dump has been operating and burning the waste for several years.
Every day, environmental and health legislation is violated with the knowledge of local authorities. Several construction waste trucks are brought from nearby construction sites and are burned mostly at night and in the evening.
Construction waste contains extremely harmful substances whose burning get into the air and make the air around hundreds of meters dangerous. Furniture and toys in the courtyards of nearby houses are covered with black sticky soot. There is a smell of burning in the air outside and you can not open the window.
The scale of air pollution is evidenced by the data of the Air Quality Control device of the worldwide network AirVisual, installed in a residential village within a radius of 500 meters from the garbage. This device is currently used for private monitoring, but in the near future it will be connected to the worldwide network and air condition data in the resort area of ​​Laguna will be publicly available. At night, the pollution indicators in Laguna correspond to the level of the dirtiest cities on the planet and reach 149 µg / cubic meter.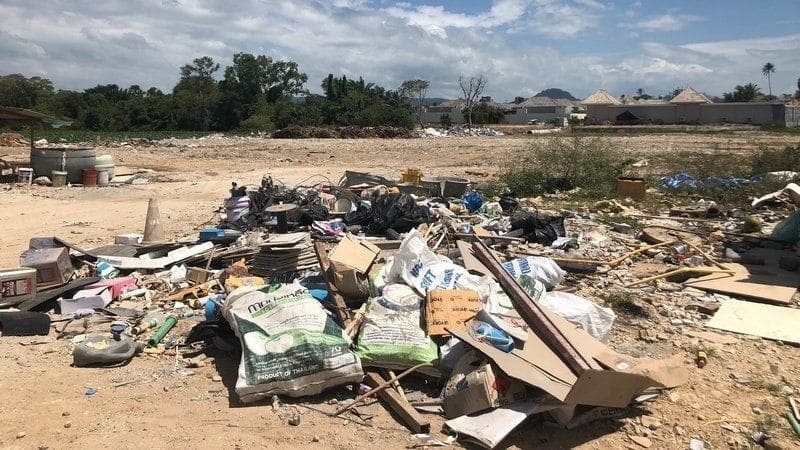 On June 5, 2019, Phuket's Vice Governor hosted a party at the bottom of the campaign to combat environmental and air pollution. For this, of course, there are many reasons:
1) Phuket is a place where people come to relax in the fresh air and restore health (world sporting events take place in Laguna)
2) lung cancer leads by a large margin among all other types of this disease in Thailand .
If the Phuket administration is really concerned about the resort's ecology, then why does it allow such crimes against the local population, tourists and the nature of the island to take place?
Public resonance in modern society, puzzled by environmental problems, can make negative affect to the island's reputation as one of the most popular holiday destinations in the world. We would very much like Phuket to remain as beautiful as nature has created and developed as a world-wide resort.
We ask you to intervene to this issue solution  and eliminate this and similar dumps and to oblige land owners and construction companies to dispose of waste in garbage processing factory in a civilized manner. Thus, it will help to preserve the unique nature of the island, and strict adherence to environmental safety will attract more tourists, will help preserve the health of tourists and local residents, which in turn will contribute to the development and prosperity of Thailand."
Go HERE to sign the petition or get involved.
Another sea turtle saved from a random trawling net in Phuket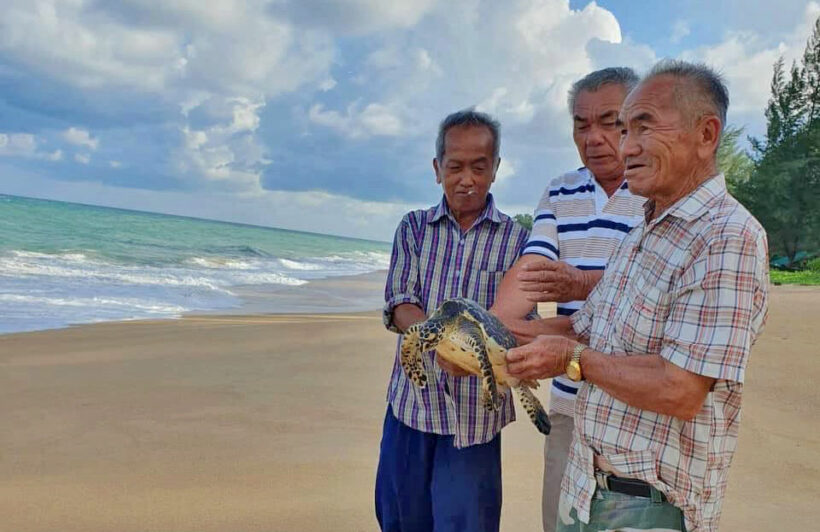 PHOTOS: Andaman Flying Tiger
Today (July 15), local seniors have discovered a sea turtle trapped inside an old fishing net (trawl) at Mai Khao beach along the northern west coast of Phuket. The turtle was luckily uninjured and was rescued, then released back to the ocean.
Excellent photos from Andaman Flying Tiger.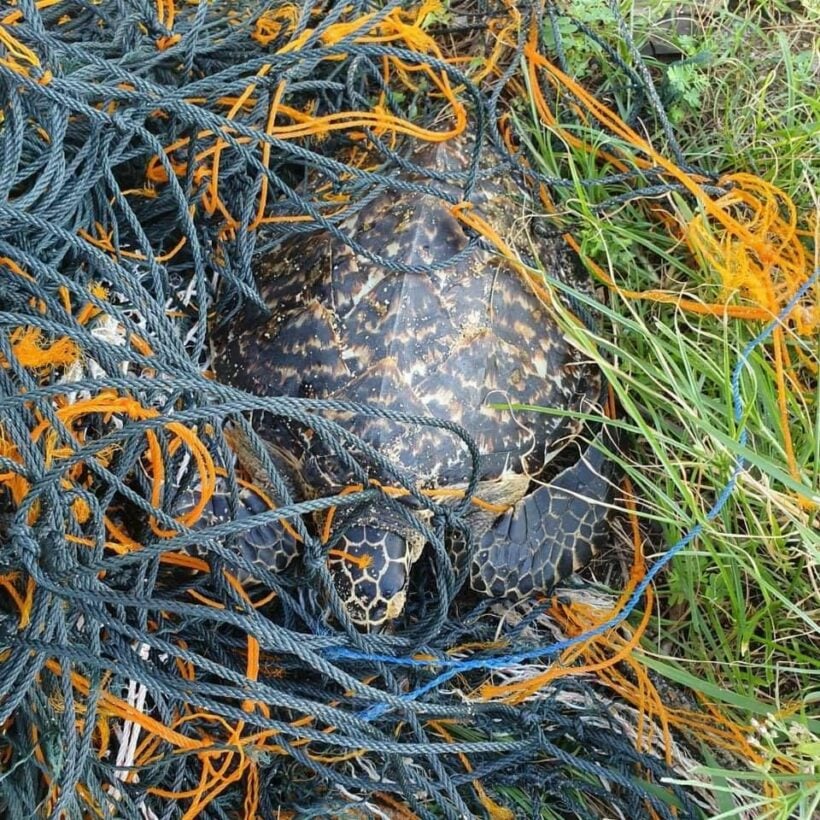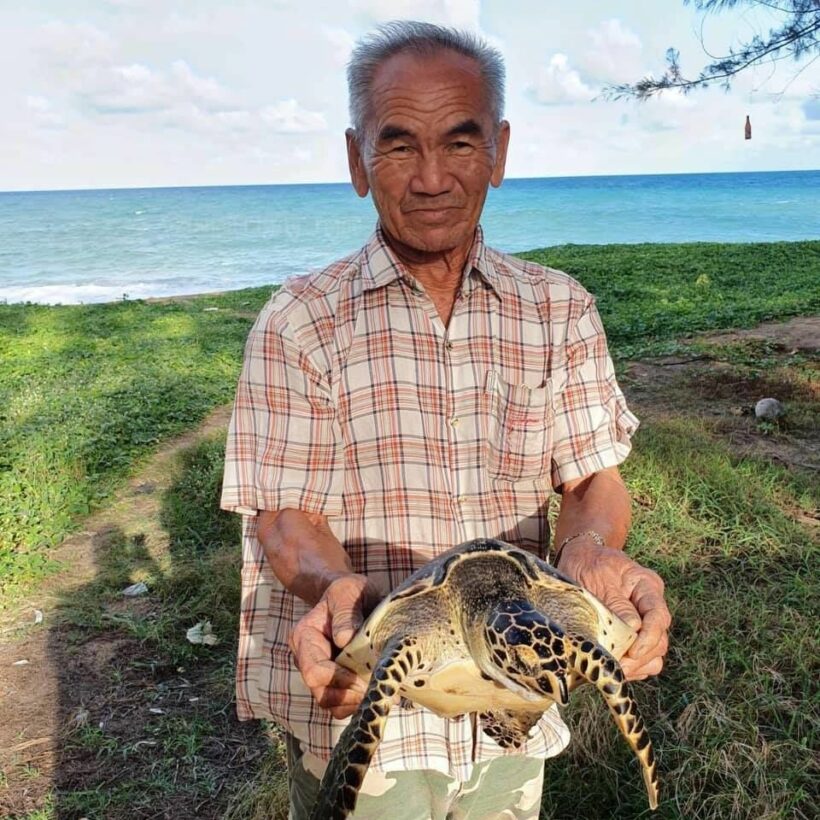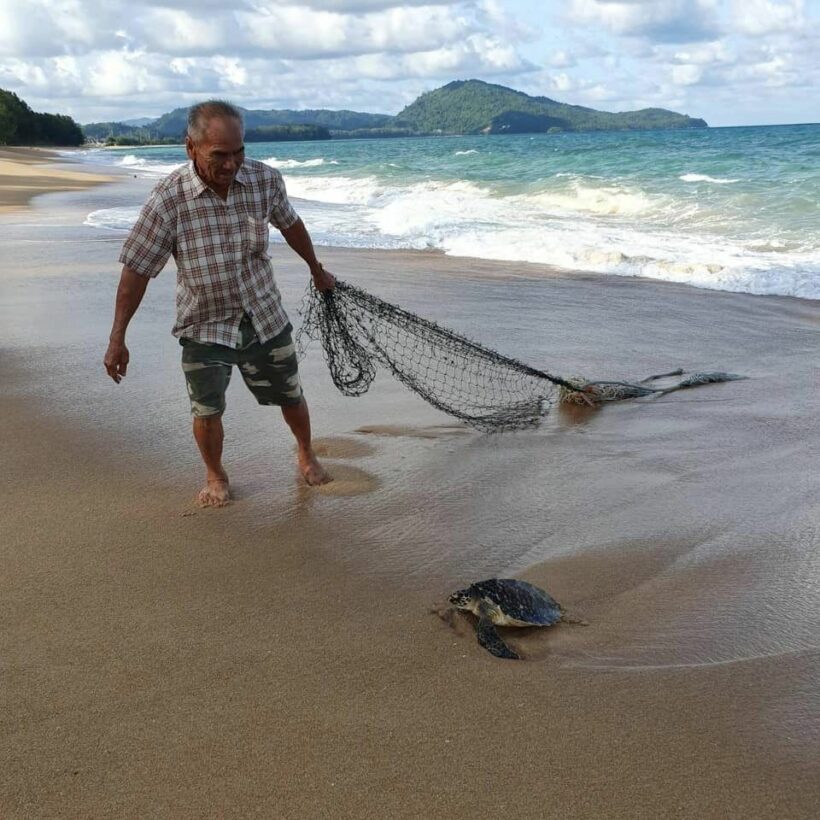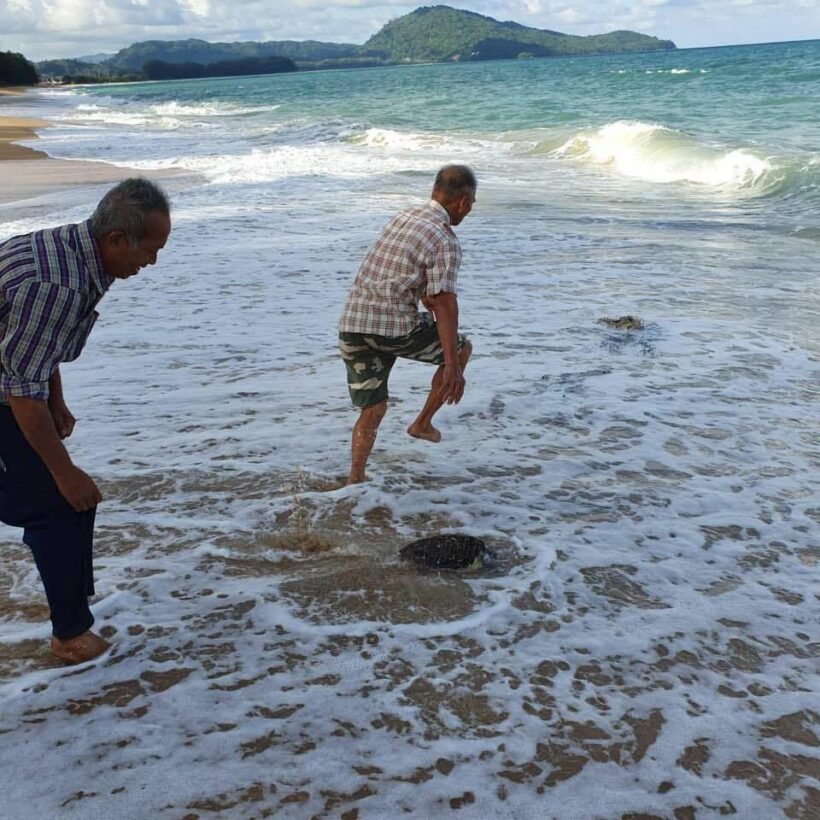 Fishermen find dead leatherback turtle on Saun Son beach, Rayong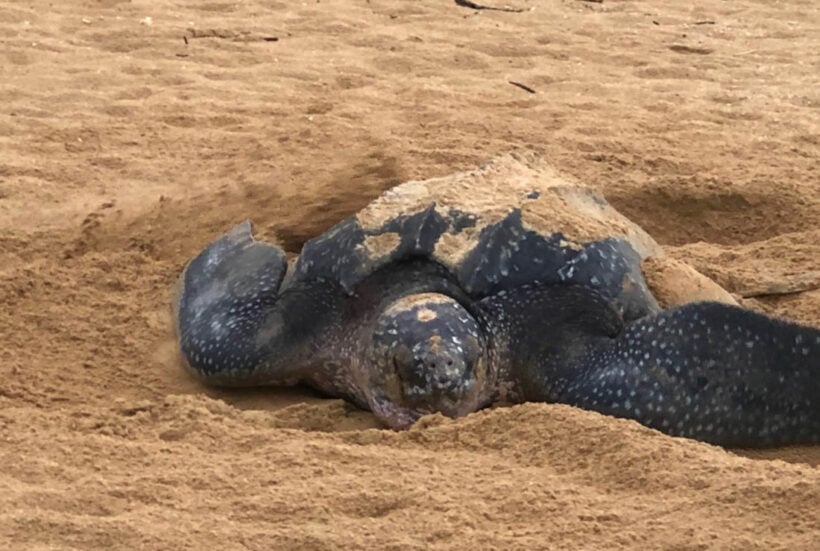 PHOTO: Department of Marine and Coastal Resources
A group of fishermen in Rayong, eastern Thailand, found a dead leatherback turtle on Saun Son beach in Rayong province on Friday.
Department of Marine and Coastal Resources officials estimate the dead turtle was about 10 years old and 79 x123 centimetres in size. The remains were already in a bad condition with the front left foot missing, two deep cuts on its upper back and one on the head. The parallel cuts are believed have been caused by a boat's propeller. No microchip was found in the remains.
They also discovered some jellyfish, nine plastic bag pieces and other plastic waste in its stomach. It was apparent that the animal had not been eating well for some time, possibly as a result of ingesting the plastic.
They believe the death, however, resulted from the injuries sustained from the boat propeller.
DMCR officials say they found signs of bleeding in its respiratory system and a blood clot in its left lung, which indicated that it had bled to death.
Leatherback turtles are now a protected species in Thailand, following an announcement on May 29, along with Bryde's and Omura's whales and the whale shark.
ORIGINAL STORY: Thai PBS
Visiting time to see baby dugong Mariam is now restricted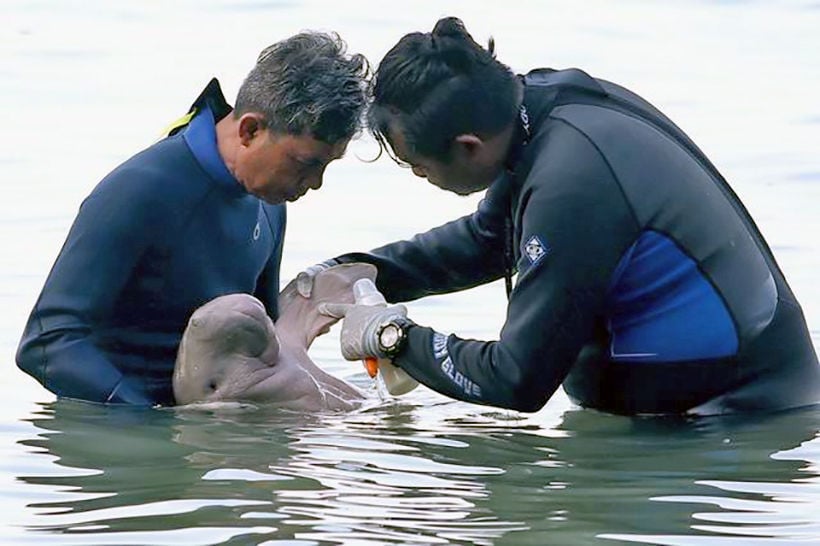 Tourists and local well-wishers are flocking to get a glimpse of 'Mariam'. She's become an internet hit. But that's also caused other problems.
The high number of Thai and foreign tourists heading to Duyong Bay in Tambon Koh Libong in Kantang district, Trang, to watch officials looking after seven month old orphan dugong Mariam is prompting authorities to issue regulations to regulate their numbers.
Mariam became an internet sensation after being rescued in Krabi province on April 29 and placed under care in a dugong conservation area at Koh Libong. She became the new face of sea conservation and is helping boost public awareness on the extinction risks faced by some 300 dugongs in Thai waters.
Mariam is the first baby dugong in Thailand raised by humans in a natural environment and her activities, especially a bird's-eye view of a volunteer cuddling Mariam in the sea, went viral.
The Department of Marine and Coastal Resources has set up cameras for live broadcast of Mariam's life but tourists said they would like to have a chance to see the baby dugong with their own eyes.
The high number of tourists prompted the department's officials at the site to hold a meeting where they resolved to allow only 30 tourists at a time to enter the restricted zone to get up close and personal with the title pink mammal. Operators of group tours are now also required to inform the authorities in advance of the arrival of their tourists.
The authorities sought cooperation from operators of resorts and tuk tuk drivers to inform tourists not to make noise when they visit the site. The officials said the baby dugong has gained two kilos, going from 30 to 32kg and the authorities have extended the milk feeding period to 10 pm.
SOURCE: The Nation