Pedigree cats seized in drugs raid will be auctioned off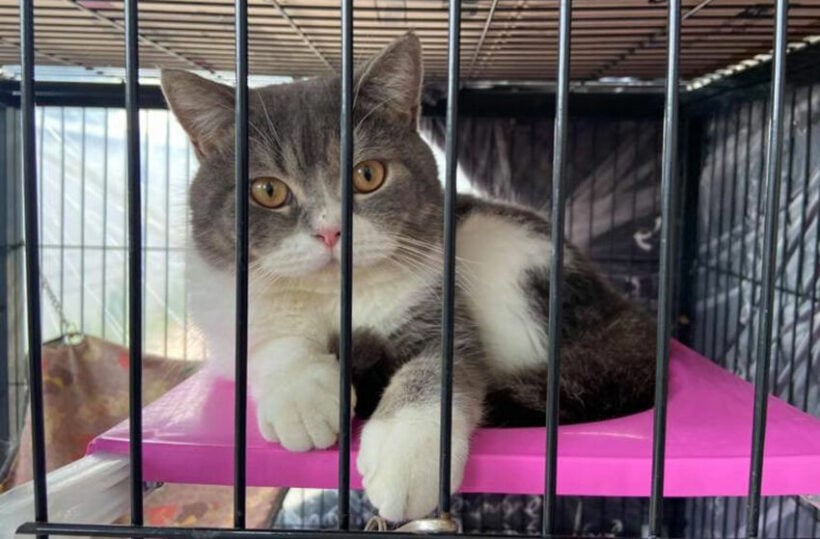 Officials say 6 rare pedigree cats seized in a drugs raid in the eastern province of Rayong, will be auctioned off next month. A number of animal welfare organisations, including The Voice Foundation and the Thai Animal Guardians Association have been campaigning for the auction to be called off and have offered to look after the animals. However, the Office of the Narcotics Control Board says they are unable to hand the cats over as they are not the property of the ONCB.
The animals, 5 Scottish Fold cats and 1 Bengal cat, are believed to have been purchased using drug money and were discovered at the property of a man suspected of belonging to a drug network. The Bangkok Post reports that the network is controlled by someone known as Kook Rayong.
Wichai Chaimongkol from the ONCB says the animals were seized under the law which gives officials the right to confiscate assets acquired through proceeds from the illegal drugs trade. He says some of the assets seized in the raid cannot be kept by the ONCB long-term, which would include the cats. He points out that the ONCB has incurred a financial burden since the cats have been in its care, with his office paying for their food.
The ONCB has been in touch with the cat owner's relatives and have told them that if they can prove the animals were not purchased with the proceeds of crime, they can claim them. However, none of the suspect's family members or anyone else has come forward to take the cats. Wichai says the cats will be valued and a price agreed before the auction is arranged. He expects this to happen before April 14.
SOURCE: Bangkok Post
📱 Download our app on Android or iOS for instant updates on your mobile
📧 Subscribe to our daily email newsletter
👍 Like/Follow us on Facebook
🔔 Subscribe to or Join our YouTube channel for daily video updates
New Yaba pill laced with crystal meth to increase potency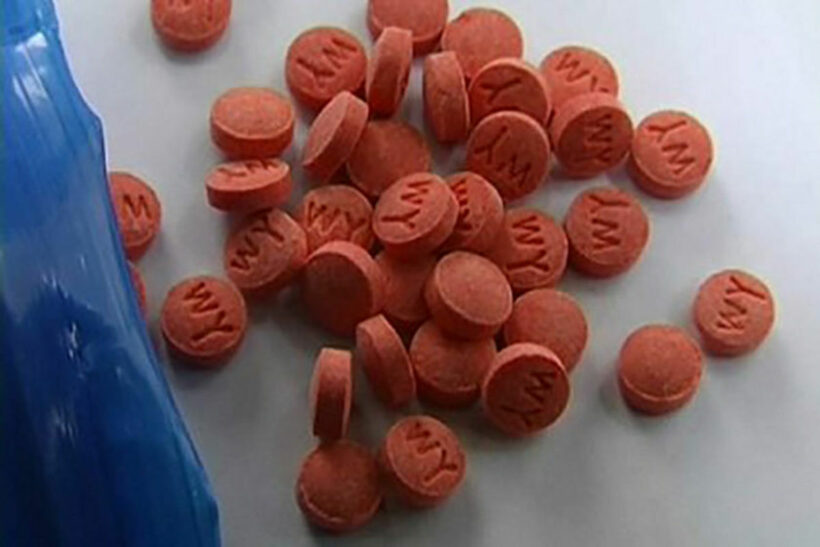 A new type of yaba (methamphetamine) pill in Thailand is being laced with a crystal meth coating to boost its potency. The news comes after Border Patrol Police say they seized 40,950 Yaba pills in Thailand's northeastern Nakhon Phanom province. Police say the pills are not the regular yaba pills that have existed in the country for years, but are a new and more potent type.
They say a drug syndicate is responsible for smuggling the new type of pills into Thailand through the Thai-Laos border. The pills were supposed to be distributed nationwide during the Songkran holiday before police seized them. Police say the smugglers escaped before they could arrest them.
Investigators told the Chiang Rai Times that a drug delivery was set to take place on the Thailand-Laos border. Police went to the suspected location and seized the drugs after finding them in a duffel bag, wrapped in blue plastic.
Border police have stepped up surveillance of the area in recent months, seizing more than 10 million yaba pills along the border. They say this new group of seized pills is worth an estimated 7 million baht as the laced with meth drugs sell for about 150-200 baht each.
Yaba, nicknamed the "madness drug", was outlawed in Thailand during the early 1970's. It has many nicknames but is made of a combination of stimulants such as caffeine and methamphetamine, or even crystal methamphetamine (ice). The drug usually comes in a red pill form with the letter WY imprinted on it.
Those who take the pills, usually smoke them off of tin foil, but it can be taken orally or snorted. Most of the pills are laced with a flavor such as vanilla. As with all unregulated street drugs, the ratio between caffeine and methamphetamine varies, with some pills featuring 20% of yaba ingredients.
Thailand is considered to be one of the largest distributors of yaba, with the neighbouring country of Myanmar being one of the largest producers.
SOURCE: Chiang Rai Times
📱 Download our app on Android or iOS for instant updates on your mobile
📧 Subscribe to our daily email newsletter
👍 Like/Follow us on Facebook
🔔 Subscribe to or Join our YouTube channel for daily video updates
Police arrest 2 Lao men, seize 550 kilograms of methamphetamine at Mekong River bank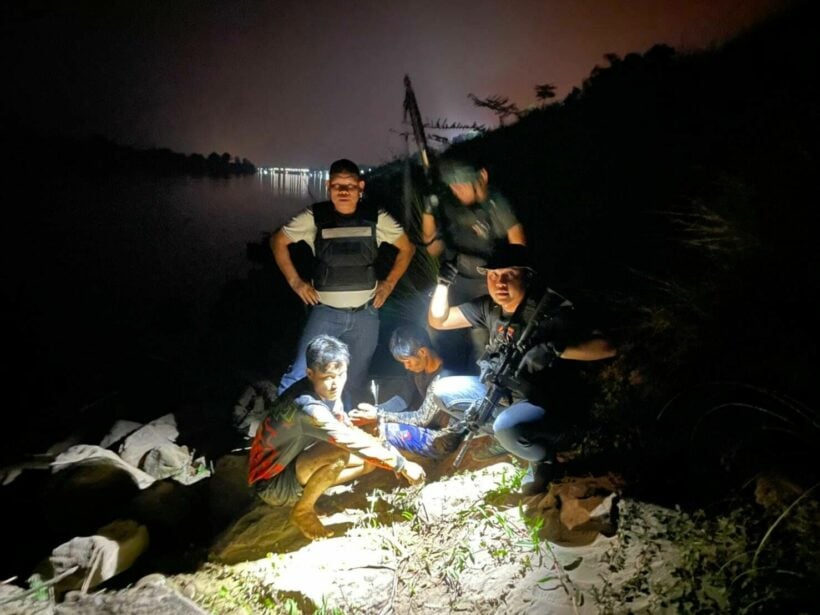 In another drug bust by the Mekong River, police seized 550 kilograms of crystal methamphetamine valued at around 275 million baht. Methamphetamine trafficking across the river from Laos to Thailand has spiked since the Myanmar coup. Many militant groups in Myanmar border towns rely on synthetic drug production as a main source of income. With tightened patrol along the Thai-Myanmar border, many are cutting through Laos and across the Mekong River to smuggle the drugs into Thailand.
Officers arrested 2 young Lao men at the riverbank in Nakhon Phanom's That Phanom distict as they were loading sacks of methamphetamine onto a pickup truck. Police say they suspect 21 year old Phaeng Duangmalai and 20 year old Noo Kaewmanee also delivered a shipment of drugs on Wednesday night. The 2 men allegedly told police that they were paid 5,000 baht each to deliver the methamphetamine.
Earlier this week, drug suppression police arrested a 27 year old man in Sakhon Nakhon's Bang Muang district and seized 30,115 methamphetamine pills. Police investigated and tracked down another drug suspect the next day, arresting a 46 year old Charoon Suriyaphum and seizing 3 kilograms of crystal methamphetamine from his pickup truck.
Charoon allegedly told police that he had been hired by Laos national to transport the methamphetamine and was paid around 50,000 to 100,000 baht per delivery. Police say he had already picked up 450 kilograms of crystal methamphetamine from the riverbank in Nakhon Pathom and was planning to pick up another 550 kilograms from the Phaeng and Noo the next night.
SOURCE: Bangkok Post
📱 Download our app on Android or iOS for instant updates on your mobile
📧 Subscribe to our daily email newsletter
👍 Like/Follow us on Facebook
🔔 Subscribe to or Join our YouTube channel for daily video updates
Drug trafficking in Thailand spikes following Myanmar coup, volunteers keep close eye on border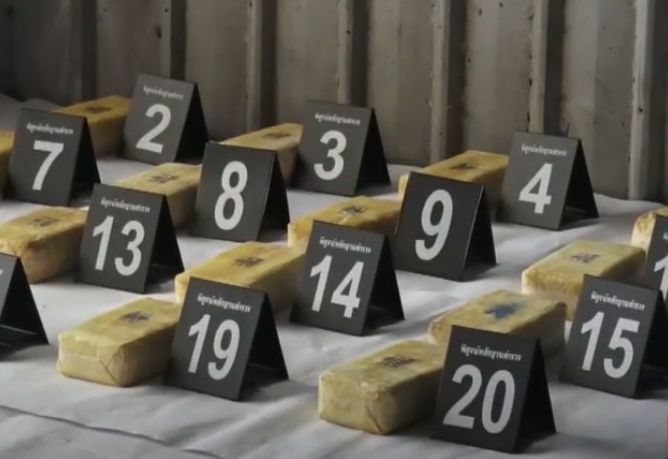 Thailand has faced a spike in methamphetamine trafficking across the Mekong River following the military coup in neighbouring Myanmar. Local volunteers along the river are now helping out to identify potential drug smugglers disguised as fishermen.
The volunteers tip off police when they see suspicious activity since they can't make arrests and confronting a drug trafficker could be dangerous.
One volunteer says he tipped off police about suspected drug traffickers carrying packages from their boats and hidding the drugs in the grass along the riverbank. He says the suspects were later arrested with 5 million methamphetamine pills known as "yaba," meaning "crazy drug."
The Golden Triangle, where Laos, Thailand and Myanmar meet, has been notorious for drug smuggling for decades. For many insurgent and militant groups in Myanmar border towns near Thailand and Laos, synthetic drug production is a main source of revenue.
Crime syndicates in Myanmar are likely using the military takeover to their advantage to strengthen their positions and increase synthetic drug production, according to Jeremy Douglas from the United Nations Office on Drugs and Crime. He says "the pieces are in place to scale up" the drug trade.
Even though border patrol has tightened along the Thai-Myanmar border, drug traffickers are using a route through Laos, crossing the Mekong River to smuggle the drugs to Thailand. With the uptick in supply, the price of methamphetamine has dropped to a low of 50 baht (around $1.60 USD).
SOURCE: AFP
📱 Download our app on Android or iOS for instant updates on your mobile
📧 Subscribe to our daily email newsletter
👍 Like/Follow us on Facebook
🔔 Subscribe to or Join our YouTube channel for daily video updates