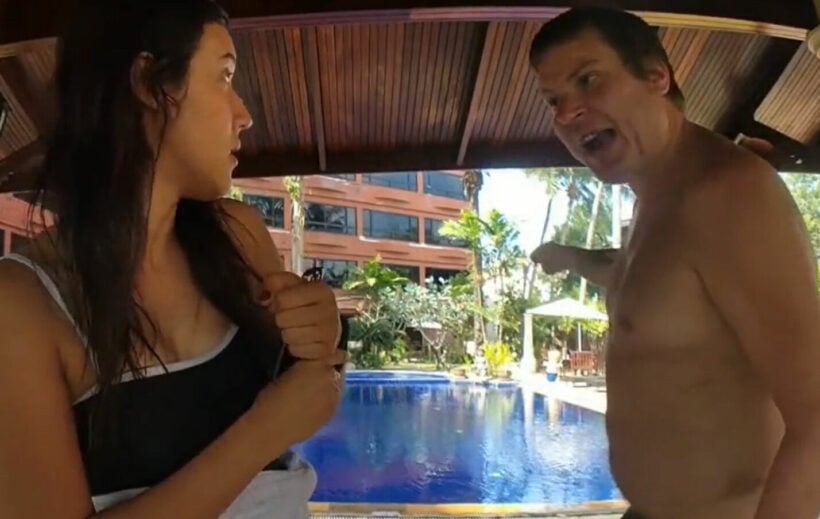 An angry farang (Westerner) of unknown nationality chased a half-Thai half-French woman around the pool at a Pattaya hotel in eastern Thailand when she rejected his advances on Monday.
Twitch streamer 'Justketh' was live-streaming at the hotel's pool where only she and the older man were present.
Keth told The Thaiger…
"He had been sitting in the pool and drinking beer. After some 30 minutes, he asked me to sit next to him and made a sexual gesture (looked at his crotch and nodded) while I was on the other side of the pool. I said no.
"I was talking about it on livestream when he suddenly came up to me aggressively, clenching his fists, as seen in the clip.
"He started chasing me, so I ran away and informed the hotel staff about it. In the meantime, he picked up the stuff I left at the poolside and threw it on the ground."
Keth called the Pattaya Police who ended up fining the butthurt farang 20,000 baht for his outrageous behaviour.
However, the farang said he couldn't pay the fine, so police took him to the station where he spent the night in a jail cell.
Police said he would still need to pay a 10,000 baht fine when released.
Keth later posted on Twitter to add that before she rejected his advances, he was very friendly and smiled at her.
Only once rejected did the entitled farang clench his fists and stomp his feet around the pool like an uncouth rhinoceros.
Streamer @Justketh1 was angrily chased by an older man after she rejected to sit with him in the pool pic.twitter.com/tJcstOSpxq

— Dexerto (@Dexerto) January 2, 2023