Thailand's top cop embroiled in the Surachat car-shooting case – Audio clip released
"Stay away from Big Joke shooting."
A leaked phone conversation reveals Thailand's senior police chief instructing a deputy to distance himself from the Surachat drive-by shooting case. Former Immigration Chief Pol Lt Gen Surachat Hakparn's white Lexus SUV was shot at eight times in a Patpong soi in Bangkok on Monday night. There was no one n the car at the time.
In the audio clip (below), which has now been confirmed as authentic, the Thai police commissioner Chakthip Chaijinda can be heard telling his 2IC Wirachai Songmetta "not to draw public attention to the shooting".
Publicly. police officials have been telling the public they had no intention to shut down the investigation and promised full transparency.
According to police spokesperson Krissana Pattanacharoen…. "I confirm that it's a conversation between the national police chief and his deputy Wirachai Songmetta. It's just a regular reiteration of duties. The case is being taken care of by the (Bangkok) metropolitan police."
"I don't know who did this. But as a matter of courtesy, one should not record a phone call except, someone who has ill intention towards the other party."
The clip was first played yesterday morning on MCOT's "Inside Thailand" program. The host described the audio clip as "a conversation between a senior officer calling from abroad and a senior officer in Thailand."
Media have reported that Thailand's police chief Gen. Chakthip Chaijinda has been on leave since January 6.
The clip continues…. "Just do anything to gain trust from your commanders, don't make them feel suspicious.Do you understand? Do whatever you want…. I want to warn you because many deputies are concerned."
Chakthip appeared to be chiding Wirachai, who has been speaking to reporters about Monday night's shooting that targeted the car of former immigration chief Surachat "Big Joke" Hakparn.
"Just tell me what you want me to do, sir," replies deputy Wirachai.
"I have to be there because if I don't do anything the public will think that we're not doing anything."
Chakthip then ordered his deputy to "steer clear of the case", which is being handled by Bangkok's Metropolitan Police.
It now appears that the Immigration Bureau's controversial contract to purchase a biometric identification system was at the centre of conflicts between the former immigration police chief, Pol Lt Gen Surachat Hakparn and national police chief, Pol Gen Chakthip Chaijinda.
Speaking to the media on Wednesday, the former head of Immigration, aka."Big Joke", speculated that the shooting was clearly linked to the purchase of the biometric identification system by the bureau.
At the time of the contract negotiations Surachat expressed his concerns over the procurement of the system in a letter to Thailand's police chief Gen. Chakthip Chaijinda. He listed a number of issues with the proposed system and shared the opinion that it was not fit for purpose and "wasn't worth the 2.1 billion baht price tag".
In the aftermath, Surachat was side-lined from his duties leading the country's Immigration Bureau into a civilian job as advisor in the prime minister's office. He has worked there ever since and said nothing of the reasons behind his downgrading and removal from the police establishment.
The two billion baht biometrics system was later procured, installed and been used ever since. The national police chief has called several media conferences showcasing the system and proudly announcing the numbers of passengers they had intercepted, arrested and deported using the technology.
The National Anti-Corruption Commission says they've been investigating the procurement process for the biometrics system. Surachat told the media on Wednesday he would be soon be called in to give evidence about it.
Back to the audio tape and Wirachai asks his boss…."So it means I don't have to get involved in this, sir?"
Chakthip prelims… "The metro police are taking care of the case. Don't be drawn by their plot. It's noticeable, do you understand? You don't have to hold news conferences here and there. There's nothing about this case. I thought you're discerning enough not to let them push their personal agenda into this. We all know what P'Toy and Joke are thinking,"
('Joke' refers to Surachat. P'Toy is not identified)
The audio clip has caught the national police off-guard. Media conferences, to be held by Wirachai yesterday, were shuffled around and retimed several times. When a news conference was eventually scheduled Wirachai said…
"I don't know about the clip. I need to look into the details first. It's possible that the phone call might have been tapped."
Yesterday Deputy PM Prawit Wongsuwon acknowledged the conflicts between former Pol Lt Gen Surachat and Pol Gen Chakthip Chaijinda, admitting that he had told them both to clear the air before the conflict gets out of hand.
Yesterday forensic examiners announced they had found all eight bullets embedded in Surachat's SUV. Investigators are trying to determine the type of gun used in the shooting.
SOURCES: khaosodenglish.co.th | Bangkok Post | ThaiRath
Keep in contact with The Thaiger by following our
Facebook page
.
More human remains found submerged in metal casket in suspect's pond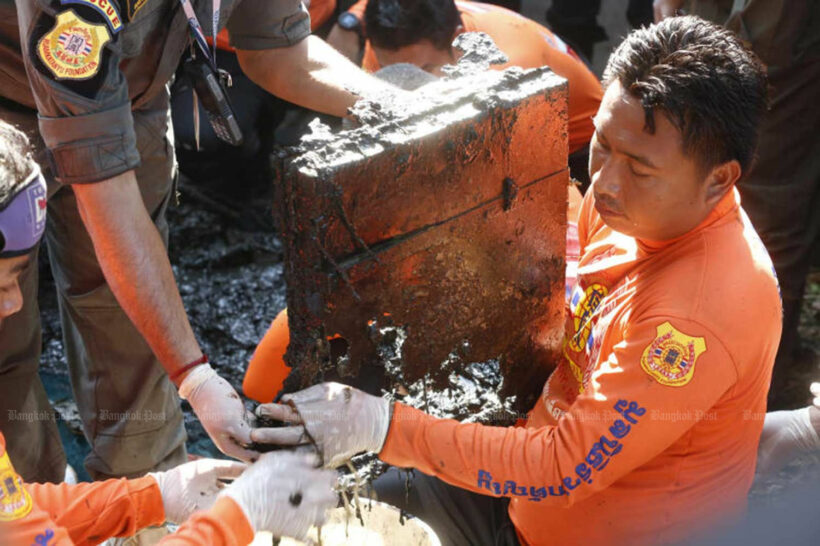 In a story that grows grislier with each new discovery… now an old metal casket with more than 30 human bones has been retrieved from a pond at the Bangkok home of Apichai Ongwisit, dubbed "Ice Heep Lek" (metal casket killer), who has already been charged with murdering his girlfriend and disposing of her corpse on his property.
Nearly 300 human bones have already been retrieved from the lake. At least 40 divers from various agencies participated in the search of the pond in Bang Khae district, west of Bangkok city. The pond, covering about two rai, was split into 14 separate zones for the search. After only 30 minutes divers recovered 10 bones and a knife.
Then around 2:20pm they discovered and brought to the surface an old metal casket containing at least another 30 human bones, including a skull, an eight kilogram dumbbell, a chain, T-shirt and pair of shorts and some rope.
Piya Uthayo, Thailand's assistant national police chief, were present during the increasingly grisly search. He says the skull and bones might be those of a small woman. The chief of Bangkok's Metropolitan Police Bureau said the bones appear to belong to a woman over 18 years old.
Police now believe there could be three or more corpses.
Last Friday, divers retrieved the bones from the pond, about five metres away from where they found a human skeleton a week earlier. The skeleton was wrapped in clothes and a bedsheet and hidden under a massive metal object and fastened to dumbbells by chains.
40 year old Apichai Ongwisit was arrested at his house earlier this month after police found the body of 22 year old Warinthorn "Kuk-kik" Chaiyachet from Sakon Nakhon in the northeast.
Apichai has reportedly admitted to killing the woman in August last year. According to local media reports, Apichai used drugs and began an intimate relationship with the woman and soon fell in love with her.
He reportedly ordered her to sleep in a metal casket, which he locked to ensure she did not leave him. When he opened the casket in the morning, he found she had died from suffocation, or so the narrative goes in the Thai media.
31 year old Chanchai Nakhiew-ngam, a former girlfriend of Apichai, told police he has a violent temper and she believes there are more corpses on the grounds of his sprawling, 20 rai property, but denied any involvement in the deaths, according to police.
SOURCE: The Bangkok Post
Keep in contact with The Thaiger by following our
Facebook page
.
Nearly 300,000 Bangkok school students stay at home today as a measure to reduce air pollution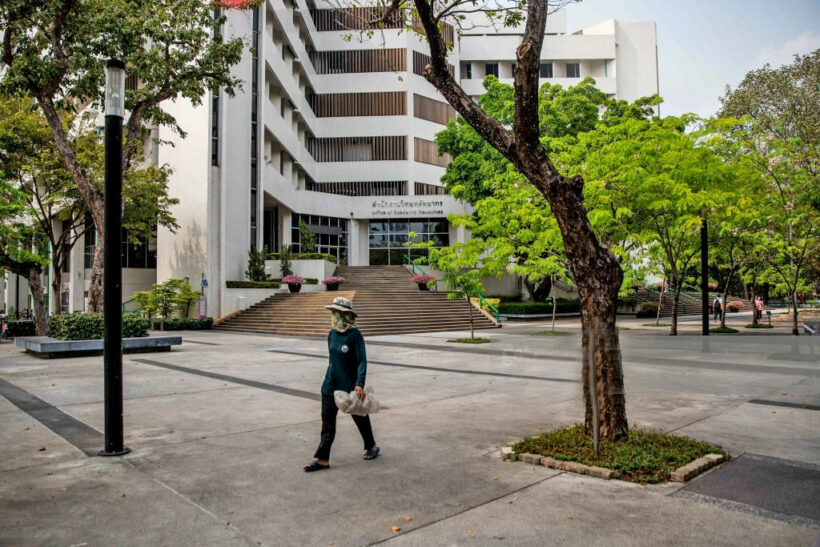 Nearly 300,000 students from 437 schools around Bangkok are having the day off after the Bangkok governor announced they could stay home and avoid the city's smog. Ironically, today's city air pollution has reduced to its lowest level in a week.
The Bangkok Metropolitan Administration suspended classes at 437 public schools for one day and introduced staggered working hours for city public servants from today, "as airborne PM2.5 dust and smoke is forecast to remain excessive".
Pongsakorn Kwanmuang, a BMA spokesperson, says the measures are part of city hall's "four-point plan to cope with worsening air pollution in Bangkok". He says that officials working at district offices will report to work as normal, adding that the staggered working hours will be ended when pollution has eased. How the staggering of work hours would relieve the pollution problem was not outlined by the spokesperson.
"The class closure, affecting over 280,000 students, will reduce the number of cars on Bangkok's streets and help ease PM2.5 problem."
City Hall is also distributing 450,000 free face masks to people in Bangkok.
Keep in contact with The Thaiger by following our
Facebook page
.
Thai PM mulls private car ban in pollution-stricken areas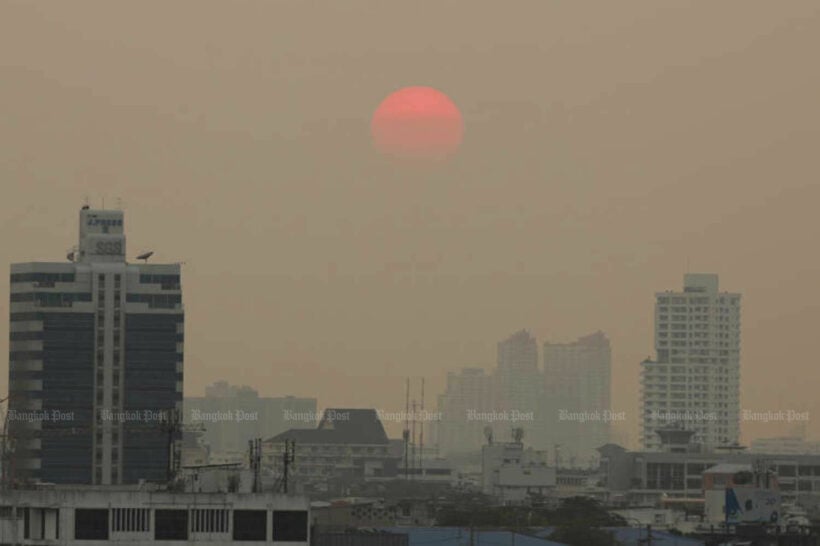 "Bangkok's governor has also signed an order yesterday to close 437 schools in in the city today due to a forecast of higher pollution levels."
The government is considering a ban on private car use in areas affected by hazardous levels of air pollution. The harsh proposal was unveiled Tuesday by PM Prayut Chan-o-cha after a cabinet meeting in Narathiwat. The PM said only public transport services would be allowed to use the roads during a ban.
"Is that what we want? Do we really have to go that far?"
The severe measure would be employed on a case by case basis to avoid unnecessarily negative impact.
The PM says the government is ready to step in with such measures when ultra-fine PM2.5 dust particles in the air exceed 100 micrograms per cubic metre, twice the national so-called safe limit of '50'. (PM2.5 is particulate matter 2.5 micrometres or less in diameter suspended in the air)
"If the dust levels rise to more than 100 micrograms, the government will take over all the work and everyone will be affected."
The PM was responding to questions about calls for tougher measures to deal with sources of the problem and accusations that his government hasn't done enough. According to the Prime Minister, vehicle exhausts are the primary source of PM2.5, followed by biomass burning and industrial emissions. The specific burins of sugarcane plantations, known to be the largest single cause of the smoke problems, wasn't addressed.
In areas where the PM2.5 levels rise to between 75 and 100 micrograms per cubic metre, the provincial governor will implement more stringent measures like prohibiting heavy trucks from entering certain areas of the province at certain times.
And if PM2.5 levels go above 100 micrograms the government will step in and may implement even more stringent rules, "which would affect everyone," according to the PM.
How these measures would play out in reality, and how motorists would be warned of the restrictions wasn't explained.
Natural Resources and Environment Minister Varawut Silpa-archa, meanwhile, hinted that if measures against lorries prove inadequate, private cars could be targeted next.
"It has been found that 72% of the PM2.5 dust particles come from traffic emissions."
The source of the Minister's claim wasn't announced at the time he made the statement.
Among the short-term measures to be implemented next in Bangkok is a ban on heavy trucks from entering certain parts of the city on alternate days, possibly in February only.
Bangkok's governor has also signed an order yesterday to close 437 schools in in the city today due to a forecast of higher pollution levels.
SOURCE: TheBangkok Post | Air Visual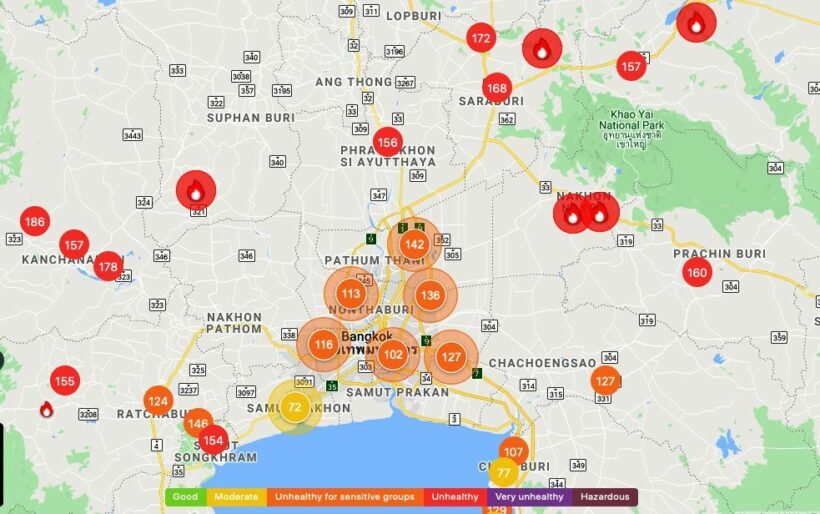 GRAPHIC: Air quality has improved around parts of the capital today whilst the fires to the north east and north west are clearly displayed – Air Quality
Keep in contact with The Thaiger by following our
Facebook page
.