Three killed, others injured in Lopburi gold shop robbery – VIDEO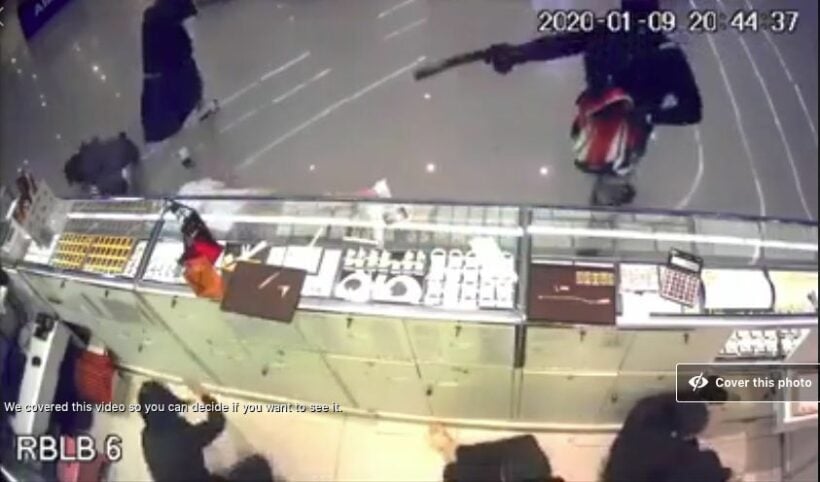 Three people are now dead and another four injured after a lone gunman entered a Lopburi gold shop, shooting customers and then robbing the store (video below). Lopburi is about 150 kilometres north of Bangkok.
The armed robbery took place at a gold shop in Robinson Department Store in the main city district of Lopburi province
Speaking to the media following the shooting, the deputy police spokesman Pol Colonel Krisana Pattanajaroen the gunman appeared to be acting alone.
"He was a male, wore camouflaged pants, a black long-sleeve shirt, and a black ski mask. He fired from an unidentified gun at security guards and bystanders before grabbing the gold and fleeing on a motorcycle identified as a red-and-white Yamaha Fino."
One man, a customer, and one woman, were shot and died at the store. A boy who was shot in the head during the heist and was rushed to the Meuangrai Hospital. He subsequently died of his injuries. Two other men and two women were also shot and are being treated at the same hospital.
"The police are investigating the scene, looking at CCTV footage as well as estimating the value of the gold that was robbed."
Click to watch the robbery and shooting. WARNING: Graphic content.
https://www.facebook.com/317342891780625/videos/758610837956925/
The National Police chief Pol General Chakthip Chaijinda is ordering officers in Lopburi and nearby provinces to "pursue the suspect and widen the search areas to cover every possible escape route".
"It has shocked the public. Officers have been instructed to use utmost caution as the suspect possesses dangerous firearms. Use of lethal force is allowed if necessary."
There is a police hotline on 191 or 1599 that can be called for anyone with information that could lead to the identifying or apprehension of the shooter.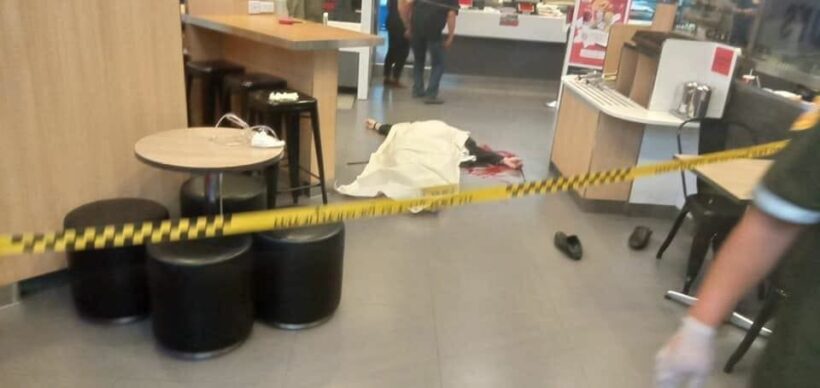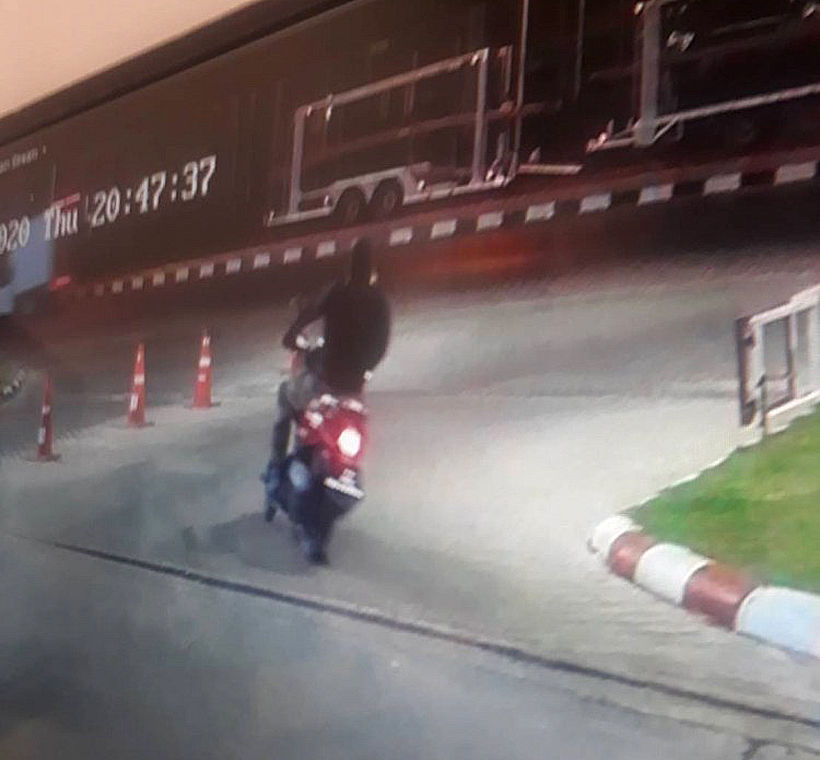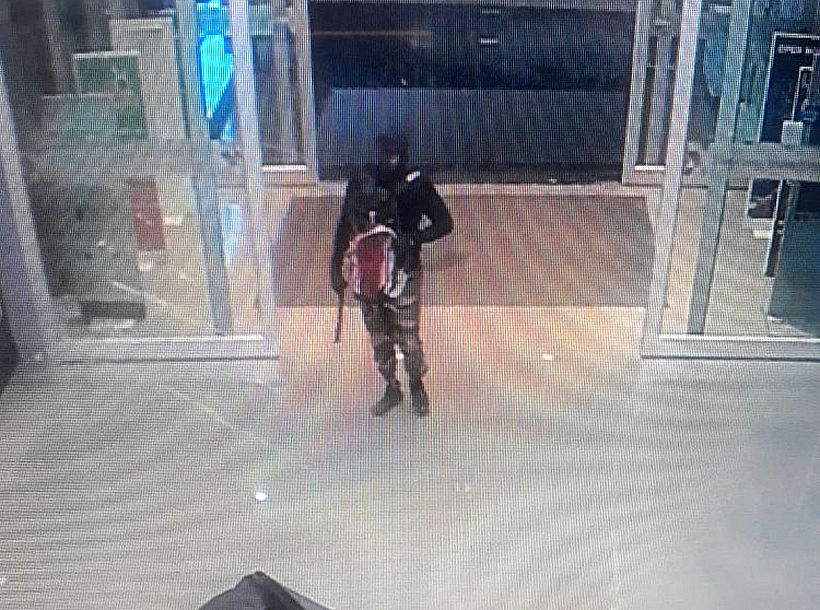 SOURCE: The Nation
Keep in contact with The Thaiger by following our
Facebook page
.
Never miss out on future posts by
following The Thaiger
.
Venomous octopus grilled and up for sale at Pathum Thani market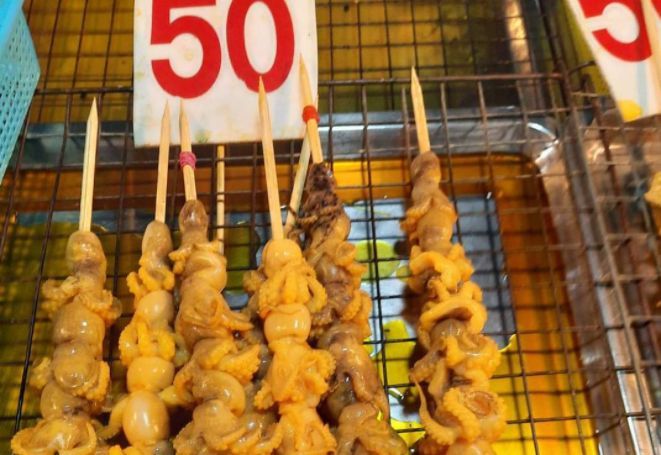 A venomous blue ringed octopus was found grilled up on a stick and up for sale at a Pathum Thani. The Department of Marine and Coastal Resources posted photos of the octopus on their Facebook page, warning people to watch what they eat.
While the octopus is small, about the size of a golf ball, its venom contains the powerful neurotoxin tetrodotoxin which blocks sodium channels, causing motor paralysis and respiratory arrests within minutes of exposure. It has enough venom to kill 26 humans. There is no antivenom. The department says the venom can endure heat up to 200 degrees Celsius, so grilling the octopus won't destroy the toxins.
The department is advising customers to look out for the blue ring pattern.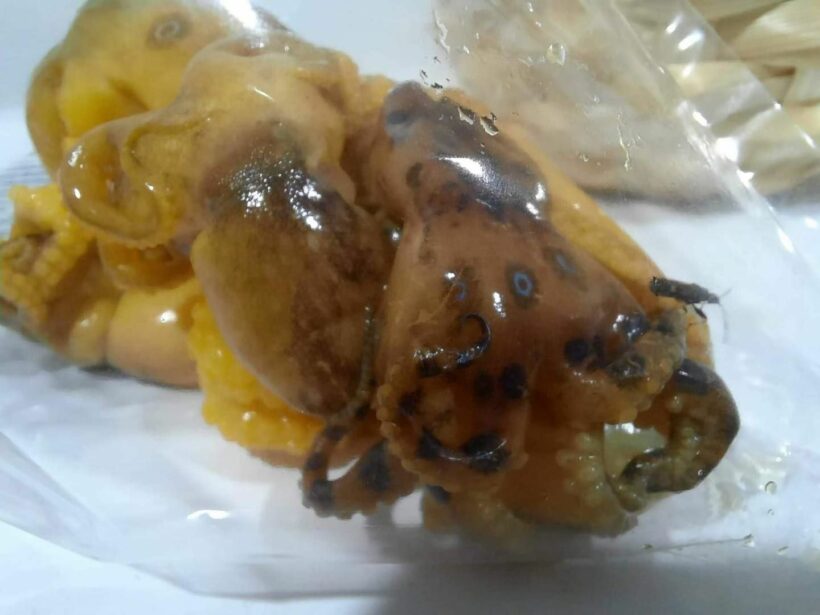 SORUCES: Nation Thailand| Wikapedia
Keep in contact with The Thaiger by following our
Facebook page
.
Never miss out on future posts by
following The Thaiger
.
Local singer dies after crashing his car while on a video call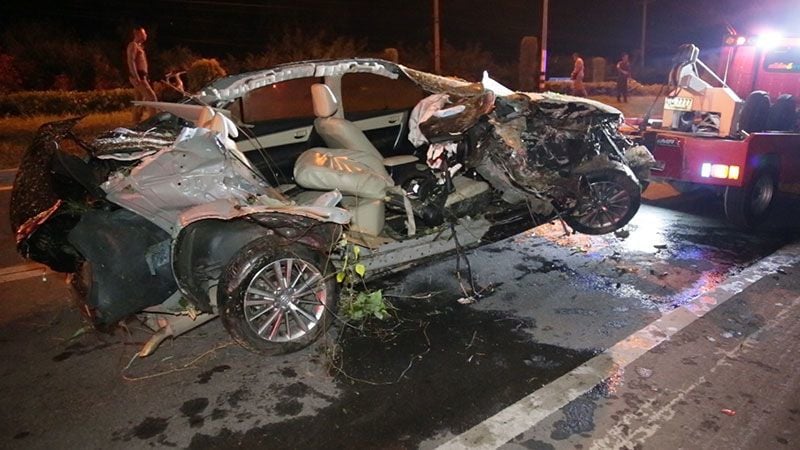 A Thai singer died after crashing his car into a lamppost while on a video call with his girlfriend. Thai media did not report on the estimated speed, but photos of the wreckage show severe damage. The roof ripped off the Toyota Altis and the car is almost unrecognisable.
23 year old Akkarachai, known as Ice, was found dead at the scene on Pahonyothin Road, or Route 1. He performed at many night venues and events around the Central Thailand province Chai Nat. Ice's friend told police that he was on his way home to his girlfriend's house in Nakhon Sawan about 25 kilometres away. While on the phone with his girlfriend, there was suddenly a loud noise and the phone went dead.
Chai Nat police warn people not to use their phones while driving.
SOURCE: Thai Visa
Keep in contact with The Thaiger by following our
Facebook page
.
Never miss out on future posts by
following The Thaiger
.
Monk arrested for alleged involvement in large methamphetamine delivery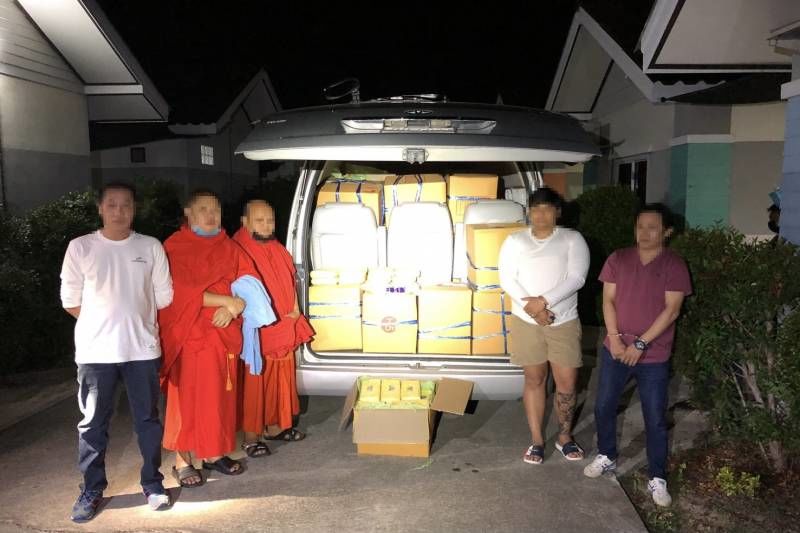 Police arrested a monk on drug charges and seized 4.8 million methamphetamine pills from a resort in the Central Thailand province Chai Nat. The man, a senior monk from Chiang Rai, was allegedly hired to help deliver large qualities methamphetamine 3 times and paid 300,000 baht per delivery. The monk allegedly told police that he needed the money to enroll in a master's degree program.
A photo shows the monk standing in front of a van packed with boxes. Along with the 4.8 million methamphetamine pills, police found a gun with 14 bullets and 11 mobile phones. According to Thai media, it was a significant drug trafficking bust, cracking down on a large network in the Chiang Dao and Chai Nat area. The monk allegedly sat in the van during deliveries to "trick" police and avoid getting searched at police checkpoints.
SOURCES: Chiang Rai Times | Thairath
Keep in contact with The Thaiger by following our
Facebook page
.
Never miss out on future posts by
following The Thaiger
.