Thai Army sniper goes on shooting rampage in Korat – up to 20 shot and killed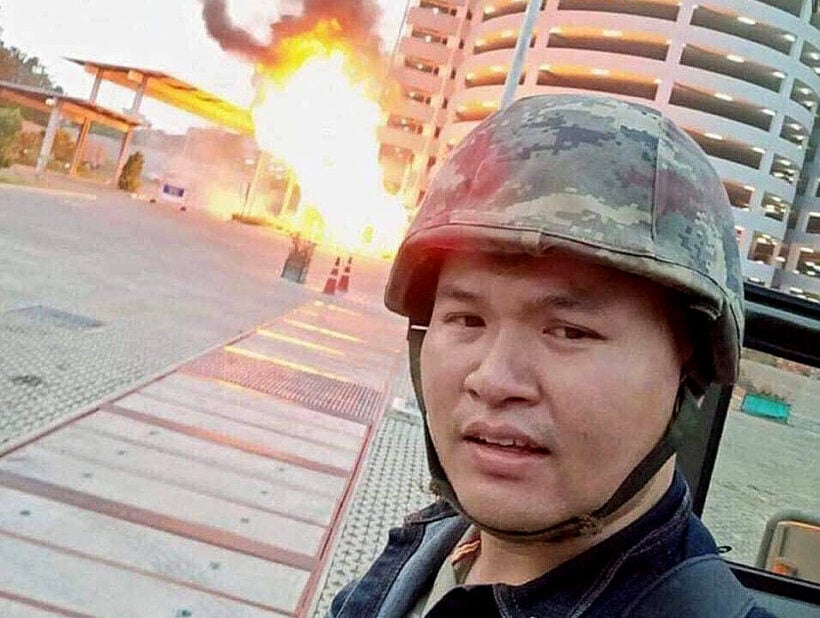 UPDATE: A police and army detachment is currently searching for an army sniper in Nakhon Ratchasima's Korat city centre. The solider has shot dead at least 12 people late this afternoon. The city is in virtual lockdown as security officials are trying to clear the areas around the crime scene. The gunman was live-streaming the entire incident and taking selfies in front of the crime scene.
A police spokesman is advising the public to move away from the area, "stay indoor, and obey instructions from security officers".
VIDEO BELOW
STORY: There's been a major shooting incident in Korat city, Nakhon Ratchasima, north eastern Thailand this afternoon. 12 people have been shot dead according to early reports. But other social media reports are saying that up to 20 people could have been killed in the rampage. The number of people shot remains fluid and we will update the situation as soon as more accurate information comes to hand.
Police are still currently searching for an armed soldier who is said to carrying an assault rifle and is currently holed up inside the Terminal 21 shopping centre.
The soldier has been identified as Sgt. Jakkrapanth Thomma. Police say that he stole a Humvee vehicle from his army base and then went on a shooting rampage around the city. Jakkrapan later went inside the Terminal 21 shopping mall and started shooting shoppers.
At this stage the dead include a motorcycle taxi rider, students, a taxi driver and, according to unverified reports, police and children. Other video show the gunman firing his rifle into the crowd and busy traffic driving past the mall.
Jakkrapanth has also posted several photos and videos of his attack on social media and has been updating with more photos and descriptions.
Speaking to the camera, Jakkakrapanth, wearing his helmet and uniform, spoke directly to the camera
"I'm tired now. I can't move my finger anymore." He was complaining he had cramps. 10 minutes later…
"Should I surrender?"
The man's motives are not known to police although investigators are currently combing through his social media pages finding "incoherent messages".
As of the time of publication (7.28pm) the gunman is still posting on his social media.
SOURCE: Newshawk Phuket | Khaosod English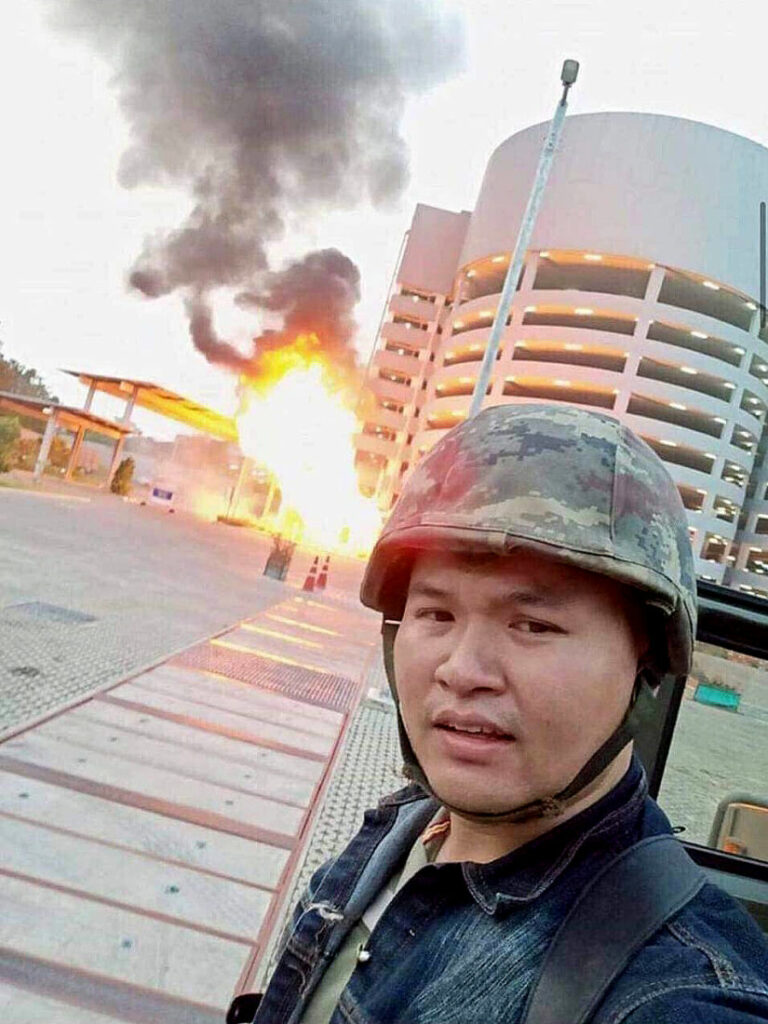 อิเหี้ย โคราชมีกราดยิงกลางเมืองแถวห้างเทอมินอล น่ากลัวสัส
กระจายข่าวด่วน พื้นที่อันตราย#กราดยิงทั่วเมืองโคราช#CUTUBALL74#ไวรัสอู่ฮั่น
pic.twitter.com/tgsaEkUOOO

— อิหมิน (@mhinbeauty) February 8, 2020
Keep in contact with The Thaiger by following our
Facebook page
.
Korean tourist allegedly attacked in Pattaya after refusing to give money to a Thai woman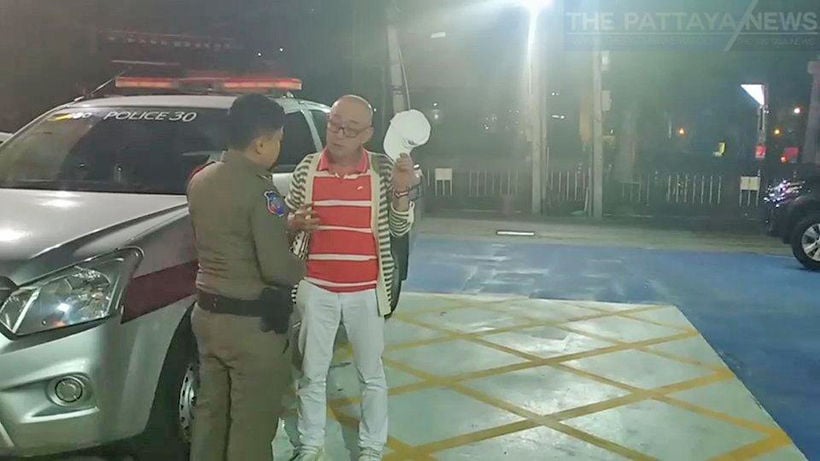 A Korean man was allegedly attacked by a group of Thais after refusing to give money to a woman he met at a beer bar in Pattaya. 57 year old Sung Ho Im filed a report with the Bang Lamung Police in the early hours of this morning.
He told police that he had met the woman at a beer bar earlier in the evening. They were drinking together at the bar before she agreed to go with him on his motorbike to "hang out" and they went to drink elsewhere, according to his report.
When she asked him to stop at a shop, he refused, then she wanted to leave and asked for money for her time away from work. Sung refused to give her any money saying he had no idea what the money was for and that she had never said she wanted to go shopping.
As the dispute became very vocal and was causing a public disturbance, two men on a motorbike stopped to ask what was wrong . After speaking with the woman they demanded Sung pay several thousand baht to the woman "to avoid a problem."
Sung said he had no money and refused again before the men hit him in the face many times.
The men and the woman then sped away together, Sung alleges. Police are hunting for suspects and reviewing CCTV in the area. They will also return to the beer bar where the woman works to speak with the owner.
SOURCE: The Pattaya News
Keep in contact with The Thaiger by following our
Facebook page
.
Drug runners killed in Chiang Rai clashes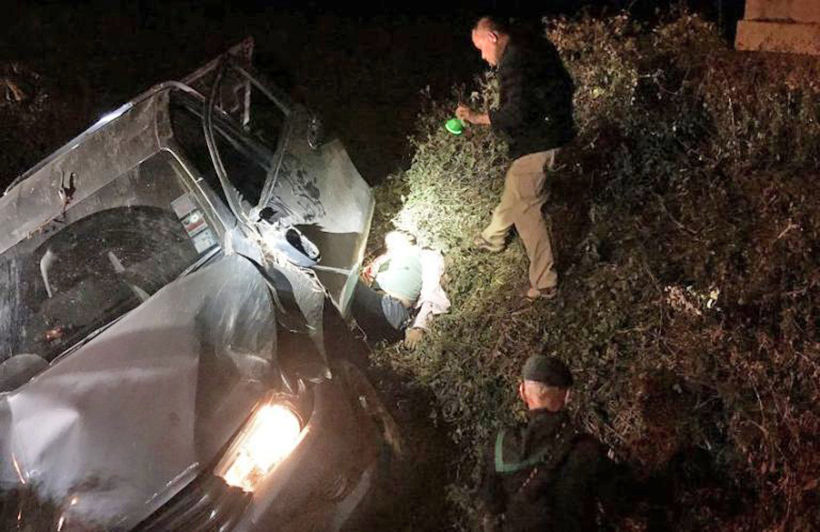 Police in Chiang Rai province report that three drug smugglers were killed and another arrested in two clashes with security forces near the Burmese border last night. A total of 400,000 methamphetamine pills and 7 kilograms of crystal methamphetamine were seized.
The first clash occurred about 9:30pm after a number of pickup trucks and motorbikes were spotted crossing the border from Myanmar into the Chiang Saen district.
A patrol of the Narcotic Suppression Bureau and soldiers of the Pha Muang Force followed them to an area near a bypass road, but as they moved in for a search, guards travelling with the convoy opened fire.
In the subsequent firefight, one smuggler identified as "Jalae," aged about 20, was killed. Another, 18 year old Yapa Ja-ou of Ban San Khong in Chiang Rai's Mae Chan district, was arrested.
The remaining smugglers fled in a greyish bronze Toyota pickup truck leaving behind a total of 250,000 methamphetamine pills and about 7 kilograms of crystal meth, or "ya ice"
WARNING: The video below contains graphic content and viewer discretion is advised.
At about 10pm, the pickup was intercepted at a three-way junction It veered off the road as the smugglers opened fire on the officers. Both men in the truck were killed in the clash, which lasted about 15 minutes according to police. They were identified as 19 year old Peerapol Tamu, and Khamchang Japo, aged 18.
Fifteen packages containing 150,000 meth pills and an 11mm pistol were found in the pickup.
SOURCE: Chiang Rai Times
Keep in contact with The Thaiger by following our
Facebook page
.
Bangkok gunman arrested this morning in Phetchaburi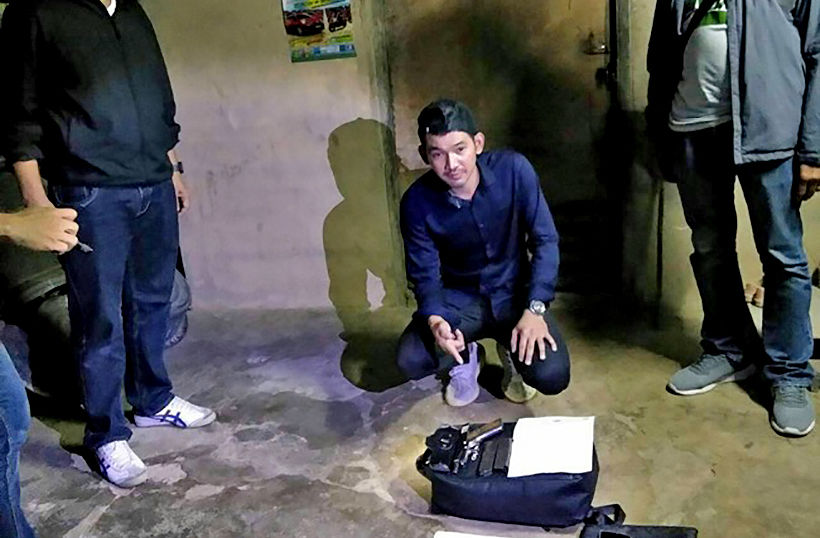 A lone, jealous gunman, who killed his ex-wife in her place of employment in a shopping centre near Victory Monument yesterday afternoon, has been arrested.
The 34 year old gunman was arrested in a home in Phetchaburi, south west of Bangkok, at 4.30am today. He has been charged with pre-meditated murder, illegal possession of a weapon and carrying a gun in public.
He has allegedly confessed to all charges. Police took the man back to the Phayathai police station, near to where the incident happened.
Yesterday, Bangkok police reported the shooting of a woman at the Icon Clinic in the Century Movie Plaza. A bystander was also shot during the incident. The gunman fled the scene straight after the shooting.
The deceased woman was a 28 year old staff member at the clinic. The injured person was a fellow staff member, according to police. Witnesses report seven shots were fired.
Bangkok Metro Police announced that they'd identified the suspect as Danusorn Nooncharoen, the ex-husband of the victim. The gunman reportedly worked in security at the Siam Paragon shopping centre. According to police, the couple divorced last week after 10 years of marriage.
Police speculated that the incident was motivated through jealousy of a new man in his ex-wife's life.
Police reported today that they had found a suicide note from the gunman where he wrote that he was going to kill his ex-wifes' new lover and then kill himself.
The shooting happened 10 days after a deranged Thai army soldier opened fire inside another shopping mall in Korat, north east Thailand. The rampage left 30 people dead, including the gunman, plus another 50+ injuries. It was also 5 weeks after another shooting at a Lop Buri gold shop at the Robinsons Shopping Centre.
Despite all these incidents and the prevalence of guns in the hands of private citizens in Thailand, there has been no discussion from government officials about better gun controls.
Keep in contact with The Thaiger by following our
Facebook page
.