Thai Army sniper goes on shooting rampage in Korat – up to 20 shot and killed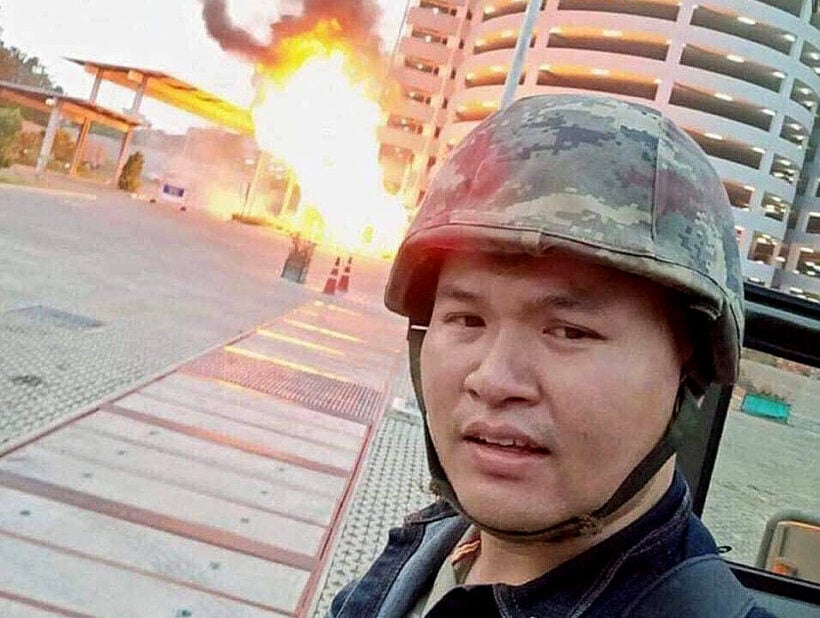 UPDATE: A police and army detachment is currently searching for an army sniper in Nakhon Ratchasima's Korat city centre. The solider has shot dead at least 12 people late this afternoon. The city is in virtual lockdown as security officials are trying to clear the areas around the crime scene. The gunman was live-streaming the entire incident and taking selfies in front of the crime scene.
A police spokesman is advising the public to move away from the area, "stay indoor, and obey instructions from security officers".
VIDEO BELOW
STORY: There's been a major shooting incident in Korat city, Nakhon Ratchasima, north eastern Thailand this afternoon. 12 people have been shot dead according to early reports. But other social media reports are saying that up to 20 people could have been killed in the rampage. The number of people shot remains fluid and we will update the situation as soon as more accurate information comes to hand.
Police are still currently searching for an armed soldier who is said to carrying an assault rifle and is currently holed up inside the Terminal 21 shopping centre.
The soldier has been identified as Sgt. Jakkrapanth Thomma. Police say that he stole a Humvee vehicle from his army base and then went on a shooting rampage around the city. Jakkrapan later went inside the Terminal 21 shopping mall and started shooting shoppers.
At this stage the dead include a motorcycle taxi rider, students, a taxi driver and, according to unverified reports, police and children. Other video show the gunman firing his rifle into the crowd and busy traffic driving past the mall.
Jakkrapanth has also posted several photos and videos of his attack on social media and has been updating with more photos and descriptions.
Speaking to the camera, Jakkakrapanth, wearing his helmet and uniform, spoke directly to the camera
"I'm tired now. I can't move my finger anymore." He was complaining he had cramps. 10 minutes later…
"Should I surrender?"
The man's motives are not known to police although investigators are currently combing through his social media pages finding "incoherent messages".
As of the time of publication (7.28pm) the gunman is still posting on his social media.
SOURCE: Newshawk Phuket | Khaosod English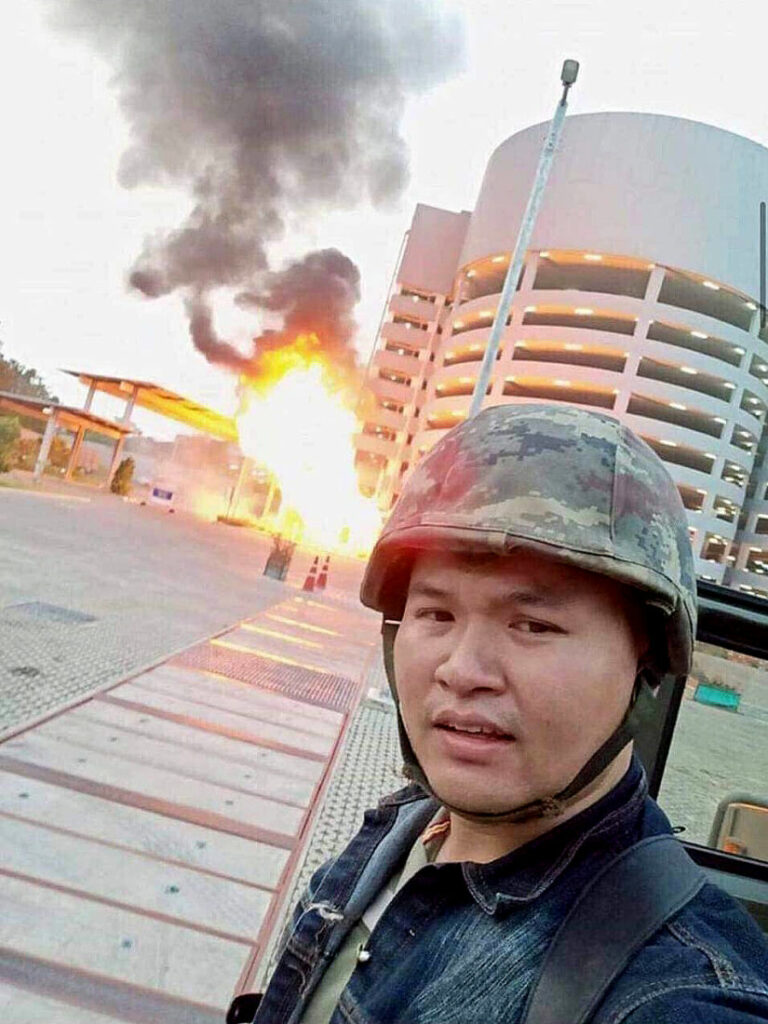 อิเหี้ย โคราชมีกราดยิงกลางเมืองแถวห้างเทอมินอล น่ากลัวสัส
กระจายข่าวด่วน พื้นที่อันตราย#กราดยิงทั่วเมืองโคราช#CUTUBALL74#ไวรัสอู่ฮั่น
pic.twitter.com/tgsaEkUOOO

— อิหมิน (@mhinbeauty) February 8, 2020
Keep in contact with The Thaiger by following our
Facebook page
.
Never miss out on future posts by
following The Thaiger
.
9 arrested for allegedly embezzling more than 2.8 billion baht from Railway Club Cooperative funds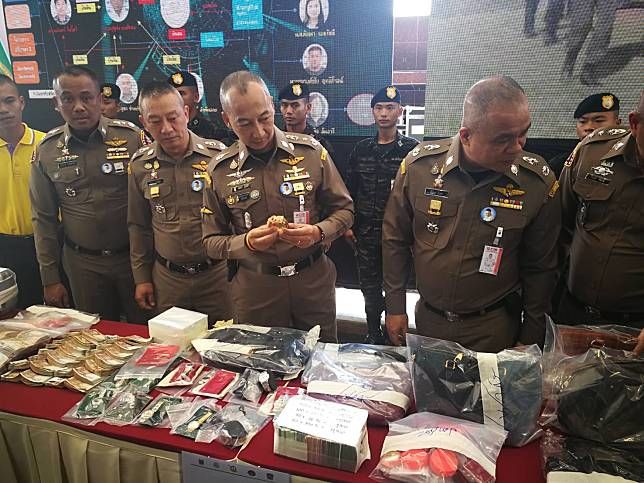 Police arrested 9 people involved in the Railway Club Cooperative, including the former chief, on collusion charges for allegedly approving loans behind closed doors to embezzle a total of 2.8 billion baht from members' funds.
Officers from the Central Investigation Bureau have been investigating since June 30 of last year. Investigators say the suspects approved loans without calling meetings for the roughly 2,300 cooperative members and used falsified documents to take out loans of about 15 million baht each.
When reviewing loan approvals made between January 2012 and November 2016, investigators say they found loans given to a hotel, housing estate, resort and property project. They say loans were also used to buy luxury cars and other valuables.
Officers from the bureau along with the Department of Special Investigation and the Anti-Money Laundering Office recently raided 26 locations in Bangkok, Phetchaburi, Samut Prakan and Nonthaburi. Officers seized a total of more than 10 million baht as well as luxury cars.
The 9 suspects face charges of colluding in theft, falsifying documents, using fake documents and money laundering. Along with arresting the cooperative's former chief executive, 70 year old Boonsong Hongthong, police arrested committee members 49 year old Pimpa Rodrassamee, 31 year old Orchanok Sa-ngadsap, 59 year old Weerachai Srisawat, 69 year old Surat Srisawat, 37 year old Prapat Srisawat, 44 year old Supakit On-aree, 63 year old Preecha Thanapairin and 40 year old Natyanit Mahachot.
SOURCE: Bangkok Post
Keep in contact with The Thaiger by following our
Facebook page
.
Never miss out on future posts by
following The Thaiger
.
Bangkok woman arrested for allegedly stealing 1 million baht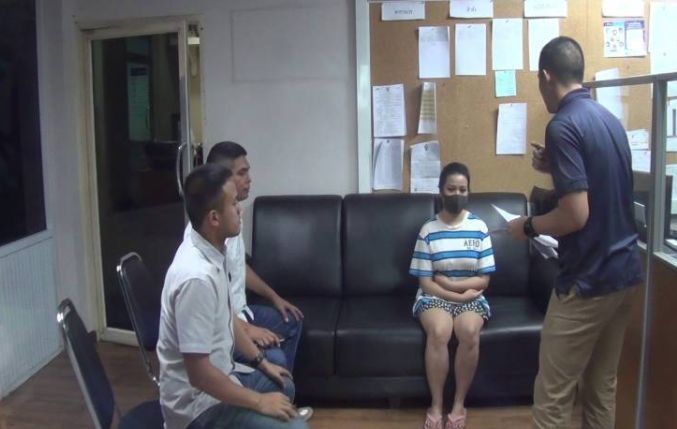 A Bangkok woman was arrested on fraud charges for allegedly stealing a company checkbook and withdrawing 1 million baht. The 29 year old woman, identified as Krissadee, worked in accounting for a clothing design firm in the city's Ekkamai area.
Apparently, shortly after she was hired, Krissadee suddenly stopped showing up for work. The company then noticed the checkbook was missing as well as a million baht from the company account.
In an investigation, Khlong Tan police found Krissadee made cash withdrawals. She allegedly told police that she used the money to pay for trips and gambling expenses.
SOURCE: Thai Visa
Keep in contact with The Thaiger by following our
Facebook page
.
Never miss out on future posts by
following The Thaiger
.
Monk arrested for alleged involvement in large methamphetamine delivery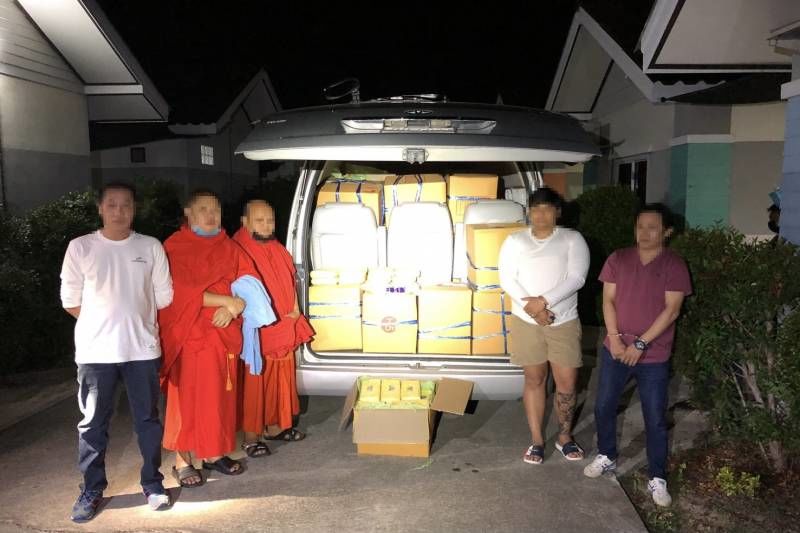 Police arrested a monk on drug charges and seized 4.8 million methamphetamine pills from a resort in the Central Thailand province Chai Nat. The man, a senior monk from Chiang Rai, was allegedly hired to help deliver large qualities methamphetamine 3 times and paid 300,000 baht per delivery. The monk allegedly told police that he needed the money to enroll in a master's degree program.
A photo shows the monk standing in front of a van packed with boxes. Along with the 4.8 million methamphetamine pills, police found a gun with 14 bullets and 11 mobile phones. According to Thai media, it was a significant drug trafficking bust, cracking down on a large network in the Chiang Dao and Chai Nat area. The monk allegedly sat in the van during deliveries to "trick" police and avoid getting searched at police checkpoints.
SOURCES: Chiang Rai Times | Thairath
Keep in contact with The Thaiger by following our
Facebook page
.
Never miss out on future posts by
following The Thaiger
.