Man arrested for fake immigration documents operation at Bangkok grocery store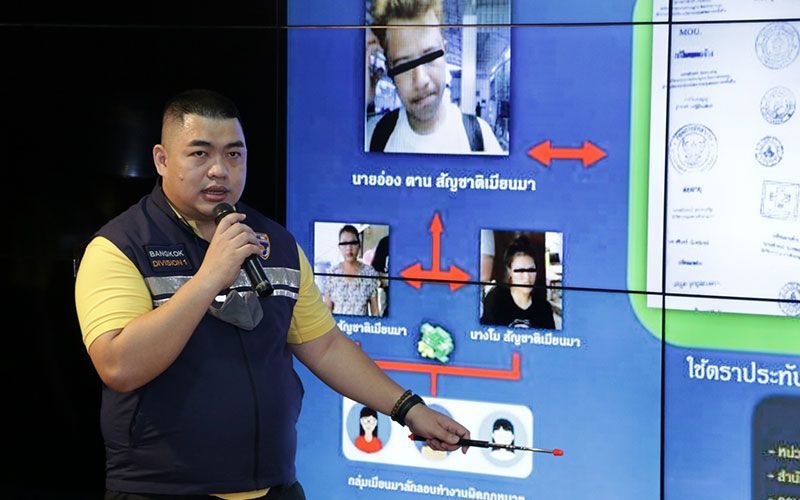 A Burmese man was arrested after he allegedly faked work permit documents and stamps, operating at a produce shop in Bangkok near the Myanmar Embassy. After a number of cases involving Burmese migrants with fake visa documents and bogus stamps, immigration officers investigated the grocery store, posing as customers.
Many customers entering the grocery store didn't buy vegetables and were seen exchanging documents, according to Thai media. After going undercover and collecting evidence, immigration officials arrested the Burmese man, Thai media reports as Ong, and 2 women allegedly involved in the scheme. They searched the property and found a large number of Myanmar passports and various kinds of stamps.
Ong allegedly admitted to producing fake immigration stamps, work permit applications and other immigration documents. He charged around 2,000 to 3,000 baht for his services, police say. Ong, who has lived in Thailand for a while and can read Thai, allegedly told police he acquired legal work permits and the proper documents, becoming familiar with the stamps and documents needed by immigration. He allegedly told police he copied immigration stamps as well as stamps from hospitals used on medical certificates.
Thai media says immigration police are now expanding their investigation to crack down on other operations producing fake visa documents and stamps.
SOURCE: Thai Residents
Catch up with the latest daily "Thailand News Today" here on The Thaiger.
Keep in contact with The Thaiger by following our
Facebook page
.
Never miss out on future posts by
following The Thaiger
.
Thousands of protesters descend on the German Embassy in Bangkok awaiting to submit their petition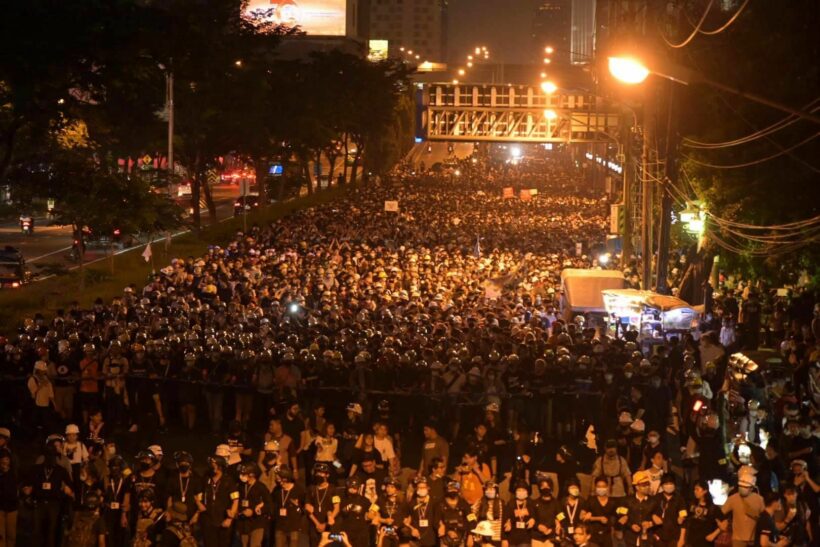 7.15pm and the protesters arrived out the front of the German Embassy. Thousands have blocked the way in Sathorn Road but protesters say they're waiting for more to arrive. Estimates of the crowd say there are up to 10,000 anti government protesters already. Protesters say they're waiting for an invitation by the German Ambassador for representatives to enter the embassy to submit their petition.
Protesters have been met by hundreds of riot police protecting the entrance to the embassy, in fact three lines of police. The ensemble of police is matched by a huge Thai and overseas media contingency.
Protesters are seeking an opinion from the German Government about the residential status of the Thai Head of State in the state of Bavaria, claiming that the monarch has been conducting political business whilst in residence.
Protest leaders asked the demonstrators to show restraint and avoid any violence as the rally moved from the Sam Yan intersection, near the Chulalongkorn University, towards the German Embassy along Rama IV Road.
At this stage no officials have emerged from the gates of the embassy to accept the petition. A number of protest leaders are waiting at the gate with their petition after clearing the way for the representatives to approach the front gate in waiting for someone to come out.
As of 7.15pm, no one had emerged from the embassy buildings although a report has come from Thai Enquirer that the Embassy has agreed to accept 3 protest leaders inside to submit their petition.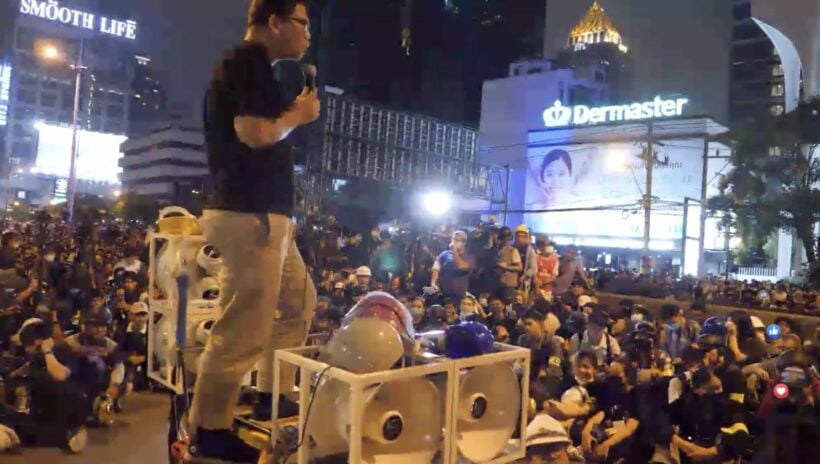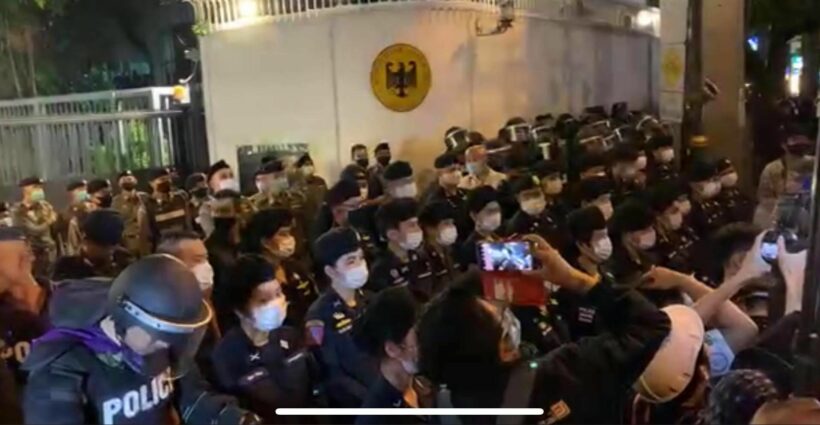 Keep in contact with The Thaiger by following our
Facebook page
.
Never miss out on future posts by
following The Thaiger
.
Thai protesters head to German Embassy to file controversial petition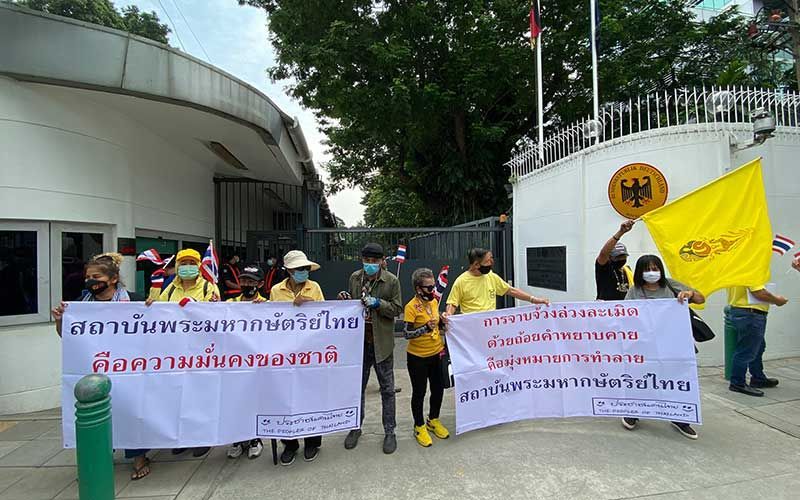 There was a spontaneous rally outside the German Embassy in Sathorn Road by government supporters and yellow-shirted royalists early this afternoon, a prelude to this afternoon's march by anti-government protesters walking from the Sam Yan intersection to the embassy, a route of about 1.5 kilometres.
Protesters say they will submit a petition considered to be unprecedented and controversial in Thailand, calling on Germany to investigate His Majesty the King Maha Vajiralongkorn, who spends a significant amount of his time in Bavaria, to determine if he has violated German sovereignty by exercising power on German soil.
"Our monarchy has been used as a political tool for several years. The dictators and fascists have used the monarchy to tackle those who stand against them. This is the reason why Thailand is not moving forward as it should be."
Meanwhile, another protest has popped up in Wongwian Yai, Thonburi, on the west banks of the Chao Praya, Bangkok.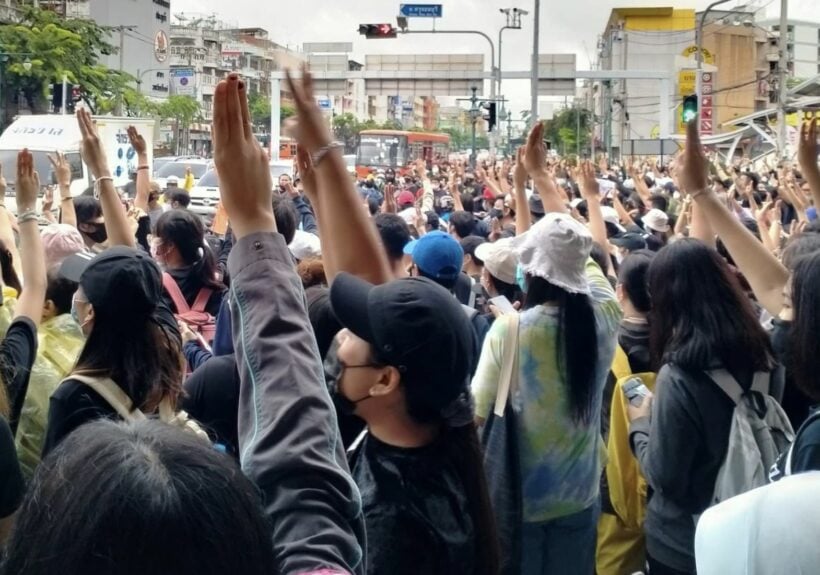 A few hundred pro-government supporters rallied outside the German Embassy in Sathorn for just over an hour sharing their enthusiasm for the Thai monarch with the spokesperson yelling "Show me who would be Thailand's first president", Who would that be", suggesting that the protesters were talking of changing Thailand from a constitutional monarchy to a republic, something that has never been a part of the current protesters' demands.
Royal supporters dressed in yellow, a colour representing the Thai Monarchy, waved the Thai flag and held up photos of the Royal family. The royal supporters are an older demographic than the pro-democracy activists who include many students, showing a clear generational divide in the current conflict.
It is the first time a foreign government has been directly targeted by the anti-government protesters. Protesters say the intention is to push for the restoration of a "truly" constitutional monarchy in Thailand, under law. In past protests, some signs said "Republic of Thailand" rather than "Kingdom of Thailand," as some protesters pushed for full democracy rather than a constitutional monarchy and parliamentary democracy.
Protesters have been calling on government reform and a rewrite of the 2017 Charter. They've also been pushing on Prayut Chan-o-cha to resign. During the protests, parliament was in an "emergency" special session, expected to wrap up on Tuesday evening, in response to the political rallies.
Thailand's lèse majesté laws in Section 112 of the Thai Criminal Code prohibits insults and criticism regarding the Thai Monarchy. A section in the Computer Crime Act also prohibits the insults. Despite this the Monarchy is now being openly discussed on social media and amongst Thais, previously a taboo topic in Thailand.
SOURCES: Nation Thailand| Reuters
Keep in contact with The Thaiger by following our
Facebook page
.
Never miss out on future posts by
following The Thaiger
.
Parliament to discuss political protests in 2 day special session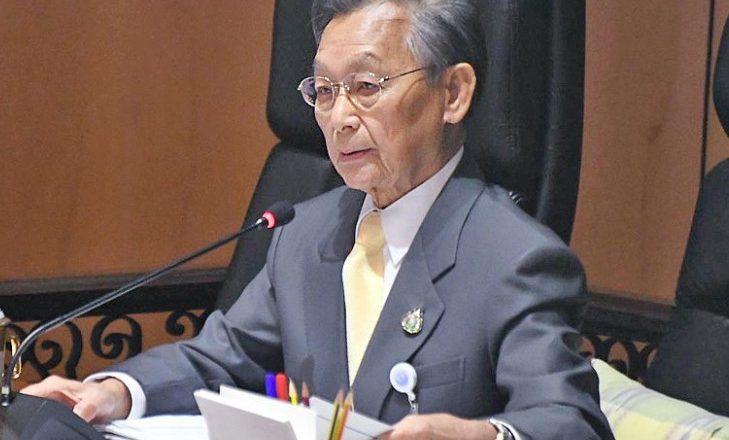 The Thai Parliament is now holding a 2 day 'emergency' parliamentary session to discuss the ongoing pro-democracy protests. House Speaker Chuan Leekpai says he wants MPs and senators to work together to find a solution, but some commentators say it will just cause more conflict between parties. Even amongst the government coalition there are some 20 different political parties that have differing attitudes towards the current demands of the protesters.
The joint House-Senate session will be a general debate and discussion which started at 9.30am and is scheduled to go up to 10pm. No votes on motions will take place during the meetings, today or tomorrow. The special session was scheduled in response to the political protests that have been taken place almost daily since October 14. The current batch of protests kicked off back in July, but have been growing in participants and frequency ever since.
Protesters have calling on government reform, a rewrite of the 2017 Constitution, and pushing for PM Prayut Chan-o-cha to resign.
The protesters have also addressed sensitive topics during their demonstrations regarding the Thai Monarchy, with some statements that could lead to arrest. Under Thailand's strict lèse majesté law, insults and criticism about the Monarchy are prohibited. The politicians will not touch on the sensitive issues, according to chief government whip Wirat Ratanset. He added that MPs are mature enough to do their job constructively without breaking the law.
"However, if any of them are careless when they speak about those sensitive issues during the session, they will be doing so at their own risk and must take responsibility as they will not be afforded the protection of parliamentary immunity", (without explaining why). Pheu Thai secretary-general Prasert Jantararuangtong said party MPs will watch what they say, careful not to bring up issues about the Monarchy during the debate.
The House speaker says that some MPs have disagreed with holding a special session, saying it could cause an argument between the politicians that would do more harm than good.
"I told the MPs they must try to prevent that by cooperating and presenting useful ideas. This is not a censure debate."
The deputy leader of the main opposition Pheu Thai Party, Cholnan Srikaew also said he does not think the debate will not help move things forward.
"The motion is like an attempt to whitewash (the government's actions). Of the total 23 hours of debate, the opposition parties get only 8 hours while cabinet ministers are given 5 hours, the Senate gets 5 hours, and parties of the coalition camp get 5 hours. This means 15 hours versus 8 hours."
SOURCE: Bangkok Post
Keep in contact with The Thaiger by following our
Facebook page
.
Never miss out on future posts by
following The Thaiger
.