Man allegedly beats wife and son to death before attacking neighbour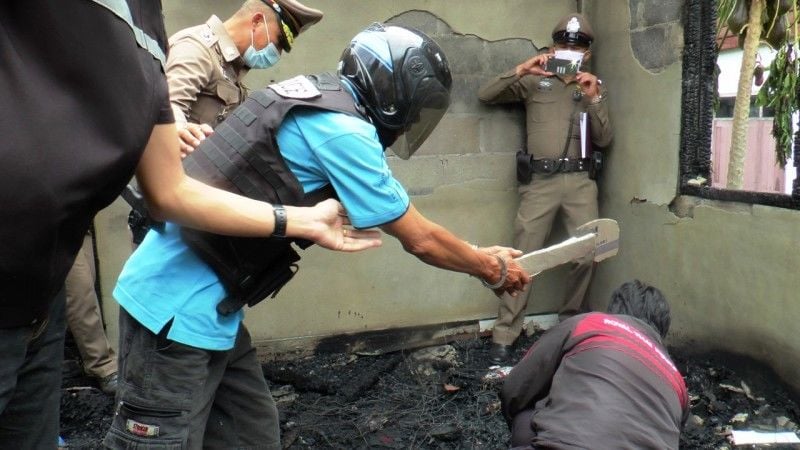 A 50 year old man has been arrested for allegedly killing his wife and son, then setting their bodies on fire at their home in Nakhon Pathom, in central Thailand. Phan Thopa is facing charges of murder and arson as well as physical assault causing injury after he chased after a neighbour and hit her with a hammer, breaking her arm.
Phan allegedly admitted to police that he killed both his 48 year old wife Anon Seedawong and their son, 14 year old Ekkararat Thopa by beating their heads with a hammer. He then covered their bodies with blankets and clothing, pouring petrol over the fabric and setting it on fire, Phan allegedly told officers.
A neighbour, 59 year old Lakhon Nuata, says she had heard commotion coming from the house and looked to see what was happening. Smoke was coming from the house and Phan was coming toward her with a hammer.
Lakhon says she ran away as he chased her, swinging the hammer at her back and head, luckily missing. As he swung the hammer again, she raised her arm to block, but the hammer hit her arm, breaking the bone.
Chief of the Nakhon Phanom police says he questioned the relatives who claim Phan has mental health problems, sometimes with delusions that someone was assaulting him, depriving him of his wife and son, and taking his belongings. Apparently, Phan had not taken his medication in 3 months and had been drinking alcohol.
SOURCE: Bangkok Post
Keep in contact with The Thaiger by following our
Facebook page
.
Never miss out on future posts by
following The Thaiger
.
9 arrests as police net huge drugs haul in 4 cases in north, north-east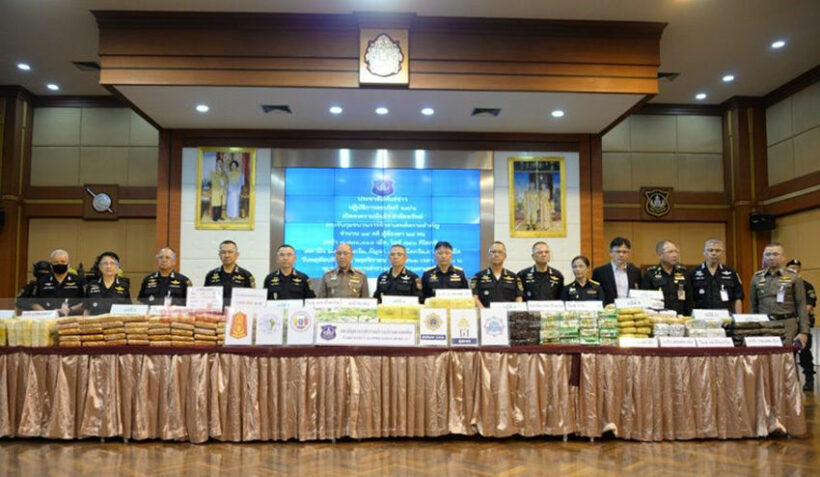 Millions of methamphetamine pills, over 800 kilograms of crystal methamphetamine, and over 700 kilograms of cannabis have been seized by police in 4 separate cases. The Narcotics Suppression Bureau confirmed the seizures, along with the arrests of 9 suspects, at its headquarters in Bangkok. The parade of police and the seized narcotics are a staple in Thai police PR.
The Bangkok Post reports that the first bust took place in the north-eastern province of Sakon Nakhon, when 19 year old Anupan Piemfah and 44 year old Monchai Pliennoi were arrested at a petrol station after police received a tip-off that they were in possession of 704 kilograms of cannabis. The drug was discovered in 16 sacks, inside a Toyota car. It's understood the men had picked the drug up from suppliers in the north-east and were delivering it to customers in central and southern Thailand.
Police in the north-east also arrested 4 men and seized 455 kilograms of crystal methamphetamine and 50 ecstasy tablets. The suspects are 27 year old Thanapat Tancharoen, 28 year old Komsan Pothisonothai, 41 year old Wuthipong Surarit, and 33 year old Niran Thongkallaya. They are accused of picking the drugs up at various locations along the Mekong River in the north-eastern province of Nakhon Phanom, with plans to deliver the drugs to customers in the southern province of Pattani, on the Malaysian border. During the arrests, Wuthipong shot at police as he tried to flee. He and Komsan also face charges of illegal possession of firearms.
3 men of Hmong ethnicity who live in Tak province, bordering Myanmar, have been arrested in Nakhon Phanom and the northern province of Nakhon Sawan. All 3 are accused of transporting over 4 million methamphetamine pills, concealed in 19 sacks. They have been named as 33 year old Noohua Sae Mah, 28 year old Wathanyu Sae Song, and 22 year old Niboon Songsatwong.
The fourth case netted 370 kilograms of crystal methamphetamine, 400,000 meth pills and 250 kilos of ketamine, which were seized at a sugar cane farm in the north-eastern province of Nakhon Ratchasima, also known as Korat. It's understood the drugs were due to be picked up by smugglers. As yet, there have been no arrests in this case.
Last week, police seized over 11 tonnes of ketamine, valued around 29 billion baht, that was being stored at a warehouse in the province of Chachoengsao, just east of Bangkok.
SOURCE: Bangkok Post
Keep in contact with The Thaiger by following our
Facebook page
.
Never miss out on future posts by
following The Thaiger
.
Lottery ticket distributors arrested for allegedly scamming sellers for millions of baht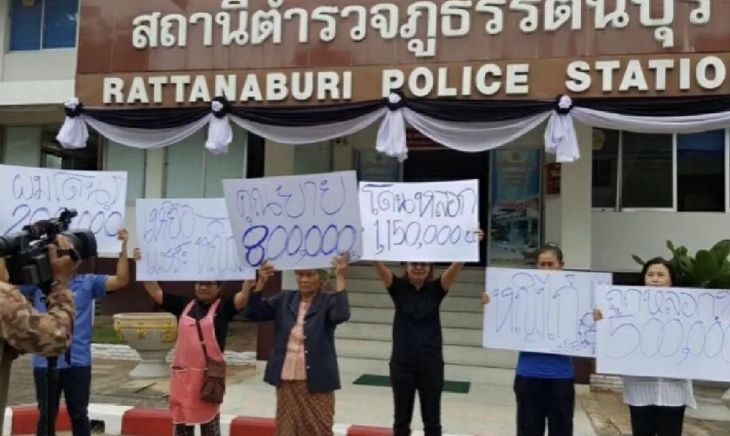 Police arrested 2 lottery ticket distributors in Lop Buri, Central Thailand, for allegedly collecting money from lottery ticket sellers and failing to deliver the tickets for the October 16 and November 1 draws which were worth more than 400 million baht.
More than 100 lottery ticket sellers filed a complaint at the Surin province's Rattanaburi Police Station, saying they purchased lottery tickets from the distributors, but they tickets were not delivered. One seller said they purchased the tickets for 80 baht each, but had to buy at least 500 tickets.
"They delivered the first 4-5 lots on time, but in October we could no longer contact them despite already having given them the money… After their arrest, we have submitted an appeal to the police to deny them bail as they might get out and coerce the sellers."
Police say the distributors accused of fraud had fled from Surin and were hiding at a house in Lop Buri. Officers tracked down and arrested Thossaphon Jitmaen and Yutthana Thongkham.
Police say they found 700,000 baht in cash at the house. The suspects also allegedly confessed to selling the lottery tickets and failing to deliver them.
SOURCE: Nation Thailand
Keep in contact with The Thaiger by following our
Facebook page
.
Never miss out on future posts by
following The Thaiger
.
Thieves arrested after stealing safe containing 10 million baht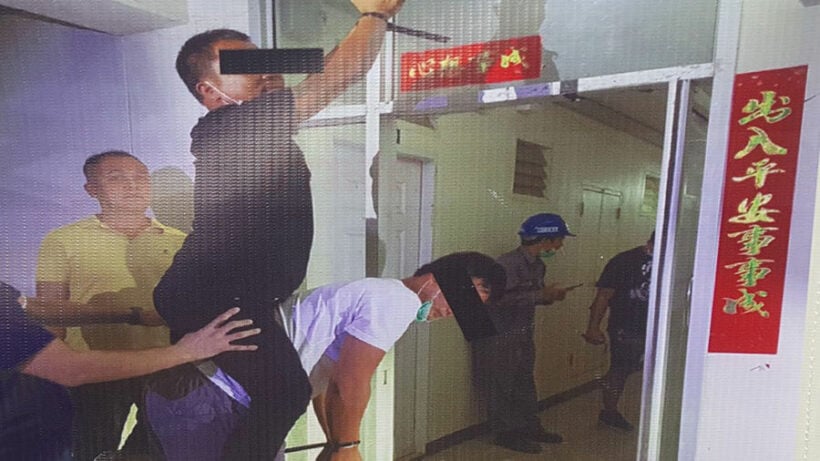 Police in the central province of Saraburi have arrested 6 people suspected of stealing a safe containing over 10 million baht in cash. Thai Residents reports that officers found over 7 million baht in US dollars and Chinese yuan, and over 3 million baht in Indonesian rupiah.
Saraburi police arrested the suspects on Monday, who have been named as, 34 year old Prem, who worked as a Chinese interpreter, 33 year old Wuttisad, 36 year old Bangorn, 36 year old Nipon, 39 year old Athit, and 24 year old Thanongsak.
It's understood Wuttisad and Bangorn are married and recruited the other suspects to assist with the robbery, with Nipon finding the truck used in their escape. Prem is understood to have been very familiar with the office building where the robbery took place, confirming that security cameras were off at the time of the burglary on August 22. The thieves broke into the premises in the district of Muak Lek, in Saraburi, and managed to carry a safe down from the second floor, before absconding with it. The safe is believed to be the property of a Chinese national, named as Jang Hui Jwean.
Police are still searching for an additional suspect, named as 28 year old Thanawut Kaewprasit, from the north-eastern province of Chaiyaphum. Officers have also seized evidence, including 5 mobile phones, a truck registered in the north-eastern province of Nong Bua Lamphu, several bank books, and the clothes worn by the suspects when they carried out the robbery.
SOURCE: Thai Residents
Keep in contact with The Thaiger by following our
Facebook page
.
Never miss out on future posts by
following The Thaiger
.