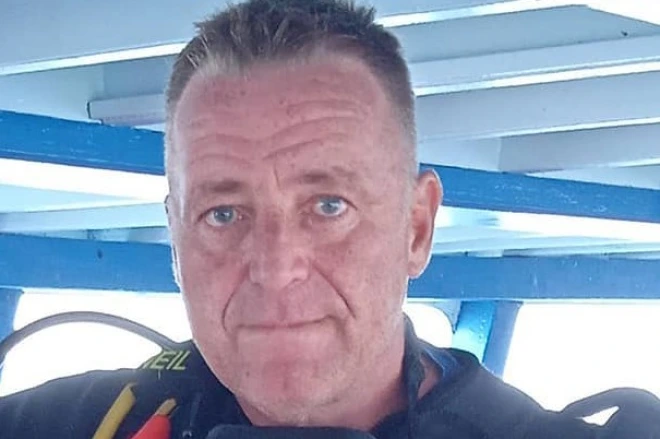 A British man was found dead on Thailand's notorious Koh Tao – also known as Death Island – on Wednesday. The circumstances around his death are a mystery.
The body of 48 year old diving instructor Neil Giblin, from Birmingham, UK, was found dead in his rented bungalow on the island after he failed to turn up to a diving lesson.
Police say that he died from natural causes and there was no sign of struggle, reports The Sun.
"I don't even think they did an autopsy," said Giblin's friend. "Something doesn't add up."
Thai media has not covered the case at all.
Picture-perfect Koh Tao has gained the nickname "Death Island" after a string of unexplained or suspicious foreigner deaths and disappearances on the popular backpacker and expat destination.
Notably, two British backpackers, 23 year old Hannah Witheridge and 24 year old David Miller were found dead on Sairee Beach in September 2014. Witheridge was raped and Miller had been drowned.
Two illegal Burmese migrant workers, Zaw Lin and Win Zaw Htun were sentenced to death for the murders based on DNA evidence. A Royal Decree issued by King Vajiralongkorn in 2020 saw their sentence reduced to life imprisonment.
The police's investigation was widely criticised. Experts criticised the police for denying the suspects access to lawyers, mishandling evidence, allowing contamination of the crime scene and failing to use experts to collect forensic evidence.
After the murders and other mysterious foreigner deaths, the Samui Times was the first to nickname Koh Tao "Death Island."
Officials in Koh Tao then launched a lawsuit against the news outlet, claiming the nickname damaged the island's reputation when officially, only two of the long list of mysterious foreigner deaths were deemed as murders by police.
The Samui Times defended its position, claiming it was in the best interests of any visitor to be aware of the numerous tourist deaths that have occurred on Koh Tao, such as…
In 2014, the body of 25 year old Nick Pearson from Britain was found floating near the Hillside Resort Koh Tao.
In January 2015, 29 year old Dimitri Povse from France was found hanging from his balcony ceiling on the island. Both of his hands were tied behind his back. Police said he could have done it himself.
The same month, the body of a 23 year old British woman, Christina Annesley, was found in a room at Koh Tao's In Touch Resort. There were no signs of struggle. The cause of death was a circulatory failure due to drugs and alcohol.
In January 2017, 26 year old British man Luke Miller drowned in a swimming pool at Sunset Bar.
In February 2017, 24 year old Valentina Novozhyonova disappeared with her diving gear off the coast of Koh Tao. She is suspected to have drowned.
In April 2017, the body of 30 year old Belgian woman Elise Dallemagne was found hanging from a tree. Her mother cast doubt on the police's conclusion that the cause of death was suicide.
In January 2018, a British traveller was found dead in a hotel bool along Sairee Beach. Police said it was a "tragic accident."
In June 2021, a Thai and Indian billionaire couple were found dead in the Jamahkhiri Resort & Spa's swimming pool. CCTV footage was "unavailable" and police found "no signs of foul play."