Bad news for Boss as Thai prosecutors put him back on the 'wanted' list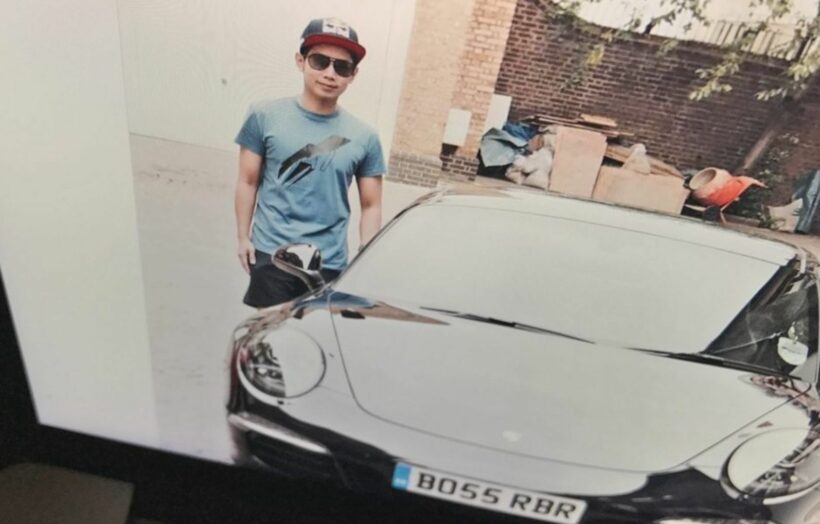 3 weeks ago Vorayuth "Boss" Yoovidhya must have thought it was Christmas after charges him were dropped by the Office of the Attorney General (for reasons that still remain a mystery), and then police said he was free to return to Thailand. That's now all changed and the fugitive now finds himself a wanted man again with some charges reinstated and a few more added.
Evidence of cocaine abuse emerged last month. Upset with the decision not to prosecute Vorayuth, a lawyer released results of a blood test taken by the Red Bull heir following the hit-and-run incident. It came back positive for metabolytes showing cocaine abuse.
Amid the prevarication and confusion, Thailand's justice system has again shown itself to be a unpredictable beast when it comes to its uneven approach to justice, depending on your family name and who you know.
Vorayuth was facing a slew of charges back in 2012 after his family-owned Ferrari hit a 47 year old motorcycle policeman, at speed, in Thong Lor, Bangkok. Boss avoided facing courts 8 times before eventually fleeing the country in 2017. He was 27 years old at the time of the incident and has kept a low profile whilst living as a wanted man overseas.
Now police are attempting to bring 2 charges against Boss… reckless driving causing death and illicit use of cocaine, the latter only coming to light in recent weeks. Thailand's National Police Commissioner says he will oversee the fresh investigation himself, trying to wind back some of the poor worldwide PR the Thai police force and justice system has received over the matter.
No fewer than 4 Senate committees and a fact-finding committee set up by PM Prayut Chan-o-cha have forced a back-flip from the Attorney general office and the resignation of the deputy AG. In June, police endorsed the OAG's decision to drop all charges against the Red Bull heir and part of the rich and powerful Yoovidhya family.
With public anger over the matter becoming a major PR problem for the government, PM Prayut moved to set up the fact-finding panel, led by respected graft-buster Vicha Mahakhun.
Meanwhile, the OAG and police have launched their own internal investigations into how Boss was going to be allowed to walk free. This probe concluded that 14 policemen might have been guilty, 11 of whom have already been implicated by the National Anti-Corruption Commission over the handling of the case. Then you can add the assistant national police chief Pol Lt-General Permpoon Chidchob, a younger brother of influential veteran politician Newin Chidchob.
Though Permpoon signed an order endorsing the OAG's decision to drop the Boss case, he claims he was just following protocol.
Prosecutors, meanwhile, are now trying to see how they can track down Boss and prosecute the charges. The statute of limitations on 4 other possible charges… drunk driving, speeding, reckless driving causing damage to another person and fail to stop to aid the victim, have already expired.
The decision to drop the charges was not even initially reported in Thailand. Instead it appeared on CNN and the matter then became a scandal in Thailand with almost universal outrage on social media, forcing the PM to take decisive action. The Yoovidhya family was also forced into publishing a half-hearted public statement from their main company, distancing themselves from the errant Red Bull heir.
Want more from the Thaiger family?
📱 Download our app on Android or iOS for instant updates on your mobile
📧 Subscribe to our daily email newsletter
👍 Like/Follow us on Facebook
🔔 Subscribe to or Join our YouTube channel for daily video updates
196 Chaeng Wattana Road construction camp workers test positive for Covid-19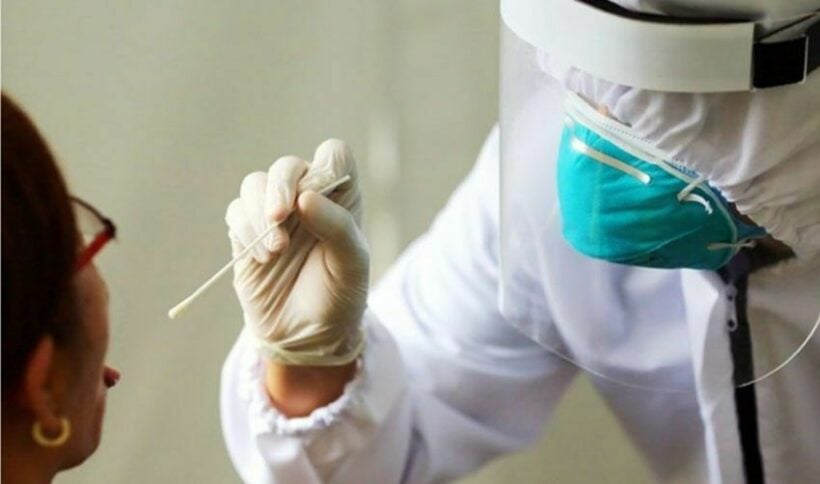 A construction camp off Bangkok's Chaeng Wattana Road, which also features the Immigration Office, is reporting that 196 out of 300 workers have tested positive for Covid-19. Palang Pracharat MP Sira Jenjaka made the announcement after an inspection of the camp ended in testing many for Covid. Tomorrow, another 500 workers at the camp are scheduled to take Covid tests. Then, on May 15, the Thai workers at the site will be tested. Siri says the construction camp is an at-risk area as the new infections need a more stringent approach, to keep the virus from spreading.
He says the camp, in Laksi district, was closed after the infections were found. The owner of the camp, Italian-Thai Development, says all the migrant workers at the camp are legally registered. He says the district office told him the area would be closed for 7 days, but did not say why the Thai workers were being tested last. Siri asked the Labour Minister to conduct virus testing at the Thai-Japan sports stadium in the Din Daeng area of Bangkok, saying residents who live around the stadium should be tested free of charge.
Meanwhile, a spike in daily new
Covid-19 infections
was reported in Thailand today with more than half of the 4,887 infections confirmed today linked to outbreaks at 2
Bangkok prisons.
Thailand now has 32,661 active Covid-19 cases, a record high in Thailand since the start of the pandemic last year. There has been a total of 93,794 Covid-19 infections since last year, according to the Centre for Covid-19 Situation Administration.
32 new Covid-related deaths were reported by the CCSA today, raising the pandemic's death toll in Thailand to 518. A spokesperson for the CCSA says the patient fatalities continue to primarily be the elderly and those with underlying medical conditions such as high blood pressure, high cholesterol and diabetes.
SOURCE: Bangkok Post
Want more from the Thaiger family?
📱 Download our app on Android or iOS for instant updates on your mobile
📧 Subscribe to our daily email newsletter
👍 Like/Follow us on Facebook
🔔 Subscribe to or Join our YouTube channel for daily video updates
Covid-19 vaccination hub opens at Central Plaza mall in Bangkok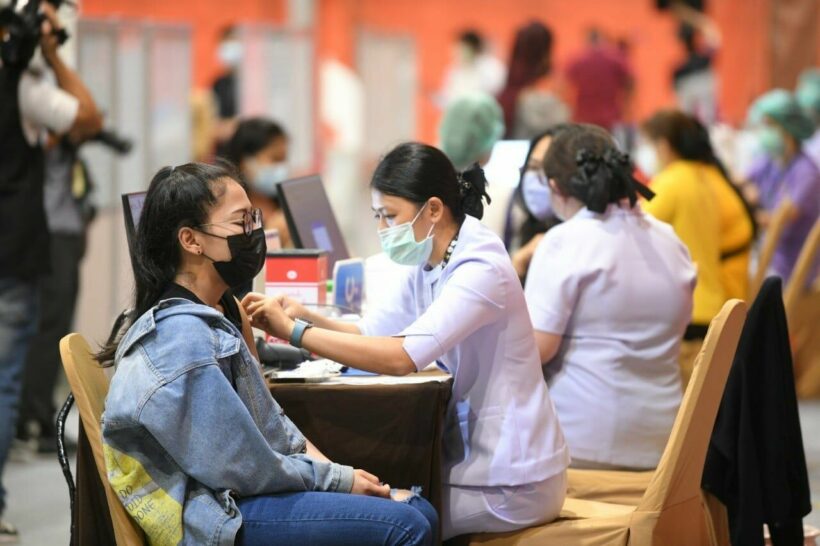 A Covid-19 vaccination hub opened up at the Central Plaza Lardprao in Bangkok, making it the first immunisation centre outside a hospital. Yesterday, around 1,000 people were inoculated at the new centre after registering for a vaccine on the Mor Prom mobile application. Most of those vaccinated yesterday were government officers, volunteers or those who are at a high risk of infection.
Bangkok Metropolitan Administration, the Thai Chamber of Commerce and Ramathibodi Hospital teamed up to open the centre at the Central Plaza shopping mall. The centre is open every day from 8:30am to 5pm.
PM Prayut Chan-o-cha praised the private sector for backing the national Covid-19 immunisation campaign, adding the move may prompt more businesses to set up vaccination hubs. So far, more than a dozen vaccination centres, not including hospital sites, are planned to open up in Bangkok, Prayut says.
The Thai government set the ambitious goal of vaccinating 50 million people by the end of the year. The Thai government also plans to vaccinate 5 million people in Bangkok within the next 2 months in an effort to contain the outbreak in the capital. Vaccinations are now being sped up in high-risk areas such as Bangkok's Khlong Toey slum. So far, the number of people registering for a vaccine has been lower than expected.
"We must eradicate fears of the Covid-19 vaccine. The government can confirm that all the imported Covid-19 vaccines are thoroughly inspected… Our inspection is probably more stringent than in other countries."
Prayut says the Thai government has secured 100 million doses of the Covid-19 vaccine and they are working on securing another 50 million doses. He adds that the AstraZeneca vaccine made locally by Siam Bioscience will be ready at the end of the month.
SOURCE: Bangkok Post
Want more from the Thaiger family?
📱 Download our app on Android or iOS for instant updates on your mobile
📧 Subscribe to our daily email newsletter
👍 Like/Follow us on Facebook
🔔 Subscribe to or Join our YouTube channel for daily video updates
Walk-in vaccination centres planned to speed up rollout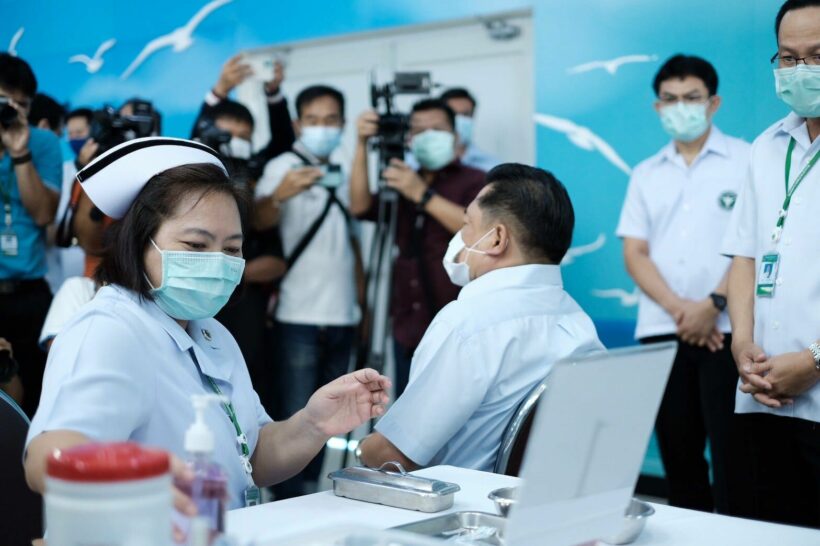 Deputy Prime Minister and Public Health Minister Anutin Charnvirakul announced plans for walk-in vaccination centres to accelerate Covid-19 vaccine distribution in Thailand. At a meeting of the National Committee on Vaccines, the decision was made to provide alternative channels to encourage more people to get the vaccine quickly. Also in the works is a plan to develop a new application to register for appointments.
PM Prayut Chan-o-cha had mentioned the idea of a walk-in service during a cabinet meeting Tuesday, saying that Thailand was well below target for vaccine registrations. The Department of Disease Control has been tasked with creating a simplified format to encourage registration for vaccines, with the goal of no one being rejected for a jab. The head of the DDC said they will do everything in their power to accelerate vaccine roll out.
Yesterday saw the first vaccination centre outside of a hospital when Central Plaza Ladprao launched a vaccine station with PM Prayut in attendance. The Bangkok Metropolitan Administration, the Thai Chamber of Commerce, and Ramathibodi Hospital worked together to launch the centre. Open from 8:30 am to 5 pm daily, 1,000 people were vaccinated at the station through the Mor Prom Line app yesterday, mostly government officers and Covid-19 volunteers as well as people designated as high-risk.
But the Mor Prom line account has not received nearly the amount of registrations that they had hoped, so this new plan is aimed at boosting sign-ups. Only 22 of Thailand's 77 provinces registered more than 10,000 people through the Line account, with only 2 provinces getting 6-figure signups. 16 million people were targeted to get priority appointments through Mor Prom, people at high risk because of chronic disease or being over the age of 60.
The Prime Minister expressed hope that, with the success of Central Ladprao's vaccination centre, other businesses will open similar jab stations in the near future. Plans are in place for up to 25 private vaccination centres in Bangkok followed by stations opening across the country. Locations and the number of jabs at each vaccination centre will be left to provincial governments to determine within their own committees on communicable disease.
Thailand's immediate goal is to get all frontline workers and healthcare professionals vaccinated by the end of the month, and also focus on areas with high infection rates. Next month elderly and high-risk people will be the main target of mass vaccination, followed by the general public. PM Prayut also requested that people like delivery staff and public transportation drivers who travel for work, and staff in restaurants, hospitality, and convenience stores who interact with many people be given priority for vaccinations.
The Prime Minister stressed to the public that Thailand's inspection process is more stringent than other countries and reassured that the Covid-19 vaccines administered in Thailand are completely safe.
SOURCE: The Phuket News
Want more from the Thaiger family?
📱 Download our app on Android or iOS for instant updates on your mobile
📧 Subscribe to our daily email newsletter
👍 Like/Follow us on Facebook
🔔 Subscribe to or Join our YouTube channel for daily video updates