Attempted murder charge for Bangkok gunman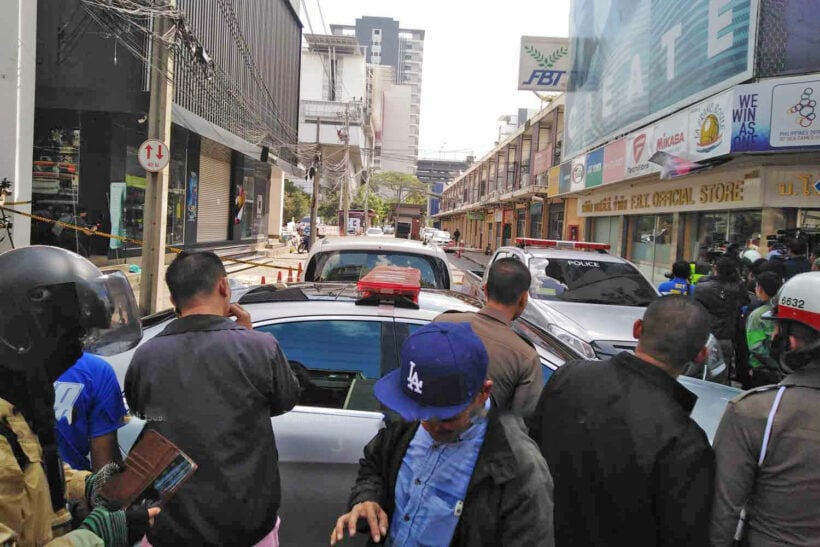 Multiple charges have been lain against against the man who allegedly fired more than 50 shots in downtown Bangkok early yesterday, including attempted murder. Police say the charge was filed because a ballistic examination showed some of the gunshots were aimed at people opposite the suspect's position.
Other charges include carrying gun without a permit, discharging a firearm in a public place and narcotics charges. The man's identity has not yet been released.
The incident began at about 4am near Chulalongkorn University, at a market for locally made sports garments. Periodic gunfire continued for more than an hour.
Police rushed to scene and cordoned off the area, telling locals to stay indoors. A police negotiator talked the shooter into surrendering and no injuries were reported.
An eyewitness told police that the shots were fired by a man about 40 years old and he and some friends went for a look. The man fired on them, forcing them to run for cover.
The suspect reportedly told police he was under stress caused by family and business problems.
The incident comes less than a week after a rogue soldier went on a murderous rampage in the northeastern province of Nakhon Ratchasima, killing 29, including three police officers. The gunman was shot dead at the Terminal 21 shopping mall, the scene of a dramatic 12 hour siege.
If you or anyone you know is in emotional distress, please contact the Samaritans of Thailand 24-hour hotline: 02 713 6791 (English), 02 713 6793 (Thai) or the Thai Mental Health Hotline at 1323 (Thai).
SOURCE: Thai PBS World
Keep in contact with The Thaiger by following our
Facebook page
.
Shots fired in Nontha Buri mall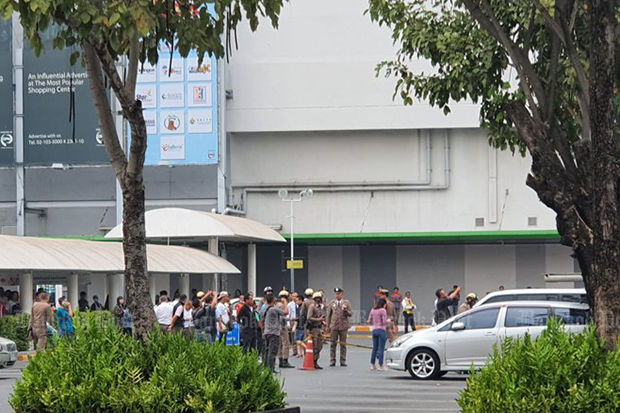 Police rushed to the Central Plaza mall in Nontha Buri province, just northwest of Bangkok, yesterday, after reports of gunshots inside the mall. The sound of shots was reported at about 4:20pm and people fled the building in the city's Muang district.
There were no reports of death or injuries. Local radio station Jor Sor 100 traffic radio later reported a suspect had been arrested and people had begun returning to the mall.
The country is still recovering from the slaughter at a mall in Nakhon Ratchasima on February 8-9, when a gunman killed 29 people and wounded 58, and the recent murder of an estranged wife by a man at a mall in Bangkok
A video clip by @ppappangjj showed shoppers fleeing for their lives to go outside the Central mall.
เพื่อนถ่ายมา วิ่งกันให้พรึบ เซ็นทรัลรัตนาธิเบศร์ pic.twitter.com/EmIJhLBQYd

— papapang (@ppappangjj) February 27, 2020
SOURCE: Bangkok Post
Keep in contact with The Thaiger by following our
Facebook page
.
Computer techie arrested for putting spy cams in ladies' public toilets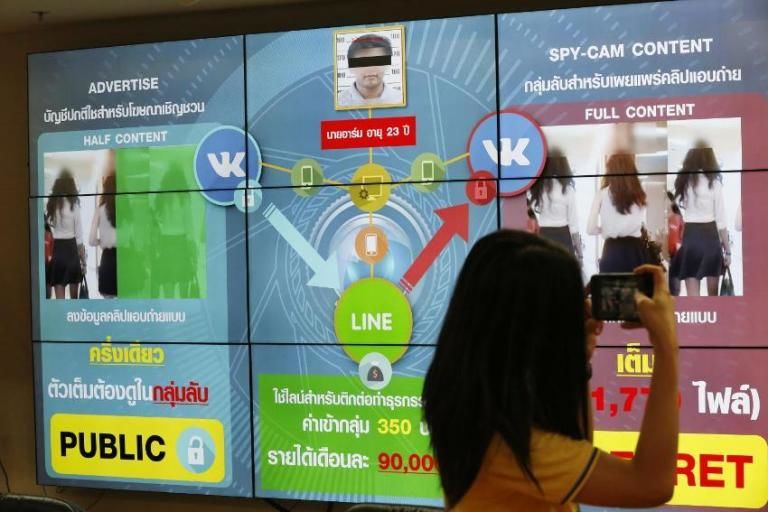 A computer technician has been arrested in Pathum Thani, just north of Bangkok, for allegedly setting up spy cams in women's public toilets. The suspect, 23 year old Nitiwat Muikaeo is said to have sold the videos on social media. The arrest comes after parents lodged complaints with the Technology Crime Suppression Division about videos of their daughters online.
Police told that reporters Nitiwat admitted to recording about 1,770 spy cam videos and uploading them to a Russian social media network to make money. They say Nitiwat created at least three accounts, two of which showed previews including photos and clips, to attract viewers. The third charged interested parties 350 baht to watch the full videos in private groups.
Nitiwat is charged with violating the Computer Crime Act and faces up to 10 years in prison and/or a fine of up to 200,000 baht.
Under current Thai law, purchasers of spy cams aren't required to give personal information, making it difficult to trace ownership and use of the devices. Some lawmakers are also looking at laws that require hidden camera buyers to register with a government database.
SOURCE: Chiang Rai Times
Keep in contact with The Thaiger by following our
Facebook page
.
Bangkok cops bust online gun dealers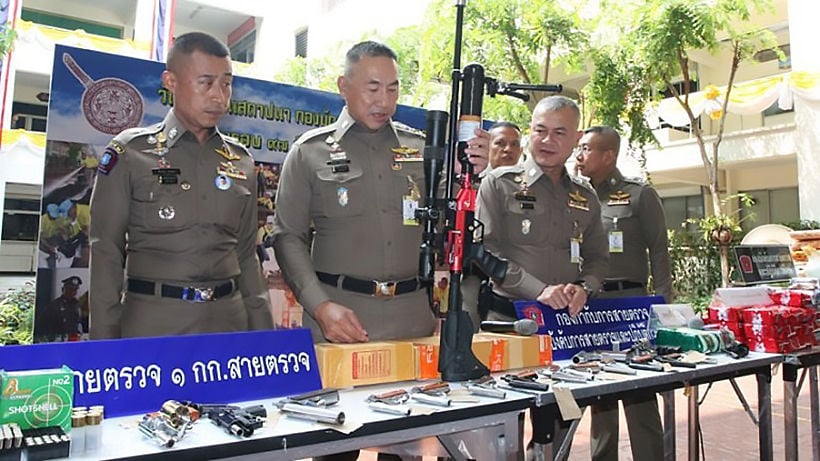 The chief of the Bangkok Metropolitan Police Bureau told a media briefing yesterday that officers have arrested six men and two women for selling firearms on Thai social media. They seized seven guns, ammunition and gun components. Police initially arrested Pairoh Chanchom for selling firearms without a licence. A subsequent, lengthy investigation led to raids on several premises and the arrest of seven accomplices.
Also arrested were 34 year old Thaweephan Jit-aree; 28 year old Saksid Kerdmanee; Suriyan Yodsaen, aged 38; 24 year old Kamphon Wongsriphuek; 28 year old Raen Senaphan, and two women; Intheera Thananwarawong, age 43 and 57 year old Uraiwan Krodsui. Officers seized seven firearms, 221 rounds of ammunition and also 38 gun parts. The suspects are charged with colluding in the illegal possession and sale of firearms and ammunition.
Police Major General Samran Nuanma, chief of Patrol and Special Operations Division 191, urges the public to call the 191 hotline if they have any information about unlawful activities on social media.
According to Gunpolicy.org of the University of Sydney's School of Public Health, Thailand has about 10 million privately owned firearms or one for about every seven citizens. Of those, they estimate about 4 million are illegal.
"I can't say whether Thailand has a gun problem, but it certainly has a gun culture," says Michael Picard, GunPolicy.org's research director.
"Guns are idolized as symbols of power and privilege, as they are expensive and not easy to legally obtain."
SOURCE: Chiang Rai Times
Keep in contact with The Thaiger by following our
Facebook page
.