8 sought in wombs-for-hire case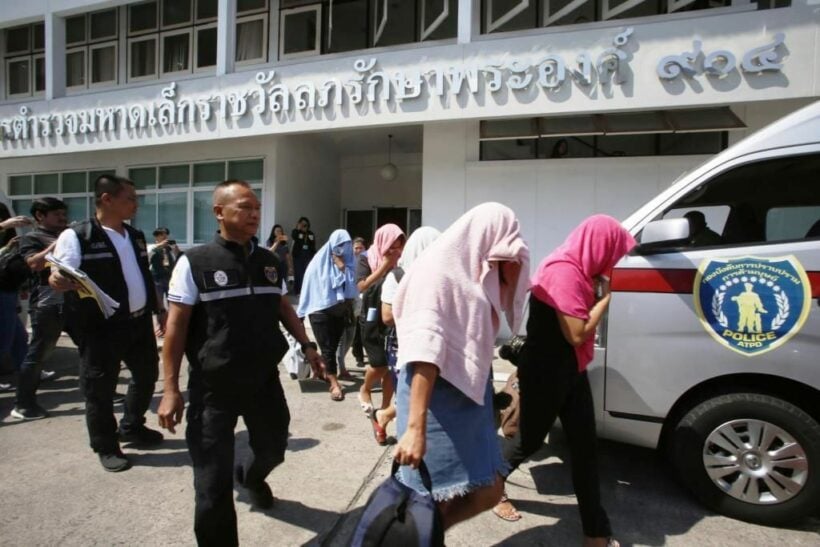 Police are seeking arrest warrants for eight new suspects: two Chinese nationals and six Thais, in an illegal cross-border surrogacy ring busted on Thursday.
"Two Chinese suspects were hired to take surrogate mothers to give birth in another country, while the Thai suspects brokered surrogacy and arranged travel documents for the surrogate mothers."
Nine suspects, six Thais and three Chinese nationals, were arrested in joint raids carried out in metropolitan Bangkok and vicinity. The raids came after police learned a gang of Chinese nationals was hiring Thai women as surrogate mothers. The operation is believed to have begun in 2012.
The three Chinese suspects denied any wrongdoing and insisted they were in Thailand for a "test tube baby service."
Police discovered the surrogacy syndicate was operated by Chinese nationals who hired Thai brokers to lure Thai women for 300,000-450,000 baht per pregnancy.
The surrogate mothers were reportedly sent to neighbouring countries for "assisted reproductive treatment" and returned to Thailand where they stayed until delivery. In some cases, they were sent to China, where they remained until giving birth.
Another suspect — a Chinese national who was believed to be involved in the same surrogacy gang, was arrested on April 30 last year and is being detained in an undisclosed foreign country. Thai police insist they have enough evidence to prosecute the suspect for involvement in the gang.
The three Thais were charged colluding with a transnational criminal organisation, arranging illegal commercial surrogacy and advertising an illegal surrogacy service.
The seven surrogate mothers arrested on Thursday have yet to be charged and are currently under the care of the Social Development and Human Security Ministry. Some will likely be treated as witnesses in the ongoing investigation.
SOURCE: Bangkok Post
Keep in contact with The Thaiger by following our
Facebook page
.
Chinese man found murdered, stuffed in suitcase and dumped in river in northern Thailand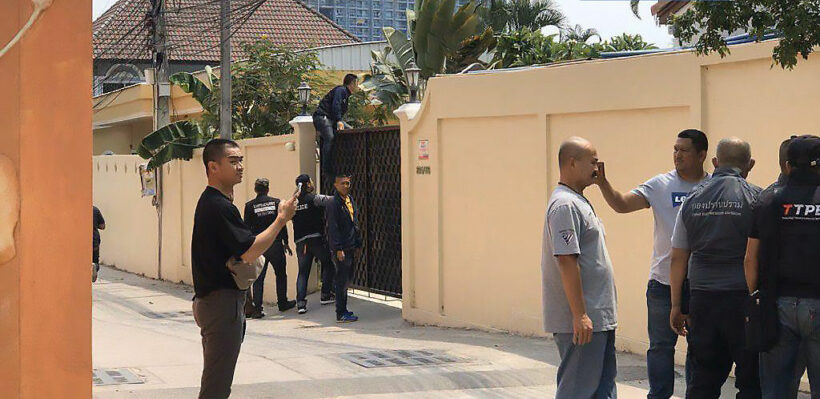 The Thaiger recently reported the case of a thirty year old Chinese man who had visited Pattaya, found dead and stuffed in a suitcase with his arms and legs bound. The suitcase was found in the Ping river in northern Thailand's Kamphaeng Phet Province. Our original article on this story can be found HERE:
Additional details have arisen regarding the case: Police say the victim, Jun Wang, 30, arrived in Thailand on February 12 with fifteen other Chinese Nationals. They were not a tour group and their movements and activities were not typical for tourists. The group rented three villas during their two day stay. The remainder of the group left Thailand on February 14.
A video of the story from The Pattaya News can be seen HERE:
Chon Buri police and Immigration officials, with the assistance of several other relevant agencies, yesterday investigated several guest houses where the group stayed. Their current belief is that the man was murdered in Pattaya.
After the murder, a local minibus was rented which drove several members of the group to the northern Kamphaeng Phet province with a suitcase, which was dropped in the Ping river.
Police say the investigation is ongoing and arrest warrants are being drawn up. No motive has been given at this time.
SOURCE: The Pattaya News
Keep in contact with The Thaiger by following our
Facebook page
.
Rogue policeman turned burglar recaptured in Chiang Mai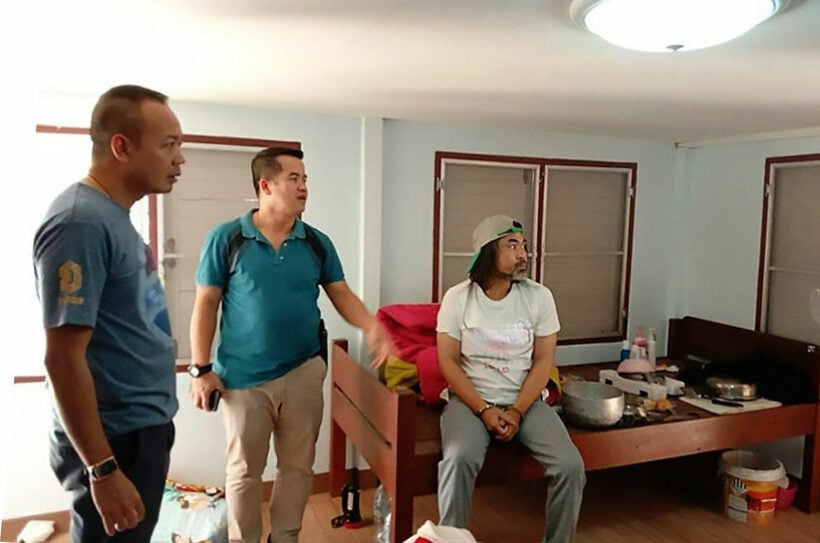 A former policeman who escaped a Chiang Mai hospital after being arrested for burglary has been re-arrested. The ex-cop, identified only as "Pawaret," was assaulted by homeowners after he attempted to burglarise a home last weekend, which led to rescue workers taking him to hospital. He subsequently escaped the in the early hours of the morning.
His escape caused panic among residents in Sanpatong area of Chiang Mai, where he was at large. The suspect was found hiding in a guesthouse in the city. He has now been apprehended, according to local media.
Police say the accused burglar is now back in custody and awaiting trial. His wife is also being sought by police for assisting in his escape.
SOURCE: Chiang Rai Times
Keep in contact with The Thaiger by following our
Facebook page
.
Bangkok cops bust online gun dealers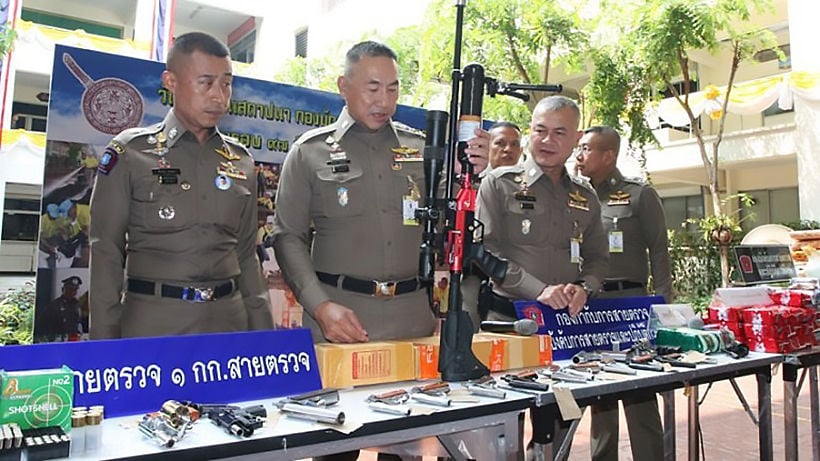 The chief of the Bangkok Metropolitan Police Bureau told a media briefing yesterday that officers have arrested six men and two women for selling firearms on Thai social media. They seized seven guns, ammunition and gun components. Police initially arrested Pairoh Chanchom for selling firearms without a licence. A subsequent, lengthy investigation led to raids on several premises and the arrest of seven accomplices.
Also arrested were 34 year old Thaweephan Jit-aree; 28 year old Saksid Kerdmanee; Suriyan Yodsaen, aged 38; 24 year old Kamphon Wongsriphuek; 28 year old Raen Senaphan, and two women; Intheera Thananwarawong, age 43 and 57 year old Uraiwan Krodsui. Officers seized seven firearms, 221 rounds of ammunition and also 38 gun parts. The suspects are charged with colluding in the illegal possession and sale of firearms and ammunition.
Police Major General Samran Nuanma, chief of Patrol and Special Operations Division 191, urges the public to call the 191 hotline if they have any information about unlawful activities on social media.
According to Gunpolicy.org of the University of Sydney's School of Public Health, Thailand has about 10 million privately owned firearms or one for about every seven citizens. Of those, they estimate about 4 million are illegal.
"I can't say whether Thailand has a gun problem, but it certainly has a gun culture," says Michael Picard, GunPolicy.org's research director.
"Guns are idolized as symbols of power and privilege, as they are expensive and not easy to legally obtain."
SOURCE: Chiang Rai Times
Keep in contact with The Thaiger by following our
Facebook page
.